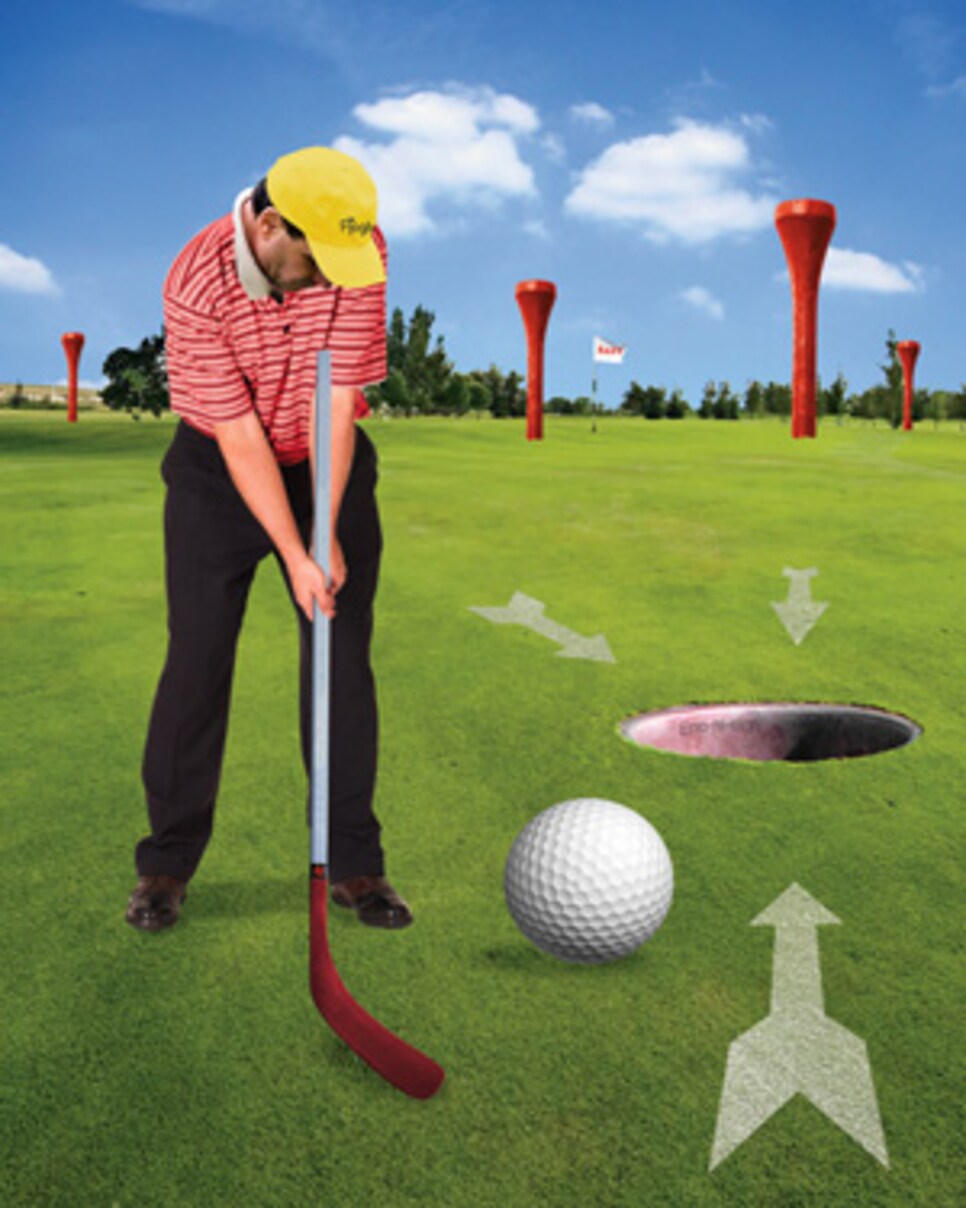 Is it me, or have there been an inordinate number of "what's-wrong-with-golf-and-here's-the-solution" schemes in 2011? At the risk of being called a killjoy:
(That's "not golf" spelled backward.) Encourages mulligans, no penalty strokes, teed-up lies everywhere, placing goo on the clubface -- all in the interest of making the game more "fun." Nothing new here. For centuries, golfers have been nudging their ball to nicer lies, playing "do-overs" and tossing balls out of woods, sand, water and neighbors' yards. Flogton's a bit like bowling with bumpers in the gutters. But if it makes you happy, go for it.
I have a close friend who has moved forward to yellow markers, and he now glories in the moniker Colonel Mustard. A good laugh, but -- so far -- his regular golf buddies have not joined the Colonel.
Golfers are lemmings. If they play from the white-tee markers, they'll play from the whites regardless of where they're positioned. Suggestion: Courses should set the tee markers in a traditional manner on Saturdays, but on Sundays move all the markers forward a notch. (Blues get moved up to whites, and whites are moved up to the yellows.) Don't get hung up on the negligible impact on golf handicaps.
Cautionary note: As one who now enjoys playing courses of 6,000 to 6,200 yards, I love hitting shorter approach shots, but this hasn't shortened the time it takes to play a round.
I find myself hitting into hazards I rarely dealt with before, and my crooked shots result in as many searches for my ball. But it's great fun to take the dust off of those medium to short irons, which were becoming ornaments in my golf bag.
Good concept, but too time-consuming. Because so many of today's recreational activities are done in 60 to 75 minutes (gym work, yoga, tennis), golf should follow suit. We should encourage/formalize what many of us do already: "loop golf" of three to four holes.
Create an early-morning "loop" using holes 6 through 9 and 15 through 18 (staying ahead of early tee times) and a late-afternoon loop using holes 1 through 4. (Who knows, if you have a good round going in the afternoon loop, you might just keep on playing.) Loop golfers will buy, read, watch and learn all the usual stuff as the 18-holers. Course owners could be creative and charge a fractional green fee based on a fixed number of minutes -- like some water-slide parks.
The golf industry won't suffer. Folks who regard golf as too time-consuming might give the game a serious look if they know it can be a full and enjoyable hour-long experience.
Distance has been and will always be golf's elixir -- something that has been debated, cursed at and yearned for throughout golf's history. Those nostalgic for the game of the past -- by the way, when, exactly, was the halcyon period of golf? -- must have attended plenty of pro tournaments, because they sure as hell couldn't have appreciated shotmaking brilliance of their heroes by watching golf on TV.
As a double-digit-handicap player, I have no interest in giving up any distance. The pro game? If and when the play-for-pay tours and the four majors conclude it helps the entertainment value (fan interest) to do something like deadening the ball and/or shrinking the driver size, they will act. Well, maybe. But no one knows for sure if any distance-rollback actions would increase the fan base. I'd be OK with a couple of specialty rules for elite play, just as long as I'm not forced to be part of the solution.
I play the same game as the pros 60 percent of the time (shots on and around the greens). As for the other 40 percent, I marvel at Dustin Johnson's drives much like I fantasize over Dwight Howard's dunks.
And I empathize with Dustin's shanked 2-iron and Dwight's clanked free throw. Ah, the wonders and joys of golf. What a game.