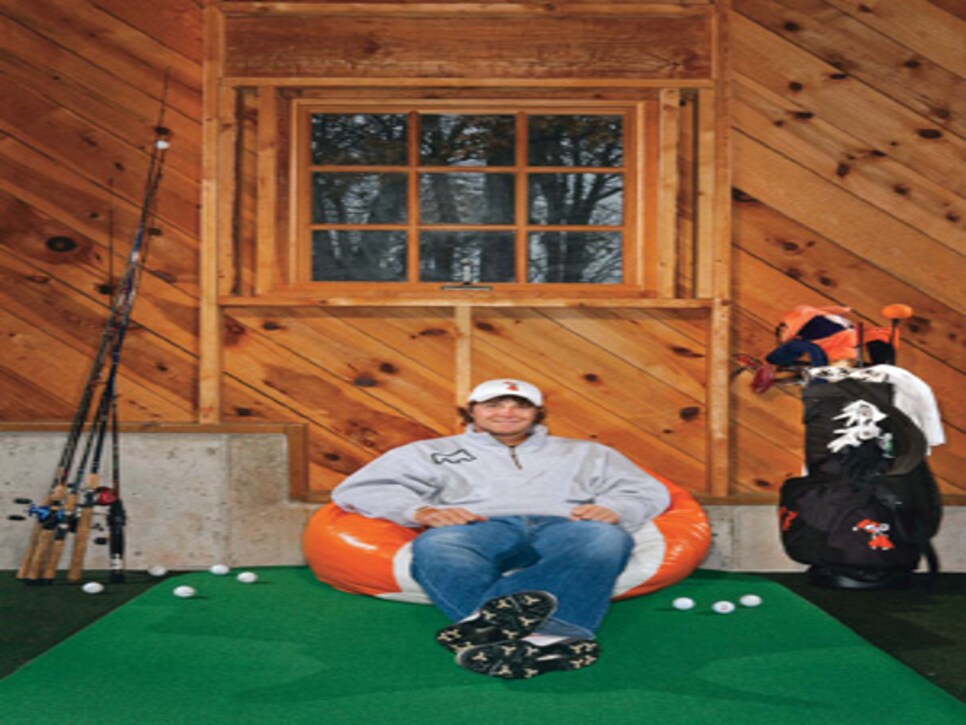 Peter Uihlein at the Oklahoma State practice facility.
On the YouTube video, he's just a kid saying he wants to beat all the records: Jack's, Tiger's, everyone's. He says it so happily, so guilelessly, practically glowing, that to hear him is to hope he does it. The name is Peter Uihlein. He's the 2010 United States Amateur champion. This is his first Masters
, at age 21, four years after he looked into that video camera and did his teen-dreaming soliloquy.
Wait. Earlier in the video, he does the Tiger thing. Dances a ball on the face of a wedge. Last bump up, takes it high for a baseball swing. Bombs it out of sight. (Try that sometime.) Now he's sitting, relaxed, talking to the camera, fresh-faced, rosy-cheeked, hair curling from under his cap...
"I'd definitely like to be one of the best golfers in the world, of all time. I'd like to beat Jack's records, probably Tiger's records when I'm out there. I'd like to just win everything. It would just be awesome. To live the life like Tiger lives it, and just hit the ball like Moe Norman hit it and Ben Hogan, and be one of the best players to ever live, of all time, with Arnie and Jack and Player. That'd just be awesome."
Maybe every player of any account has said as much, if only in a whisper, if only to himself. The difference is, Uihlein comes to the dream with talent and confidence certified by achievement on amateur golf's biggest stages. Twice the American Junior Golf Association player of the year (first at 15), he won the Florida Azalea, Dixie and Sahalee amateurs before the U.S.; he has been runner-up in the NCAA and Big 12 tournaments; he went 4-0 in Walker Cup matches in 2009 and ended 2010 ranked as the world's No. 1 amateur. And now this: April in Augusta, at Bobby Jones' place, Jack's, Tiger's.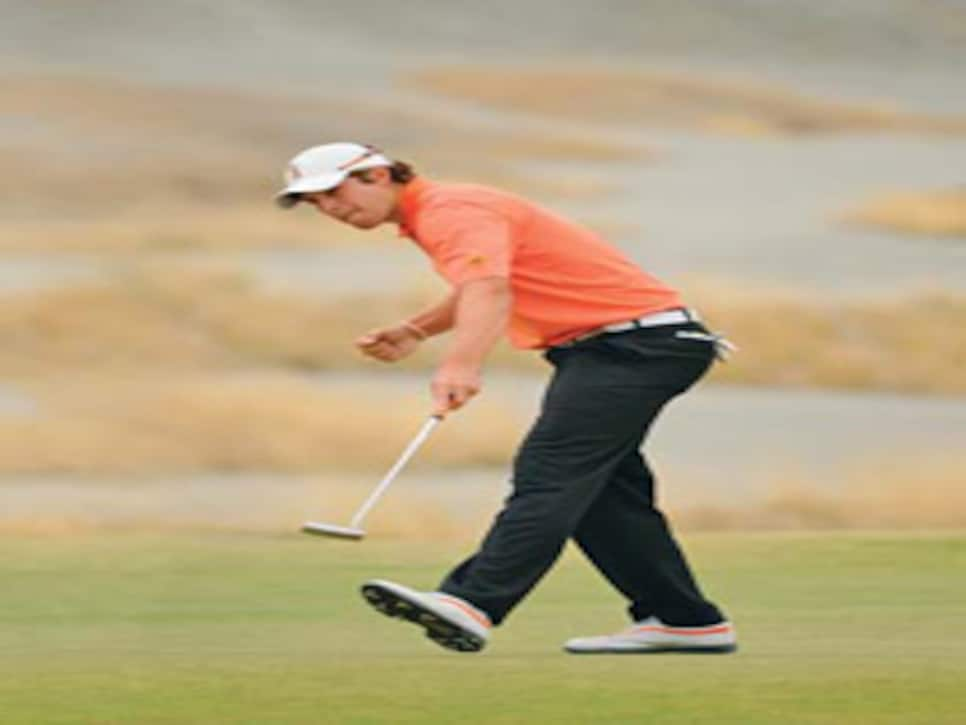 his Masters invitation. (J.D. Cuban)
"It'll be cool," Uihlein says. Cool, the Amateur champion paired the first two days with the Masters defending champion.
"Playing with Phil Mickelson," Uihlein says. "It doesn't get any better than that."
Uihlein's tall and lean, 6-foot-2, 190, a shotmaker who can shape it any way he needs. His friend Bank Vongvanij, the University of Florida star, defines Uihlein in another way, perhaps more important: "Peter is really competitive." His game and his want-it are such a strong package that Tim Sheredy, then an instructor at David Leadbetter's Golf Academy, once said of Uihlein, "He's more than ready." Sheredy said that four years ago.
Not the first wunderkind to fall into his own embrace, the teenage Peter Uihlein often came off as cocky, even arrogant. By last summer, though, most evidences of assumed superiority were gone. After winning the national amateur, he praised the USGA for its setup of the Chambers Bay course; thanked his caddie, Oklahoma State University assistant coach Alan Bratton ("a great job keeping me calm") and said of his 4-and-2 victory over the world's fourth-ranked amateur, David Chung, "I was fortunate; I just happened to come out on top this time."
The growth spurt in maturity began with a peculiar moment in Uihlein's life, a moment born of failure. Until then, his had been a golden child's life of successes.
"Peter was in a walker -- tray removed -- when he first put his hands on a club," says his father, Wally Uihlein, the chief executive of Acushnet Co., owner of the Titleist and FootJoy brands. "By the time he was first walking -- and falling -- we used to tee up plastic balls using an extra-long rubber tee, and he would flash the balls -- using a Fisher-Price plastic club -- over our kitchen counter and ricochet all over the kitchen. That used to drive Tina nuts."
"We had a fence in the back yard," the boy's mother, Tina, says, "and Peter would whack balls at it. At first, he'd be happy to hit the fence. Then he wanted to hit them over the fence." The father says, "That was fun for him, and we used to say, 'Good-bye, ball.' " The boy was 2, maybe 3 years old.
Veteran Boston golf writer Jim McCabe has reported that Peter Uihlein entered 46 Massachusetts Golf Association junior events and won 36 before leaving the state at age 14. With his mother, he moved to Florida to play golf year-round. He enrolled in the International Management Group's school for elite athletes, The Pendleton School in Bradenton, as well as in Leadbetter's academy.
The stranger in his life, failure, showed up at Uihlein's next stop, Oklahoma State. It took the shape of the school's Karsten Creek golf course. That's where the team played qualifying rounds to set its lineup for tournaments. It's a long course lined by trees opening to greens laid on severe slopes. "Karsten just beat me up," Uihlein says. "It showed me that my game wasn't where it needed to be." That freshman season, Uihlein played only twice in the Cowboys' first eight tournaments. "Golf," he says, "is a humbling sport."
"Peter didn't play well, and he'd always played well," says the Cowboys' head coach, Mike McGraw. "So here's what he did: He played Karsten every day, every single day. He'd have lunch, go play nine holes, play 18. Every day. His game was still there; it was the course he couldn't handle."
Before the year was out, Uihlein won the Dixie Amateur, was named to the Walker Cup team, and order had been restored to his world. "Definitely, going through that at Karsten Creek made me a better player," he says.
And now April, now Augusta. "I've been to the Masters only twice," Tina Uihlein says. "Both times, Ben Crenshaw won [1984, 1995]. After Peter started playing, I said, 'Next time I go, Peter will be playing.' "
"Masters?" Wally Uihlein says. "My first one was 1978. I'll be working Monday through Wednesday. Starting Thursday, I'll be a patron with a son in the field."
For Peter Uihlein, the Masters will be the first of three majors this season, followed by the U.S. and British Opens. At 21, his ambitions remain the same, though he now can frame them in a way he couldn't at 17. "I want to try to see how good I can get," he says. "Anything you try to do, you want to be the very best."