ROOKIE RACE HEATS UP
As crowded rookie race heats up, Sahith Theegala strikes first playoff blow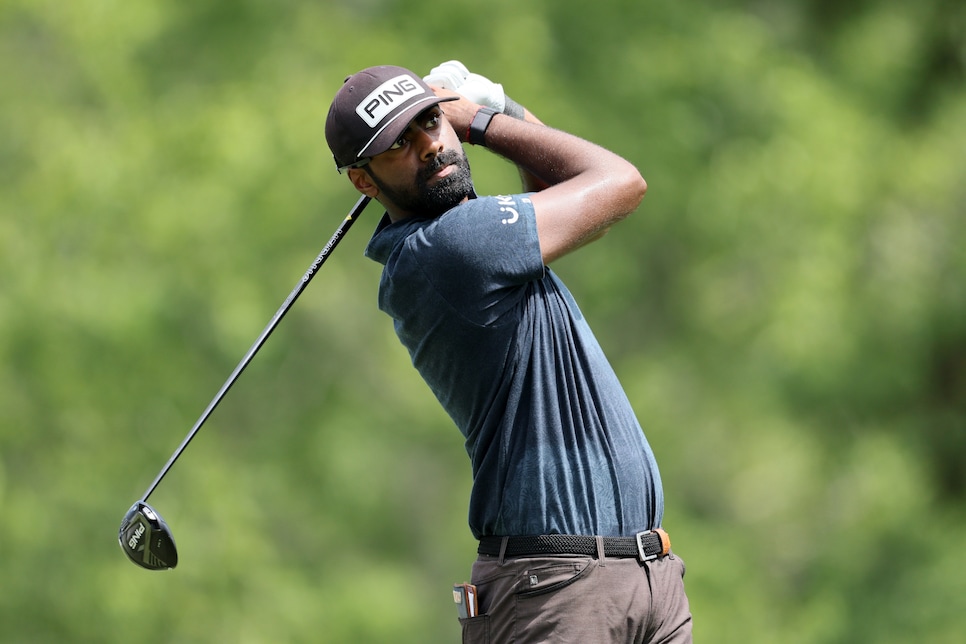 MEMPHIS — If you're handicapping the PGA Tour Rookie of the Year race, there are five players who have a realistic shot, barring a miracle playoff run from someone unheralded.
A week ago, Cameron Young was the comfortable frontrunner—with two second-place finishes (including a solo second at the Open Championship) and a ninth-place finish in the regular season FedEx Cup standings, he had the best resume. That became more complicated when 20-year-old Joonhyung "Tom" Kim finished his torrid summer with a win at the Wyndham Championship, becoming the tour's only rookie winner aside from Chad Ramey (who has otherwise had trouble making cuts) and forcing his way into the playoffs. Whether he simultaneously became the frontrunner is a matter of debate, but at the very least, he made Young's position less secure.
Outside of those two, Davis Riley finished 23rd in the standings and notched six top 10s, and Mito Pereira made 16 cuts and contended at the PGA Championship. The fifth contender, and the most intriguing thus far at the FedEx St. Jude Championship is Sahith Theegala.
The 24-year-old Californian won two player of the year awards as a college senior in 2020, and in his remarkable rookie campaign on tour, he made 23 of 29 cuts. His most infamous moments came at the WM Phoenix Open, when he hit his drive into the water on 17 to miss out on a playoff by a shot, and at the Travelers Championship, when a double bogey on 18 turned what looked like his first PGA Tour win into a two-stroke loss. Nevertheless, he's been a beacon of consistency, and at 39th in the FedEx Cup standings, he came into the playoffs with a great chance to make the Tour Championship.
That chance looks even better after his torrid first round in Memphis, when Theegala shot 63 to finish the day in solo third, just one behind Si Woo Kim and J.J. Spaun. Playing the back nine first, he raced off to a fast start with birdie putts of 14 and 10 feet on holes 12 and 13, went up and down from the bunker on 16 for another birdie, then caught fire on the front with three straight birdies from Nos. 2 through 4. Two strong par saves on 16 and 17 carried him through the home stretch, and he punctuated the round with a 25-footer for birdie on 18.
"I got a few putts to go in, which is awesome," Theegala said afterward, "but I drove it incredible. It's probably my best driving round of the year. I might have hit, I'm going to guess I hit 11 or 12 fairways and these fairways are pretty tight. It's cool to see some of the work that me and Rick [Hunter] have put in, my coach, just over the last few days."
Theegala recently moved to The Woodlands neighborhood in Texas, and that fact is more than just trivia—it helped him in Memphis with the Bermuda grass.
"I honestly credit some of this to the move to Houston," he said. "I moved to Houston four months ago now, to The Woodlands, and I've been practicing in this stuff like every day. I'm never going to play in grainier conditions than there and these might be a little bit grainier, so it's helped a ton."
As for the rookie of the year race, he's trying not to fixate on it or let it govern his day-to-day decisions, but it's a prize he covets, nevertheless.
"Yeah, it would mean a ton to me obviously," he said. "It would be a super cool honor, but to kind of single out an award like that has never been kind of my style. I think Cam Young is the frontrunner right now and he's had a hell of a season. A couple other rookies, Mito and Davis, and Chad with the win."
Despite his success, Theegala doesn't have a ton of breathing room against his fellow contenders. Riley was the worst of the bunch, but worst in this case means he shot a respectable 69 and remains very much in the mix. Young checked in at three-under 67, Mito Pereira, playing in Theegala's group, shot a 67 of his own, and Kim continued his red-hot summer by doing them one better with a 66.
The rookies delivered as a group, and though Theegala has his nose in front as the playoffs start, the big award is very much up for the taking.