News
Collin Morikawa on the key equipment change that led to victory at Muirfield Village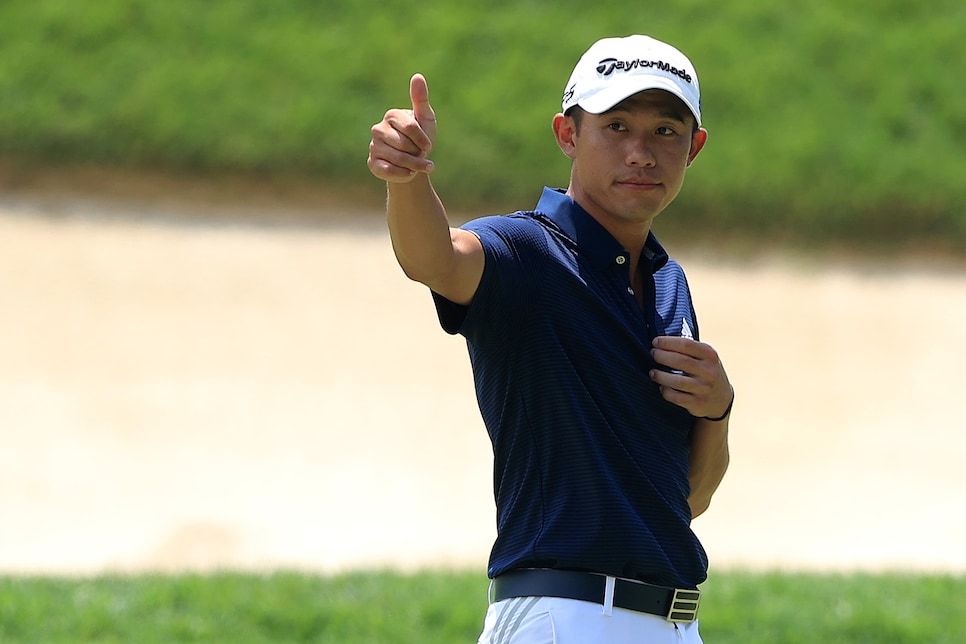 A collegiate standout at Cal, Collin Morikawa turned professional at the 2019 RBC Canadian Open and began his PGA Tour career by making the cut in 22 consecutive events, including a win at the 2019 Barracuda Championship. Since the tour's re-start, Morikawa has lost in a playoff to Daniel Berger at the Charles Schwab Challenge and won the inaugural Workday Charity Open in overtime against Justin Thomas. A star that continues to rise, Morikawa spoke with Golf Digest equipment editor E. Michael Johnson about the clubs in his bag, the key change he made to his putter at the Workday and the most unusual things he keeps in his bag.
You hit a great shot on the fifth hole Sunday with TaylorMade's SIM Max rescue to three feet for eagle. I understand you have two versions of the club, one higher, one flatter. Which did you have in the bag this week and what determines which you use on any given week?

I first tried out the hybrid when I was in Phoenix and they built me one with Mitsubishi's Tensei Blue and Tensei White shaft. The Blue goes a little higher and spins a little more. It's a good club for coming into par 5s when you need some height and it's not very windy. I used that a lot and have stayed with the Blue since Phoenix. I hadn't even brought the one with the White shaft with me to any golf tournament since Waste Management. At Travelers I hit a few shots that seemed to spin too much despite not too much wind, so I brought the White with me last week and decided to give it a try. The SIM Max rescue has been an amazing club, especially when you compare the height to a 2-iron. It's very straight and I get plenty of height, albeit with a flatter flight.
Although you've played TaylorMade for some time, you've pretty much overhauled the bag since the Barracuda other than the P730s. The big change, however, is the ball, switching from the Pro V1x to the TP5. What's your process for ball testing and what attribute about the TP5 helped prompt the switch?

There's feel. They feel very different. I used the Pro V1x for so long that I was used to a firmer ball. But I noticed at Safeway and Shriners I was hitting some chip shots that were not what I'm used to. I just didn't feel I was getting enough spin off my wedges. Iron shots I was able to hit these full-out shots, but I wasn't able to work them in left and right like I wanted to. When I went to the TP5 I told them it was going to take some time to get used to a softer ball and now that I've gotten used to it, I think it's the best ball I've ever played. I can work it both ways, have great spin with my wedges and it feels amazing. I actually prefer a soft feel off the putter. It's knocked off 100 to 200 rpms of spin from the Pro V1x so it's brought me into a nice spin range, which helps into the wind.
I notice the weight in your SIM driver is ever so slightly heelward. Do you try out different combinations with the adjustable weight and hosel or do you tend to find something and leave it alone?

I normally tend to find something and leave it alone, but I actually moved it around a little during the break. I was just messing around to see what changes might happen. But I felt good hitting the driver before the quarantine break, so I think we'll leave it where it's at. I don't think I'll be touching it again for a while.
You use a split set of irons with the TaylorMade P730 and P750s. Where do you determine where that break comes in the set?

It's a combination of distance gap and trajectory. It's pretty much where I've made the break since going to a split set. The first time I used the P730s was the World Amateur Team Championship in Ireland in 2018 and I used a full set of blades. But when I hit the 4- and 5-iron I realized I wasn't able to get them up in the air easily or flying as far as I wanted, so I made the decision to use something a little easier to hit higher.

Did you do any work or make any changes to your equipment during the break?
The biggest change I've made recently was on Monday of the Workday. We actually flattened my putter 1.5 degrees. I have a long-neck putter in the TP Juno and it was weird because they flattened the putter but it got my hands more vertical and into the position I wanted them to be in. The putter was sitting just slightly upright and I looked at some footage from Colonial and I noticed the toe was sitting up. We figured out a way to flatten it out and it just worked wonders. This is the same putter I've had for quite a while now. It's just something I'm comfortable looking at. It's got a sightline on top and sits nicely in my hands.
You have one non-TaylorMade club in the bag with the Titleist Vokey SM8 56-degree wedge. It has 14 degrees bounce. What about the high bounce works for you?
I've used a lot of bounce for a while and it just works for me. That club I've actually bent to 55 degrees. I really haven't tried anything else. But I did make a change with my other wedges. The 60-degree TaylorMade MG2 we found the right bounce [slightly less] and that's been amazing off of tight lies. I used to use a stock 8-degree bounce and I noticed my chipping wasn't great in the grainy, tight lies of the Florida swing and TaylorMade ground this wedge for me and it's one of the best wedges I've had in a while. Added heel relief and some on the back so when I open it up it sits flush to the ground.
Most unusual or personal thing in your bag?

I have a bunch of money clips from a lot of amateur events that I've played well in. I have no clue why I keep them in there. But I do and make my caddie carry them. I also have about 50 pencils from various golf courses that are all very dull. I also have a picture of me and my girlfriend that I keep in there.

What's the most frequent mistake amateurs make with their equipment?

They're different levels of abilities with amateurs, but you see a lot of them playing smaller heads or less forgiving heads than they should be or need. They also need more loft and weaker shafts for the most part. Sometimes I also think they just need to get new grips. That would help. I used to never switch grips until I got a new set of clubs, but I think many times new grips can change how the club feels in your hands.

What's the last club you bought with your own money?

Oh man. I can't answer that. I don't think I've bought a club with my own money. It's always been my parent's money. If I have, it's been over 10 years.