News
Colin Montgomerie: This is Europe's best Ryder Cup team, ever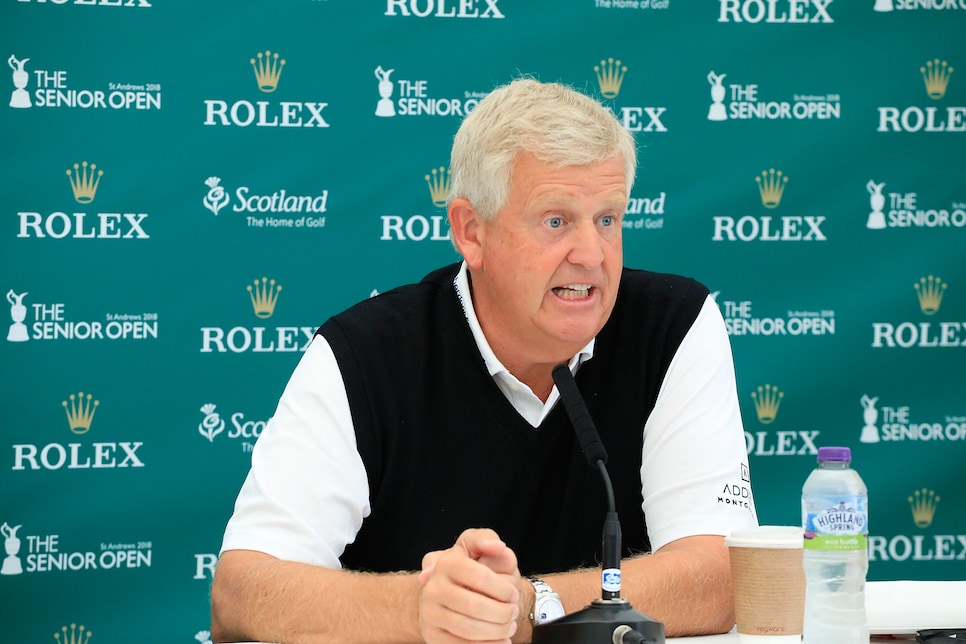 ST. ANDREWS, Scotland—Colin Montgomerie press conferences has always been a bit like a round of golf. They ebb and flow. They have their ups-and-downs. A few of his better lines are birdies, even eagles. Others are the verbal equivalents of double-bogeys. Sometimes he even veers out-of-bounds. In contrast to the metronomic play he exhibited at his peak, chatty Monty rarely sticks to the middle of the fairway.
On the eve of the Senior British Open at St. Andrews, the rotund Scotsman brought all of the above to the media center. As ever on a Wednesday—no poor shots having yet been struck—Monty was in fine fettle as he settled into a suitably well-upholstered chair in front of his eager audience. When the press officer's mobile phone went off seconds into the interview, the eight-time European number-one was quick to quip: "That'll be Darth Monty," a reference to the spoof character on Twitter.
As ever too, no subject was off the Monty radar. So it didn't take long for him to get stuck into Tiger Woods, the man who beat him into second-place in the 2005 Open over the Old Course, and his performance in last week's Open at Carnoustie.
"Tiger has been in position to win many, many times recently," said the 55-year old Scot. "And hasn't finished any of them off. Last week he was in 'the zone' as much as he has ever been for the first 61 holes. He was leading on the eighth tee, then things started going wrong. He started shouting at the ball. He was more tense and more anxious about where the ball was going.
"You could feel his tension. He's not immune to that. He's not immune to pressure and how much it means. And around the turn to began to mean too much. He sort settled down after he bogeyed 12 when he was out of the lead. He got back to what he was doing and finished one-under from there but it wasn't enough."
Okay, which brings us to the biggest question. Can Tiger win a tour event again, ever mind a major?
"He was leading after 64 holes for goodness sake, or damn close," said Monty. "Can he finish that off? Yes, I think he'll learn from that experience. It was his biggest test yet since he's come back. And he'll learn from that."
Okay, what's next? That would be the biennial contest between Old and New Worlds. Eight times Monty played a singles match in the Ryder Cup. Not once did he emerge defeated. Francesco Molinari's Open victory will, he says, provide the European team with a huge boost. Certainly, he likes Europe's chances in Paris come September.
"It is amazing what an Open victory does to a team mentality," he said. "(European skipper) Thomas (Bjorn) is probably looking at the best team that we've had for, well, almost ever. Alex Noren hasn't played before, but he's a world player. Jon Rahm, world player. Molinari has played before, and Tommy Fleetwood is another world player. We've got a great strength in depth. It's looking extremely good for Thomas."
With that, Monty was off. All smiles. How long that lasts is anyone's guess though. Wonderful on Wednesday. Tetchy on Thursday. Furious on Friday. Stormy on Saturday. And Stroppy on Sunday.