News
Colin Montgomerie holes everything on the back nine, wins first senior tour event in Japan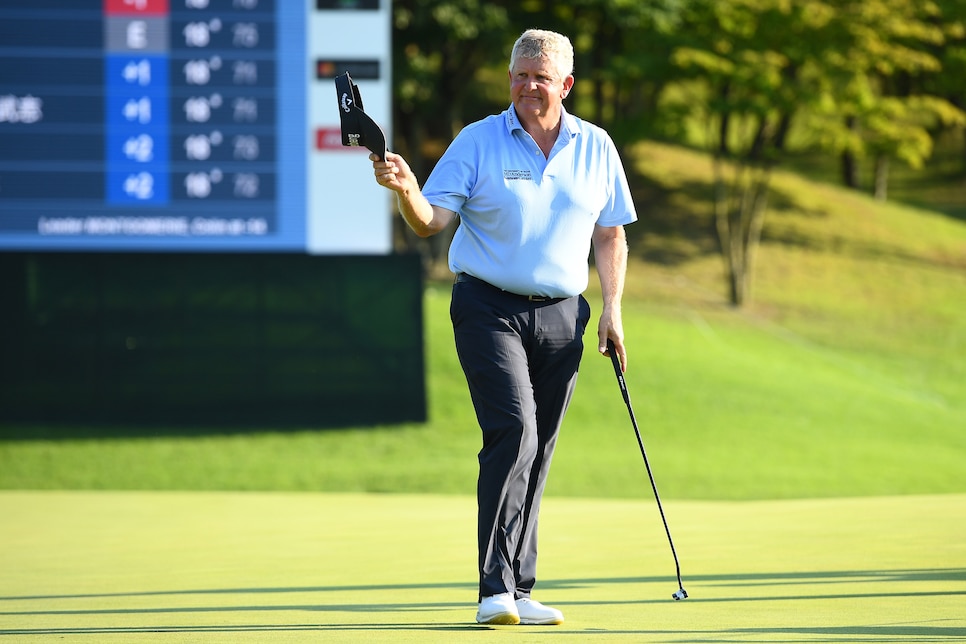 There were no guarantees Colin Montgomerie would win again on the PGA Tour Champions, and he knew it. Sure, the 54-year-old Scot had transitioned successfully to the senior circuit from his Hall of Fame career on the European Tour, winning four times, including three majors, in his first three years out. But torn ligaments in his left ankle had kept him off the course for 2½ months this spring, and age made returning to form a more tricky.
So it was that Montgomerie's one-stroke victory on Sunday after a closing 67 at the Japan Airlines Championship carried plenty of meaning.
"I'm just beginning to play the way that I have the last three years," Montgomerie said after shooting a 14-under 202 for the week.
Monty benefitted from a hot putter in the final round at Narita Golf Club in Chiba, Japan. He birdied four of the first five holes on the back nine, making a 20-footer on the 10th, a 15-footer on the 12th, a 60-footer on the 13th and a 14-footer on the 14th. But it was two key six-footers on the 16th (for par) and 17th (for birdie), that allowed him to need just a two-putt par from 50 feet on the 18th hole to hold off Billy Mayfair and Scott McCarron.
In the first PGA Tour Champions event in Japan, a significant milestone in the minds of most of the participants.
"It's a big deal, a very big deal," Montgomerie said. "And let's hope that the success of this event goes forward and not only allows the PGA Tour Champions to come back and compete but also allows the PGA Tour to come and play here. It will be fantastic if that time ever comes."
Massy Kuramoto, chairman of the PGA of Japan and among those responsible for making the event possible, topped the six Japanese players in the field, finishing T-7 after a Sunday 67.
Playing two groups ahead of Montgomerie, Mayfair put pressure with a closing 66, but missed a six-foot birdie try on his last hole.
Meanwhile, McCarron, the leader heading into the final round, was looking for his fourth title in his last seven starts. But he opened with a double bogey and couldn't catch up, despite birdieing the last two holes for a 71.
It was Montgomerie's first victory since he beat McCarron last September at the Pacific Links Bear Mountain Championship in British Columbia, where he'll prepare to defend his title this coming week.