Equipment
Cobra King F8 iron family looks to smarten club design and golfers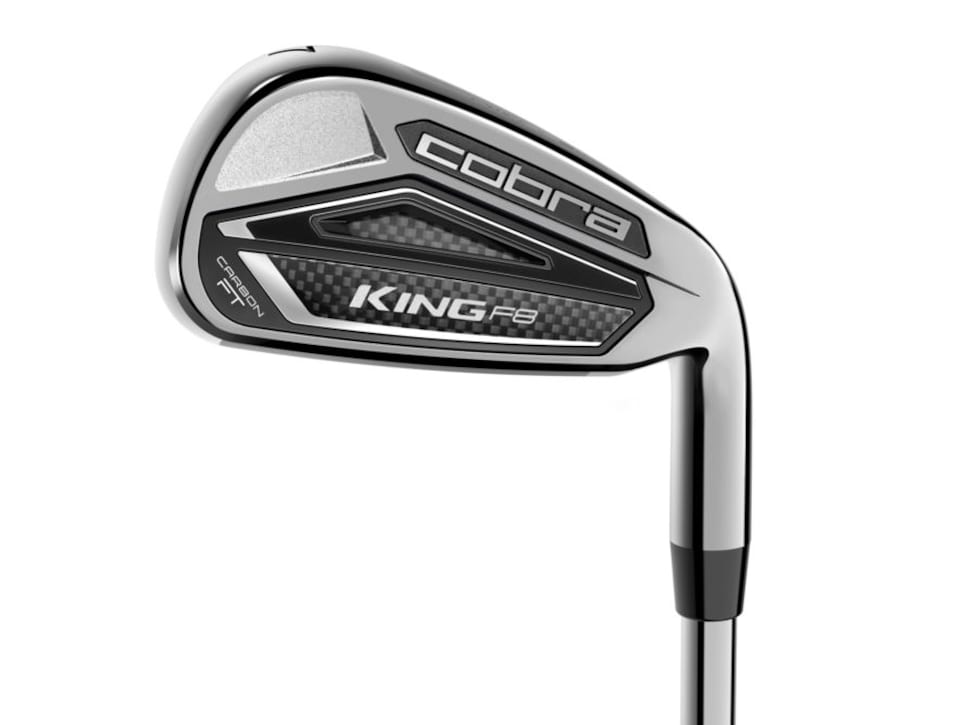 Cobra's King F8 iron family, which also includes its next version of a single-length iron set, reflects an increasing focus on making the iron set smarter, and as a result making the average golfer smarter, too.
Cobra's team set about attacking the former by designing three types of irons within the set. Those three distinct constructions are aimed at better matching the differing performance needs of long irons, short irons and wedges. That includes specific shapes, materials, face technologies, as well as groove types to maximize distance, forgiveness, and control.
The latter is Cobra Connect, the company's unique partnership with the Arccos in-round stat tracking technology platform. Cobra Connect imbeds sensors in the grip that work with the Arccos app to provide club statistics and GPS data. Each King F8 iron will feature a grip embedded with Arccos compatible sensors and each purchase of a set will include additional sensors to attach to the rest of the clubs in the bag.
"Our 2018 iron offering provides not only innovative technologies to achieve better performance across the board, but also the wherewithal to actually quantify just how much better, thanks to Cobra Connect," said Tom Olsavsky, vice president of research and development for Cobra.
The King F8 irons feature hollow designs in the 4-iron through 7-iron. The design features an L-shaped face forged 17-4 steel face insert that wraps around the sole to provide greater ballspeeds across the face. That face insert is 20 percent thinner than the L-face insert on the F7 irons.
A carbon fiber medallion in back saves weight and enhances feel. A shorter hosel on the long irons also helps to lower the center of gravity for higher launch. In addition, milled V-grooves help shots launch with less spin to improve distance.
"We've positioned that saved weight low," Olsavsky said. "It's always a tradeoff, but we're trying to get low CG and increase moment of inertia.
"When you think about in terms of the golfer, low CG should help you more in the long irons, but we also know that inertia helps you in the long irons because you mishit those more than you mishit short irons."

The short irons (8-iron through pitching wedge) feature a focus on spin, control and feel. That includes a cavity back design where the base of the cavity is filled with carbon fiber to improve feel. On these irons, the milled groove design is more U-shaped to provide better control, especially on shots from the rough.
The set also includes gap, sand and lob wedges that are designed like specialty wedges, including a forgiving, versatile sole shape, a longer hosel to raise the center of gravity for more spin and a tighter-spaced groove design similar to that found on the company's specialty wedges.
The King F8 One irons are the second generation of Cobra's approach to single-length game improvement irons. The primary changes from last year's F7 version was to change the shafts to provide more ideal flight for a given iron. That meant more tip flexibility in the same-length shafts in the lower-lofted irons (for higher flight) and less tip flexibility in the shafts in the higher-lofted irons (to prevent shots from launching too high).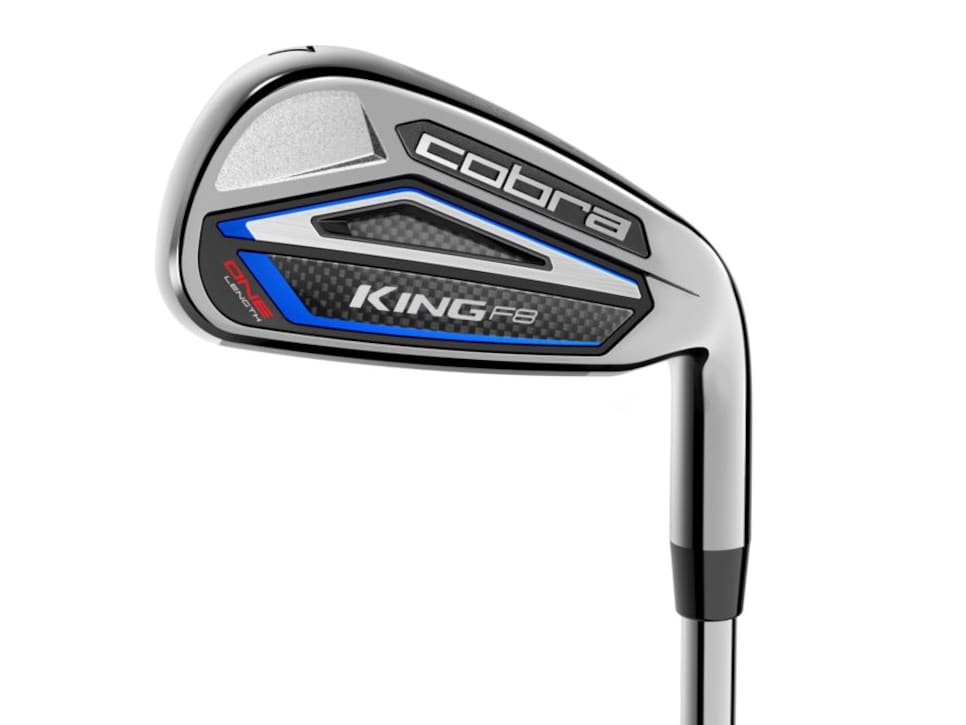 The King F8 One irons also look to increase launch on the long irons with wider soles on the 4- through 6-iron, while the higher-lofted irons and wedges benefit from longer hosels that raise the CG for increased spin.
The King F8 line of irons will come in several options. A seven-piece iron set (5-iron through gap wedge) is $800 in steel (True Temper XP 90). A seven-piece combo set of 5-hybrid and 6-iron through gap wedge is $1,000 in graphite (Aldila Rogue Pro 65). A women's graphite combo set ($1,000, Aldila Rogue 60) will include 5- and 6-hybrids.
The King F8 One seven-piece, single-length set is available in both steel ($800, True Temper ONE Flighted) and graphite ($900, Aldila One Rogue 65), as well as a combo set that features the King F8 One hybrid, a 7-iron length hybrid with 5-iron loft ($1,000 in graphite, Aldila Rogue Pro ONE Length 65).
The King F8 family of irons will be in stores Feb. 2.