The Loop
When it comes to COVID and the college hoops season, Coach K just said the unsayable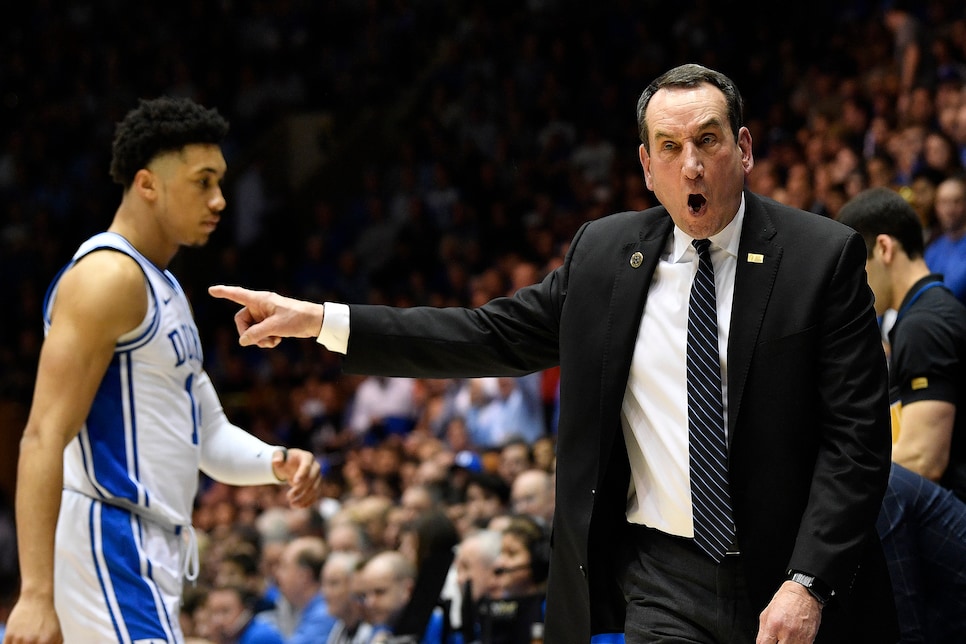 Before we get to the mini-bomb Coach K dropped Tuesday night, the big caveat here is that it came minutes after Illinois crushed Duke at Cameron Indoor Stadium, and as we've covered in these parts before, Duke just isn't very good this year. Any broader complaints made by Coach K in the aftermath of that drubbing will probably be viewed in the context of the loss—i.e., sour grapes—and hey, maybe it's fair. If you're a Duke hater to begin with, you probably already know about the time had a bunch of losses scrubbed from his record when he had back surgery and his old assistant Pete Gaudet had to take over the team mid-season. Now, as a homer I would counter that he had a serious medical issue, and his team was 9-3 and ranked in the top 15 before he quit, and Duke was just following NCAA policy in terms of wins and losses...but we're not here to adjudicate 25-year-old debates.
We're here, instead, to talk about what he said in the aftermath of that loss. Specifically, about the state of the season in general as we reach a spike in COVID-19 cases and on the verge of what many experts think will be a brutal six weeks before the vaccine becomes more widely available.
"I would just like for the safety, the mental and physical health of players and staff to assess where we're at," Krzyzewski said...
"We're just plowing through this."
But it quickly got more pointed:
"People are saying the next six weeks are going to be the worst," Krzyzewski said. "To me, it's already pretty bad. On the other side of it, there are these vaccines that are coming out. By the end of the month, 20 million vaccine shots will be given. By the end of January or in February, another 100 million. Should we not reassess that? See just what would be best?"
"We got our butts beat," he said. "For the good of the game and the mental and physical health of players and staff, we need to constantly look at this thing. I think that's a smart thing to do."
In other moments, he noted that any group led by committee is not "agile," and said he doesn't know who leads NCAA basketball...which is kind of an hilarious shade-throw, because, well, the man knows.
Even if he still maintains some distance from outright saying "they should cancel the season," this is as close as almost anyone has come in major team sports to breaking the omerta code and questioning whether they should be on the court right now. Coach K has previously maintained that the NCAA needs to hold a tournament this year, and if you read between the lines, it sounds like he's advocating a season that starts sometime in the spring and culminates in the early summer. Which makes sense from a guy who has already had two games canceled. Who wouldn't love a little June madness?
It makes sense that Krzyzewski would be the one to take the first tentative critical steps, since he has a ton of reputational power within the game. Predictably, the NCAA had no comment, but you have to wonder if this will open (or at least loosen) the floodgates. If the science is right, the situation is only going to get worse everywhere, and unlike the NBA with its bubble or the PGA Tour with its combination of tight protocols and outdoor play, college hoops seems doomed to repeat exposure. Same with college football, as we see from the cancelation of Michigan-Ohio State, among others. Everyone's ideal is to play, but Coach K's remarks might be the start of a movement that ultimately delays the season.