News
Equipment reps are busy getting players 'reunited' with their clubs ahead of PGA Tour restart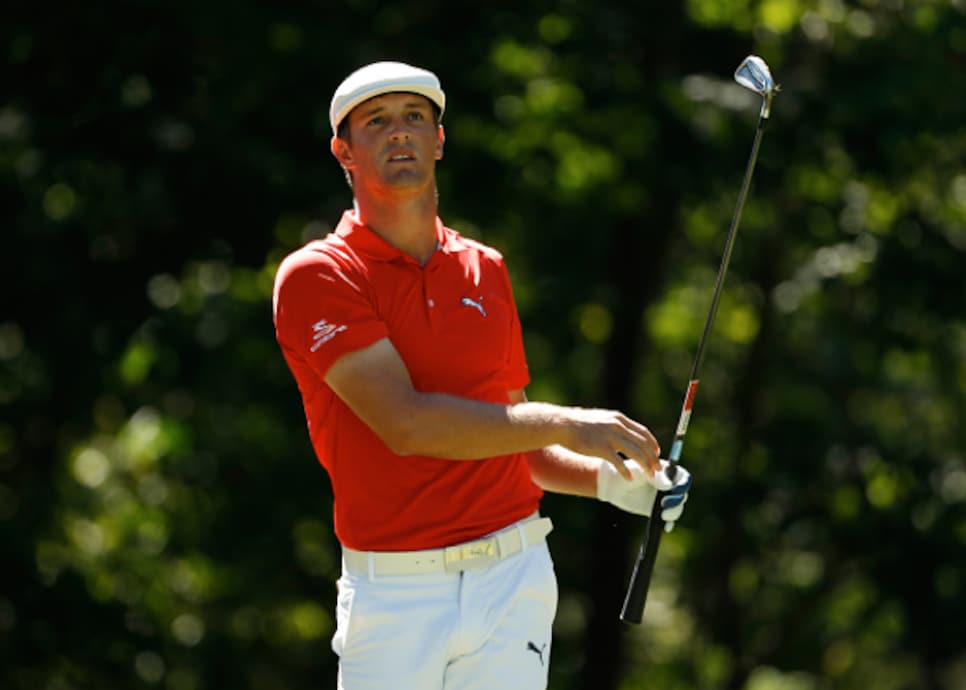 Cobra built Bryson DeChambeau a new set of irons from scratch during the recent downtime.
As the PGA Tour returns to action next week at the Charles Schwab Challenge at Colonial Country Club in Fort Worth, it will mark the first tournament play in some three months. That's certainly a long break for the players, yet in many ways, it's been even more drawn out for another group directly involved in the competitive golf environment: the tour reps who service the players' equipment needs.
Tour reps are modern-day gypsies, often on the road for approximately 40 weeks a year. It's a life most relish—and then came COVID-19, with play halted at the Players Championship in March. Players and reps accustom to seeing each other on a weekly basis were now separated for several months.
That separation was in geography only, however. While many players took advantage of the downtime to put their clubs away for a while, others saw it as an opportunity to work with their equipment company—something almost everyone contacted for this article said has increased as the return to play got closer.
"The PGA Tour players I work with had been fairly quiet until recently, when the Tour posted an updated schedule," said Aaron Dill, who works on the bulk of tour player wedges for Titleist. "Since then, I've been busy placing orders and building wedges. The players I have spoken with over the last few weeks have been practicing their short game a lot and wearing out wedges. They also have been requesting backups and occasionally something new they wish to test before tournament play begins. I've also been working with Max Homa, Ben An and others to create some interesting stamping and customization for when they come back."
As you might expect, how golfers, equipment companies and tour reps have been handling things varies.
Ping, for example, used the downtime to reach out to its players via Microsoft Teams meetings and connect them with the company's R&D department to achieve a better understanding of their equipment needs and desires.
The meetings were borne out of a conversation between Ping's engineering and tour departments, centering on the fact they had three players in the top 10 on the PGA Tour in greens in regulation, and how each used different types of irons—Harris English (Blueprint), Corey Connors (iBlade) and Tyrrell Hatton (i210). "We wanted to pick their brains about why they chose the irons they did," said Dr. Paul Wood, vice president of engineering for Ping. "It was great because we quickly realized there is no such thing as tour average. … So we expanded it and scheduled an hour with more than 20 PGA Tour, LPGA Tour, Champions and collegiate players."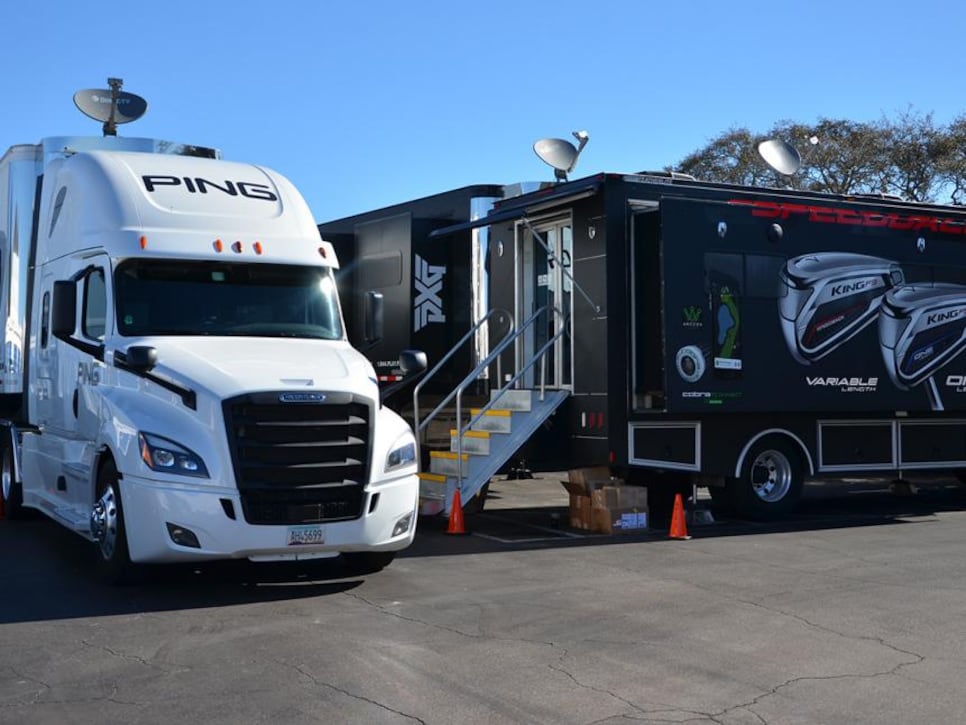 Player access to tour vans will be limited in the PGA Tour's return.
The upshot was Ping not only learned quite a bit, but some club builds came out of it as well. Sebastian Munoz requested a new lob wedge and another player a long iron. "When someone talks about their gear in depth for an hour, something is going to come up that might not come up in casual conversation," said Kenton Oates, PGA Tour rep for Ping. "You also learn things about players you might not have known. Like how Jeff Maggert hits his pitching wedge exactly 127.5 yards, or listening to Lee Westwood talk about how he has multiple pitching wedges and gap wedges built that he employs on certain courses because they're all yardage specific. In fact, he writes the yardages on the back cavity so he doesn't get them mixed up."
Mizuno also used the time to engage its players through its R&D process, sending, in some cases, plastic printout models of prototype wedges and irons and inviting its players to mark them up or provide other feedback.
"Typically, such work is done at an event, midseason," said Chris Voshall, Mizuno's golf marketing manager. "So even though we get great feedback, it's still a bit rushed and the players aren't able to give loads of time to really dive into each part of the design. This year was great because we received some very valuable input that you'll see work its way into future products."
Cleveland/Srixon had more immediate concerns with its staff. "I did some Zoom meetings with players like Graeme [McDowell], Shane [Lowry], and one with Keegan [Bradley] as well," said Rodney McDonald, the company's VP of tour operations. Those conversations led to Lowry discussing that during the downtime he found he needed more bounce on his wedges and that McDowell needed a fresh set of irons.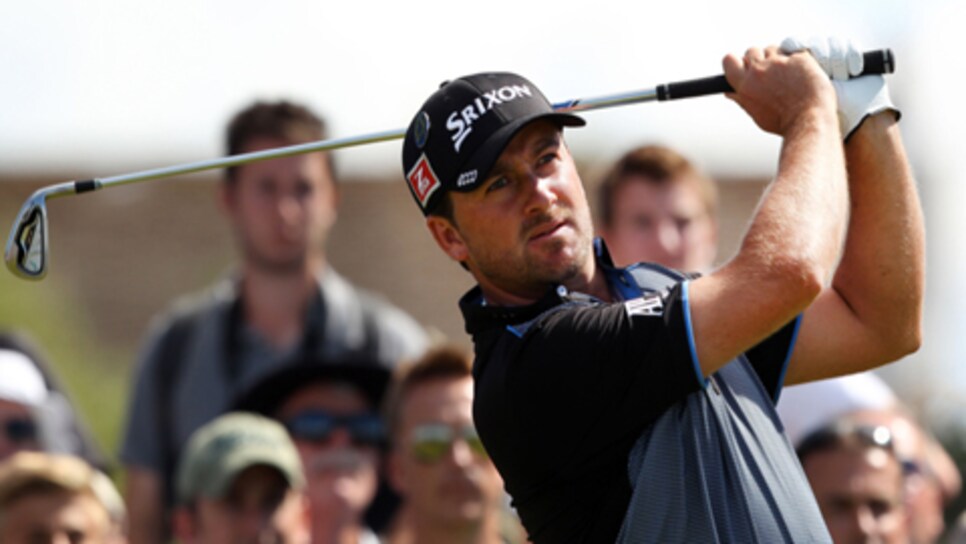 Graeme McDowell is one of the players Cleveland/Srixon worked with in Zoom meetings.
The company also found a way to be innovative with its tour vans. "Our big rig is at our tour driver's house," McDonald said. "He drove it home from the Players to Richmond, Va., and we had the trailer fully stocked. We sent him club boxes and other kinds of boxes in anticipation that we might get shut down in our building and we might have to use that as our tour department. For the first six weeks, we didn't have a lot of requests other than guys needing golf balls or gloves. But once the Tour set the schedule, we started getting a lot of wedge requests, and club requests."
The company also is putting its Korn Ferry Tour van to good use. The van and its driver are based in Delray Beach, Fla., so before the re-start the van is going to the Palm Beach area to visit Ernie Els and Bradley; then it's on to Orlando to see McDowell and Ted Potter Jr. before heading to Jacksonville to touch base with Sam Ryder and Russell Knox. Korn Ferry Tour players in those areas also can get whatever they need before play picks up again.
But why all the preliminary work? Unlike pre-COVID, where tour reps were able to access the range at tournaments and bring equipment easily to and from the vans, the scene will be much different going forward. When the season restarts at Colonial, the PGA Tour will use a system in which a player can have his caddie and one other person on the range, much like the Masters. That allows some access, but clubs still need to go through a sanitation process, making equipment work done on site for golfers a bit more challenging.
"What we can and cannot do on site has prompted players to reach out," said Ben Schomin, PGA Tour rep for Cobra, who worked with Rickie Fowler on a new set of irons during the break. "Duf [Jason Dufner], was like, 'I want to re-grip my clubs, but it sounds like it's going to be a pain on site. I think I'll just do it at home.' "
Schomin also has a plan for next week at Colonial. Instead of hindering his players' practice time, he's let them know work such as re-gripping and loft and lie checks can be done after hours. The players can leave their bags after finishing practice, and Schomin and his crew will do the work in the evening and get the clubs through the return sanitation process in time for the morning.
Kellen Watson, PGA Tour rep for Callaway, is a 13-year veteran of the range and knows the value of getting ahead in this new normal. It starts with already producing backup wedges for every staff player. The company's tour department also has been conducting weekly Thursday night Zoom meetings to stay in touch and share ideas. At PXG, tour rep Joel Kribel reports that players such as Pat Perez, James Hahn, Wyndham Clark and Ryan Moore—all of whom are local to the company's Scottsdale headquarters—have taken advantage of the proximity to get fresh grips and loft and lie angle checks done, while offering feedback on some prototype clubs.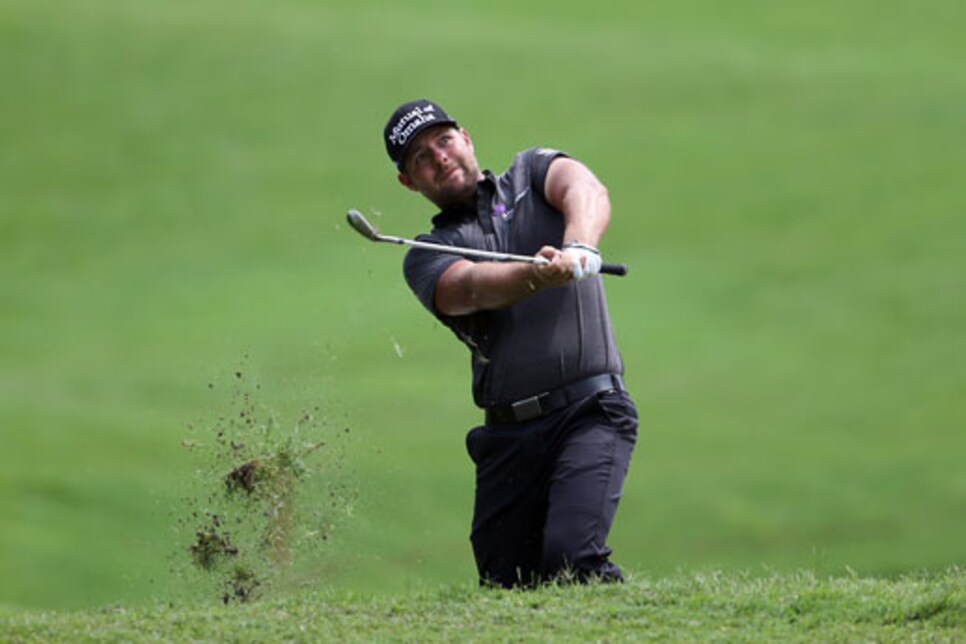 Ryan Moore is among the PXG players who has taken advantage of living close to the manufacturer's headquarters in Scottsdale.
Stanley Chou
Interestingly, most of the reps report that no major equipment changes came during the break, which they claim wasn't that surprising. The reps cite the fact that most players prefer to get dialed in by the Players and then go through the major championship schedule with minimal changes.
Still, there will likely be some new sticks in some player's bags come the Schwab. Titleist reported that Denny McCarthy was testing driver heads and Webb Simpson was dialing in hosel settings and shafts on his driver. At Callaway, Watson said the big change came from Dylan Frittelli, who used the downtime to hit the gym. "I had a conversation about two weeks ago to get a new driver out to him because with all the added muscle and power, he's seen an increase in clubhead speed and some of his launch conditions have changed," Watson said. "We're trying to get him dialed in before he gets to Colonial."
Of course, no equipment piece would be complete without checking in on Bryson DeChambeau.
"With Bryson, we're always working on prototype stuff, and through the course of this quarantine we've gotten a number of different projects in," Schomin said. "One of them was new irons. When the irons came in, they needed a lot of bench work. They were in a very raw state. Normally we have a small army of machinists and engineers and techs to help facilitate things. But now that small army is pretty much me. So that slows down the process."
As such, FaceTime calls became more common. "We typically wouldn't do that," Schomin said. "I'd just say, 'Hey, I'll show you this in a week.' But now we'll jump on FaceTime to show a cosmetic sample and get feedback."
DeChambeau also could have a new driver in the bag, with Schomin saying six different prototype driver heads with different face textures have been created for him to test. "I'm flying in on Friday before Colonial, and we'll have the tour truck there as well, so we're going to set up at his club on Saturday and Sunday for him to do some testing and get some work done that we don't perceive to be as easy on site at Colonial."
In other words, for both players and tour reps, the re-start to the Tour season brings with it a welcome two words: Break's over.