Equipment
Cleveland CBX wedge offers alternative to fit "84 percent" of golfers
The Cleveland CBX wedge marks the second time in as many years that the company famous for its short game clubs is suggesting a fundamental change in wedge design theory.
"If you think about it over 80 percent of golfers are playing cavity back irons, and they play these cavity back irons because they're a little bit more forgiving, little bit easier to hit, usually lighter weight than tour irons," he said. "But then you look at their wedges, and they're playing a pure blade wedge designed for tour players with a 130-gram stiff steel shaft. There's just a total disconnect in feel. So these wedges were built to feel and transition with your cavity back irons, but still have the premium wedge scoring technologies."
The CBX wedge is an undercut cavity back design made of 431 stainless steel featuring a wider sole that the company says allows for a full 76 grams of weight to be distributed low and around the perimeter.
Especially key to making the CBX wedge more user-friendly is the wide sole design, which is 25 percent wider than the RTX-3 at the center and nearly 50 percent wider at the toe. It features a V-shaped pattern with more bounce toward the leading edge and a flatter bounce toward the trailing edge.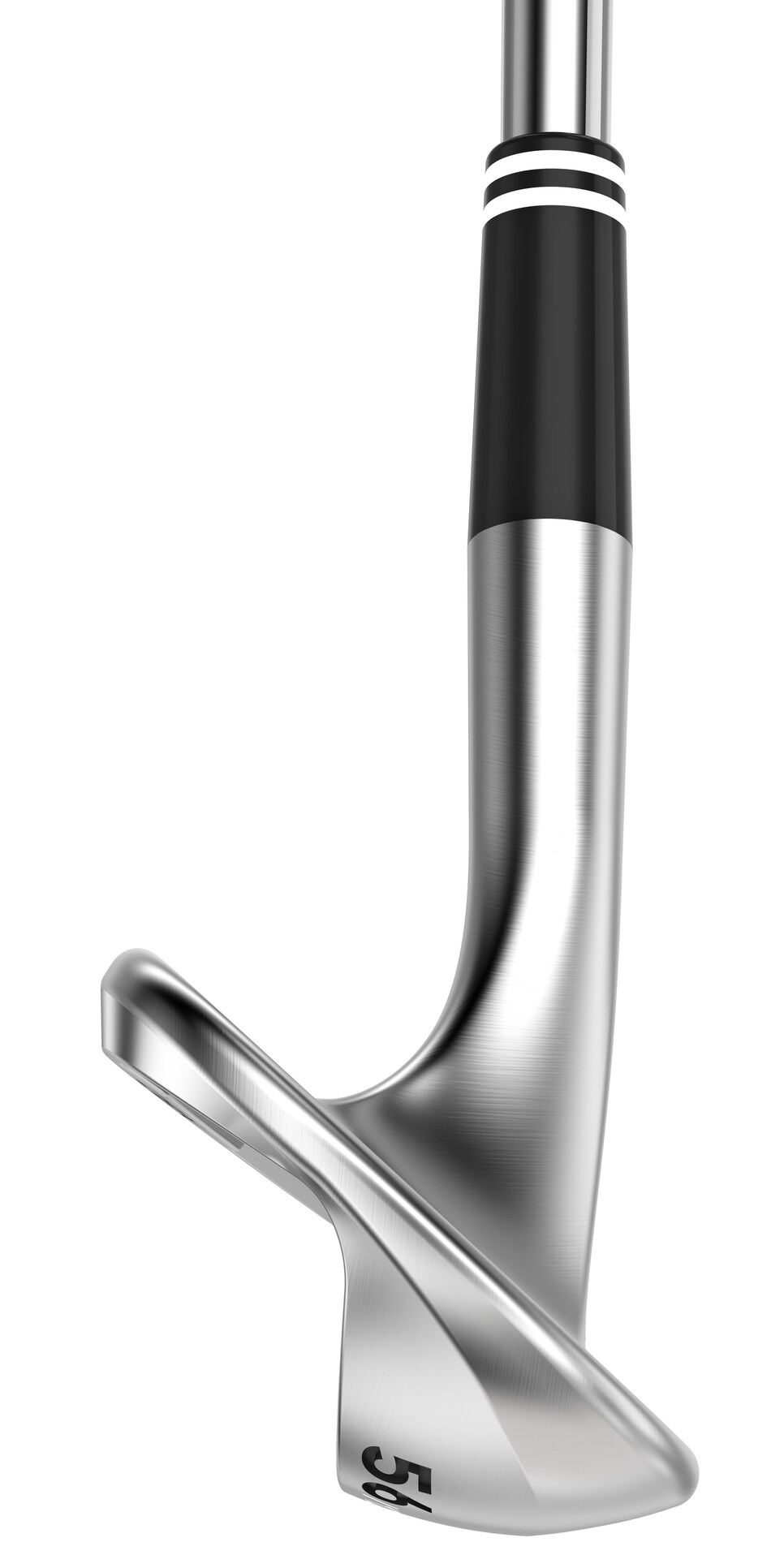 "The front of that back 'V' maintains that speed through the turf, and then the wider toe helps for stability on bunker shots and square faced shots," Schielke said. "The narrower heel is basically the same width as the RTX-3 wedge so you can still open it up."
The head shapes on the CBX wedge progressively size up so the lower lofts blend in with the shapes of the most commonly played game-improvement irons on the market, while the higher lofts match traditional wedge shapes.
One other frequently overlooked element of the CBX wedge is the shaft. Since most average golfers are playing lighter weight steel shafts these days, the CBX wedge will feature a specially developed 115-gram True Temper Dynamic Gold wedge shaft.
The CBX wedge also incorporates the center of gravity and face-groove technologies seen in the RTX-3 wedges. That includes shifting the center of gravity more in line with the center of the face by varying the sole width and topline thickness from heel to toe. That yields better feel and consistency, said Jeff Brunski, Cleveland's director of research and development.
"The CBX's shape is even better for the feel balancing by shifting weight towards the toe," he said. "With all wedges being heel-balanced in terms of center of gravity, this is the most feel-balanced wedge we've made."
The CBX wedge also utilizes the company's "Rotex" face pattern. That includes deeper, narrower grooves for more consistent spin from the rough, micro milled scoring lines between each groove and a two-pass milling pattern that increases surface roughness in a straight-on pattern for lower lofts (to match full shots) and a toe-angled pattern for higher lofts (to match up with open-face shots).
"If you were to start from scratch designing a wedge today and no one had designed a wedge before, based on everybody playing a cavity back iron, you wouldn't design a pure blade wedge that's heavier than all their irons," Schielke said. "You would put the Rotex face and the V sole in it, but we think the shape and weighting would be more like this."
The Cleveland CBX wedge takes a more simplified approach in terms of fitting, offering one head shape and one effective bounce for each loft. It will be offered in eight lofts (46, 48, 50, 52, 54, 56, 58 and 60 degrees). There also is a women's CBX with a lighter swingweight and offered only in graphite shafts. The CBX wedge will be in stores Sept. 15 ($130).