Courses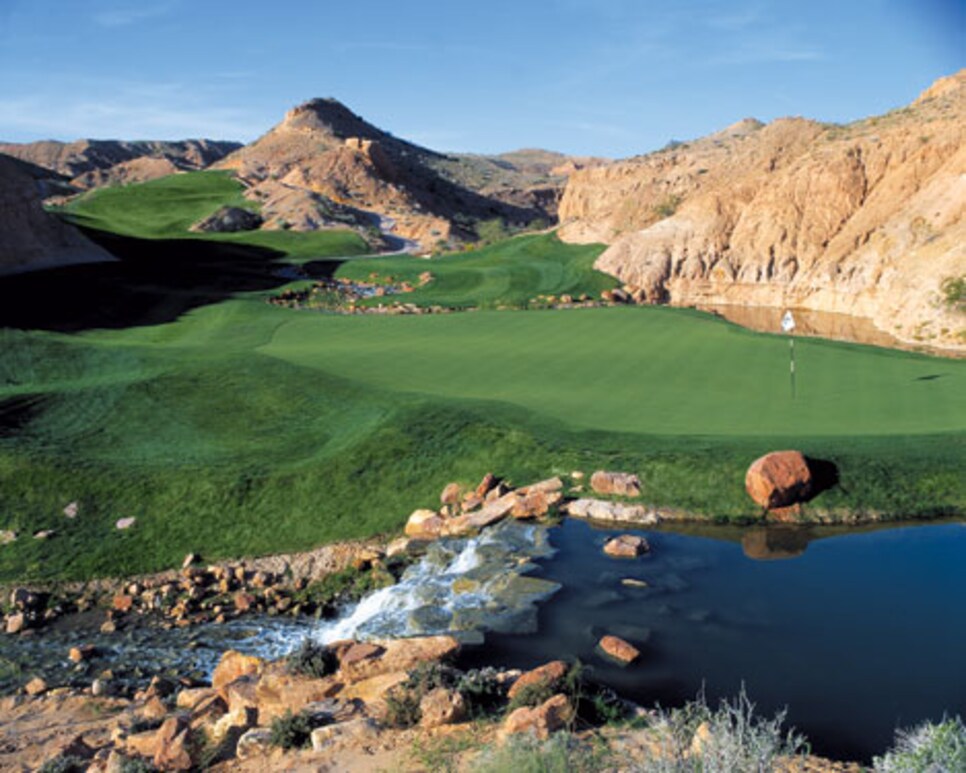 First, you gotta find a wingman. Someone who won't steer you wrong on the tee box, at the blackjack table, when ordering whiskey. Someone who will stand by you. Let's get out of here for a few days, you say. Let's throw some dice. Let's hit some balls. Chaos is at the doorstep in moments like these. You need your boy: someone you won't get tired of, someone who will drive once in a while, someone who's always game for a bet. Not all that demanding a job description, really, but sometimes it can be tough to find the right partner for your basic three-day casino-golf getaway. The selection must be made. The alchemy is essential. The wingman must be found.
Put the call out broadly. People have obligations, duties. Some guys just change; they no longer have time for long ambles, trays of whiskey sours on the pool deck, no interest in the argument in favor of parlaying a $5 hard-eight every time it hits. You're going to hear it all. Work is a common excuse. And some guys really do have to work. Poor bastards. One of my brothers was too booked to come with me on my latest trip. The other said he was a little short on cash. My local partner had family stuff. My boy in New York just returned from a two-week trip. The low point came when I called my friend Mike and asked him to tag along with me to Albuquerque: three nights, three premium courses.
He took a big sigh. "I can't," he said. "My cat is getting a radiological implant." "Your cat has cancer," I said. "Not cancer," he said. He sighed again. "Whatever," I said. "You can't go drink, gamble and play golf because of your cat. It has a tumor or something. That's what you're telling me." Mike moaned a little. "Pretty much," he said. "Sucks, though. I really want to go."
Ladies and gentlemen, this is not a wingman. And like I said, when you're going into the action, right into the heavy flak of the intense golf-gambling weekend, you gotta have one. There's always a reason to get out of a weekend of golf and gambling; rare is the one guy who will take to the road and all that it entails. When I called my college roommate, a large wedge of a guy, as loyal and kind as they come, a guy by the eminently sensible name of Jim Smith, he jumped at it. He was between jobs we both were and we needed to talk. The timing, he said, couldn't be better. Only then, with the partner in place, could I start to see the places I was going and the things I was about to do. I was flying to Albuquerque, N.M. I was going to jam as much golf and gambling as I could into 72 hours. We went over the itinerary on our cell phones from the airport, just before departure, my wingman and I. It felt for all the world like a mission.
Albuquerque is A sleepy little city. Downtown, they light the buildings at night, which is pretty enough. At least we thought so as we drove straight past it all from the airport, on the way to the Sandia Resort Casino, perched at the edge of the Pueblo of Sandia reservation, toward the three excellent golf courses I booked for the two of us: Santa Ana Golf Club, Sandia Golf Club and Twin Warriors Golf Club. (These courses are Nos. 33, 28 and 10, respectively, on Golf Digest's new list of the Top-40 Casino Golf Courses. See page 157.)
By the time we arrived it was the middle of a Tuesday night in the desert, both of us having arced the nation on long commercial flights to settle here. Eight floors above the desert floor, facing a mountainside as yet unapparent in the blanket of darkness, we started to feel the twin siren calls of the casino-golf getaway. The casino beckoned just below us, the golf course called from the distance. The former wanted to draw from the latter. At that point on the trip, time stretched out in front of us. We could go play cards, or we could rest up for the 36 holes facing us later that day. In this way we discovered the first key to the golf-casino connection: Each in its own time. We had a tee time in six hours. So we slept.
Golf and gambling share a measure of the same urgency in the life of a vacation. When you're staying at a casino and playing golf there, or nearby, your truest measure of the experience is time. What is 72 hours, really? Three twirls of the planet, in a cycle of millions. Nothing. Similarly, what is three rounds of golf? Fifty-four holes? In the grand scheme, it amounts to very little. But when you wake up in an enormous suite, with a grand, golden window view of the gnarled and snow-tinged Sandia Mountains, when you trudge northward in the cold desert morning, alongside the commuters, when you stand at that first hole, overlooking the tough Tamaya nine at Santa Ana Golf Club, 54 holes feels like a very large asset, like a giant roll of cash, and two days, like an eternity. The sun risen, the air warms with every minute. Hitting into the belly of the first hole feels like a small act, a tiny carving from the trip in full. It hardly seems to cost a thing, time wise.
I had a friend who once told me things are different in the desert. Of course, that was when we were driving his crappy, under-air-conditioned '92 LeSabre back from Vegas to L.A., looking at a distant ranch house surrounded by miles of nothing but scrub. But on this day, Smitty and I discover that same thing once again: Things really are different in the desert. The ball carries, and I am suddenly, blessedly, a long hitter. We play from the tips on the first nine, then slide up to the front tees so we can start trying to drive some greens. And so it is, that on the second nine at Santa Ana (where we were directed to the Cheena side, slightly longer from the front tees), the real gambling begins.
We work with units, not dollars. If anyone asks, we tell them each unit is $100. We work the unit out later, depending on how bad the loser is playing. Driving the green is good for 50 units, we decide. Beyond that, we have a four-unit nassau with 10-unit birdies and all kinds of junk working at this point. I dust up the last seven holes at Cheena caught between two grumpy foursomes of regulars with a string of pars and leave the course up 74 units. The day lolls out in front of us: lunch ahead, golf to be had, and then of course there is the gambling.
For our afternoon round, we return to our hotel, to play the crisply challenging Sandia course, which spreads in the shadow of our room like a wonderful piece of drapery on the desert floor. Now the wind starts, and where once we were long, now we are like a pendulum of distance one tick, downwind and ultra long, the next tick straight into it, ultra human. The Sandia course is a maze of marvelous choices, fairways split, with more than one carry offered from many tees, and just off the fairways the sand is unfamiliar, somehow compressed. It's a great casino course, risk so closely paired with reward.
In the middle of the second round, I realize our time there has been cut in half. Twenty-seven holes gone and only 27 to go. It is Zeno's paradox brought to life: If you can cut it in half once, can't you do that again, then again? Wouldn't it follow that you could split the smallest measure of time, leaving you stuck there on vacation, with a pocketful of 20s forever? At the 10th tee, I tell Smitty much lies ahead for us. "We haven't even touched any felt yet," I say, pointing to the casino. And with that, I wave the cart girl over, and units begin to slide toward my wingman.
Straight off the sand, I like to play craps. I learned the game 12 years ago, when I took part in a 75-minute roll that I still think about every time I sidle up to that rail. Seven hundred bucks became $17,000. Bam. Just like that. Nowhere in a casino is the team spirit so apparent as at a hot craps table. In Albuquerque, unlike Vegas, where the minimums are higher, a $5 craps table seems to be the standard. And, as I tell Smitty, $200 can earn you a lotta life at a $5 craps table. I hit my first point, and the ship is launched. I try to bring Jim in on the rail, but the table heats up, and soon I'm just facing the action sunbaked, bone-weary, but willing to watch the little guy in the sweatsuit knock out a few rolls with me at full odds. The dice fall, and time flares by.
Maybe I lost sight of him. Maybe I didn't make clear the compact of the wingman. But later not much later, either I'm standing at the end of that craps table, and Smitty has gone for a bottle of water. This is the Sandia casino, the best of the area, where high ceilings, the upscale design and a live band give the place a festive, celebratory ambience. But just now I am suffering. They don't serve booze on the floor at the casinos in Albuquerque, and I know myself well enough that there's no getting away from a craps table in late afternoon, when I'm fresh off the golf course. I need Smitty to glide in, sympathize with my losses, and urge me upstairs, so we can change and go grab a steak.
We've spent the day in a web of conversation our kids, our houses, our money, our shared past. Truth is, I miss him. It's been only 20 minutes. There are reminders of it in everything we broach, and I'm grateful he's come out here with me, grateful to reconnect in the midst of the hubbub. But just now I'd be grateful for a 4, because I have a two-way parlay on Little Joe and full odds on the point. I step away from my table, dial Smitty's cell. Even if I hit, I want him to whisk me out. The roll comes. Nothing.
I step away again, redial. I text message. Nothing. The kid working the table eyes me sympathetically. "Lost your date?" he says. "I lost my freaking wingman," I say. "Guy went out for water, and he must have found religion." The kid grimaces. "It's tough to get away from a craps table," he says out of the side of his mouth. I dial and dial. Twenty minutes later, Smitty rolls around the corner, carefree. Over his shoulder, I can see the light from the doorway. Evening approaches. It's getting dimmer. The moment I see him, I don't give a damn about the table. I pull up, take my losses and start in.
"Don't leave me again!" I say like some loony girlfriend. He laughs as I pocket my chips. "You up?" he says. Maybe he can see the pain in my face. I lost 79 units on the afternoon course, and 450 units there on the craps table in an hour. I know, I haven't valued the units yet. Use your imagination. "You could say I was down," I say. Then I look at him, and slap him on the shoulder, so glad that he's there. "But that would discount the fact that I'm going to win it all back later."
Is there ever a real story in a casino? Better yet, is there anything else but stories? I once turned 700 bucks into $17,000. That kind of thing? Our story: We lived like kings that night, and the next. Prime rib. Good bourbon. Cute waitress. Smitty took a harsh blackjack lesson, with what appeared to be female transvestite on one side and me on the other. Then I played 4-8 hold 'em like a champ and made up my craps losses, plus some, by 4 a.m., just in time to hop in bed for three hours before waking up for Twin Warriors, our last 18, our last slice of daylight, and our best chance to talk through our last stories.
I'd chosen Twin Warriors to play last because I'd heard it was the best in the area, and it turned out to be the right choice. We took one look at the first fairway and doubled the stakes. It was uncrowded, well-staffed and easy to figure, tough to negotiate. It rose off the bed of the Rio Grande and the grove of cottonwoods there, up, and then up again on the back nine. It pushed closer to the swirling geology of the buttes that buffer it from the surrounding desert. We ambled. We let people play through. With each hole that passed, each little scallop of time that chipped away, I gave up any sense of urgency. We had plenty of time.
I stood at the 16th tee at Twin Warriors and looked out, for the umpteenth time at the rise of the Sandia Mountains in front of us. They never look the same, I thought. We'd heard there was a tram up those mountains, and a restaurant. "You wanna go up tonight?" I said, pointing up at the peaks. "Get a look at that view and grab something to eat?" Smitty shook his head. "Nah. I thought you wanted a look at that other casino," he said, before launching his drive. "I thought we were here to play. Come on." I loved his reserve. I knew I could borrow on that. Wingman! There's always a menagerie of hope at a casino. I began to feel its pleasant pull, the urge to kill some time on the rail, on the felt. Each in its own time, I reminded myself. I teed off. It occurred to me then that there were just these three holes left. Nothing more to cut in half. I was just right there in that moment. My ball found a groove through the wind, and I bounced well ahead of him, for once.
I was thinking, You have to make yourself do this. Years might pass before we get to it again. Cut the year in half, I thought. Then halve that again. I looked at him. My old friend, dragged to the desert by his old friend. "I only know one thing," Smitty said. "I'm with you. I'm going where you're going."
"Yeah, me too," I said. "I'm with you." The thing is, for that night, for those days, on the course and at the tables, we both knew precisely where that was.