Media
Jim Nantz and the CBS crew on the 2023 season, Trevor Immelman's new role and covering LIV Golf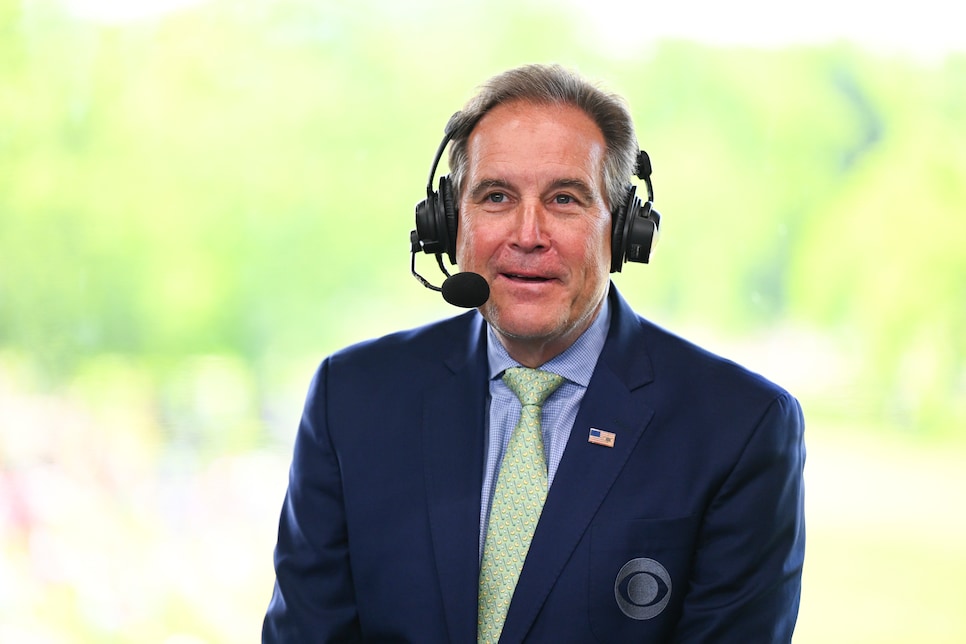 The PGA Tour on CBS returns next week after a five-month hiatus, the Farmers Insurance Open kicking off the 2023 season for the network. Similar to last year the Farmers will finish on a Saturday to not coincide with the NFL's conference championship games, meaning Jim Nantz will be calling the Torrey Pines event remotely. "We're really excited to be back at San Diego and to be the only network that has a primetime Saturday finish in all of golf," said Sean McManus, chairman of CBS Sports. "I think it adds an entirely new and interesting element to the coverage." The network will also be presenting the tour's FedEx Cup Playoffs for the first time, while 2008 Masters champion Trevor Immelman will assume lead analyst duties following the retirement of Nick Faldo.
Golf Digest caught up with Nantz, Immelman, McManus and lead producer Sellers Shy to discuss the upcoming campaign, changes to the broadcast and how the network will cover LIV Golf.
There's been a demand over the past for years for more innovation from the broadcast. But to a large contingent of viewers, it's a product they already love and are comfortable with. How do you juggle that need to improve while simultaneously not altering what fans enjoy?
Shy: I think we're always looking to create opportunities to improve. The initiative that we started with, that constant leaderboard has really given us an opportunity to utilize that space. We have some creative minds around us. We have some golf fanatics around us. Without compromising any of our traditional values that the talent brings or frankly our production team brings we're still able to install technological advances or just overall production advances. We're using that constant leaderboard for more and more data each year. We've identified certain areas, whether it's 16th at Scottsdale or 17th at Byron Nelson, or Travelers at that 15th-18th area to enhance them. Whether it's with a fly cam or a boat cam or more drones, we've listened to the fan and we can see with our own eyes that it has enhanced our coverage without compromising anything that we've been taught.
I always enjoy saying that to the right of me is Steve Milton, the director not only directs SEC football, but he's been a CBS lifer. He was in the mail room in 1982. And we have Jim Rikhoff to the left of me, who also started in the '80s, and he is our lead NFL guy, but a passionate golf producer as well. Everywhere you turn in our compound, they have a little bit of CBS Golf in 'em. So we we're fully grounded, but our egos don't get in the way. We know that there are incredible opportunities for the fan out there and we define them.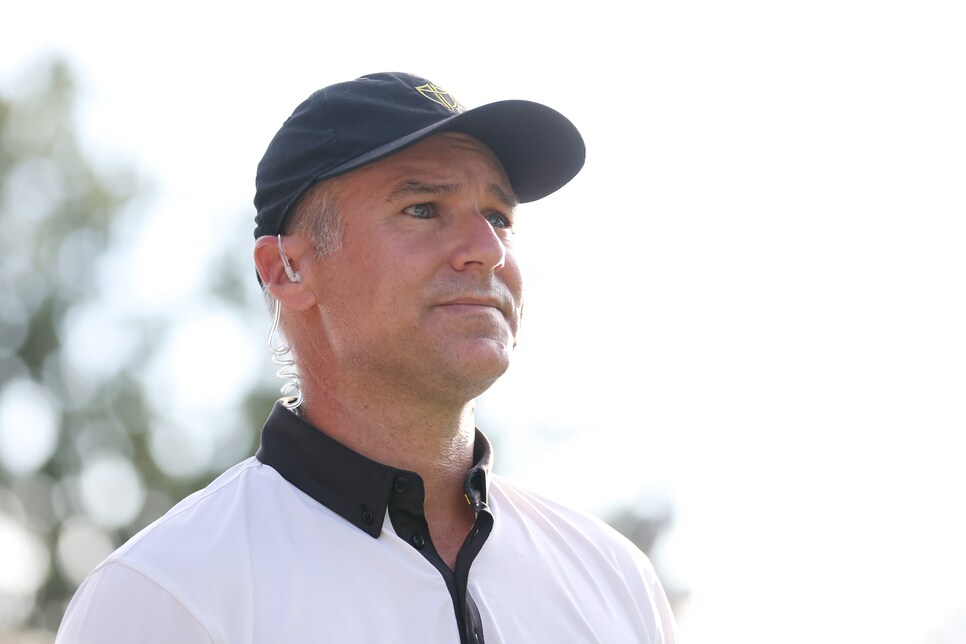 Jim between football and college basketball and golf you've had a number of partners. With Trevor coming in this year, what have you found to be the keys to building a rapport with someone relatively quickly, especially since it seems there are aspects of a partnership that need time and reps to build on that can't be rushed?
Nantz: The good news is that that rapport already exists. I don't have to go searching for it. Trevor's been a part of CBS on and off since what, 2017? He's been in the 18th tower before. I mean, for me, this doesn't feel like we have to go into this and work toward establishing a chemistry. It already exists. And by the way, he is a very easy guy to be around and to communicate with anyway, on the air, off the air. So this one is a simple transition in that regard. He's come from within, it's part of the family.
And you say I've worked with a lot of analysts as far as sitting next to me on primary sports. It's really, truly not that many. I've been the beneficiary of really long lasting on-air relationships. Eighteen years with Billy Packer, five years with Clark Kellogg. Now eight years with Grant Hill and Bill Raftery. That's it. Over the span of over 30 years in football, I had Phil Simms and I had a long run with Hank Stram, and I got to work with Pat Haden on college football and Tim Brant. But since CBS got the NFL back and I went out to do the games I've had two partners, Phil Sims and Tony Romo. Golf, Ken Venturi for 18 years, Lanny Wadkins for five. Nick for maybe 15 years.
I think that's a really good thing, too. I'm really proud of the fact that it hasn't been a revolving door. They've been important relationships that are not just business colleagues. These are friendships; I mean Nick and I have texted back and forth earlier today. Billy Packer, I'm aware of things that are going on right now in his life over in Charlotte and checking up on him. Lanny, I still hear from all the time. Ken's passed on, I still hear from his two boys, one of whom sent me some seasoning of his yesterday. So these business colleagues, that's how most people think they really exist in your life. They're way more important to me than that. They're friendships, they're real life-long friendships, and Trevor and I, our chemistry on the air will never be an issue. It's already there. And that's a tribute to Trevor. I make 2017 sound like it was moons ago, but in a short timeframe, he's come in and picked up on how to broadcast at warp speed. Part of it is that he brings a skillset with him that you can't really teach people. He has a sense of expression, a way about him that's not normal. And by that, I just mean he has an upgraded phraseology, his use of words is at a high level. He's obviously very educated. I hear that from his brother Mark too. Their parents, they made sure that those boys did a lot more than just play golf.
Then there's the things you can't teach. That's just who he is. The warmth, the integrity. Those will fit really nicely into a golf broadcast. And by that I just mean you're sitting in the lead analyst chair and people turn to you at these moments of truth. You saw it when he served as the Presidents Cup captain this year. The warmth thing, it's kind of a sneaky part of it that no one really ever thinks about when they're trying to grade or evaluate talent. The likability factor is really high. And golf is a sport where I really believe that the majority of our viewers want people they like to be in their living rooms and they share that experience and they feel a connection. They feel like there's someone they know, a familiarity Trevor has. So I've got no concerns, nothing but excitement about a promising future.
Speaking of that likability, Trevor, a common refrain coming out of the Presidents Cup was the universal respect you commanded from both teams for the job you did, and the International players speak very highly of you as a person and leader. You're also in a position that, on occasion, requires analysis that some can be construed as criticism. How do you balance doing this job right while maintaining those relationships you have with so many players?
Immelman: I don't really think it's gonna be all that much of a balancing act for me, because at the end of the day I'm just gonna be who I am. I'm just gonna be authentic. I really appreciate you mentioning the respect that the players had for me at the Presidents Cup. That respect came from just being myself, getting to know all of these players, wearing my heart on my sleeve, allowing them in and creating a relationship with them. Because it's a two-way street and you're going back and forth, mutual respect starts to build. And so that's what I have with these players.
Absolutely there's going to be numerous times when Jim turns to me or one of our other teammates poses a question and I'm going to have to say exactly what I'm seeing. If there's a moment where one of those players hears about it or watches it back and doesn't like it, you know, it's just unfortunately part of the job. And I think these players do understand that more and more. I'm not gonna run from that at all. I'm going to make myself available at all times to players and caddies and agents and coaches at the end of the day. That's in a lot of ways how I'm gathering my information throughout the week anyway, preparing for our broadcasts. So there's constant dialogue going back with all of those back and forth with all of those people. So I really don't see it as too much of a balancing act. In fact, I'm looking forward to it.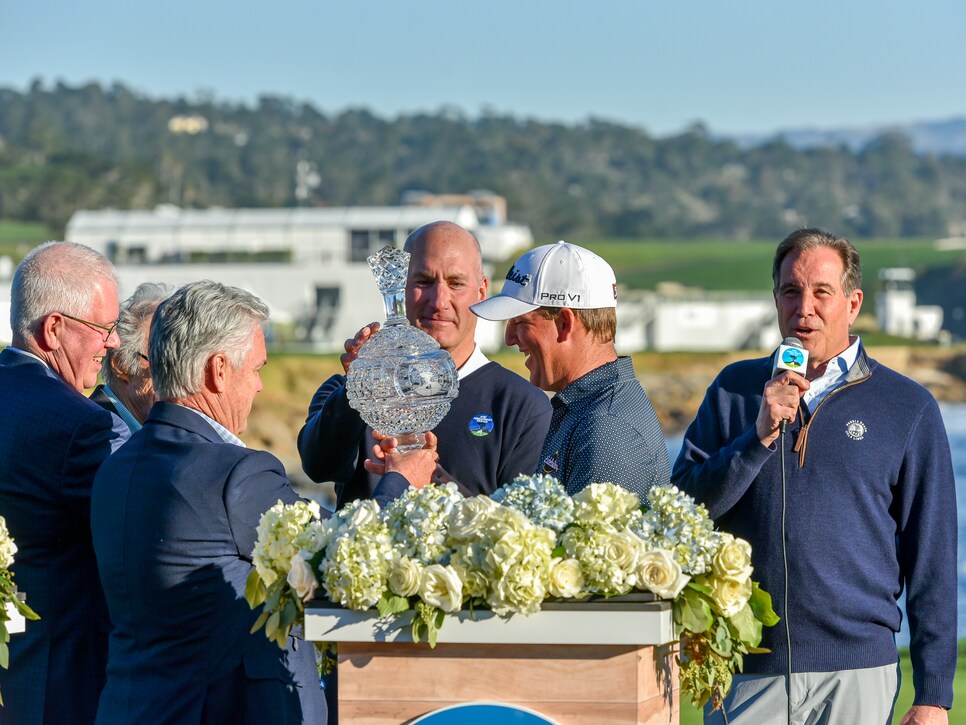 The schism happening at the professional level has been the dominating story over the past year. For the most part, save for the RBC Canadian Open when Commissioner Monahan was interviewed, this topic didn't necessarily make its way onto the broadcast. I understand that the product being presented is PGA Tour coverage, but have there been any conversations on how to handle this topic going forward?
McManus: Our philosophy has been to cover the golf tournament that we are at and, you know, we're focused on the PGA Tour. It's an enormous and important package to us, and that's what we're going to cover. We're here today obviously to talk about that. That's our priority, the event that we're covering.
Jim, at this stage in your career you could have any assignment you desire. What keeps you coming back to golf?
Nantz: It's just deep in my heart. I never can get enough. It's as important to me as oxygen. Hmm. It is a gigantic part of my every waking day, so I love it. The excitement of going to these events, it doesn't go away.
I'm stepping away from college basketball. That's been in the works with Sean for several years. It's the right time to do it. Still going to be working 40-odd weeks a year with the NFL and our golf coverage. I hope to be doing both of 'em for a long, long time. But I think anyone that knows me knows golf is as much a part of my life as anything, so I can't wait.
You know, its been five months plus since we had our last event at the Wyndham. I miss these teammates. I miss 'em all. Not just the ones you see on this call. I mean, not just the announcers. I miss our camera crew, our technical crew. I miss the whole experience. You know, it was a part of my youth growing up, running around and trying to follow the PGA Tour. My parents were gracious enough to get in the car and drive two days, take me to an event in Florida, get back in the car and drive back home after three or four days. I mean, I'm still that kid running around the country trying to chase and be around the PGA Tour. It's never left me.