Tiger Watch
Southern Hills pro who caddied for Tiger Woods explains what impressed him most from practice round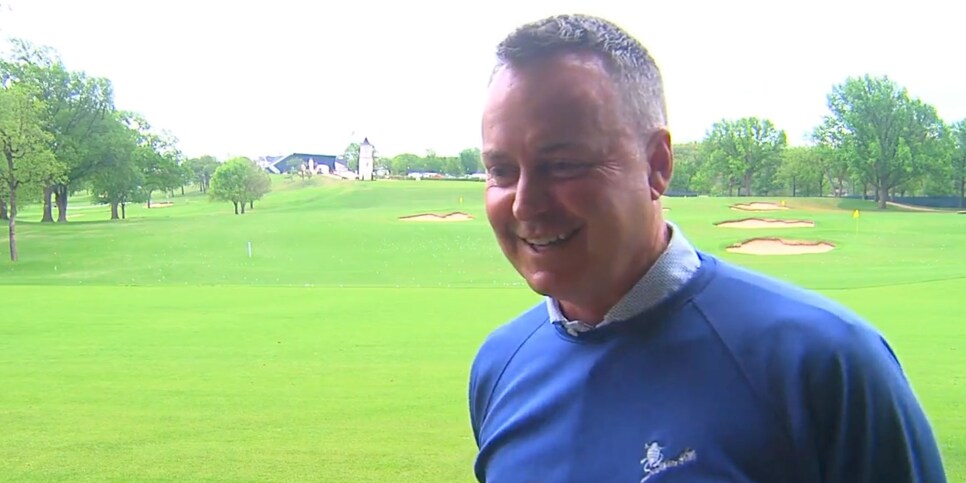 Cary Cozby, Director of Golf at Southern Hills Country Club in Tulsa, Okla., being interviewed by a local TV station after caddieing for Tiger Woods at the course on Thursday.
Was Tiger Woods' scouting trip to Southern Hills on Thursday a success? There's only one person who can formally answer the question, but for the man who was carrying that person's golf bag for 18 holes, it certainly seemed so.
Cary Cozby, the Director of Golf at Southern Hills since 2015, said the PGA of America reached out to him ahead of time to let him know that Woods wanted to play the course ahead of next month's PGA Championship. Sworn to secrecy until Woods arrived on Thursday—he did tell his son Banks, who would join them as caddie for Woods' good friend Rob McNamara—Cozby accompanied the 15-time major winner for the round as Woods works to decide whether to compete in the major that begins May 19.
Cozby saw no reason why Woods shouldn't be able to tee it up. "Unless he has a setback of some kind, he's playing," Cozby told Golf Oklahoma. "This trip was all business."
Woods won the last major championship contested at Southern Hills, the 2007 PGA, by two shots over Woody Austin. In 2018, the Perry Maxwell design went through a wall-to-wall restoration by Gil Hanse and Jim Wagner, thinning out trees and pushing out fairway lines back to Maxwell's original Depression-era dimensions. Cozby showed Woods some of the changes, offering advice while simultaneously being impressed with Woods' game up close.
"Everything is so smooth with him now," said Cozby, notable given Woods is still only 15 months removed from his vicious car accident that did extensive damage to his right leg. "His rhythm is great, he hit it straight and plenty far, he pitched and putted it great. I know guys can hit it past him now, but watching him work was amazing. He's so meticulous, detailed and immersed in what he's doing. He was very inquisitive on lines and the best angles.
"I think he can contend. He's like Michael Jordan late in his career, playing defense and hitting jump shots. Whoever wins here is going to have to be a great chipper and he is still that."
What impressed Cozby as much as the state of Woods' game was his ability to tune out all the distractions behind him. As a guest on Michael Breed's SiriusXM PGA Tour Radio program Friday, Cozby noted a bit of the craziness of the day.
"I mean, he came through today, he didn't even come to the clubhouse because he knew what he'd have to deal with and went straight to the range," said Cozby, who noted amusingly that Woods forgot his sand wedge before leaving Florida. "They sent a text and said … I'll meet you on the first tee. And, of course, our clubhouse is open and so we probably had 20 people on the patio. The golf shop is in front of the first tee so there's probably 20 members that slipped out there to watch him. He didn't look up, hit his shot. Second hole, there's a helicopter. Fourth hole, you know, there's 50 to 70 people up on the hill overlooking that hole. And by the time we get to six, there's 30 to 40 people in the trees across the street with television cameras and phones and pictures and 'We love you, Tiger' and 'Go get 'em, Tiger' 'Great shot, Tiger.' Just amazing."
By the time the group got to the 18th green, Cozby estimated that more than 100 members were there watching on the hillside.
"It looked like the Beatles were here when we walked off 18."