World Ranking
The Cameron Smith saga gets even more interesting now that he can become World No. 1 with a win at the FedEx St. Jude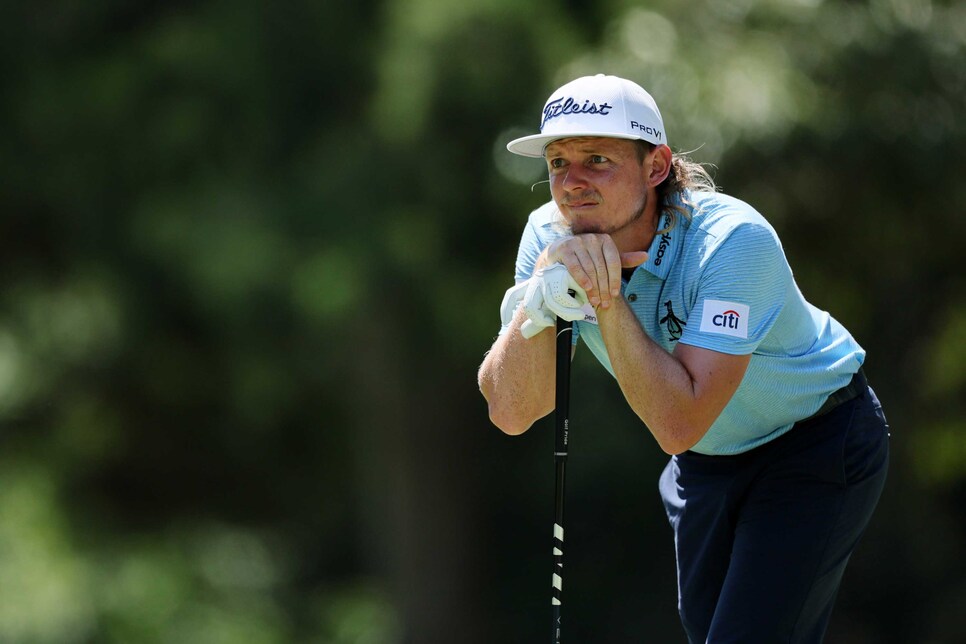 Cameron Smith waits to play his shot from the seventh tee during the third round of the FedEx St. Jude Championship.
Andy Lyons
If the spotlight made it any more uncomfortable to play in the FedEx Cup St. Jude Championship than the already steamy conditions in Memphis, you wouldn't have known it by the demeanor Cameron Smith is carrying. The 28-year-old Australian, a center of attention for his play in 2022 with wins at the Players and the Open Championship, while also having all eyes on him because of his reported intentions to join LIV Golf after wrapping up the FedEx Cup Playoffs, is just four shots off the lead entering Sunday's final round at TPC Southwind. A victory would earn him a $2.7 million payday in the short run, and jump him to first place in the race for the $18 million season-ending prize up for grabs the next two weeks.
Separate from the playoffs themselves, winning in Memphis would also cap a different notable accomplishment for Smith: It would jump him past Scottie Scheffler as the top-ranked player inf the Official World Golf Ranking.
"That would mean a lot," said Smith, tied for third in Memphis at 11 under, one back of leader J.J. Spaun and two back of Sepp Straka after shooting a three-under 67 on Saturday. "That's what we're all here to do. That's been one of my goals probably since the start of the year is to try to get to that top spot and try and chase it down."
The move would come at an interesting time for the OWGR as this is the first week in which its new field ranking calculation is being used to help allocate points to players for their performances. Without offering built-in point minimums at certain tournaments, those tournaments whose fields have fewer highly ranked players competing will find themselves offering far less points than previously dolled out.
The FedEx St. Jude, conversely, had by far the strongest field of the week, and thus is offering enough points for Smith's recent performances to outshine the run Scheffler made in the early spring while winning four tour events, including the Masters. It would also be a third win on the season and put him squarely in the discussions for PGA Tour player of the year.
Should Smith take over as World No. 1, he would become the 26th player to accomplish the feat and the fourth Australian joining Greg Norman, Jason Day and Adam Scott.
UPDATE: 1:45 p.m., Sunday—Making things even more crazy for Smith was a ruling that took place just prior to him starting his final round at TPC Southwind on Sunday. A video review of a drop that Smith had taking during this third round Saturday showed that he had breach Rule 14.7 when he failed to take complete relief from a penalty area after his tee shot found a water hazard. Because of the rules violation, Smith was assessed a retroactive two-shot penalty on the hole and instead started the final round four shots off the lead rather than two shots.