Irons
Callaway goes to the dark side with its Apex Black irons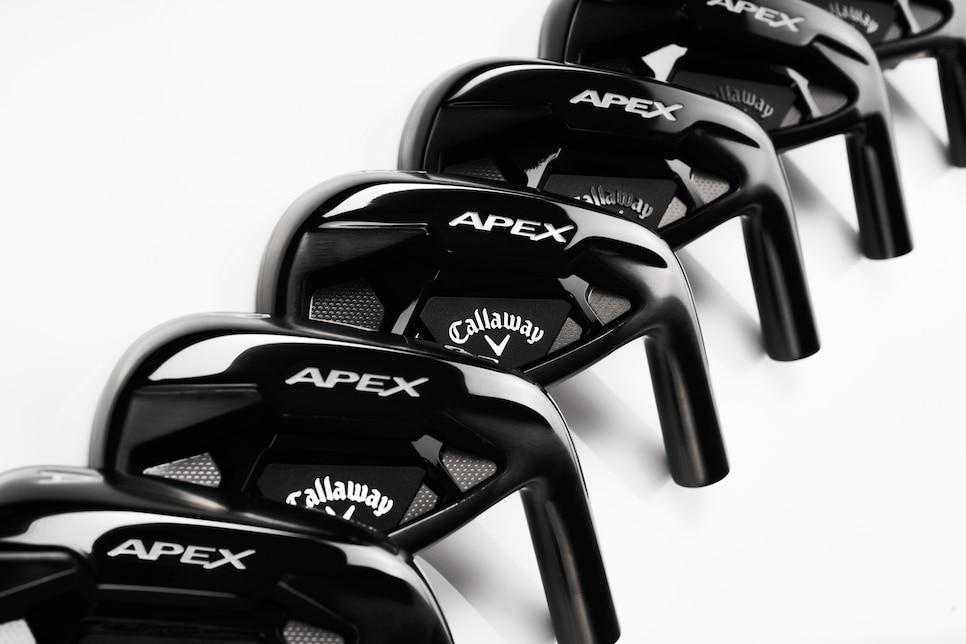 Callaway brought the Apex name back to irons in 2014 and ever since golfers have eagerly awaited each new iteration. The company's latest launch of the iron is not a re-do (the 2021 version is its most recent), but rather another option for those preferring a look different from the standard-issue satin chrome.
Available beginning Sept. 30, Callaway is offering its Apex irons in a black plasma PVD finish. The irons boast all the features of the current Apex, including a forged 1025 carbon-steel body and the use of artificial intelligence to design faces for each individual iron in the set to optimize performance and the employment of a face cup (where the face wraps around part of the topline and sole to produce more face flex) extending all the way to the 9-iron.
Internally, tungsten (ranging from 14 to 64 grams) encased in urethane with microspheres (tiny bubbles of air within the urethane) not only help foster trajectory control but help allow the face to flex more at impact, too. The amount of tungsten is up to five times the amount found in the previous Apex.
The company is now expanding the Apex iron family to include a new custom black PVD finish. The black aesthetic includes specially developed all-black steel shafts (True Temper Elevate MPH 95) and the black Golf Pride Z Soft grip. Additional, steel custom options are available at no upcharge. The stock graphite offering is the UST Recoil Dart Black 75 with additional options at standard upcharge rates.
If there is any doubt as to whether there is demand among consumers for irons with a black finish instead of chrome or satin, the last few years have likely put that discussion to rest. Numerous companies in addition to Callaway (TaylorMade, Titleist, Cobra and PXG) have introduced dark-colored irons either as part of their main line or as a special offering.
The Apex Black irons are $215 per club in steel and $230 per club for graphite.