The Loop
Bullish on Tiger? How Woods' career eerily mirrors the stock market
We've heard how golf's financial well-being rises and falls with Tiger Woods. But what if it was the entire American economy that hinged on the state of Woods' game?
You laugh. Yet a closer look at the fluctuations in the Nasdaq Composite Index over the last 17 years show a remarkably similar pattern to Woods' own ups and downs as a professional.
[Related: Jaime Diaz on what's next for Tiger Woods
](http://www.golfdigest.com/golf-tours-news/2013-01/gwar-jaime-diaz-final-say-0129)
Consider: When Woods turned pro in August 1996, the Nasdaq bounced around in the 1,100 range. A little more than a year later, with Tigermania in full swing following Woods' landmark win in the 1997 Masters, the Nasdaq had eclipsed 1,700. The upward progression continued as Woods overhauled his swing under Butch Harmon and then embarked on the most dominant golf stretch of golf in the game's history. In May 2000, when Woods was busy winning five of six majors, the Nasdaq famously surpassed 5,000 points.
*The trajectory of Woods' career has mostly resembled that of the Nasdaq market.
Graphic illustration by Lance Hertzbach*
A coincidence? Probably. But as Gary Kaminsky, the Capital Markets Editor for CNBC, said, "If you want to draw some conclusions, stock market participants who are avid golf fans become more aggressive and optimistic in thinking about their investments when Tiger wins a tournament."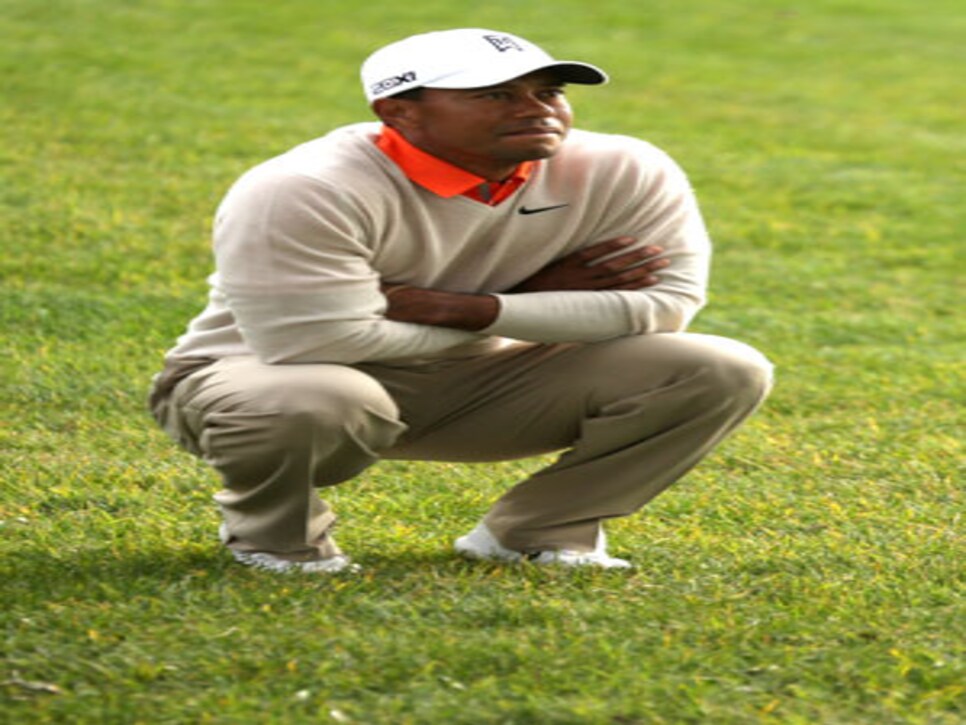 Of course, as Kaminsky noted, the Nasdaq's rapid rise was more attributable to enthusiasm around tech stocks than it was Woods' superior ball-striking and clutch putting. But what's interesting is that the pattern has continued into this more unpredictable phase of Woods' career.
For instance, the two low points for the Nasdaq in the last decade came when it dipped below 1,200 in October 2002 (when Woods just split with Harmon and wound up going 10 majors without a win) and again in March 2009 (when Woods was coming off reconstructive knee surgery and was just months away from the sex scandal that sent his game into a tailspin). And just as Woods has rediscovered his footing in the last year, so has the Nasdaq. In Septemer 2012, after a resurgent Woods won three times on tour and was the top qualifier for the U.S. Ryder Cup team, the Nasdaq inched back to just shy of 3,200 for the first time in a dozen years. And its highest point this year? That came Monday, the day Woods was wrapping up his 75th career win.
So that poses the next question: based on what we know about the Nasdaq, what kind of year can Tiger expect to have? Well, just as one can't reasonably expect Woods to win four-straight majors again, the Nasdaq isn't what it once was, either (many of the companies that fueled the 2000 tech bubble don't even exist anymore).  And yet Kaminsky is still bullish on both.
"Based on projections, one could come to the conclusion that both Nasdaq and Tiger are going to have a very good 2013," he said.