News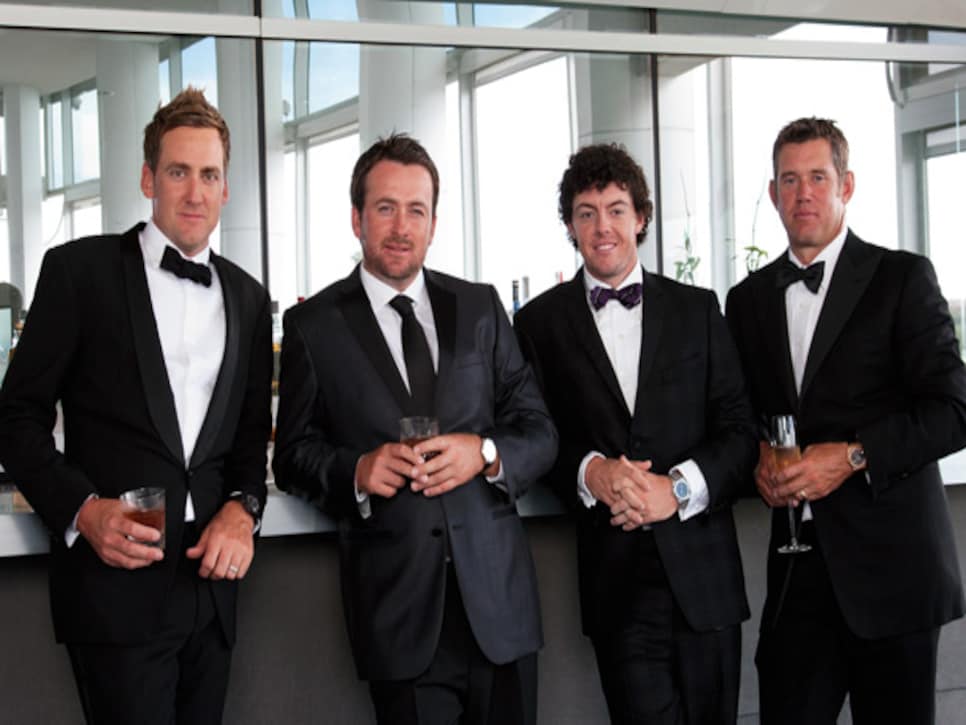 Euro-buddies Ian Poulter, Graeme McDowell, Rory McIlroy and Lee Westwood, photographed at New Jersey's Liberty National, Aug. 27, 2012.
As golf buddies go, Rory McIlroy and Tiger Woods wouldn't be considered BFFs. It's too early in their friendship to be best friends forever. That role in McIlroy's life belongs to Graeme McDowell, a fellow Northern Irishman.
"I sort of view him as a big brother in a way, more than a buddy," McIlroy says. "He was always really good to me, taking me under his wing. It was great for him to do that, and from there, we developed a really close friendship."
McDowell is to McIlroy what Darren Clarke is to McDowell: a veteran wingman. "Obviously we have a lot in common, but it's a very interesting dynamic," McDowell says. "Darren is about 10 years older than me, and I'm 10 years older than Rory. Darren showed me the ropes back in the day, pulled my chain a few times as a rookie, which helps you settle in and play with some of the best guys in the world."
When they're home, it's not unusual for Rory to have a game and spend a night at McDowell's place in Portrush or for G-Mac to hang out at McIlroy's place near Belfast, which is for sale. "I haven't had a chance to see him much the last 12 months because he's chasing the tennis tour around these days," McDowell says, referencing McIlroy's relationship with former world No. 1 Caroline Wozniacki. "So we spend time together when we can. Times like the week before [the British Open at] Lytham, when we're both there together and we can just talk about life."
Golf is such a singular sport, but friendships abound through connections that start with countries, colleges, country clubs, communities, common interests and cups. Even the fiercest competitors form tight bonds. Jack Nicklaus, Lee Trevino, Arnold Palmer and Gary Player liked nothing more than beating each other on the course, but off of it they became chummy.
Davis Love III, the U.S. Ryder Cup captain, and Fred Couples, the U.S. Presidents Cup captain, share a friendship that goes back to their days as World Cup partners. Love has also buddied up with David Duval through their love of snowboarding in Sun Valley, Idaho, and Love's a Sea Island, Ga., paddleboard pal with Chris Kirk and Lucas Glover.
Because golf is their job, tour friends don't often take the 36-hole-a-day buddies trips that are so popular with amateur players. But just like anybody else, they know it's important to get away from it all--and being with close friends makes it all the better. Ben Crane, Hunter Mahan and John Rollins, who live in the same Dallas neighborhood, gathered their families and headed to the Bahamas for a week's vacation two years ago. They left their clubs at home. "We were on the boat fishing, snorkeling, building sand castles on the beach, throwing the ball around," Crane says. "We do lazy lunches, long dinners, have a nice bottle of wine. When we don't have the tournaments pressing in on us, you just want to let the air out of the balloon."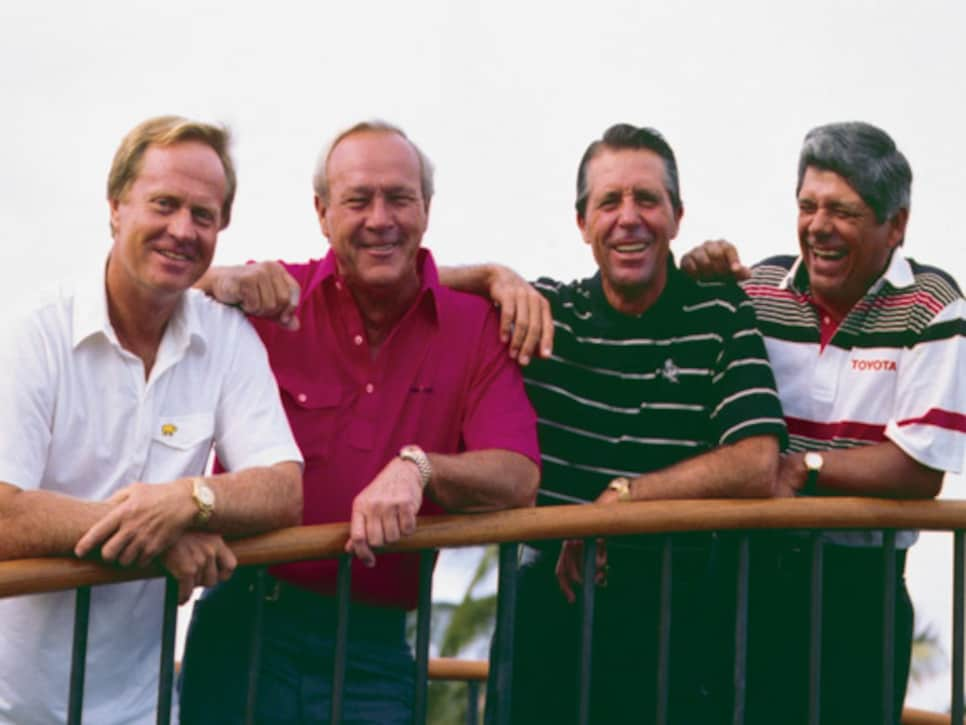 The European Ryder Cup team is a band of buddies unto itself, which is how McIlroy and McDowell can be mates with rival Brits like Lee Westwood and Ian Poulter.
"I wouldn't say I have a go-to buddy," says Poulter, the star in Europe's comeback win at Medinah, "but you can generally see it's the guys on the Ryder Cup side that I play [practice rounds] with week in and week out. You look at the tee times, and there's always someone you telephone to go out to dinner." McDowell and Poulter are also neighbors at Lake Nona Golf & Country Club in Orlando, so it's not unusual for them to share air time on a private plane, or for Poulter and his wife, Katie, to get together with Ryder Cup partner Justin Rose and his wife, Kate. Ryder Cup teammate Peter Hanson of Sweden also lives in the community near Orlando International Airport. "We're all tied together in a way," Poulter says.
The golfers who live on St. Simons and Sea Island in Georgia and play out of Frederica Golf Club feel the same way. "Frankly, a lot of my best buddies are the ones whose wives hang out a lot," says Zach Johnson. "I wouldn't know where to start and where to end on that. We're doing stuff at home together, not just on the road." On Johnson's short list are Jonathan Byrd, Stewart Cink and Matt Kuchar, adding, "We have the same value system." Johnson says he has lost count of how many ski trips his family and the Cinks have taken together.
"If you look at it, Stewart is about the same age, but we're in totally different phases of our lives," Johnson says. "His oldest is a freshman in college, but we have young children. It's interesting to see how they go through life and parenting."
Charles Howell III and Bo Van Pelt have been buddies since their college days at Oklahoma State. They're in the same situation now as the Cinks and the Johnsons. "But now our lives are reversed," Van Pelt says with a laugh. "When Charles and Heather invite us to dinner, it's them dealing with the craziness of having a young family. I haven't carried a diaper bag in a long time, so it's great to see them deal with it."
Howell was a freshman when they met in 1997. Fifteen years later, they shared a house at Kiawah Island for the PGA Championship. "We've had good times," Van Pelt says. "We laugh and tell stories, but we also respect each other and help each other out. If you're going through something, it's nice to have somebody like that on the road with you."
In addition to Frederica, the clubs and communities where tour players are most likely to buddy up are in Orlando (Lake Nona and Isleworth); Hobe Sound, Fla. (Medalist Golf Club); Jupiter, Fla. (The Bear's Club, Dye Preserve); Palm Beach Gardens (Old Palm); Scottsdale (Whisper Rock); and La Quinta, Calif. (Madison Club). Whether it's Chez Reavie and Paul Casey at The Rock, or Dustin Johnson, Steve Marino, Marc Turnesa and Hank Kuehne rotating among Dye Preserve, the Bear's Club and Medalist, it's the games that bring them together. The bond between Marino and Turnesa goes back to the Nationwide Tour. When Turnesa won the 2008 Justin Timberlake Shriners Hospitals for Children Open, Marino was there to pour a beer over his head.
The standard line is that in the winter, the range at the Medalist looks like a tour event, with everybody from Woods to Rickie Fowler and a contingent of LPGA players led by Stacy Lewis beating balls. Lewis, along with Belen Mozo, Alison Walshe and Meaghan Francella, might get in the six-person Wolf games with the boys, or organize buddies groups that include Paula Creamer from Orlando and Nicole Hage from Coral Springs.
In his early days at Isleworth, Woods would play and practice with Mark O'Meara and John Cook. Star athletes like Marcus Allen and Andre Reed would fill out the groups. But as O'Meara and Cook moved out of the community, Woods hung out with Arjun Atwal and some of the club's junior members. Now that Woods lives on Jupiter Island, most of his buddies games are with Ahmad Rashad and Michael Jordan, although he will occasionally join Fowler or Dustin Johnson at Medalist for a quick nine holes. His closest buddy among tour players is college teammate Notah Begay III.
The palm beach connection also brings together South Africans like Ernie Els (Bear's Club) and Louis Oosthuizen (Old Palm), or in the case of Keegan Bradley, other clubs in the area as well as the Loxahatchee River--a hot area for tour pros who want to live on the water. "I'm starting to get close to Rickie and Dustin, but one of my favorite people on tour is Camilo [Villegas]," Bradley says. "I've been branching out this past year."
"Golf Boys" frontman Crane has been known to branch out as well, whether he's bonding with Phil Mickelson at the Madison Club in California during winter break or sharing a house on the road with Webb Simpson and his wife, Dowd. "There's nobody that makes me laugh more than Webb," Crane says. "He and [caddie Paul Tesori] together, we're always laughing, always at the stupidest 3-year-old jokes."
Fowler, who hangs with Crane, Bubba Watson and Aaron Baddeley on tour, has shared a house on the Loxahatchee River in Jupiter with Cameron Tringale, Scott Langley and Morgan Hoffmann. But Baddeley swears he's not auditioning for the Golf Boys. "Me and Bubba are sort of opposites, like the yin and the yang," Baddeley says "Rickie, he's awesome. He's such a thoughtful young guy, but he's a bit of a jokester at heart, too. That's why we all get on so well." That's the way it is with tour bromances. Sometimes opposites attract.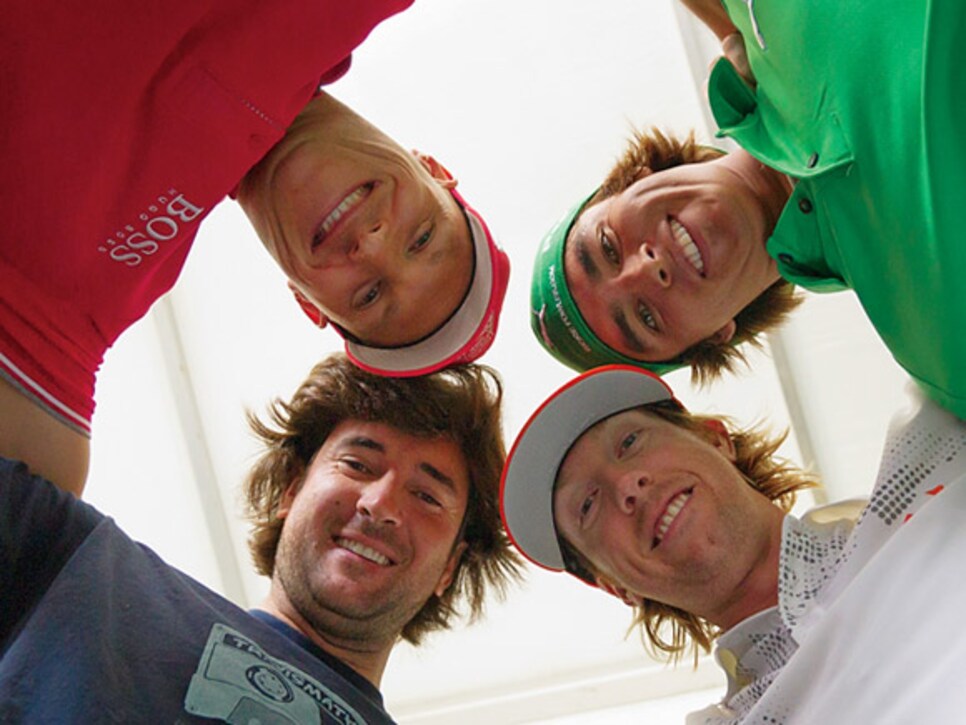 Photo: Allan Henry/US Presswire