The Loop
Bubba Watson, baseball executive, does the Baseball Winter Meetings
A co-owner of the minor league Pensacola Blue Wahoos, Watson made the rounds at the Winter Meetings in National Harbor, Md.,, and it's a safe bet that no one had as much fun as he did.
Watson made appearances on MLB Network's Hot Stove show, ESPN Sports Center and MiLB.com, among others, and represented the Wahoos in accepting the Baseball America Bob Freitas Award for best-run double-A organization.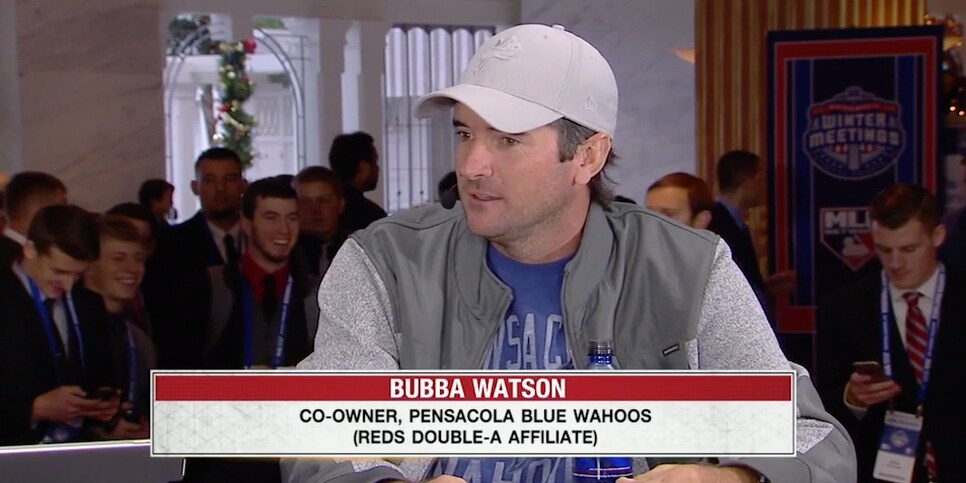 He represented the organization with his attire, too, by wearing a Blue Wahoos T-shirt and wearing a Blue Wahoos cap, while also carry a Blue Wahoos bottled water.
On a Facebook Live interview, Baseball America's Bill Lingo asked him what was the bigger thrill, winning a second green jacket or his co-ownership of the Blue Wahoos. He replied, presumably in jest, "For sure the Blue Wahoos.
"The reason why, is because my dad's no longer here, but my dad took me to baseball, taught me baseball. I remember some of the greats form the Pensacola area, and one that comes to mind is Buck Showalter. Being part of baseball again, for my family's sake, for my sake, but also for what it does for my community. Baseball is America. For me this is where it is. I want to be a part of it."
On MLB Network Radio, he was asked about Ken Griffey Jr. and his golf game. "He thinks he's good," Watson said. "Just like I think I'm a good baseball player."
Watson clearly was enjoying himself.