The Loop
Bubba Watson and Matt Kuchar made nine birdies and still lost to Justin Rose and Henrik Stenson
GLENEAGLES, Scotland -- Hardly any wind and a few less jitters amounted to a whole lot of birdies from both the U.S. and Europe during Saturday's four-ball session. None more so than in the morning's jaw-dropping first match between Justin Rose/Henrik Stenson and Bubba Watson/Matt Kuchar.
En route to a 3-and-2 victory, Rose and Stenson combined to shoot 12 under -- a Ryder Cup record in four-balls. To close out the match, the duo made birdies on the last 10 holes -- not a typo -- to overcome a 2-down deficit and earn a third point as pairing in 36 hours.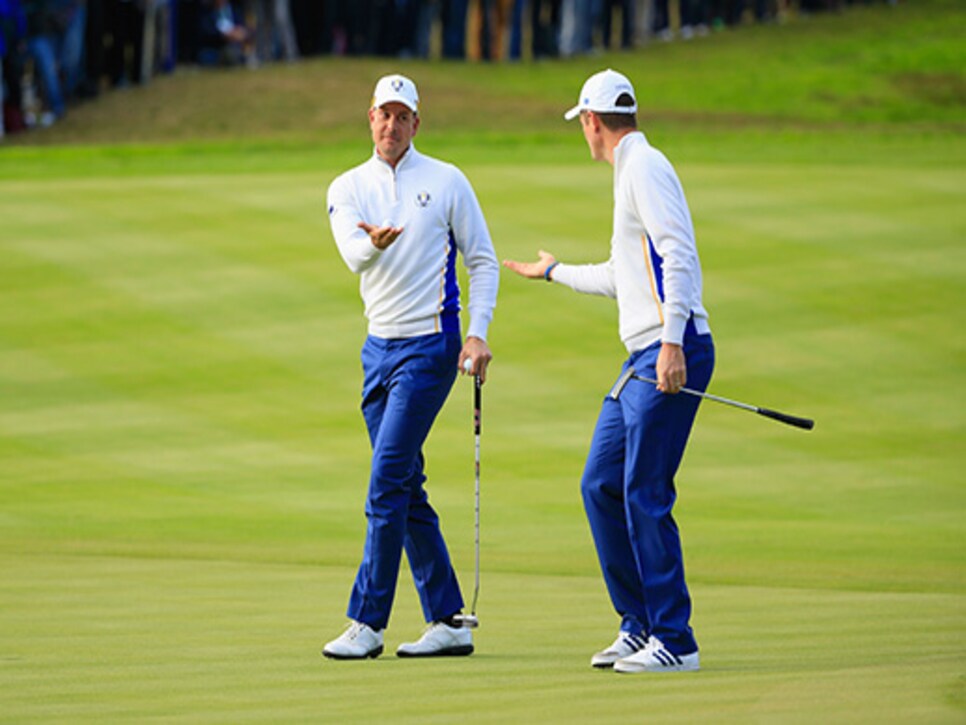 "It was crazy," Watson said. "I made some putts today, my partner made some pouts. But they made a lot of putts."
"Right now they are unbeatable," Kuchar said
How impressive was the overall play? Consider this:
Oh, and did we mention that Stenson was playing with a "tight" back?
Indeed, despite making five birdies on his own ball, the Swede was hurting enough to where European captain Paul McGinley elected to sit him out of Saturday afternoon foursomes to rest for Sunday singles. McGinley will send out Rose, now 9-3 in his Ryder Cup career, with Martin Kaymer.
"It was one-half [part] Stenson, one-and-a-half parts Rose," Stenson said afterward. "Justin's played phenomenally all week and luckily I was there to back him up on a couple of occasion."
None more important than on the seventh hole, the Americans seemingly in control of the match at the time after winning the previous hole to take a 2-up lead. After holing a 25-footer on the fifth for birdie, Rose had a 10-foot try on the par 4, but missed, only to watch Stenson make his from eight feet to cut their deficit in half.
"That's when we really started the momentum swing," Rose said. We set a mini-goal of getting back to all square by the 16th tee."
They did it on the next hole.
Even when it looked like the Euros might be out of it, they weren't. On the par-5 16th, Rose hit his tee shot in the left rough, pulled his second shot left of the green, then hit a superb chip to one foot. The birdie was conceded, and when Watson and Kuchar both failed to chip in for birdie from off the green, one of the most impressive Ryder Cup matches of all time was over.