News
Bryson DeChambeau, re-inspired from watching Happy Gilmore, says he'll put a 48-inch driver into play at the Masters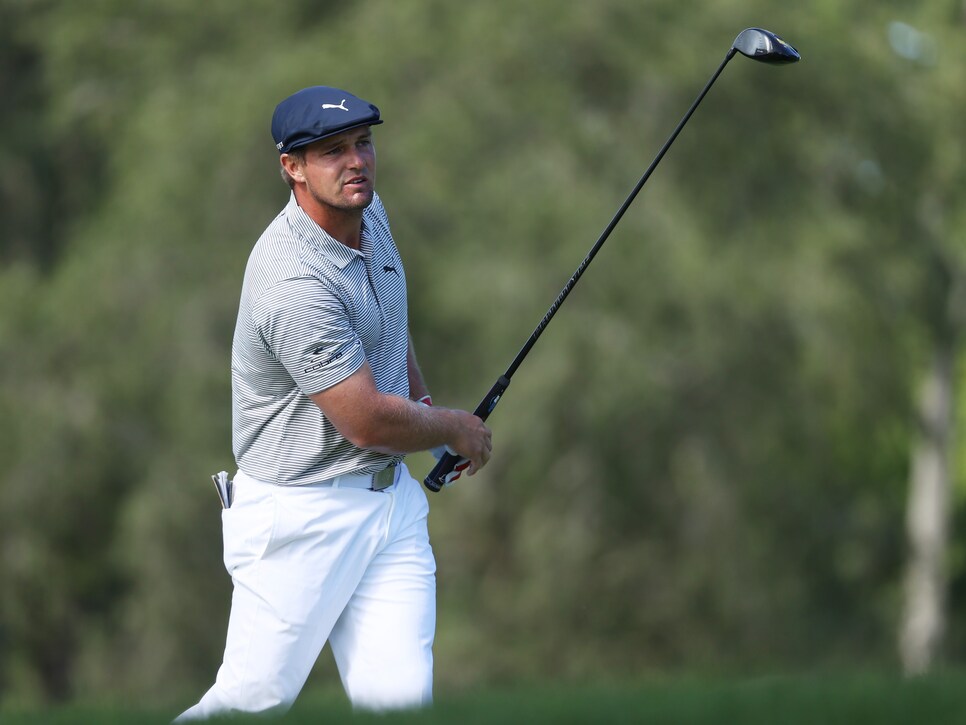 Bryson DeChambeau is making his first start since winning last month's U.S. Open this week at the Shriners Hospitals for Children Open. Lest anyone think he's been relaxing and enjoying the spoils of his first career major. He's already working on plans for the next one.
On Wednesday, DeChambeau revealed that he plans to unveil a 48-inch driver at the Masters next month, or a driver that's a few inches longer than what most tour players use. It's all in the name of chasing even more distance for a player who led the PGA Tour in driving distance during the 2019-'20 season at 322.1 yards a pop and bashed his way to the trophy at Winged Foot.
"I think there is a lot of, I don't know, I guess you could say advantages to having a 48-inch driver and being able to put it in play and keep it in play," DeChambeau said Wednesday. "Still need to get some things worked out, but so far it's been pretty amazing."
So much so that on Tuesday at TPC Summerlin officials asked the 240-pound 27-year-old to stop hitting driver on the range because shots were clearing the fence and landing in the road beyond. The fence is more than 350 yards away.
DeChambeau backed up about 40 yards and still kept peppering the back of the range.
While the Masters is still a month away, DeChambeau is on his way to attacking Augusta National like it never has been. Not that he'll hold back any this week. He sees as many as four drivable par 4s—the first, seventh, 10th and 15th—in the thin air at TPC Summerlin.
"There will be holes where I'm going to try and drive them, get it up as close to the green as possible," he said. "It's just fun having a 7-iron go 220 [yards]. That's unique. And 4-iron, 265.
"At the same point in time it's about putting, chipping, wedging. You still got to do everything else really well. So if I play well, ball-strike it well, and putt well, I think I'll have a good chance again."
Still, it's clear what part of the game DeChambeau derives his most enjoyment from.
"Driver," he said. "I think it's the most fun. I watched Happy Gilmore a little while ago and it just re-inspired me to try and hit it as far as possible."