USGA
Bryan Kim hangs on through two days, 36 holes, six-lead changes to win wild U.S. Junior final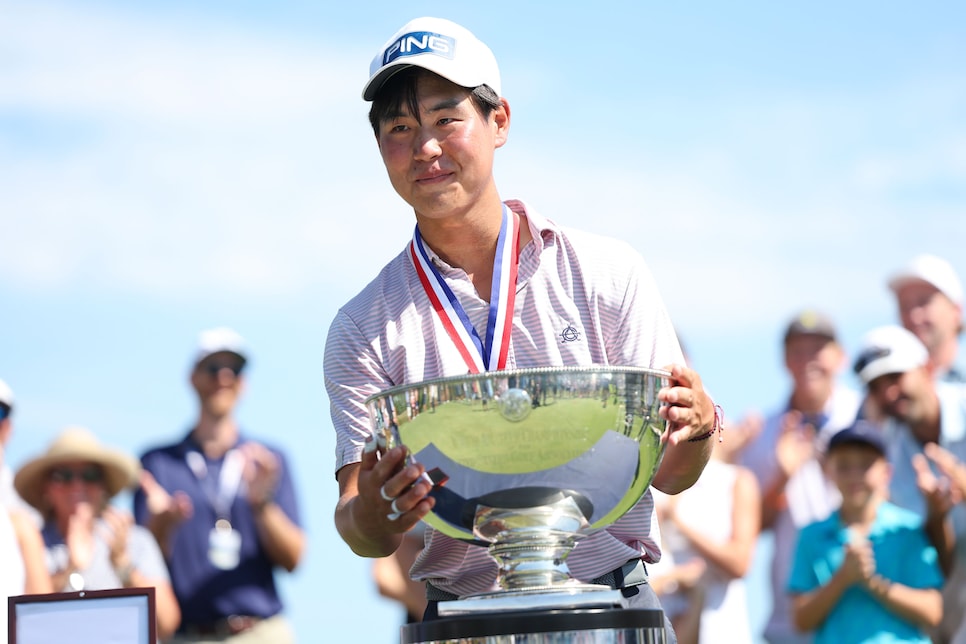 Bryan Kim hugs the U.S. Junior Amateur Trophy after winning the championship match 2 up against Joshua Bai.
Tom Brenner
It was fitting, given the seesaw nature of the final, that the 75th U.S. Junior Amateur dramatically needed all of its 36 holes, spread over two days, to deliver a winner—Bryan Kim finally prevailing, 2 up, over Joshua Bai on Sunday.
Kim held a 1-up lead through 25 holes before play was suspended by inclement weather on Saturday evening at Daniel Island Club in Charleston, S.C. After returning on Sunday, each player held the lead for two holes over the next six, and the match was tied with two holes remaining.
On the 35th hole, No. 17 on the Ralston Creek Course, Kim regained the lead by holing a six-foot birdie putt, then won the 36th hole and the match when Bai made a bogey.
"It really hasn't sunk in yet," Kim said, an 18-year-old from Brookville, Md. "Especially coming into this week, I hadn't made a cut at a USGA event. But to not only make the cut but win all six of my matches, especially against all these great competitors, it just means the world. It's a huge stepping-stone."
The victory earned Kim, who'll be a freshman at Duke in the fall, an exemption into the 2024 U.S. Open at Pinehurst No. 2. Both players are also exempt into next month's U.S. Amateur at Cherry Hills outside Denver.
Bai, a native of New Zealand, seemed to have had an advantage entering the final. He was seeded sixth following 36-hole stroke play qualifying, while Kim was the 52nd seed. Moreover, Bai entered the championship 267th in the World Amateur Golf Ranking, while Kim was ranked 443rd.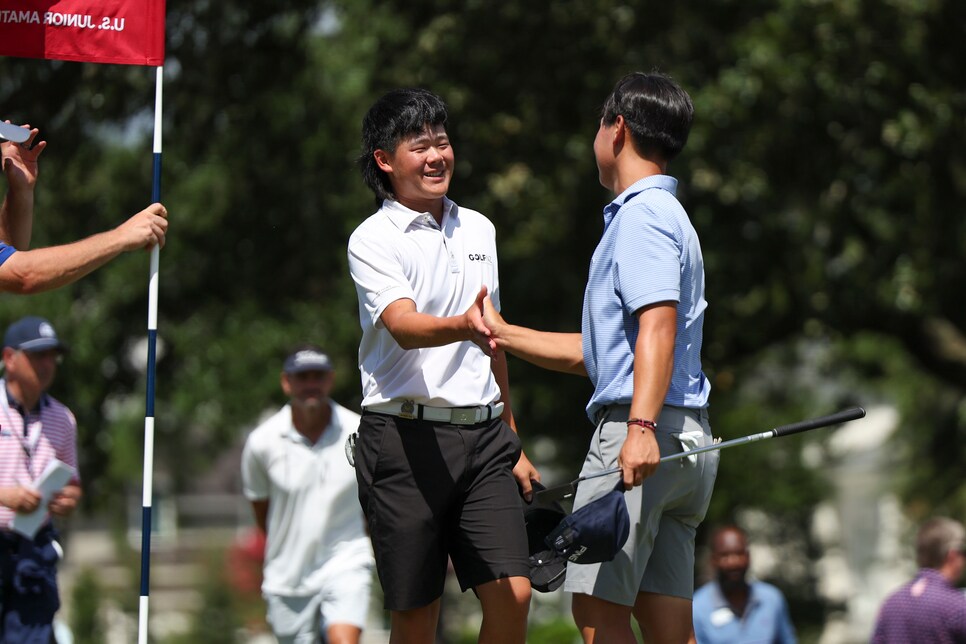 Joshua Bai, left, shakes hands with Bryan Kim at the halfway point in their championship match.
Tom Brenner
When Bai won four straight holes on the back nine of the first 18 on Saturday, playing them in the equivalent of five under par, he took a 2-up lead that seemed to bear out his advantage. But Kim won three of the next seven holes to wrest the lead from Bai. From then on out, no one held more than a 1-up lead until the 36th hole.
"It was crazy out there," Bai said. "Almost every single hole one of us won the hole. I played really well. It really boosted my confidence going to tournaments in the future. Just helps me know that I can compete at the top level. Just want to say, really, congratulations to Bryan. He's a great player and even better person."
Kim closed out the match with three quality shots on the par-5 18th hole, while Bai, with a difficult lie, caught his third shot "a touch heavy" and missed the green.
"He's such a fierce competitor," Kim said. "I knew he was going to give me a really big fight. I felt like I had to keep up with him, especially early on. He went on a few big runs throughout the match. I felt like I'm just as good, and if I do what I do, it'll be a great match."