Monday Superlatives
The Brooklyn Nets have exactly one shot at a title before they implode (and might be blowing it)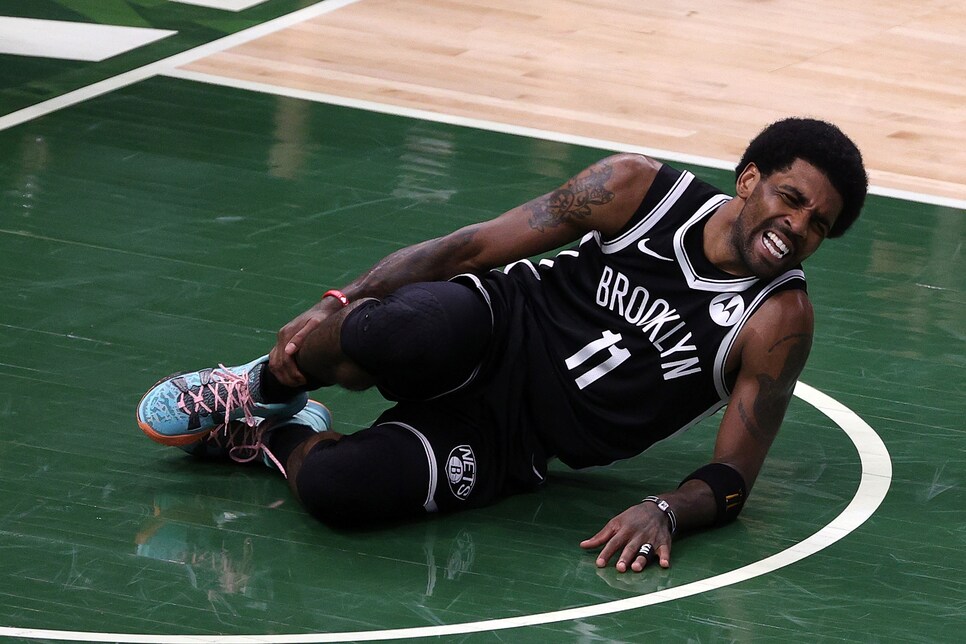 At first, it was very annoying when James Harden went to the Nets, because anyone with a brain knew that the Brooklyn super-team would define the rest of the season, and it was going to be awful to watch a team with Harden and Kyrie Iriving succeed. Now, though? Now I'm grateful. For one thing, it gave us this excellent feature in the New York Times by Sam Anderson, which is one of the best pieces of sports journalism of the year. For another, it gave us a true villain, and with the Jazz, Suns, and Sixers all looking like conference finalists...well, frankly we need it.
Also, I no longer fear the Nets. Yes, they're extremely good, and yes, at this point they kinda-sorta look like title favorites. Or at least they did, before injuries to Harden and Irving hampered them against a very flawed Milwaukee Bucks team in the semifinals. Sunday, the Bucks evened up the series at two games apiece because once Irving went down, it was Kevin Durant against the world. For what it's worth, there was a point in the second quarter where it looked like Durant might able to do it by himself, but when you sell the farm for three superstars, it turns out that the supporting cast isn't very good. Under normal circumstances, they don't have to be, but with two of those superstars out, they do, and they were no match for the Bucks at home.
Point being, even in this strange year which seems to set up perfectly for a Nets run, they're starting to look shaky. Beyond this? Well, you can't guarantee anything in sports, but it strikes me as highly unlikely that this team won't implode on itself. It's simple: They have James Harden and Kyrie Irving, and those guys are terrible teammates. Maybe not on the court, where they're spectacular, but as human beings they are preternaturally disposed to torpedoing the chemistry on any team they join. This ESPN feature outlines exactly how Harden held the Houston Rockets hostage for his entire stay there, forcing them to march to his step, and how he alienated teammates and coaches and everyone else, and they still never won a title. Kyrie was also a miserable teammate in Boston, led that franchise through the wringer, and delves into weird flat-earth-style conspiracy theory to boot. Egos like this are plenty to harm a team all on their own, but together? It's a ticking time bomb.
That's why it was lucky for the Nets that Harden didn't come until January. The shortened time together meant they could ride the good feelings out and hope for the best.
Make no mistake, though: this is it. This is their best shot, and maybe their only shot. Things are only going to get more difficult from here. This isn't a situation like with the Heat super-team, or the Warriors super-team, where the talented players were on the same page about working together to win a title. Brooklyn took an enormous gamble here, and if it doesn't pay off this season—a prospect that looks dicier and dicier all the time—they'll be left with very few assets, perhaps only one superstar, and a wildly difficult rebuild on their hands.
It's now or never, and that's some great drama as they head back to Brooklyn for game 5. Hate or them or despise them, it's worth a tip of the cap: This is exactly the desperate, reeling villain these playoffs needed.
Unsung Sports Hero of the Week: Barbora Krejcikova
Let's be real: It often happens recently that a relatively obscure woman who is not from America wins the French Open, and the response here in the U.S. is a collective yawn. Just in the past five years, three of the champs have been Jelena Ostapenko, Iga Swiatek, and, this past weekend, Barbora Krejcikova. Give the average American sports fan a chance to pick any of them out of the lineup, and that fan might not even make the effort to guess. But Krejcikova, 25, didn't just win the singles—she also won the doubles championship a day later, and made it all the way to the quarterfinals in mixed doubles too. That's actually incredibly hard—it's been 21 years since Mary Pierce last won both titles at the French in 2000.
Anyway, it's worth briefly reading her name and acknowledging her great run in Paris, even if you forget it later. Here's a clip of her beating Coco Gauff in the quarters, followed by her championship moment, so you know her face too:
And finally, here's a sick doubles point from the final, just because:
Sports Utopia Moment of the Year: Now
To write on the internet about sports means to spend 95% of your time complaining, or making fun of someone, or just pointing out the various ways that some people suck. Which makes it nice, every once in a while, to look at the positives, and man, the sports world is RICH right now. Here are the things that are happening or have happened in a two-week span:
NBA Playoffs
NHL Playoffs
U.S. Open
French Open
Euro 2020 2021
Copa America (this is way cooler than you think)
Nations League (Mexico so sad)
MLB every night
College World Series (if you're into that kind of thing)
That's a lot! And when you think back to this time last year, when we were watching replays of old games and pretending it was enough, or waking up at 3 a.m. to watch Korean baseball, well...we've come a long way.
Celebration of the Week: Korn Ferry Tour, Somehow
Vito Perreira did something pretty incredible by earning a three-victory promotion to the PGA Tour, but I'm here for the celebration. Golf, we need more beer baths: