The Loop
Brooke Henderson's major moment, Daniel Berger's big win, and golf's most famous 19th hole goes on sale
Welcome to another edition of The Grind, where we've been preparing for the U.S. Open by putting on hardwood floors and not mowing my lawn for weeks. Some people are method actors, but I'm a method golf writer. I need to feel what the players at Oakmont will be going through. Yes, honey, that's why I haven't been cutting the grass. It's all for the craft. Just like all those rounds of golf I play. . . In any event, this is a huge week. But before the bogey train leaves the Pittsburgh station, here's what else has our attention.
Brooke Henderson: Good luck to the U.S. Open topping this finish. In the end, an 18-year-old phenom (Henderson) topped a 19-year-old phenom (Lydia Ko) in a playoff and beat a 20-year-old phenom (Ariya Jutanugarn) by a shot. Incredibly, the talented trio combined for zero bogeys on Sunday at Sahalee. But it was Henderson, who emerged as the second-youngest major champ ever (to Ko), and also allowed me to come up with this brilliant headline: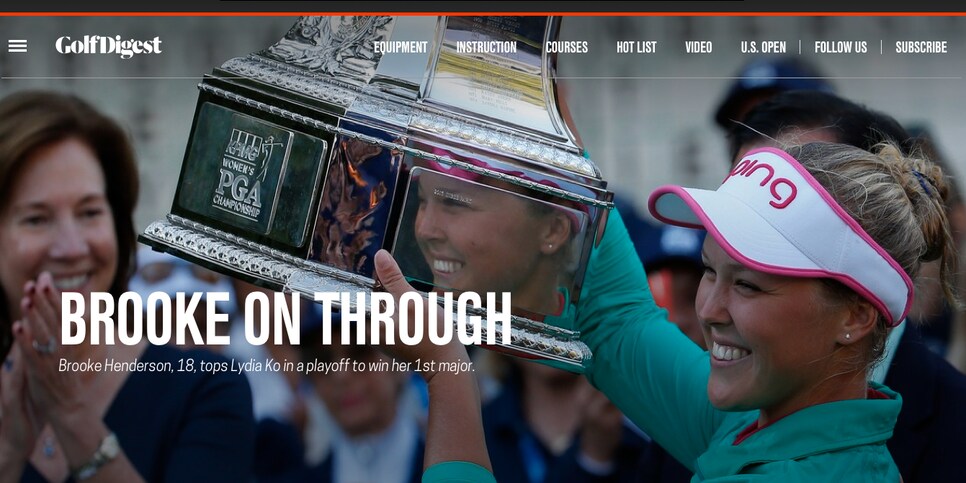 Get it? That's pretty good, right? Thought so, thanks.
Daniel Berger: It took years of toiling on the PGA Tour (two years), but the grizzled 23-year-old (Sorry, everyone seems old compared to Brooke and Lydia) finally claimed his first tour title. Berger overcame a few big names (Phil Mickelson, Brooks Koepka and Dustin Johnson) and a lengthy Sunday weather delay for the win.
Bernhard Langer: The most dominant player in golf right now is a man who is four decades older than Brooke Henderson. Langer won his seventh PGA Tour Champions major at the Constellation Senior Players Championship. It's also his fifth in his last 11 starts. Feel the Bern!
__Brooke Henderson's 7-iron:__The Canadian might want to hang onto this prized Ping for awhile. Henderson used this magic club to stick her playoff approach shot to three feet. And on Thursday, she used it to make a hole-in-one. For that shot, Henderson won a car, which she promptly gave to her older sister and caddie. Aww.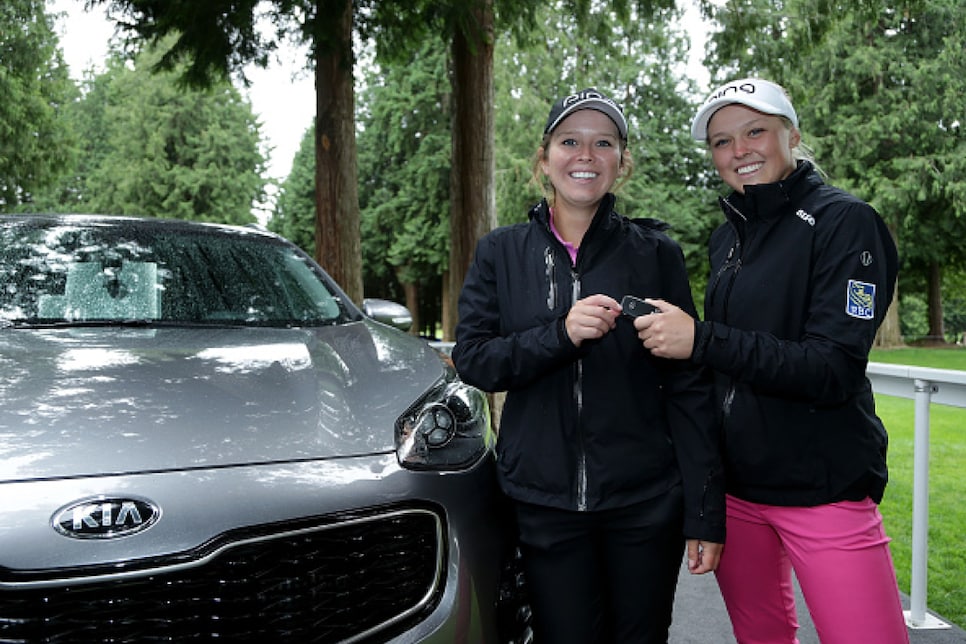 And yes, that still deserves an "Aww" even though it was just a Kia.
Tiger's Forbes list ranking: The latest reminder of how far Tiger Woods has fallen? After spending about a decade on top, he's no longer even in the top 10 on Forbes' list of the world's highest-paid athletes. On the bright side, both Phil Mickelson (No. 8) and Jordan Spieth (No. 9), who both earned nearly $53 million, are above Woods (No. 12). In fact, Mickelson is the oldest athlete on the list and Spieth is the youngest. Golf! Lifetime sport!
The Dunvegan Hotel: To be clear, when we say we're selling this place, we're referring to the fact that its owners are selling it. How can you sell the most famous golf pub in the world?! Oh, they want to retire and enjoy the rest of their lives? Fair enough. In any event, does anyone else want to go in on buying a bar with me?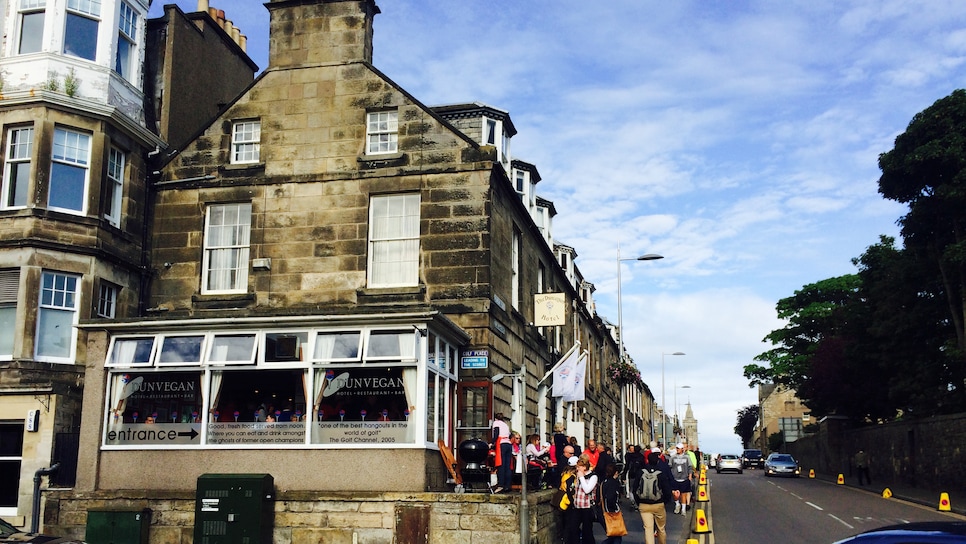 Roger Goodell "death hoax" First of all, death hoaxes are never funny. But this one could have long-lasting repercussions since the NFL commissioner was out on the golf course when it occurred. There's already a stigma for sneaking out of work early to play a round and this isn't going to help. Speaking of which, it's a pretty nice day out. . .
The PGA Tour heads to Oakmont for the U.S. Open! OAKMONT. U.S. OPEN. OAKMONT! U.S. OPEN! You get the picture. We're excited. Let the bogeys flow!
Random tournament fact: In case you didn't know, Oakmont's greens are really fast and its rough is really thick. Oh yeah, there's also a 288-yard par 3 (No. 8) that every player in the field has Instagrammed.
RANDOM PROP BETS OF THE WEEK
-- There will be a hole-in-one on No. 8 this week: 1 MILLION-to-1 odds
-- Rory McIlroy will win: 7-to-1 odds (Actual odds, although I got him at a full 8 to 1 when I was in Vegas last month. . . Value!)
-- Brooke Henderson's car is nicer than a Kia: LOCK
Well said, Brooke. You are one classy Canadian.
Speaking of Canada, we've posted some of Jordan Wolf's stuff before, but she took it to a new level this week. The rising college junior apparently risked trespassing charges for these videos of her hitting golf balls at Niagara Falls.
Good stuff, Jordan. Just don't get us into a war with Canada, eh?
__VIRAL (U.S. OPEN) VIDEO OF THE WEEK __
A little Golf Digest love here for this terrific U.S. Open qualifier video, which is narrated by my esteemed colleague, Jaime Diaz:
Also, it was filmed at Willow Ridge CC, the site of my wedding reception last summer. Too bad the cameras didn't go into the kitchen or dining room. Then you would have really seen a show.
__VIRAL (PGA TOUR) VIDEO OF THE WEEK __
This is Ernie Els jarring a bunker shot on the fly with his shirt completely untucked:
As one reader pointed out, his fly was also open. Thankfully, this didn't get into NSFW territory. . .
"About damn time." – Wes Short Sr., 73, on son Wes Short Jr., 52, qualifying for the U.S. Open for the first time.
THIS WEEK IN CELEBRITIES PLAYING GOLF
Mark Wahlberg already had a four-green setup in his backyard where he could hit a variety of full shots. But last week the actor showed off his new practice facility:
THIS WEEK IN DUSTIN JOHNSON-PAULINA GRETZKY DANIEL BERGER-VICTORIA SLATER PUBLIC DISPLAYS OF AFFECTION
We're proud of ourselves for making it this far without mentioning who Daniel Berger's girlfriend is. But yes, this is where we remind you who is girlfriend is. Victoria (Tori) Slater.
Although Tori was in Jupiter and not walking in Memphis with Daniel, she sent out this congratulatory tweet after.
Congrats to Jerry Kelly, who joined David Toms in the 600-Start Club this past week: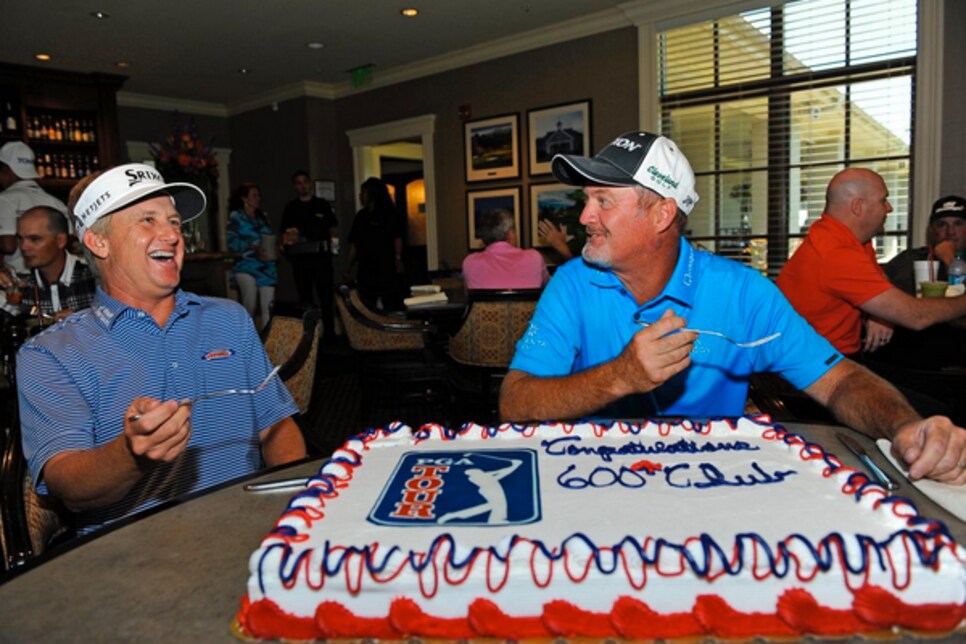 As you can see, the PGA Tour gave them a nice cake to celebrate. . . . After a practice round, Phil Mickelson called Oakmont "the hardest course we've ever played." Just a guess, but he won't be the only golfer to say that this week. . . . And finally, I found this golf ball on Sunday, which puts a new spin on those "How do you mark your Titleist" commercials: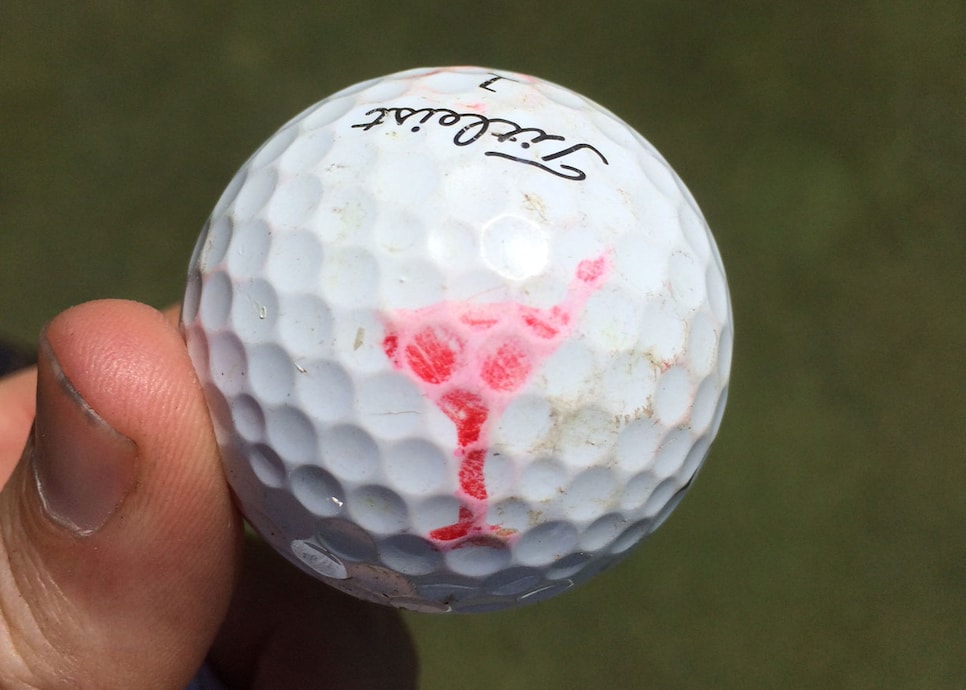 Dig your style, mystery golfer.
RANDOM QUESTIONS TO PONDER
What will the winning score be at Oakmont?
What's the weirdest marking on a golf ball you've ever seen?
What kind of cake was that?