News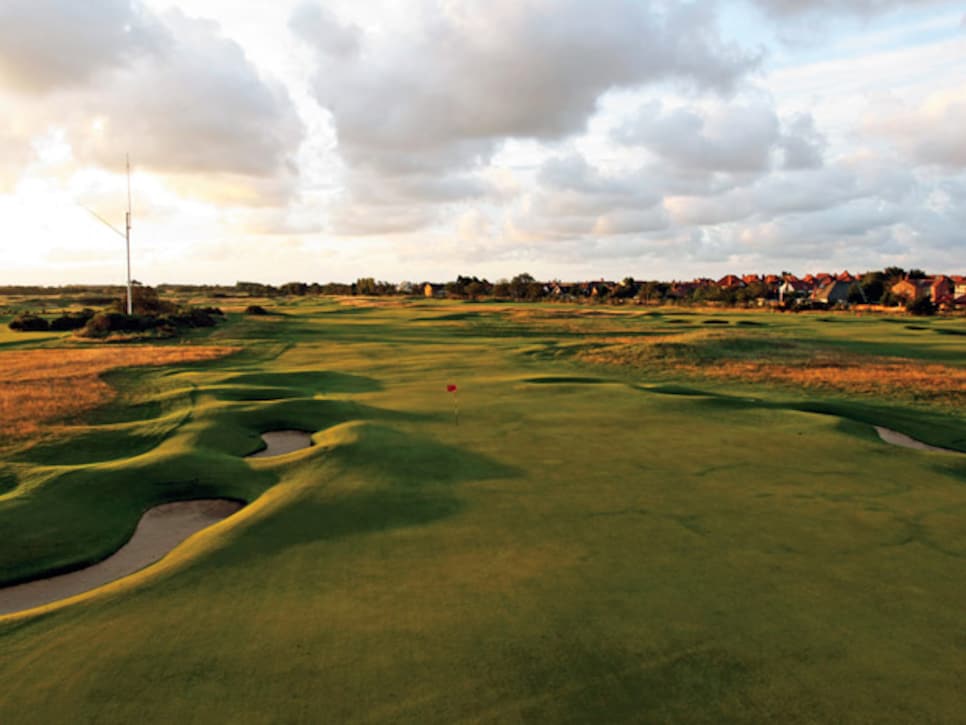 A golf colosseum: Lytham's exacting 413-yard closing hole.
When 22-year-old Seve Ballesteros won the 1979 Open Championship at Royal Lytham & St. Annes Golf Club, he was the youngest winner of the title since Willie Auchterlonie in 1893.
Seve used his driver nine times in the last round and found the fairway once. He drove into a bunker on 13, the right rough on 14, the left rough on 15. On 16, he sliced his tee shot so far right that the ball finished among some cars that weren't supposed to be there. (Seve claimed he hit it there on purpose.) His drive went into the right rough on 17, the left rough on 18. Not a fairway was found on those last six holes, yet by some mysterious force of will, time and again he was able to coerce the ball onto the green and into the hole. He navigated those six holes in one under par, for a three-stroke victory over Jack Nicklaus and Ben Crenshaw. It was Ballesteros' first major-championship title.
Seve played a bold, effervescent game. He was a man of passion and panache, the new Arnold Palmer, a "bomb and gouge" player decades before that term was invented. As he was Spanish, there were inevitable comparisons with matadors. He was a conjuror of extraordinary shots, a battler, a scrambler, a competitor. He was in 15 greenside bunkers during that week at Lytham, and he got up and down from 14 of them. The R&A's chairman of the championship committee that year, Colin Maclaine, said Seve chose not to use the course that had been prepared "but preferred his own, which mainly consisted of hay fields, car parks, grandstands, dropping zones and even ladies' clothing." At the prize-giving, Seve said simply: "I play good from the rough -- I have plenty of practice."
When the Open returned to Lytham, in 1988, a more mature Seve was victorious again, winning his fifth major title. Nick Price had a two-stroke overnight lead and played the last round beautifully, closing with a 69 -- normally enough to win. Price played one six-hole stretch on the last day, from the sixth through the 11th, in four under. Seve torched through it in six under. At 16, the decisive 3 Seve made was in stark contrast to his infamous 1979 parking-lot birdie: 1-iron down the middle, 9-iron to three inches, tap-in. His magician's chip from left of the last green lipped out, leaving a tap-in for a 65 and victory.
"It is the best round of my life," Seve said. "I played as good as you can hope to play this game." It was the pinnacle of his major-championship career. But also the end of it -- he never won another. Seve, felled by a brain tumor, passed away in May of last year at 54. As the Open returns this July to Lytham, Seve's happiest hunting ground, we salute this lost champion of the links.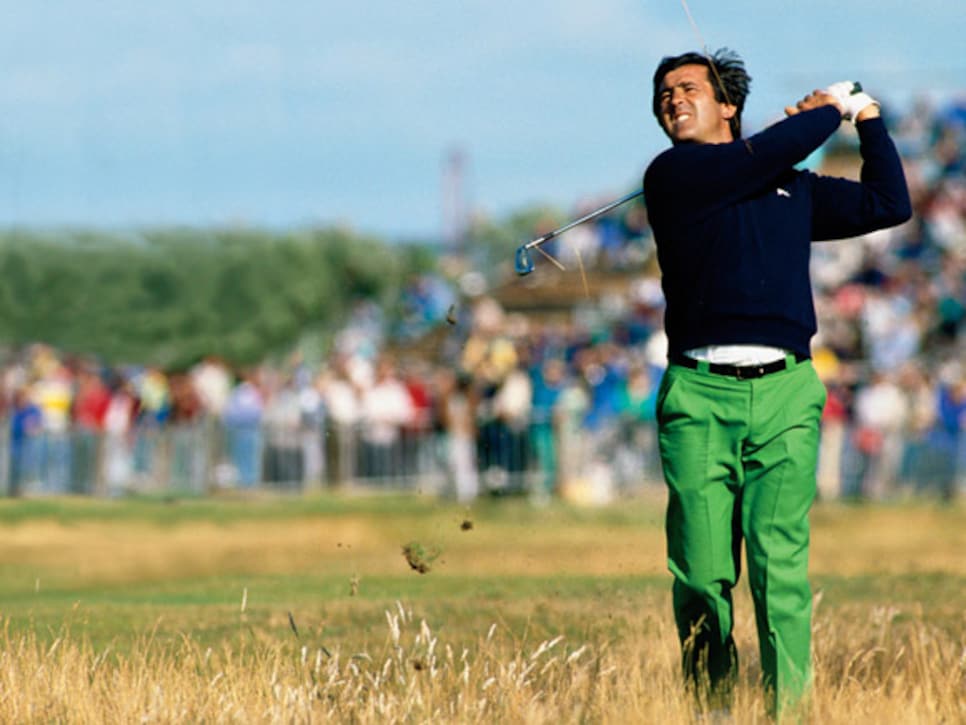 Photo: David Cannon/Getty Images__
Royal Lytham & St. Annes is just outside the Victorian seaside resort town of Blackpool -- nowadays resembling a kind of British Coney Island -- at the northern end of a superb seam of links-land. Traveling south, it's a 70-mile drive around the Ribble Estuary, down the Southport coast, through Liverpool, over the Mersey, along the edge of the Wirral Peninsula and on to the English/Welsh border. It's a drive that takes in innumerable classic links: Royal Birkdale, Hillside, Southport & Ainsdale, Formby and Royal Liverpool, to name just a few.
Few golfers, however, fall in love with Royal Lytham at first sight. There are no voluptuous, towering sand dunes, no stirring sea views. The closest the course gets to the water is the ninth tee, which is three city blocks -- 500 yards -- from the shoreline. Since the course was laid out in 1897, the suburban towns of St. Annes and Lytham have swelled, conjoined and surrounded the links, which, bordered on its south side by the Blackpool-Preston railroad, is literally on the wrong side of the tracks.
The course was originally laid out by George Lowe, a former apprentice clubmaker to Old Tom Morris in St. Andrews. Lowe was Lytham's first professional and designer of many courses in northwest England, including Royal Birkdale. Master golf-course architect Harry Colt revamped Lytham in 1919, adding length, new greens and tees, and many of today's characteristic bunkers. But Lowe's basic routing remains. Seven of the greens are in their original location.
This is a hard, flinty old links, a place where you will be sternly punished for wayward approach shots: "A beast of a course," Bernard Darwin wrote, "but a just beast." A lot of the beastliness lies in its bunkers, 205 of them, most with near-vertical, stacked-sod faces, the kind of insidious hellholes that can elicit tirades from even the gentlest of golfers.
"Comparing all the Open courses, I think it's the most difficult," Peter Thomson says by phone from his home in Melbourne, Australia. Thomson, now 82, won the fourth of his five Opens at Lytham in 1958, despite suffering from acute asthmatic hay fever that week. "The course is narrow, with small greens, small targets, and all those bunkers. The ball's going to bounce, and you have to anticipate the bounce and judge it. It's really a very punishing course. I put it at the top of the list. In every way it's a championship course. It will bring out the best player, without a doubt."
The unusual front nine has three par 3s, including, uniquely in championship golf, the first hole. The nine runs for the most part from northwest to southeast -- the same direction as the prevailing wind. Traditionally, Open competitors have made their scores going out -- assuming they can avoid the out-of-bounds that runs down the slicer's side of most of the front nine. In the history of the Open, the front nine at Lytham has given up more sub-30 scores than any other nine on the rota. (It has happened 12 times, five of them at Lytham, though the record, a 28 by Denis Durnian, was at Royal Birkdale in 1983.)
If the front nine has been one of the easiest in Open golf, the back nine is one of the hardest. Eddie Birchenough, who will retire later this year after a quarter of a century as club pro, picks the par-4 15th and 17th as the hardest on the course. "They're both absolute killers," he says.
The 15th, 462 yards, was originally a par 4 and a par 3 that Colt combined into one long monster hole, and it still possesses a slightly mongrel feel. Darwin called it "a hole for giants." Says Birchenough: "It's just plain hard." In the 2001 Open, from deep rough right of the fairway, David Duval slashed a Seve-like 6-iron from 210 yards out onto the green, which he described as one of the best shots he'd ever played. He parred in to win by three.
And the 17th, a 453-yard, left-turn dogleg, pockmarked with 20 bunkers, is Lytham's most famous hole. It was here in 1926 that Bobby Jones pulled off a master stroke, a smash with a hickory-shafted mashie, from a sandy lie, over 170 yards of wasteland, to the heart of a green that he could not see. Playing partner Al Watrous three-putted to hand Jones the lead, and Jones sailed home with the famous claret-jug trophy on the RMS Aquitania to a ticker-tape parade on Broadway. Eighteen years later, during World War II, he returned to Lytham, in uniform, on his way home from Paris. He identified the spot from where he'd hit the immortal shot, and the club installed a plaque there. (To avoid unfortunate ricochets, the plaque today is positioned on an unobtrusive back slope of one of the bunkers.) In the lovely brick and half-timbered clubhouse-cum-museum, where it is 1926 still, the mashie hangs in the upstairs clubroom beneath an enormous portrait of Jones.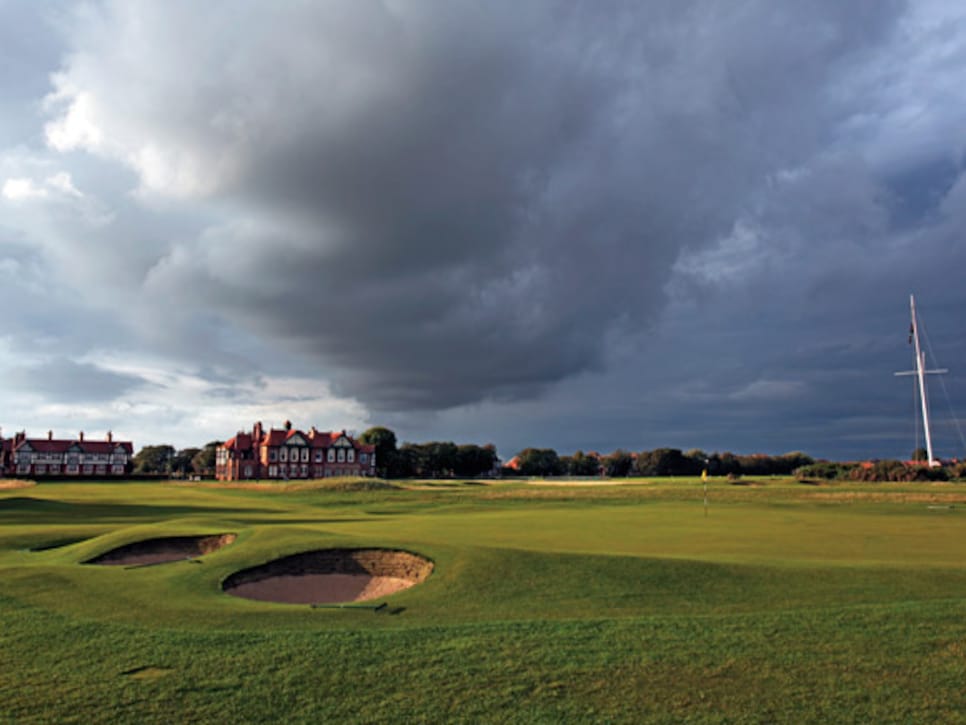 And then we come to the closing hole, 413 yards, a colosseum of golf. "It's been the graveyard of so many players," Birchenough says. "There's no bailout." In that 1926 Open, Walter Hagen needed a 2 at the last to tie Jones. After a good drive, Hagen ceremoniously strode all the way up to the green to inspect what lay ahead of him. Then he had his caddie attend the pin. As Herbert Warren Wind wrote: "What an utter fool he would have looked if he had then managed just a run-of-the-mill shot." But Hagen nearly did hole his approach shot. The pitch mark was just two feet from the cup. Hagen finished third, then departed in a chauffeur-driven, open-top Rolls-Royce, bouncing golf balls to the crowd as he went.
For this year's Open, the course has been significantly fortified by British architect Martin Ebert. New tees and one new green (at the seventh) have pushed the course to 7,086 yards -- 181 yards longer than it was for the 2001 Open (and more than 900 yards longer than the 1897 original).
"We used to think that either Lytham or Carnoustie was the toughest Open course," Birchenough says. "But now, with the lengthening, we think we are the toughest. The penalty for going in the bunkers especially is very, very heavy. There's a bogey or double bogey in every one of them."
Lytham has produced an impressive roster of global champions. Though Jack Nicklaus never won here, in six tries, there's not a single fluke, long shot, Ben Curtis nor Todd Hamilton among its Open winners. Jones (1926), Bobby Locke (1952), Thomson (1958), Bob Charles (1963), Tony Jacklin (1969), Gary Player (1974) and Ballesteros (1979) were all either the best in the world when they won or not far from it. And in the three Opens at Lytham since the World Ranking started, it has produced winners who at the start of the week were ranked fourth (Ballesteros in 1988), 13th (Tom Lehman in 1996) and seventh (Duval in 2001).
The weather is always a factor, of course. I played a round on a late afternoon this past March when it was 70 degrees, with not a single cloud, hint of wind, nor other human to disturb the tranquility, when fat bumblebees were making their first lazy, low-flying forays of spring, and the beaches in Blackpool were strewn with sunbathers. Come July, there'll likely be icy gales and downpours. Thomson recalls the first round in 1958: "I was off at 1:30. Bobby Locke was my principal opponent at that time, having won the year before. And he came into the locker room after his round thoroughly drenched. He tipped up his golf bag, and it looked like about a gallon of water came out. And of course, 15 or 20 minutes later, when I went out to the first tee, the birds were singing and the sun was out." Locke had opened with a 76; Thomson bettered it by 10 shots.
Whatever the weather, look for a leading player with a spark of genius and a supernatural short game. Rory McIlroy, say, or Phil Mickelson. Or Masters champion and thoroughbred shotmaker Bubba Watson. (Charles, the only lefty ever to win the Open, did it here.) Or maybe even Sergio Garcia, finally. Tiger Woods, who shot 281 as a 20-year-old amateur at Lytham in 1996, can never be discounted. The English, especially those who remember Jacklin's stirring victory, will be cheering for Luke Donald and Lee Westwood.
"I think the winner will come from Europe," Thomson says. "They're playing so well they'd be favorites on any type of course, but particularly on a seaside links."
This tight, heavily defended course is less a place for regulation pars than for astonishing recoveries and audacious birdies. Where the U.S. Open generally favors the grooved, one-dimensional mechanic, the British Open rewards the charismatic artist, and that is as true at Lytham as anywhere. This summer, Lytham is not only looking to identify the "champion golfer of the year," but a rightful successor to Seve Ballesteros, too.