News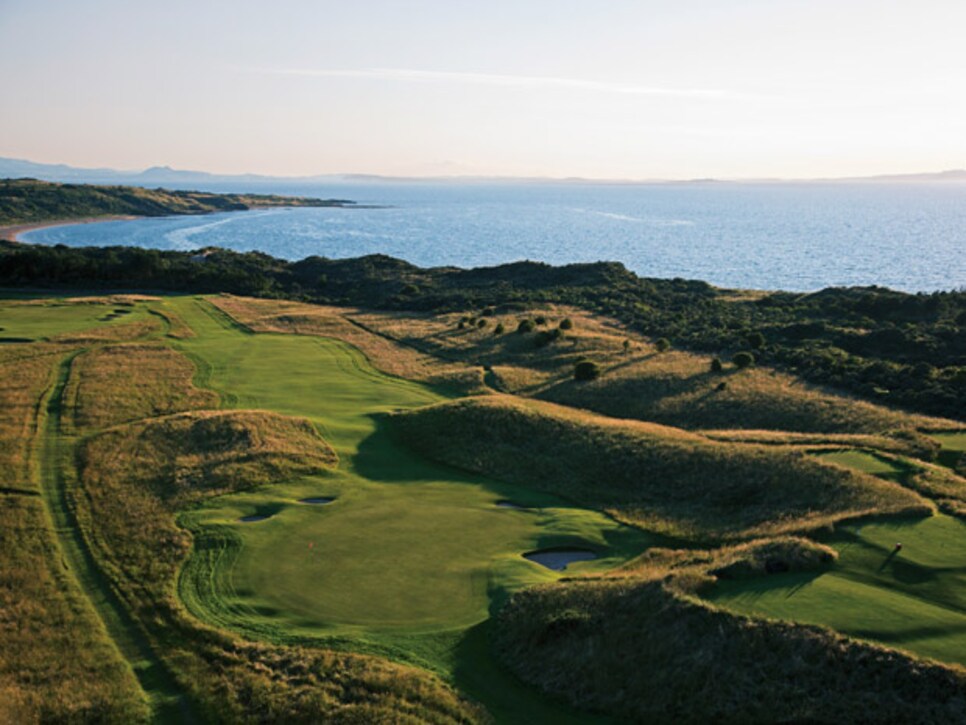 NO. 3 / 377 YARDS / PAR 4
10 years ago, on Alastair Brown's first day as secretary of Muirfield, a member sidled up to him and offered a stern piece of advice. "Just remember, you are not the secretary of a golf club," he said. "You are the secretary of a lunch club that happens to have a golf course attached."
Of the roughly 700 members of The Honourable Company of Edinburgh Golfers, most don't play--only about 125 use the club regularly for golf. For those who do make use of the links, brisk foursomes play is the order of the day, such that more time may be devoted to food and drink. Any impediment to the onward march toward the epicurean lures of the clubhouse by, for instance, taking practice swings, hitting provisional balls, reading putts, filling in scorecards or any other pointless dilly-dallying, would be frowned upon and viewed as distinctly dishonourable.
One of Brown's predecessors described a typical day at Muirfield as "2½, 2½, 2½"--meaning 2½ hours for the first 18, 2½ for lunch and 2½ for the second 18. American golf, by contrast, might be more like "5½, ½." When the golf is slow and the food is fast, life is out of kilter.
It's a long-standing tradition that the 19th is the most important hole at Muirfield, with deep roots. The club was founded by a group of pub regulars at the five-hole Leith Links (see "The real home of golf," page 128). The club, consisting of "several Gentlemen of Honour skillful in the ancient and healthful exercise of the Golf," was formally recognized on March 7, 1744, and the meeting minutes have been kept ever since. Despite competing claims from the likes of Royal Blackheath (1608) and Royal Burgess (1735), the Honourable Company regards itself as the oldest golf club in the world.
Golf had been played on Leith Links since at least the 16th century--King Charles I was a regular--but conditions weren't always ideal. The club's (and the game's) first set of rules, from 1744--adopted and revised by the Royal & Ancient when it formed a decade later--were 13 commandments that give an indication of conditions, with strictures on how to proceed when the ball lands in "watter or wattery filth" or in any "Trench, Ditch or Dyke" or when it's stopped "by any person, Horse, Dog or anything else." In 1836, the club relocated to the course at Musselburgh, which hosted six Opens. It, too, eventually became crowded--four or five clubs shared the course at the time--so in 1891, the Company moved to its own site, another 12 miles farther from Edinburgh. On a compact parcel of boggy land, bounded by an old stone wall, Old Tom Morris laid out the new playground, with 16 holes opening for play on May 2, 1891. The course hosted the Open the next year--the first to be played over 72 holes--but many competitors were unimpressed, claiming it was too short (at 5,203 yards), too easy, too damp.
Starting a process that has continued for all subsequent Opens, including this year's, July 18-21, the course was toughened and tweaked to keep pace with an evolving game. The only surviving hole from the original 1891 course is the old third, now the second hole.
For this year's Open, Muirfield's 16th, there have been changes at all but three of the holes, overseen by "Open doctor" Martin Hawtree, a Brit who continues the family course-architecture firm started by his grandfather. Hawtree (who was also instrumental to the controversial changes to the Old Course at St. Andrews this past winter) has added eight new back tees, stretching the course to 7,192 yards--158 more than 2002--and on eight holes he created, relocated or expanded greenside bunkers closer to the putting surfaces. At the same time, some of the greens have been enlarged to the original dimensions of Harry Colt's 1922 design.
By any measure, Muirfield these days is one of the top-10 golf courses in the world. There are several reasons for this. There's Colt's ingenious 1922 routing--a clockwise front nine wraps around the counterclockwise back nine, ensuring golfers are hit every which way by the wind. There are the beautiful putting surfaces, some of which call to mind Salvador Dali's melting clock faces, sloping off at the edges and repelling all but the most ardent of approaches. And there's the overriding sense that, when it comes to Open venues, Muirfield, though tough, is the fairest of them all. There is nothing tricked up about it. There is only one blind shot (the tee shot at the 11th is played up and over a ridge). Wrote Herbert Warren Wind, in 1966: "Muirfield's great quality is its frankness--its honesty. There are no hidden bunkers, no recondite burns, no misleading or capricious terrain. Every hazard is clearly visible."
My lunch with Brown--minestrone, Scottish haddock, syrup sponge, thank you very much--was nearly over. I appreciated his welcome, especially because there are so many infamous tales of his fearsome predecessors. Muirfield was long known as a place where visiting golfers hoping for a round would be met with ridicule, belittlement or outright hostility.
Navy Captain P.W.T. (Paddy) Hanmer was the feared man in charge for 15 years. One of the many stories about him, some of which might even have been true, was the time he was briefing an American pro about playing at Muirfield and its unique brand of etiquette. Then he turned to deliver the same instructions to 1965 PGA champion Dave Marr, who was standing nearby. Marr told him not to worry, saying: "I was listening when you told him." To which Hanmer barked: "You will listen again." Twenty years ago, this magazine called Muirfield "quite likely the rudest club in the world." But times have changed.
Brown--tall, tweedy, avuncular--is the ninth secretary since Major G.H. Holt took the post in 1933, and the first non-military man in that time. His background is marketing--brand and corporate management--and he also spent 10 years working in golf administration in South Africa. "These days we have a pretty clear intention," he says. "We want people who come here to have one of the most enjoyable days in their golfing lives."
For traveling golfers who collect famous courses like badges, Muirfield is one of the most prized. But unlike, say, Augusta National or Pine Valley or Cypress Point, Muirfield does allow visitor play, like almost all private clubs in the United Kingdom. Tee times are reserved for ordinary 18-handicap-or-better visitors every Tuesday and Thursday morning. These visitor tee times are sold out more than a year in advance.
Women can play, too, though their absence from the club's membership will not go unnoticed this July, especially because Augusta National now has two women members. Brown, however, says this is "not an issue as far as we're concerned. We're fully compliant with the Equality Act. We're not at all like Augusta, which governs and hosts the Masters and is heavily involved in golf. Our course is used by the R&A to host the Open for one week every 10 years, and then we go back to being a sleepy private members' club." The R&A is in a far less defensible position as a single-gender club.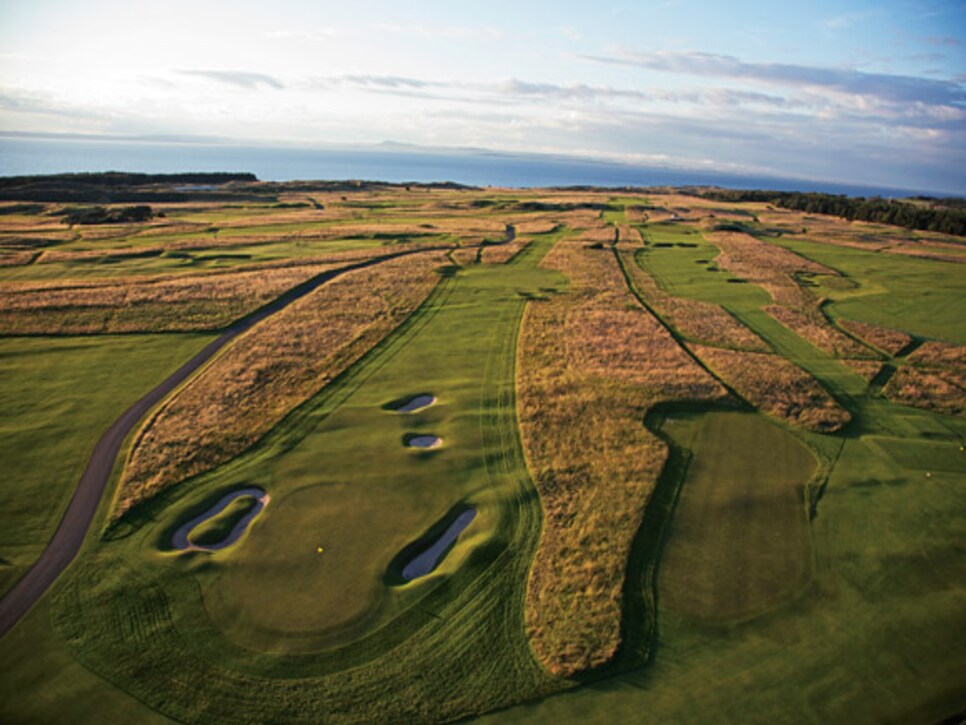 RIGHT: NO. 10 / 469 YARDS / PAR 4
The time has come to venture out onto the links. It is a March day; there had been snow on the greens that morning. There is nothing so prosaic as a golf shop here--as Brown rather drily puts it: "Our members are not great purchasers of logoed golf merchandise"--so I make for the first tee, the start of an adventure over this exposed spur of north-facing terrain, 20 miles east of Edinburgh and a few hundred yards from the sea. The course hardly looks beautiful or spectacular. The landscape resembles a cruel wasteland, a tundra. It is deserted--all other mammalian life-forms have been banished by stinging, howling winds. To the north, across the frigid Firth of Forth, the Lomond Hills are white with ice and snow; likewise the Lammermuirs to the south. Part way through the round, another snowstorm kicks up.
But whatever the weather, a round here, as with any other Open venue, is a privileged, exhilarating walk through history. Here is the par-4 second, where a 19-year-old Jack Nicklaus nearly drove the green in a practice round for the 1959 Walker Cup. The long fifth, on high ground along the north edge of the property, where Johnny Miller holed his second for an albatross 2 during the 1972 Open. The eighth, where Walter Hagen cut the corner of the dogleg on the last round of the 1929 Open, setting up a birdie 3 en route to victory. The lovely par-3 13th, where Ernie Els played a miraculous bunker shot up a near-vertical face, to 18 inches, in winning the 2002 Open. The 15th, with the green the members call the Camel's Back, to which Nick Faldo hit "one of the best shots of my life" in the 1992 Open. It was here, too, that Bobby Jones was defeated in the sixth round of the British Amateur, in 1926.
But it is on the last two holes that outcomes are decided: the birdieable par-5 17th, now the longest hole on the course at 575 yards, and the par-4 finale, stretched this year to 470 yards. A grandstand finish of a little more than 1,000 yards. Sometimes four good swings get the job done (e.g., Alf Perry, 1935; Nicklaus, 1966; Faldo, 1987 and 1992). Sometimes that's not so easy (e.g., Tony Jacklin, 1972; Paul Azinger, 1987; John Cook, 1992).
A wintry sun makes a brief appearance as I head down the home hole. This is where Hagen hit the flag with his approach in 1929, setting up a then-course-record 67. Where Henry Cotton shanked a bunker shot in 1948 but was so far ahead that it didn't matter. Where a distraught Gary Player made a messy 6 in 1959 and endured a two-hour wait before learning that he'd won anyway. Where Isao Aoki shot a record 63 in 1980. And where Els made a peerless save from an awkward stance and lie in a greenside bunker to beat Thomas Levet in sudden death in 2002, the last time the Open was here.
Els is naturally feeling good about a return to Muirfield, especially as the defending champion. Last year, at 42, he won at Royal Lytham & St. Annes--a surprise to everyone who assumed his major days were behind him, including, perhaps, Els. Adam Scott was four ahead with four to play, and Els played with all the freedom of a man who didn't expect to win. Scott bogeyed each of the last four holes; Els won by one.
"I played a good back nine and was hopeful, but of course it was surprising to win," Els says. "Jack Nicklaus always said he played as hard as he could, put up a score, then waited to see what happened. That's good advice. You just have to hang in there. Golf is like other sports--the other guy might falter."
There are bound to be falterings this year. With such an impressive list of Muirfield winners it's tempting to look again to the favorites. The winner will need to be steady off the tee, as the rough can be brutal. Then there's the weather. On a horrendous Saturday in 2002, Tiger Woods, at the height of his powers and with Grand Slam thoughts after winning the Masters and U.S. Open earlier that year, shot 81. Colin Montgomerie shot 84, after a 64 the previous day. The official club history says Muirfield golfers struggle on calm days because they find it difficult to maintain balance "for lack of something to lean against."
"Muirfield is an unbelievable classic, the best of all the links," says Els, who plans to call his next dog Muirfield. (James Braid won here in 1901 and gave his son Muirfield as a middle name; Nicklaus won in 1966 and named his Ohio home course Muirfield Village.) "Each hole goes in a different direction, so you constantly feel like you're a little off. You have to drive the ball left to right and right to left. You have to have your short game. It just tests everything you've got."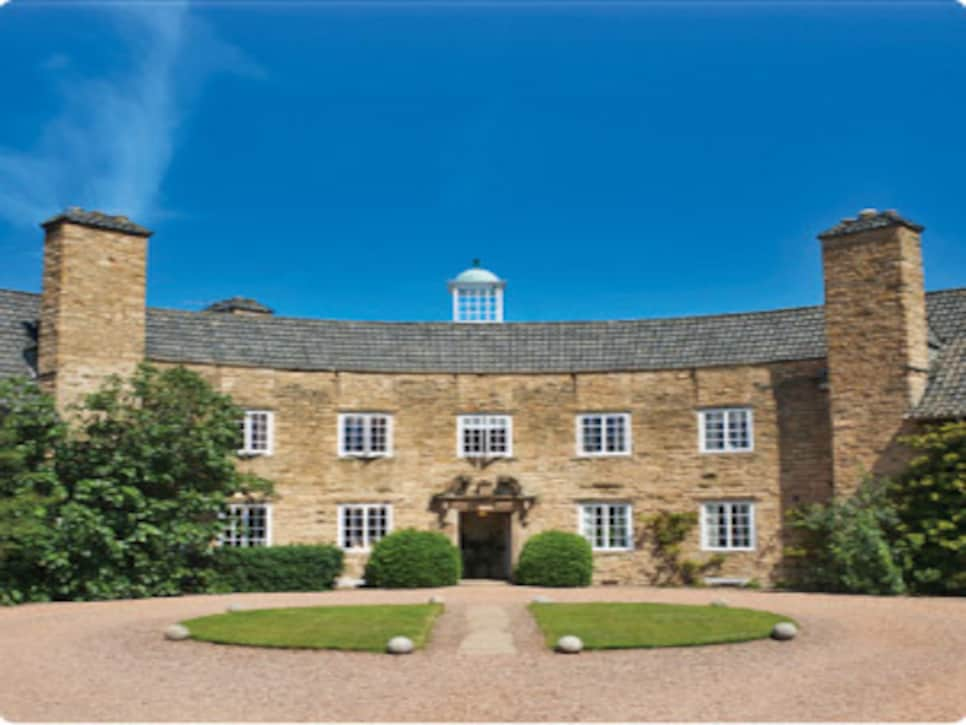 GREYWALLS AND THE KING'S LOO
The perfect antidote to the exertions of a wintry round at Muirfield is a hot bath in Greywalls Hotel, which sits behind the 10th tee, a meal at its Albert Roux-branded restaurant--the kind of place that offers "pot-au-feu of Ox-Tongue and Shin of Beef, Crouton of Bone Marrow, Sauce Albert," if you like that sort of thing--and a sound night's sleep in a room once inhabited by champions. Greywalls was designed in 1901 as a private holiday home; it opened as a small hotel in 1948.
King Edward VII stayed there several times--the outhouse that was once the bathroom he used is now the luxurious Room 17 of the hotel, otherwise known as The King's Loo. Maybe there is something in the waters: When Ernie Els won in 2002, he stayed here.
"I'm going to check it out this year," Els says. "Hopefully I'll get The King's Loo again."