News
British Open 2019: Rory McIlroy's miserable start was shocking—and predictable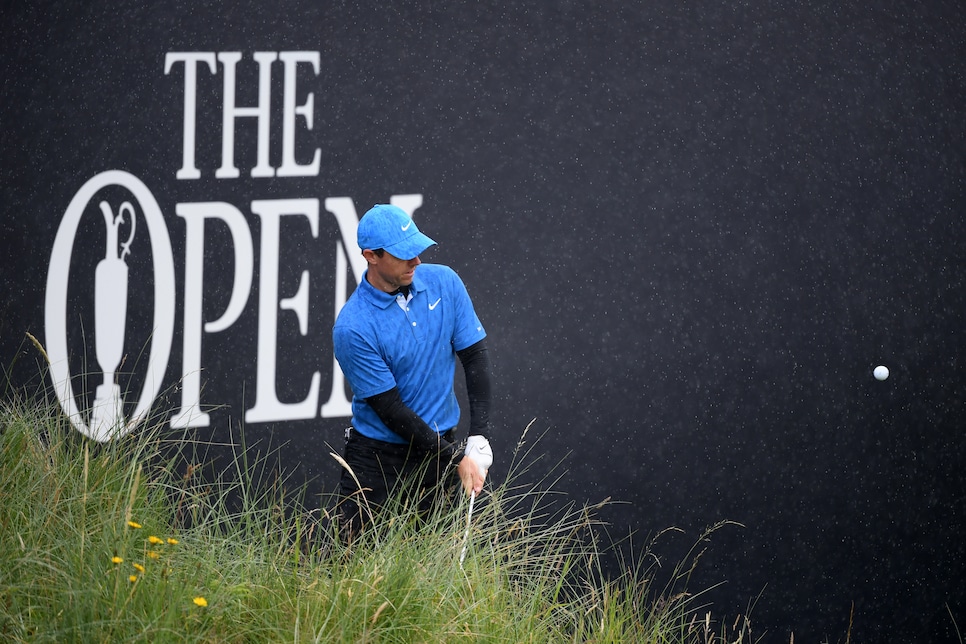 The cheers from grandstands had barely died when Rory McIlroy's tournament followed suit. On the first hole at Royal Portrush Thursday morning, McIlroy pulled his tee shot, his ball hitting a fan and bouncing out-of-bounds. In itself, it was merely a bad drive, leading to a bad hole, begetting a bad round in a season that has statistically been the best of a Hall of Fame career. This is true, in a vacuum.
Professional sports, however, are typically consumed through a prism of some sort. That's true of golf's four majors, and especially true of this player, in this scene, against these stakes.
Which is why McIlroy's eight-over-par 79 was surprising. And yet, entirely predictable.
Aside from a certain 15-time major winner, no golfer is analyzed, dissected, questioned and conversed like Rory McIlroy. He has an ability to make this difficult game look easy, and he's a fascinating study because of it. When Rory is rolling, no one is more exciting; when he's floundering, no one is more frustrating. Coupled with a magnetic personality and thoughtful perspective, McIlroy engenders a rapport with fans unlike any player in golf.
Even by those standards, this week is a different tune. For the first time in 68 years the Open is being played on the Emerald Isle, a land whose cultural, political fissures remain complicated in spite of recent progress. A land McIlroy calls home. He may not be a Portrush lad, but the links was the site of his breakout performance, the so-often cited 61 as a 16-year-old.
McIlroy hoisting the claret jug wasn't the sole storyline worth watching this week, but it was the most irresistible.
Seen in recent years with Phil Mickelson's pursuit of the U.S. Open or even lower-hyped endeavors like Colin Montgomerie or Tommy Fleetwood playing Opens at their home courses, wanting or caring too much about a tournament can have the opposite effect on a desired outcome. Sports psychologists say this is because focusing on an end goal is less effective than emphasizing process.
"The problem is that when you focus on results, you are actually less likely to get those results," writes Dr. Jim Taylor in Psychology Today. "If you are focusing on results, you're not focusing on the process, namely, what you need to do to perform your best to get those results. This result focus can cause you to get really nervous before competitions, which makes it nearly impossible for you to perform your best."
All fine and dandy, and sound in theory. In execution, a different ballgame. That requires subconscious performance under high pressure, understanding the task ahead matters. It's a paradox, one that often leads to failure.
"You have to perform as if you have nothing to lose," Taylor writes. "You perform your best when you let go of expectations, pressure, and fear of failure ... You perform your best when you turn off your mind and just let your body do what it knows how to do."
That's a concept that escaped Mickelson for most of his career at the U.S. Open, noting in Shinnecock in 2018 that he would get ahead of himself at times by thinking of the results.
"The way you get in trouble here is you anticipate too much and you get too far ahead," Mickelson said last summer. "The more I think about winning, the more it detracts away from my focus and the process of playing a round."
It's something McIlroy knows well, as his bids for the green jacket, which would give him the career Grand Slam, have proved similarly vexing.
"Stressful," McIlroy said about the Masters in 2017. "I am, ask anyone who knows me, a complete prick in the week leading up to Augusta. But they understand and know that. It's a stressful situation."
McIlroy's not a hard-ass or a headcase. He's merely human.
Before we go too far down this road, McIlroy has stated multiple times this year that he's learned to separate Rory the player from Rory the person, not letting results inside the ropes dictate his happiness outside them. He echoed those sentiments after Round 1, saying the heightened expectations were not a factor in Thursday's flop.
"I don't think so," McIlroy said. "Look, it's disappointing. I'd be disappointed regardless, whether it was here or St. Andrews or Birkdale or any of the other tournaments or majors.
"I'm pretty truthful with you guys. Look, I was nervous on the first tee. But not nervous because of that. Nervous because it's an Open Championship. I usually get nervous on the first tee anyway, regardless of where it is. So maybe a little more so today than other places. But I don't think it was that. It was a bit of a tentative golf swing with a hard wind off to the right, and the ball just got going left on me."
That said, self-reflective as McIlroy can be, it's fair to state a bit of mental gymnastics are at hand. You can't distort the obvious. There were extenuating circumstances, ones that suggest he cares deeply about this tournament. To argue otherwise is to argue his merits as a competitor.
No, a McIlroy win wouldn't have bestowed nationwide peace. Yet the Irish are a prideful people, and their hopes were fastened, welcomed or not, to the 30-year-old's back. While he knocked down that notion at multiple turns, McIlroy did acknowledge what this Open means to the country.
"I think as well it will be a massive thing for the country," McIlroy said on Wednesday. "Sport has an unbelievable ability to bring people together. We all know that this country sometimes needs that. This has the ability to do that. Talking of legacy, that could be the biggest impact this tournament has outside of sport, outside of everything else, is the fact that people are coming here to enjoy it and have a good time and sort of forget everything else that sort of goes on."
McIlroy also recognized his part in the celebration, and the circus that would surround him. "I can't just put the blinkers on and pretend that's not all going on," he said. Though McIlroy noted he gets support throughout Europe, "I'm sure it will feel different tomorrow on that first tee and the buzz and everything."
Less than 24 hours later, the remark seems like fait accompli.
There are examples of success in the face of heightened hometown pressure, most notably Tiger Woods playing, and winning, the 2008 U.S. Open on a broken leg at Torrey Pines. That narrow-minded drive is what made Tiger Tiger. But in hindsight, it's fair to wonder if that passion was healthy, if that same drive, that obsession, correlated to Woods' eventual destruction.
Mentioned above, McIlroy has sought a well-balanced life. Unfortunately, that can be to the detriment of his golf game.
"Yeah, I'm disappointed, but at the end of the day I'm still the same person," McIlroy said. "I'm going to go back and see my family, see my friends, and hopefully they don't think any less of me after a performance like that today. And I'll dust myself off and come back out tomorrow and try to do better."
That's something you'd never hear out of a pre-2008 Woods.
Perhaps that's extrapolating too much from one round. McIlroy, after all, has two wins and a staggering 11 top 10s in 14 PGA Tour starts this year. His tour-leading 2.711 strokes gained figure is on pace to be the best non-Tiger output in PGA Tour history. He had a couple bad swings on Portrush. That's golf.
Conversely, before the Open, McIlroy had played in over 160 tournaments—well over 10,000 holes—in his tour career. He made a quadruple-bogey four times in that span.
Thursday's opening 8 could be really, really bad timing. In a way, it was. That doesn't make it a coincidence.