News
British Open 2019: Everyone loves Royal Portrush now, but their affection will be severely tested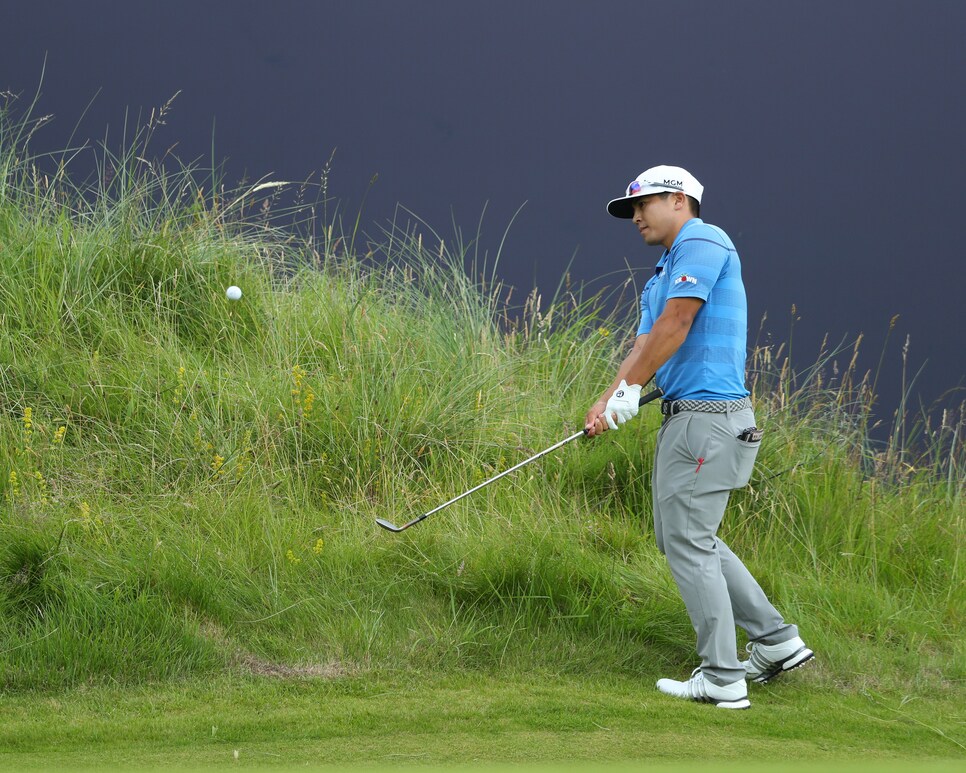 PORTRUSH, Northern Ireland — It has been the dominant theme in the run-up to this 148th Open Championship. Everyone loves Royal Portrush. Unequivocally. Without Doubt. No question. The Dunluce links on the northern tip of County Antrim in Northern Ireland is a bloody good test of golf. Ask anyone in the 156-strong field.
"The big key this week is just to stay out of the fairway bunkers and keep out of the rough, even if you're giving yourself a little longer second shots in," says Rory McIlroy, summing up the prevailing mood. "You can play this golf course from the fairway. On the other hand, with the way the rough has grown over the past couple of weeks, you're not going to be able to score hitting it off-line."
So no one is expecting an easy ride out there. This is not last week's Scottish Open at the Renaissance Club, where the winning score was 22 under par. Oh, no. Every aspect of the game is going to be tested. From driving to putting, the best golfers in the world are about to be robustly challenged. And anything less than their best stuff is going to lead to problems. Especially if the wind blows.
"The biggest thing is, you have to be hitting the ball well," says Australian Marc Leishman. "You can't pretend around here. Especially if the weather is rough. The rough is brutal. Most courses have a side you can miss on, but not this one. Here, you just can't miss anywhere. So driving is key, as are the shots around the greens. Links normally have really severe bunkers. But here there are lots of run-offs. So you have a lot of options. I'll be hitting a lot of bump-and-runs, a lot of 5-iron chips. But you can do what you want—lob wedge, hybrid or putter work, too."
As ever when we're talking golf by the seaside, a lot will depend on the direction and velocity of the breezes that blow almost constantly in this part of the world. Because there are a lot of slight doglegs on the 7,344-yard layout (542 yards longer than in 1951, when the Open was last played here), crosswinds only add to the inherent difficulties.
As you'd expect of someone with so much experience on a course most competitors had never seen until this week, McIlroy is able to add a little more insight and texture to that big-picture view.
"One of the great things about this golf course—and I sort of realized this last Saturday when I came to play—is that, off the tee, it makes you challenge at least one bunker," he says. "If you try to take all the bunkers out of play, it's going to be very difficult. You're leaving yourself a lot of long shots. So, on a lot of tee shots, you challenge one bunker but stay short of the next one. You have a little area to hit it into. Which really makes you play; you really have to concentrate on every tee shot."
Where and when that level of focus will have to be at its height will vary from player to player, but it is a safe bet that most will have taken note of the stretch of holes from the fourth tee to the ninth green. Within that six-hole run, rounds will be made and scores broken. There are birdies out there, but also potential disaster. One way or another, there will likely be a lot of action.
Take the tee shot at the ninth. In a right-to-left wind, the correct line means flying the ball over some horrendous trouble. Hit it there, and 3-off-the-tee is almost inevitable. In left-to-right wind, it is difficult to aim far enough left to allow for that breeze. Hit a straight one, and you are headed back to the tee again.
On and around the greens, Leishman's assessment is supported by swing coach Denis Pugh, who works with defending champion Francesco Molinari.
"The major challenge is chipping from tight lies to elevated putting surfaces," Pugh says. "You need height to get the ball to stop in time. We'll see a few guys using putters, but that is so hard to judge up and over a steep slope. And we'll see pretty quickly who is confident around the greens—and who is not. The guys with imagination will thrive. The technique will have to be good. The confidence will have to be high. And the nerve will have to be strong."
Which sounds a lot like what will be required of the eventual "champion golfer of the year" everywhere on this wonderful course. Royal Portrush will ask a lot of questions over the next few days. And none of the answers will be easy to figure out.