Apparel
British Open 2018: Will wearing this color increase Dustin Johnson's chances of winning?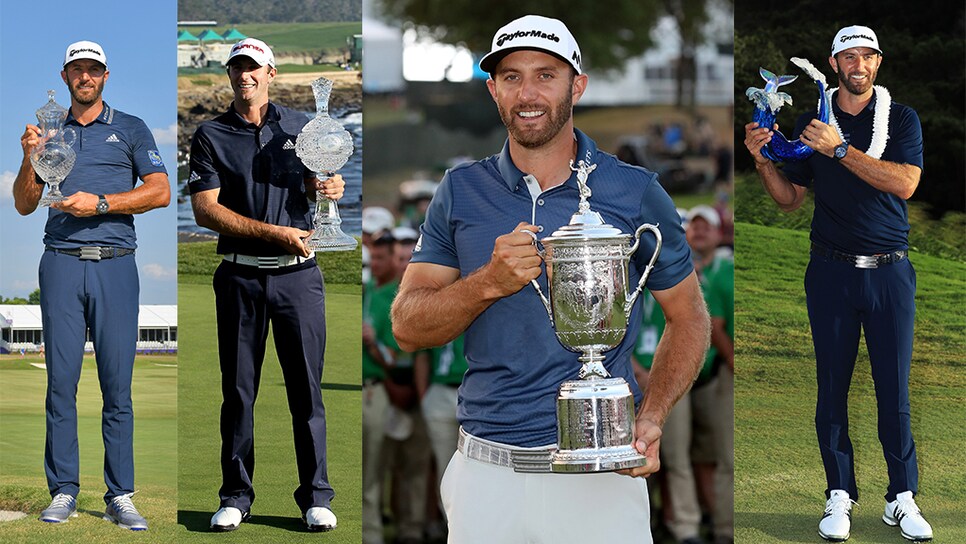 Dustin Johnson knows how to keep things simple. Much like his strategy on the course, his apparel tends to be straightforward and powerful. The most consistent element during his successful weeks? Navy. Johnson has been dressed in navy half of his 18 career wins. The color symbolizes confidence, stability, power and authority. Maybe DJ is looking for a little more power in the color, or perhaps he's just a fan of the almost-black shade, either way the color suits him and will continue to shine at Carnoustie. Check out Johnson's looks for the British Open and where you can buy them. Hey, it might give you a little more confidence, too.
Thursday
This look is similar to Johnson's Sunday shirt when he won the Sentry Tournament of Champions earlier this year. It was a simple navy with three stripes on the upper chest. By adding a heather color-block pattern to the winning design, it breaks up the dark shade and allows for a variety of options when it comes to pant color. The three chest stripes add a stylish touch to this performance-ready shirt—it's moisture wicking and super lightweight despite the heavy colors.
Friday
DJ put this rugby shirt design in gray into rotation at the U.S. Open and the result was an ultra-athletic-yet-old-school look. The navy and white contrast, on the other hand, is striking with a slightly nautical feel. It's also got a breathable four-way stretch fabric and looser fit that will ensure the stripes don't add any unwanted width at the torso.
Saturday
This Ultimate365 Engineered Stripe Polo has a ribbed look that is actually made from micro stripes within the white color blocks. It's got the textured look, with a technical, lightweight feel. The side hem is split to allow the shirt to lay smoothly at the pant line and a classic ribbed collar that enhances any look.
Sunday
The heathered navy color way might be DJ's favorite, he's been seen in it often. He wore this shirt to win the FexEx St. Jude Classic in June. We're not sure if Johnson is a superstitious guy, but it sure seems like this is his lucky shirt and it is no coincidence he'll have it on during the final round of the British Open.