News
British Open 2018: Michael Kim rode new driver to win John Deere Classic, now adding another new club to battle Carnoustie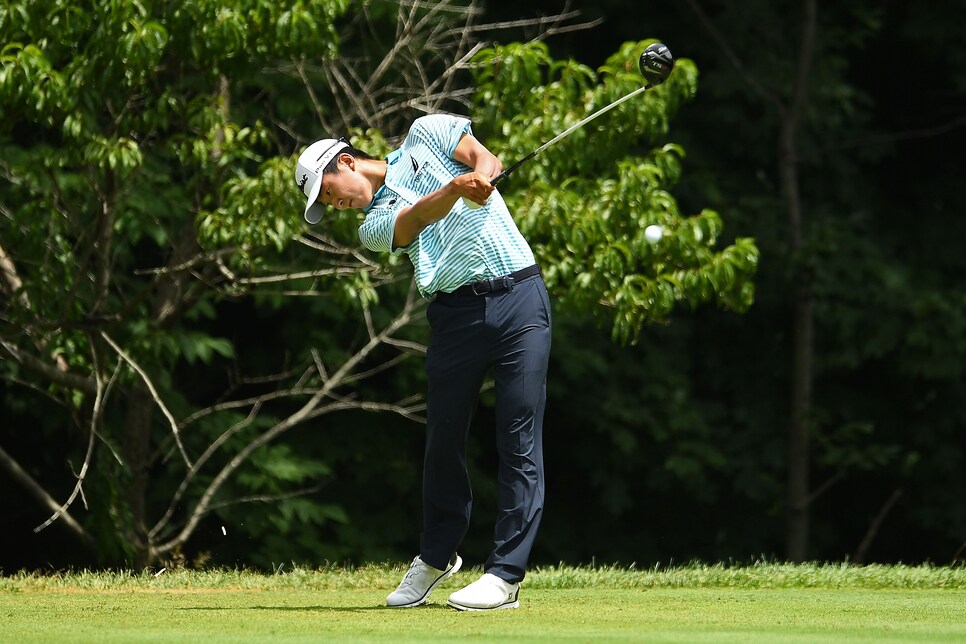 Michael Kim's dominant win at the John Deere Classic got him the last ticket to the Open Championship this week, and he says that win was fueled by a new club that he might end up not using that much at Carnoustie.
The good news for Kim is he's found another new club that he's excited about this week.
Kim, who won the John Deere Classic with a record-setting 27-under-par score for an eight-stroke victory, was powered by a recent switch to Titleist's prototype TS2 driver, becoming the first player to win with the new Titleist driver set to debut in a couple of months. The shorter-hitting Kim averaged 295 yards off the tee last week at the John Deere about six yards longer than his average heading into the tournament.
"I usually don't make too many changes mid-season," said Kim, who switched to the new Titleist driver at the Travelers Championship. "Once I find a set that I like I usually stick with it for the entire year at least. But I liked [the TS2] as soon as I hit the first four or five balls. The biggest difference I saw was off mis-hits. It was flying way straighter and way farther than the mis-hits on the older one, and you really didn't see that big of a difference in ballspeed numbers when I hit it a little on the toe or a little on the heel."
But with Carnoustie's driving holes playing more like highways than fairways, Kim made a change in his set makeup that he believes may help him more than his new driver. Talking to a former Open champion on the flight over from the John Deere, Kim was convinced that an extra Titleist T-MB driving iron in his bag (replacing his 816 3-hybrid) might be more effective. Kim also carries a T-MB 4-iron, which combines an L-shaped face insert with tungsten heel and toe weighting in its hollow-body construction.
"Zach Johnson told me you should at least try one, and as soon as I hit a few golf balls I liked it," Kim said. "Then, when I went to the course, I really liked it. That's how firm everything is. I think I'm going to be hitting that off the tee quite a bit this week."
Whereas his attitude at the John Deere was to be aggressive at every turn thanks to the newfound confidence with the driver, Kim thinks he'll take a more conservative approach this week.
"This week is almost a completely different mindset," he said. "You get in these bunkers, they're true hazards. They're a shot to a shot and a half penalty it seems like, maybe two if you get real unlucky. A lot of them you just kind of want to stay short of them, hit a lot of irons, especially downwind. If you hit a low 3-iron or 4-iron it's definitely going to go at least 280, 290. It just depends on the wind, but you might not hit too many drivers this week. Might rely on your driving iron."
Regardless of what clubs he hits, though, Kim finds himself in a new place both physically and emotionally. Carnoustie will be his "first links golf experience at all."
"Usually on the PGA Tour, when you play the hole, you kind of know exactly what you're going to do game-plan wise, definitely going to hit driver here, definitely going to hit 3-wood here, if it's into the wind I'm going to hit driver here and if it's downwind I'm going to hit 3-wood. You have a pretty set plan headed into the tournament week. But here, I mean, you could hit four or five different clubs for tee shots, especially with how the wind is, everything kind of changes."
But he also comes into this new experience with a confidence that he hasn't had before as a professional. Coming into the John Deere, he had only made nine cuts in 22 events, including three straight missed cuts in a row. His 27-under performance at John Deere was a 40-stroke improvement over his score in relation to par for the entire year combined. In one week, he feels almost like he's on a golf trip to Scotland, playing with house money.
"It is part confidence and part comfort, too," he said. "The last few weeks I've been feeling like I'm playing with my job on the line every week and now that I've kind of got that secured, everything is a lot less stressful and the confidence is a big part of it.
"This week I think I'm just going to enjoy the challenge of links golf. It's going to be a lot of thinking involved before I actually hit the shot, but I'm going to try to enjoy the experience as much as I can."
Kim tees off with Chez Reavie and Ryuko Tokimatsu at 9:04 a.m. (ET) Thursday.