News
British Open 2018: Jordan Spieth, Kevin Kisner, Xander Schauffele tied at the top at Carnoustie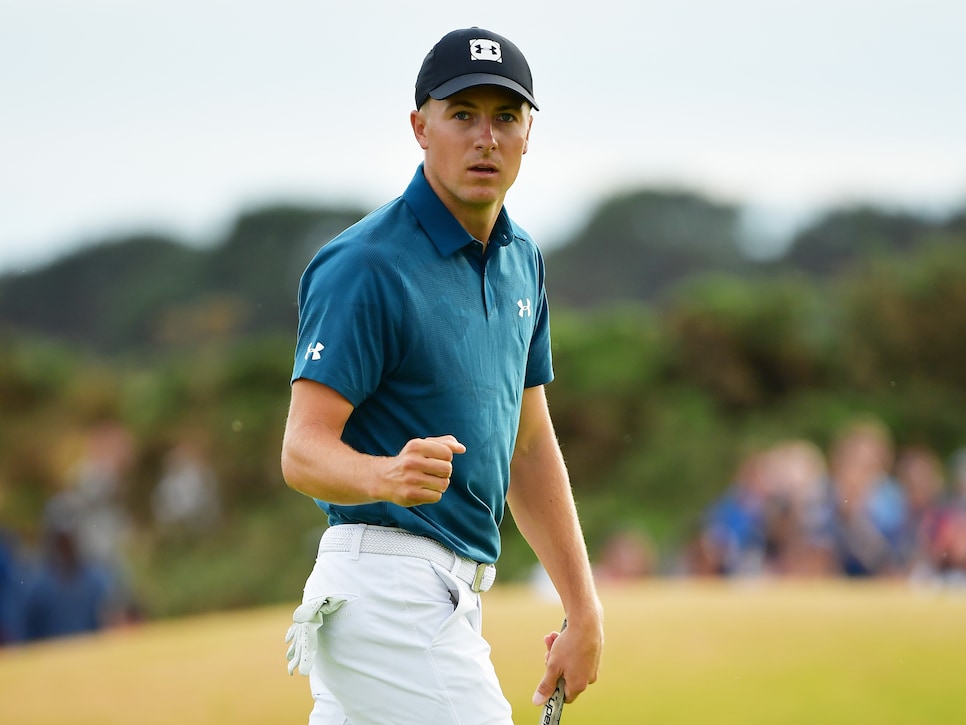 On a day that featured six rounds of 66 or better at Carnoustie, including one from Tiger Woods, it was a round from another multiple major winner that stood out among them. That round being Jordan Spieth's bogey-free, six-under 65 that began with the 24-year-old driving the green at the 380-yard par-4 first hole, draining the eagle putt and never looking back.
Despite all his recent struggles, Spieth finds himself in a tie for the lead with Kevin Kisner and Xander Schauffele at nine-under 204 heading into the final round of the Open Championship.
Spieth, who has made just one bogey in his last 36 holes, knew from watching the coverage before his round that there was an opportunity to put the type of round together that he did.
"Watched the scores this morning. Seemed like it was very gettable," he said. "Seemed like (there were) shorter putts for birdie starting out (on the first hole). Sometimes it's good to see. Sometimes it's not so good to see. A bonus to get on the green and obviously for the putt to kind of curl in. It was a dream start for the day."
Making his start all the more impressive was the fact there was a bit of indecision between Spieth and caddie Michael Greller prior to the round on how the reigning Open champion should play the hole. Ultimately, they made the right call.
"We were on the range kind of talking it over, and I said, 'Do we like driver again?' And Michael said, 'No, you lay it up, and it's still a wedge to the front pin. Guys were getting it in there close all morning.'
"But walking to the tee, I was walking with Cameron (McCormick, Spieth's swing coach), and I thought, 'how about I just send it on number one?' I felt good about the range session. And he's like, 'I put my chips behind anything that you decide always,' something like that. And that kind of gave me that little extra boost that might have gotten it onto the front of the green. So it wasn't until walking off the practice green.
"And then when we got to the tee and the wind wasn't really blowing, I thought it was for sure driver."
It was, and the decision sparked a round nearly as impressive as Spieth's final-round 64 at the Masters back in April. He was in complete control throughout, especially on Carnoustie's difficult closing stretch that's given him fits this week. Prior to Saturday, Spieth played holes 15 through 18 in five-over par. In his third round, he finished par, birdie, par, par to earn himself his sixth career 54-hole lead or share of a lead in a major championship. When asked how high this round ranks in his career, Spieth didn't hesitate to put it up there with some of his best.
"Probably a top five, top ten, somewhere in there," he said. "Yeah, I think yesterday was probably tied with today, in my mind, to get back into a golf tournament from being out of it, and then today to springboard that into the pole position. That was the combination of the two are up there in the top five for sure. But today's round was just really, really solid."
Schauffele and Kisner could say the same of their stellar third rounds, both good enough to put themselves in prime position to capture their first major titles. Schauffele's four-under 67 featured six birdies, including one at the difficult 18th from just off the back of the green. Kisner posted a bogey-free 68, giving him his second 54-hole lead or share of it in a major in the last year, the first coming in the PGA at Quail Hollow last August. A final-round 74 dropped him into a tie for seventh, something he's looking to avoid on Sunday in Scotland.
Two more potential first-time major winners are close behind, Francesco Molinari and Kevin Chappell. Molinari, who you could argue is the hottest player on the planet, matched Spieth's bogey-free six-under 65, putting him in solo fourth at six-under 207. Chappell is just two back in solo third at seven-under 206 following a third-round 67.
Woods, who made a strong move with a five-under 66, is among a large group at five-under 208 that includes Rory McIlroy, Webb Simpson, Matt Kuchar and Tommy Fleetwood.