The Loop
British Open 2017: Why Beef's loudest fans this week will be a foursome from the U.S.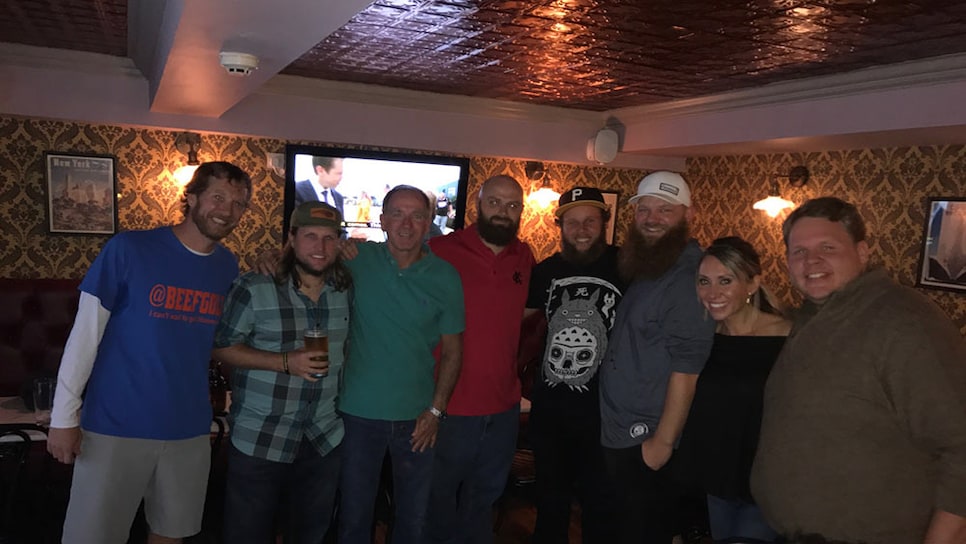 LIVERPOOL, England -- When Andrew "Beef" Johnston tees off at the 146th British Open in his native England, he'll have a raucous home crowd on his side. But his loudest fans this week will be a group of eight Americans who met each other on the eve of golf's oldest tournament.
With pints and chicken wings in hand at a local pub, the newly assembled "Team Beef" asked Johnston if he would mind them getting extra rowdy at Royal Birkdale.
"No way, man," Johnston replied. "Go for it!"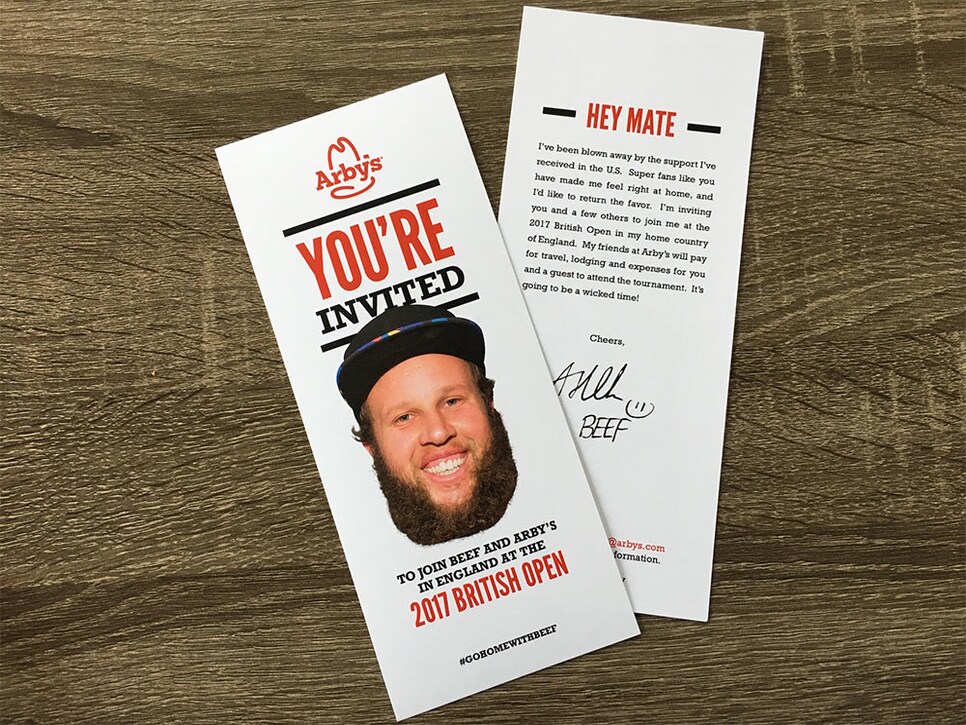 And on Wednesday night, Beef attended a welcoming party in Liverpool for his crew, which arrived from Florida, North Carolina, California and Minnesota. See if you can spot what all the winners have in common. (HINT: Look at their chin areas.)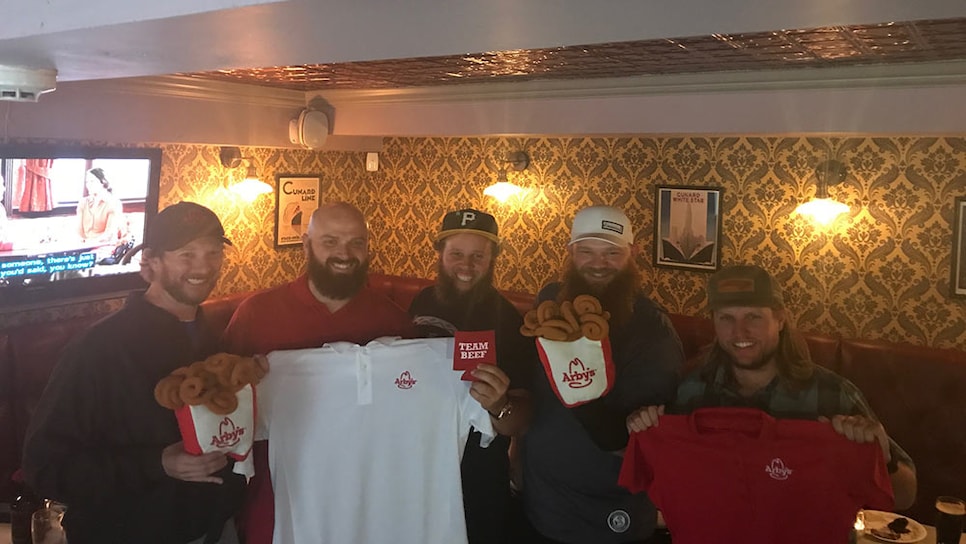 As you can tell by the facial hair, Beef was personally involved in the selection of fans, who were notified during the Wells Fargo Championship and the U.S. Open. Danny Brennan was approached by someone at Arby's at Erin Hills during the second round and asked if he wanted to meet Beef.
"Beef handed me a ticket and I'm still kind of shocked. It was one of the coolest things ever," Brennan said. "I thought my friends were playing a trick on me. I didn't know what was going on."
Justin Johnson was a fan who had interacted with Beef a lot on social media. His hint was when Beef tweeted to him, "You might want to get a passport." Good thing you can have one expedited.
But Will Campbell has the funniest story. He met Beef through some friends working in the clubhouse after Friday's second round at the Wells Fargo Championship and the next morning he received an unexpected call.
"Come meet me at the beach. I've got something I want to give you."
"That's weird. . . but OK."
All four really got to know their hero on Wednesday night as Beef had a few beers with the gang. You got the feeling he would have stayed until the place shut down if not for his Thursday morning tee time.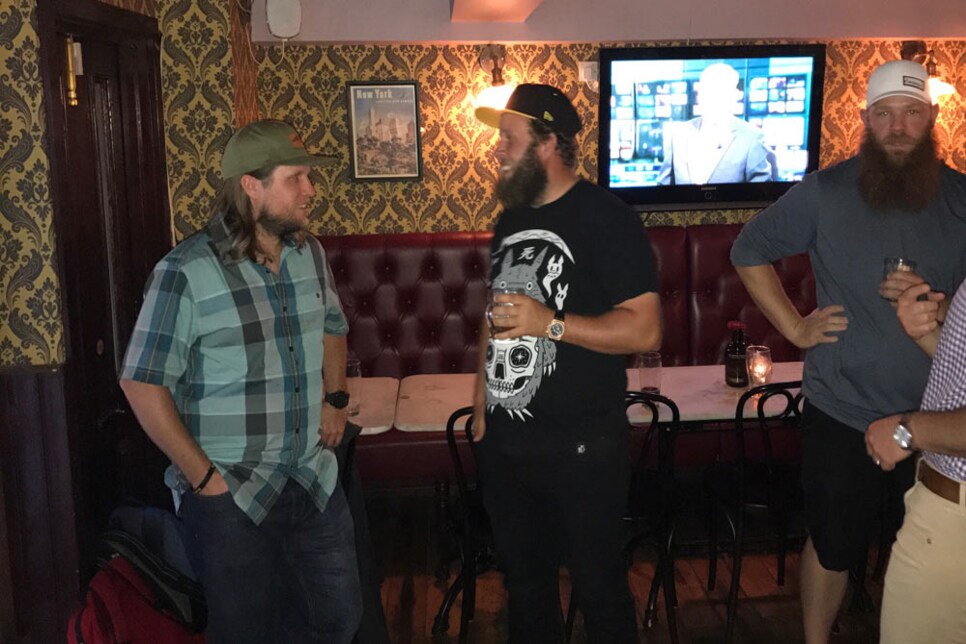 The four also got gift baskets from Arby's featuring the curly fries headcover Beef uses and red polos (both now available on Arby's website) they will wear proudly while following their man for every hole, even with Beef being first off the tee on Friday morning at 6:35. But Beef was also bestowed several gifts.
Robert Bazel brought him some golf swag made by a friend's apparel company and a beard comb (Beef had signed his beard comb for him at the U.S. Open). Danny gave him a bottle of an award-winning BBQ sauce, and Will, a detective in New Hanover County, N.C., handed him a T-shirt from the force and dubbed him an honorary deputy.
The toughest part for the lucky foursome may have been picking just one person to come along on the trip. Danny brought his dad, Justin brought a buddy, and Will and Robert brought their wives. OK, so the last two weren't difficult decisions. When your wife wants to go on an all-expenses-paid trip to England, well, it's settled.
Actually, Danny's decision to bring his father was also pretty easy. Danny lives in Chicago, but he grew up in Kansas City, where a certain five-time Open champ hails from. So Danny and his father, Sean, feel a unique connection to Royal Birkdale, where Tom Watson won his final claret jug.
"It's even more special because Tom Watson was our guy and now Beef is our guy," Danny said.
"This is the best Father's Day present ever," Sean added.
And it's just getting started.