News
British Open 2017: Matt Kuchar tries to stay positive, but the Birkdale runner-up is going to leave a mark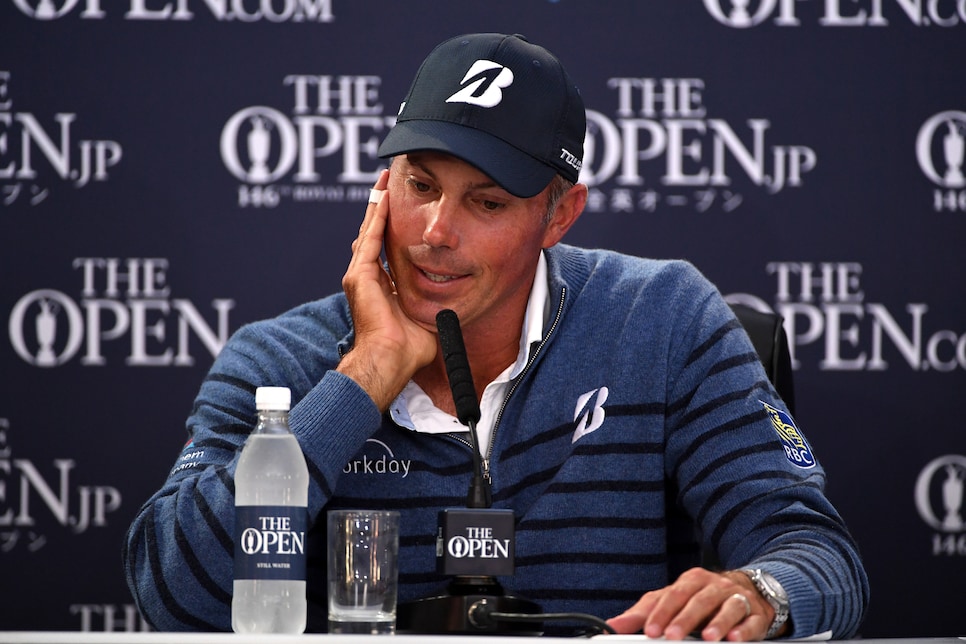 SOUTHPORT, England — The PGA Tour's version of Santa Claus got hit by a bus on Sunday night at Royal Birkdale.
The bus was being driven by 23-year-old Texan Jordan Spieth, who was speeding toward the third leg of the career Grand Slam, Champion Golfer of the Year honors and history. He blew through a red light and kept going, running off with the claret jug at the 146th Open Championship.
The victim was 39-year-old Matt Kuchar of St. Simons Island, Ga., the player with the fifth-most wins on the PGA Tour (seven) without a major. Watching helplessly was his wife, Sybi, and the couple's two children, who had flown in just that day from Colorado. They planned to surprise the happy-go-lucky golfer behind the 18th green when he wrapped up his final round. Instead they found him battered, disoriented and fragile.
The awe-shucks demeanor and cheerful smile that Kuchar has made a career out of were gone, and who knows how long they will take to come back.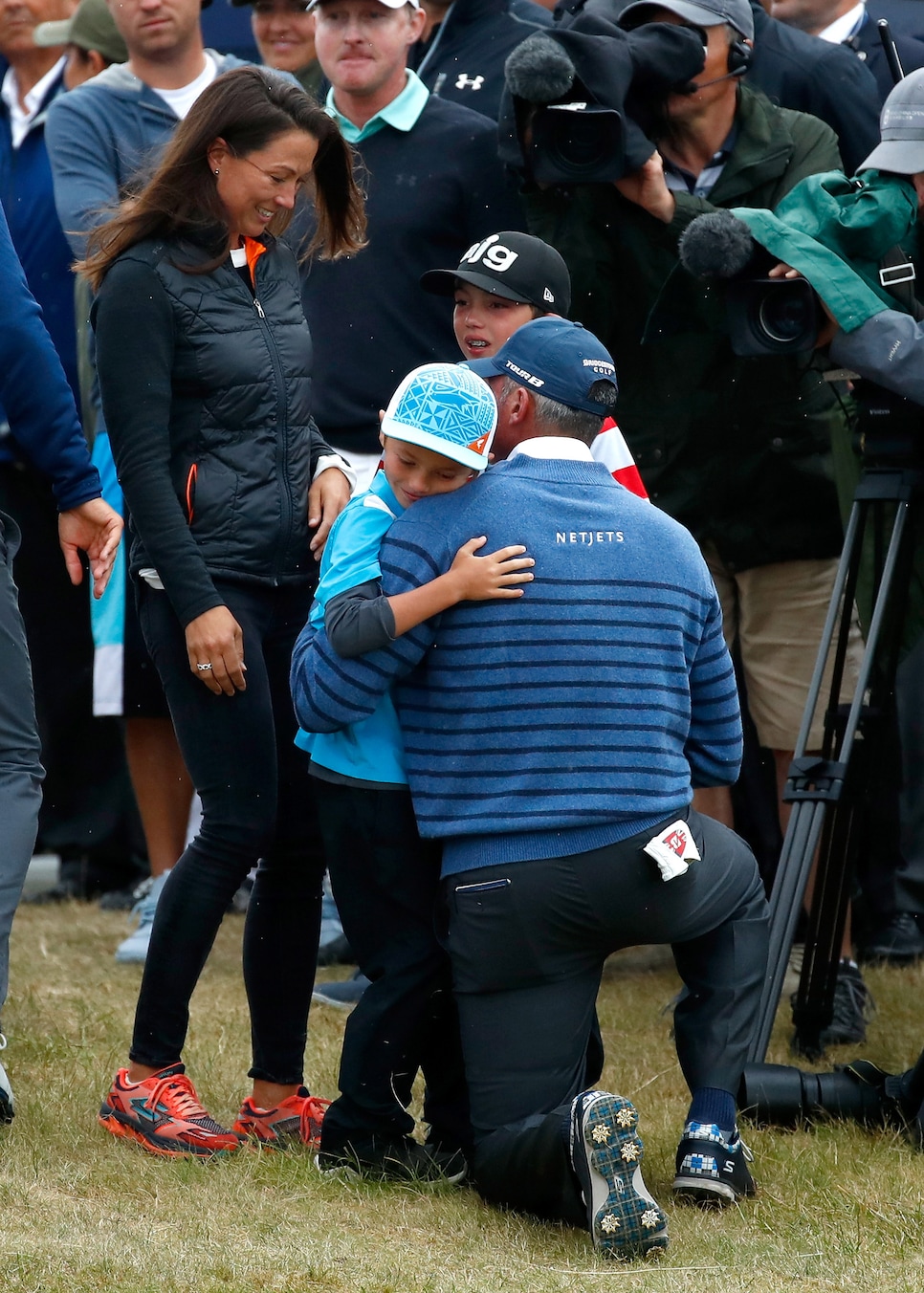 Gregory Shamus/Getty Images
"It's hard to explain," Kuchar said, nearly despondent and on the verge of tears. "It's crushing. It hurts.
"You work so hard to get to this position and to have a chance to make history and win a championship. You don't get that many opportunities. And to be this close, to taste it with five holes to go, it's a hard one to sit back and take."
Indeed, after 31 holes walking side-by-side with Spieth over the course of Saturday and Sunday, Kuchar finally had taken the outright lead after Spieth's wild escapade on the 13th hole. And he had done it under unusual circumstances as Spieth took some 30 minutes to play the hole.
"We knew we were going to be there for a while," Kuchar said of the extended wait and one of the most bizarre scenes in major championship history as Spieth sorted out his options with rules officials after a wildly errant tee shot. "We made ourselves comfy and told some stories. Certainly it was not anything I was ever going to be upset with. It's very understanding. It's a very difficult situation.
"Once we started playing again, I had a great shot at birdie and nearly thought my putt was going in to make a birdie there. I didn't lose any momentum. All of a sudden I now have a one-shot lead after that hole in the British Open with five to go. I'm playing really well. Hitting a lot of good shots. I'm going to keep doing what I'm doing. And he just—he really turned it up."
That's when it happened, a series of blows that proved unrecoverable.
The first came on the par-3 14th, where Spieth nearly holed his tee shot, the ball rolling within a couple of inches of the cup and settling four feet away for a birdie that tied the two once again.
Next, on the par-5 15th, with his ball 40 feet from the hole in two, Spieth blindsided Kuchar by rolling in the eagle putt, then yelling at his caddie, Michael Greller, "Go get that!" It's unclear whether he was talking about the ball, or Kuchar's wounded body.
"I knew all of a sudden I went from even to one down, even making a birdie, myself," Kuchar said later. "But I figured I'll keep plodding along, even though I'm one down, I have three holes to play. I'm still in it. Still got a chance."
The decisive blow came one hole later, when Spieth railed a 25-footer for birdie on the par-3 16th to go up by two.
"That's OK, two down, two to go," Kuchar said, sounding like someone still trying to convince himself after the outcome had already been decided. "I've still got a chance here. He certainly gave me an opportunity when he hit it right [on 17]—I wasn't sure how far right, I thought it might be in some real trouble, but it looked like a pretty good place to be. I was still thinking, let's make birdie."
The only problem was that Spieth made birdie, too.
"I certainly muttered under my breath a few times," Kuchar said of it all. "I'm out there competing and wanting to win.
"But, listen, I understand the game, I know that during this week I would have gotten several breaks myself. I feel like you play long enough, these things even out. I'm very clear in understanding that. Sure, he got some breaks, but that's golf."
It was also incredibly frustrating, particularly for a player who many thought was destined for major-championship success from an early age.
Kuchar won the 1997 U.S. Amateur after reaching the semifinals of the event the year before. He was the nation's top collegiate golfer in 1998 while at Georgia Tech and earned low amateur honors that summer at the Masters and U.S. Open.
There were struggles in the early years as a professional, but he eventually hit his stride after a series of swing changes under coach Chris O'Connell in the mid-2000s. In 2010, he topped the money list and in 2012 won a Players Championship. He has also played in four Ryder Cups and three Presidents Cups and won a World Golf Championship title along the way.
A month prior to his Players victory, Kuchar had his other true chance at claiming a first major. During the final round of the Masters, Kuchar eagled the par-5 15th hole at Augusta National to tie for the lead, but bogeyed the next hole and eventually finished two strokes out of a playoff.
It was the closest he'd come to winning a major, until Sunday, when he finished runner-up to Spieth by three strokes.
"Matt didn't lose the tournament at all today," Spieth said. "He played well down the stretch. I just had my long putts go in, his didn't."
Added Kuchar, whose eldest son, 9-year-old Cameron, was in tears when he saw his dad: "I think everybody's doing their best to put a positive spin on it. I played well. I had four good rounds of golf. I was close. And so I think everybody around me is doing the best to put the most positive spin on this this week as possible."
The license plate number of that bus? It read "The Closer."