Golf-Ball Fitting
Bridgestone's OTTO ball-fitting cart: What you need to know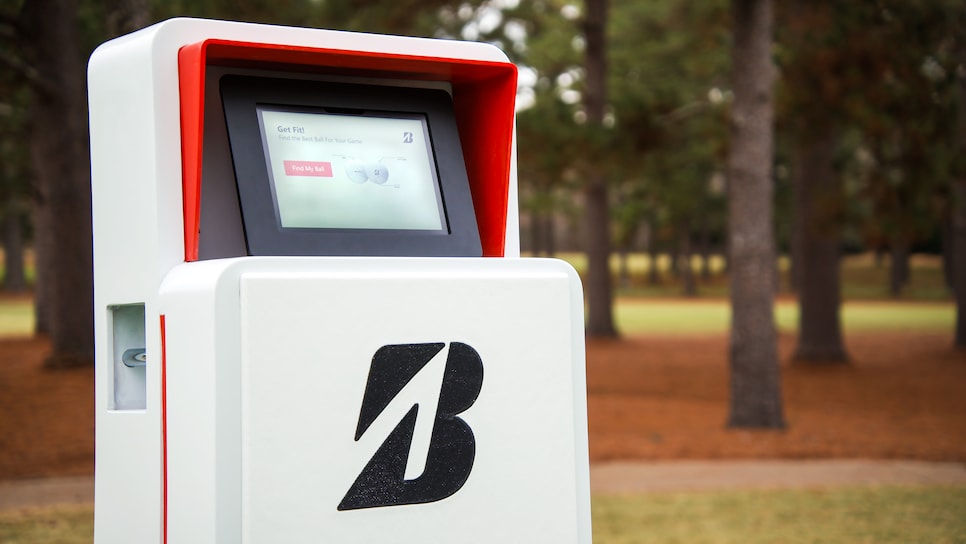 Bridgestone Golf has been heavily involved in ball fitting since 2007, accumulating data from more than 3 million fittings that has helped it formulate recommendations over time. Those fittings have come in a variety of ways, whether in person with a technician looking on, via the company's app or even with online fitting. Now Bridgestone is entering a new phase of ball fitting with the first autonomous golf-ball-fitting cart, a device it refers to as OTTO.
OTTO is, at its base, a high-tech ball-fitting cart. It houses a FlightScope Mevo+ launch monitor and has a touch-screen interface that provides consumers an experience with plenty of feedback. That said, for now it is aimed not so much at the more experienced golfer, but at those either just getting into the game or on the fringes of it.
"Golf has been given a gift," said Bridgestone president Dan Murphy. "A lot of new people are coming to the game and they're experiencing golf in a different way. We looked at the changing market and wanted to see how we might convert people from off-course golf or golf entertainment to on-course golf because, selfishly, we want to sell them golf balls. We've learned something over our 15 years of ball fitting and that is some people don't like to hit golf balls in front of our technician. So that very much played into our thinking here."
OTTO creates a non-intimidating way to do ball fittings. It also provides a bridge from the off-course side to the on-course side by bringing some of the elements that newer golfers associate with the game such as entertainment value, ease of use, gameification and, importantly, lack of intimidation.
Here's how OTTO works: Golfers go to the touch screen and answers some basic questions such as the ball they currently play and their golf-ball performance preferences. They then hit three drives (for now it is drivers only), and Otto analyzes the data to find the right ball for any individual's game. Recommendations are based off Bridgestone's 15 years of accumulated fitting data. Having gathered a golfer's phone number or email address, OTTO delivers a ball-fitting report that includes not only the recommendation, but data and 3D video. There is no cost for the service.
The rollout plan calls for carts to be moved around the country with some high-volume courses having more permanent units. Golfers can search for locations by visiting bridgestonegolf.com.