News
Brian Gay proves short and steady can still (occasionally) win on the PGA Tour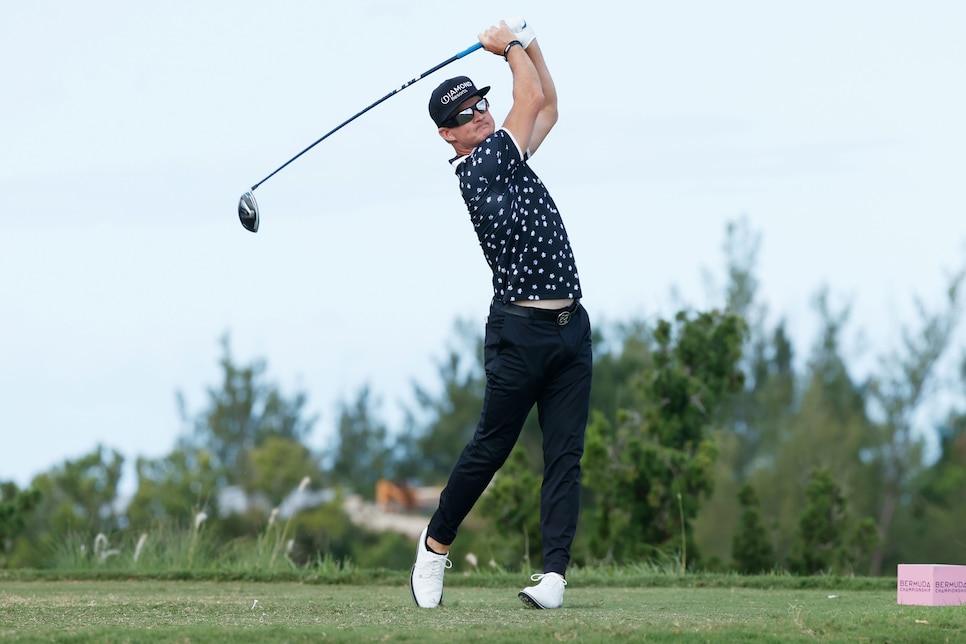 Ever since the Brysonball Brand launched (Established: Sept. 20, 2020, Mamaroneck, N.Y.), there has been no shortage of discussion over how distance is dominating the game and whether anything can/should be done to keep bombers from overpowering professional golf. The usual solutions have all been offered up: Roll back the ball. Limit the size of drivers. Narrow the fairways and grow the rough.
But on Sunday in Bermuda, Brian Gay proved that on rare occasion there's still a place in the game for the little guy, and the old guy, too. All it took was the PGA Tour playing on a windswept island in the middle of the Atlantic with none of the game's top players showing up. Two days after 64-year-old Fred Funk made the cut in the Bermuda Championship, Gay, who ranks 136th on tour in driving distance and turns 49 in December, beat long-hitting 26-year-old Wyndham Clark to win the fifth title of his PGA Tour career and first since 2013.
"I did wonder [if I'd win again]," Gay said. "I've struggled the last few months and been quite miserable on the course at times. Everyone around me kept telling me you're still going to win. My wife says you're still going to win, do it again. Just kept at it. Crazy game, you never know what's going to happen."
That was certainly true down the stretch on Sunday.
Doc Redman entered the final round at Port Royal Golf Course leading by one stroke and was among 10 players separated by four shots who had never won on tour. That included Clark, who showed little in the way of anxiety in reeling off five birdies in his first seven holes to move in front by one. Then he added two more, on Nos. 10 and 11, to stretch the advantage to three.
But Clark's game cooled in the breezy conditions as he was trying to win for the first time on tour. On the par-3 16th, he took too short of a swing on a long bunker shot and left his ball in the rough. He made bogey to fall back into a tie with Gay, who was on his own heater with four birdies in his previous six holes. Gay ran into troubles with a sloppy three-putt bogey on the par-5 17th but bounced back with a birdie on the 18th, where his wedge from a hanging lie right of the cart path stuck to within a few feet of the cup.
Still, Clark had a 10-footer for the win on the final hole of regulation but missed, so he and Gay headed back to the 18th, where Gay rolled in a 10-footer, Clark missed from seven feet and that was that.
It wasn't just Gay who tried to show short and steady can still win the race. Stewart Cink (tied for 113th on tour in driving distance in 2019-'20) and Ryan Armour (271st on tour so far in 2020-'21 after ranking 182nd last season) both posted top-10 finishes this week.
But how much longer guys like Gay can succeed in the modern game is a question worth asking.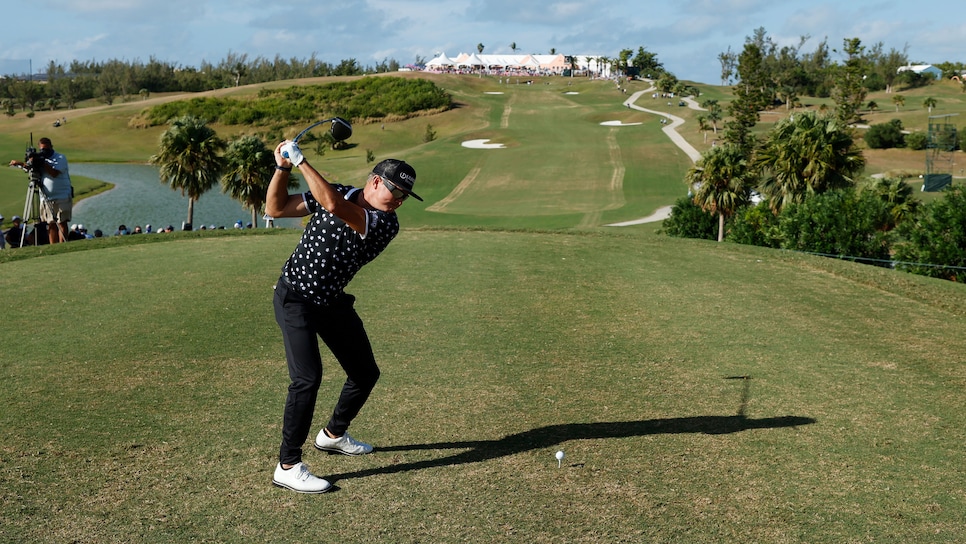 Gay ranks 193rd on the PGA Tour this season in driving distance with his 293.1 yard average.
Gregory Shamus
Drive for show, putt for dough, someone once said. These days, it's drive for dough, and putt for even more dough. Exhibit A: DeChambeau and his U.S. Open victory in September. Exhibit B: On Sunday, it was Clark, who ranks sixth on tour in driving distance, nearly winning.
Even Gay, a notoriously short hitter who has leaned on a deadly short game long enough to have never lost his card in 23 years, knew he had to up his game. Though he ranks well down the list in driving distance at 298.4 yards this season, that's still 23 more yards than he averaged the last time he won in 2013.
"I've been fighting," Gay said. "The guys are young and hitting it really far, so I've tried to do some things in the gym and some stuff with my swing to get some more distance to try to stay out here longer. I want to stay past turning 50."
Whether he'll be able to or not is another matter. The victory gets Gay into next year's Masters, PGA Championship and Players. He's also exempt now through the 2022-'23 season.
As for whether Gay thinks tour pros known for his style of play can still exist years from now?
"I certainly hope so," he said. "I think it's better when everybody in the field can compete and have a chance to win."