Courses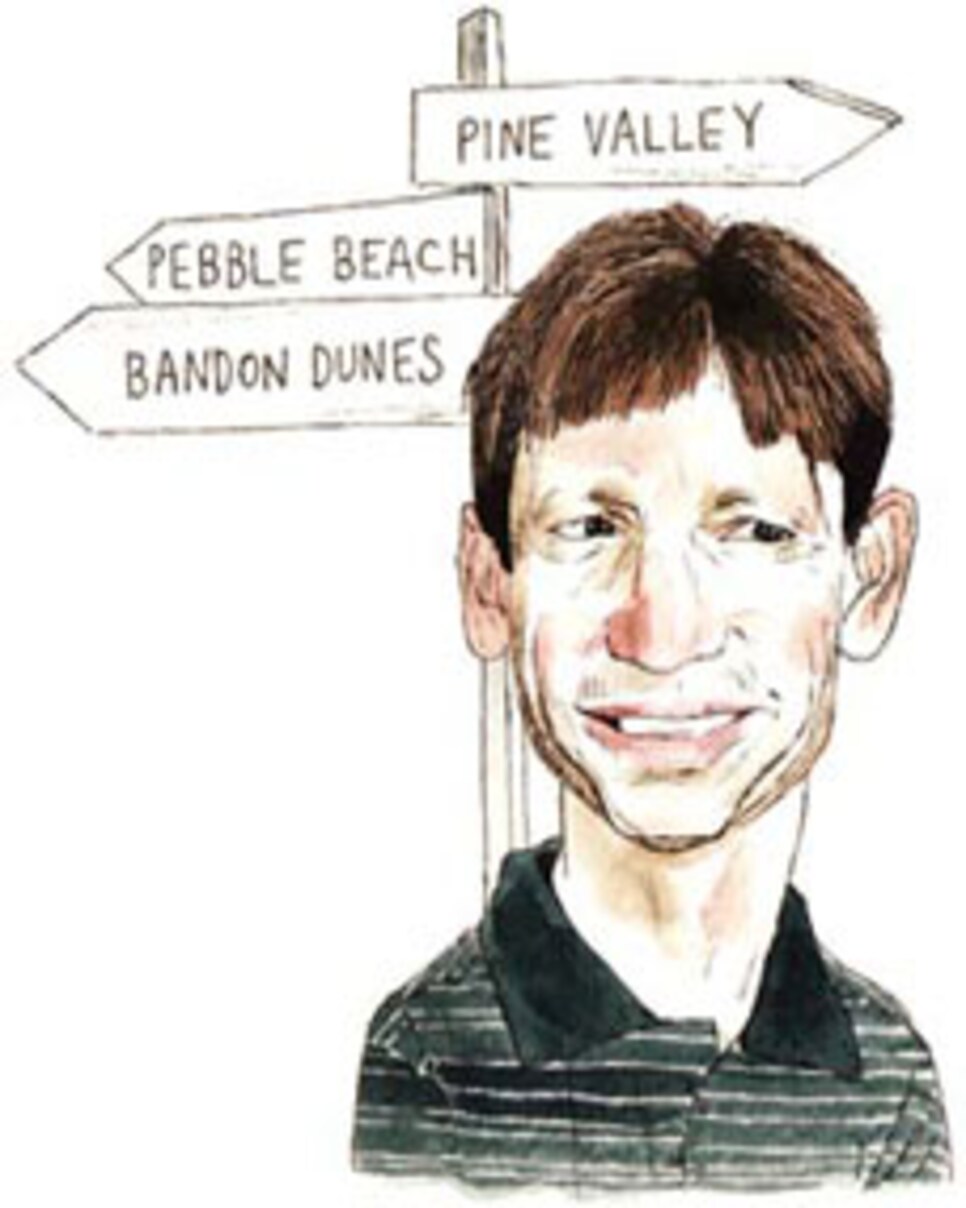 "I'm a member at Pine Valley and I take people there -- that's as good a trip as you can take," Brad Faxon says of his favorite golf trips.
Long one of the game's great putters, Brad Faxon, 47, has eight PGA Tour victories and played in two Ryder Cups. In a recent conversation, Faxon talks about skiing bunny slopes, where you can find a good date spot in Manhattan, and explains how he passes the time on a long flight.
How often do you fly commercial?
When was the last time you flew in the back of the plane?
Two days ago. There are times I fly private. Less and less now. I travel more by myself now. It's nice to fly private. I like friends with heavy metal. [Laughs.] But I have no problem getting on a commercial airline.
Do you have an airline of choice?
No. I'm more about convenience. I've flown a lot on Jet Blue and Southwest, and they do a great job. I can see why they're winning, if they're winning. I've also flown a lot on Delta and American. I try to get there as quick as I can. I'm not a super-saver fare guy. I hate to pay penalties and fees so I don't mind spending a little more for convenience.
In terms of travel habits: are you more likely to read, watch a movie or listen to music?
If I'm by myself, I read. I always have books and magazines. For some reason I always fall asleep on takeoff and landing. I can get some work done on a computer, too.
If you could only watch one movie on a long flight?
I download the TV show "24." I'm a "24" hound.
What do you load your iPod with? One album on a long flight, what would it be?
It would have to have a lot of songs on it. My favorite band is U2 so I'd take some compilation of their greatest hits. But I love all kinds of music. I listen to the Eagles, Hootie and the Blowfish, alternative REM stuff. Hard rock. I was a big Who and Springsteen fan growing up. If I had to listen to one guy, Elton John is a guy you could listen to all day and never listen to the same song twice.
Aren't you a big skier and snowboarder?
Prior to knee surgery -- yes. Now I have to watch my kids ski. I'll stick to the bunny slopes. But I love the outdoors. I love the winter. To go up in the mountains and ski, I think that's the best thing.
What's your favorite winter destination?
Sun Valley, Idaho. I used to have a place out there. My old caddie, Cubby Burke, he's from out there. I have some other friends out there. I just love that area. But I've been to Vail and Aspen, they're fantastic.
Were you a pure skier or have you tried snowboarding?
I tried it once in Sun Valley. I have no problem with that. I did it once. I haven't been back enough to make that something I feel comfortable doing.
Did I read you're in the restaurant business?
My family has a restaurant in New York City, right in Manhattan. It's called La Masseria. It's authentic Italian cuisine on 48th Street and 8th Avenue. It's close to the theaters so the place cranks. My brother-in-law got the idea going, with some guys who've been in the restaurant business who from the island of Capri. The restaurant has been killing it. Even now. It's been four years now and it's full every night.
And I'm guessing it's not overpriced?
It's not overpriced, the wine list is good, the service is fantastic and the food, you feel like you're in Italy -- it's that good.
Oh yeah. It's great. You go sit at the bar and have a drink. You can wear a pair of jeans. In the summertime you can sit outside.
Do you have a favorite city in the United States?
I love Boston. It's got so much to offer: Close to the water; so many different cultures; great sports teams. I love Chicago. I'm friendly with Jeff Sluman and I've spent a little time in Chicago. I like everywhere. My brother-in-law's in West Hollywood. I love that area. We like Southern California. My wife and I have a favorite spot: we like to go to St. Regis on Monarch Beach. It's not really city-like, but it's nice.
Do you take an annual buddies trip?
I've done trips to Scotland and Ireland with Davis Love and a friend of his from American Express. We used to do that. I'm a member at Pine Valley and I take people there -- that's as good a trip as you can take.
Is there one particular trip to Scotland or Ireland that stands out?
The vice-chairman of American Express, John Linen, was Davis Love's good friend, he invited myself and Tom Ryan, who was the CEO of CVS Pharmacy, and for a couple of years we'd fly over there. My favorite was going up to Northern Ireland and playing Royal County Down and Royal Portrush. And it was always before the British Open. It was fun to go with those guys, but it was also great preparation to play links golf.
If a group of guys were looking for one spot, you'd say Northern Ireland?
That's a great spot. I love going to play great golf courses. I'm a big fan. I think there're a lot of places you can go in the U.K. You never run out of places to go. All over Ireland and Scotland. And there are a lot of course you've never heard of. But I also think you can do that in the United States. Obviously Pebble Beach would be everybody's first choice, but the Bandon Dunes trip now, going up to Whistling Straits in Kohler -- those courses are great. The places, that's what makes it. I think Pine Valley has a great membership, but they also have a great golf course, a great history and it's a great place to go and hang out. The practice facilities are fantastic and the course is always tough.
How man times have you been to Bandon Dunes?
Never. I have to do that. I'd love to go there. I'd love to go to Sand Hills and the Colorado Golf Club. I'd love to go to Bandon Dunes. I've been to most places in the U.S. but those are on my bucket list. Absolutely.
Where would you tell a group of four guys to go on a golf trip, taking into consideration value, restaurants and lodging?
No question: Monterrey Peninsula. It really helps if you know someone. Especially if they can help get you on Cypress Point.
So Pebble over Pinehurst and Bandon Dunes?
I always put Pebble first.
One course for the rest of your life?
I ask, "Would I want to take a group of guys there?" That wouldn't include just the golf, there would have to be a few other elements. Is there a good restaurant? Is there a good place to stay? I've played 67 of your America's 100 Greatest.
And that's not the public list, right?
No. Because Pine Valley's on the list. The only one in the top 20 that I haven't played, and I guess that's subject to change, but it's Wade Hampton, which is Fazio's course in North Carolina. I've heard it's great. I haven't played Garden City or Somerset Hills. I haven't played Deepdale. I've played most of the courses out in the Hamptons. I haven't played Crenshaw's new course -- Friar's Head. But I've heard that's unbelievable.
You have played Sebonack?
I've played Sebonack. I thought it was great.
We had a nice day. It was a little breezy. Those greens are really fast, and almost too hard for the average guy. But I thought it was spectacular.
Are you into architecture?
Do you have a favorite old architect?
It's hard to say. It's hard to not love Mackenzie, Tillinghast and I grew up on Ross courses. Ross was all over Rhode Island. It was kind of hard to tell what really was a Ross course and what wasn't. How about Seth Raynor -- think about all the people who've gone to Pine Valley. Mackenzie courses have a fantastic look to them, but they have such great pieces of ground, too.
Isn't that what it's all about?
It is. It's hard to make courses in Florida look unbelievable. I like funky stuff. I like C.B. Macdonald. I don't mind blind shots. I don't mind weird bounces. It doesn't have to be right in front of me. I like deception and undulation.
Is there a modern architect doing recognizable work?
There are. Core and Crenshaw, Tom Doak, and I've done a little work with Gil Hanse and I think he's very talented. Those would be the best. It seems like everybody's going that way. Nicklaus did some work with Doak at Sebonack and I think he has learned a little bit from working there. I've seen Fazio going back to more natural look instead of blowing everything up. This guy, Keith Foster, he redid a course I'm a member at on the Cape called Eastward Ho. It's fantastic. Then there's David McLay Kidd.
Do you want to get into more course design?
I do have interest. I have a partner, Brad Booth, he and I have done a course outside the Cape called the Bay Club, which has been a very nice course. We were under construction in two different places, one in Maine and one in New Hampshire, when the economy died. So the projects are on hold but we were busy.
An architect to build you a course?
Gil Hanse. And I'd just stay by his side and watch and listen. I was really involved at the Boston Golf Club. The guys who developed it asked me to come on early and I spent a lot of time there. My partner and I, Brad Booth, we kind of got put together my a mutual friend, and we did our first course. It has turned out very nice, but it's not old style architecture. I think we're both seeing we could do a lot of things differently but, at the same time, a lot of people who play our course go, "We loved playing here. It was so nice." Not every course has to be Shinnecock Hills. And a lot of people don't like funkiness. Where I grew up, in the Northeast, there's a lot of history, a lot of old golf courses, a lot of Ross courses, you played the elements all the time, and you play a lot of holes with blind shots, you had a three or four foot putt and you played it outside the hole. I learned a lot of great short-game stuff up there.
You're a great putter. A three-foot putt for your life: Do you take it?
For my life, I'd do it. Everybody else would pick Tiger Woods, but I'd take myself for that one.