Courses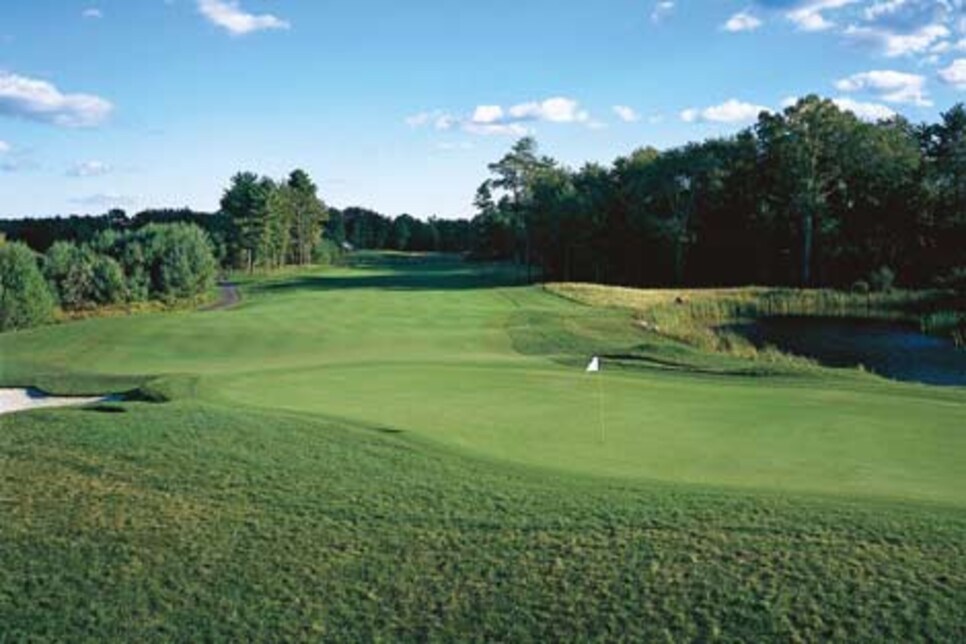 No. 1/ TPC Boston: It's not often a makeover results in an older look.
How old must a course be to qualify for Best New Remodel? Based on the selection of this year's Best New Private Remodel, TPC Boston in Norton, Mass., the answer is, "Not very old." A course need not even date from the 20th Century to be considered for Best New Remodel if its alterations involve sufficient strategic as well as cosmetic changes.
TPC Boston opened just five years ago. As the site of a PGA Tour event (the Deutsche Bank Championship) since 2003, it sported a solid routing and boldly contoured greens by Erik Larsen of Arnold Palmer Design Co. (After grumbling from a number of pros, some greens were toned down before the 2005 event.) Still, the rap against this TPC was that it looked more like a Florida course than a Massachusetts one, which might be expected when you give designers a parcel of Commonwealth laden with wetlands. The PGA Tour ultimately agreed, but to remedy that, it bypassed Palmer and hired architect Gil Hanse, an old school adherent who had done the impressive nearby Boston Golf Club. The goal of Hanse, assisted by associate Jim Wagner and PGA Tour consultant Brad Faxon, was to make this toddler look and play more like an 80-year-old New Englander.
To do so, they refashioned the splashy cloverleaf bunkers into deeper ones with higher faces and ragged edges. They combined some clusters into a single dominant bunker, like the one fronting the par-3 11th, making it look like something from Merion. They positioned some bunkers randomly to give new twists and turns to fairways and new targets for tee shots. They added fieldstone walls, squared up the tee boxes, and dotted the landscape with chocolate-drop mounds (similar to the shaggy "dragon's teeth" at The Greenbrier), all aimed at giving the illusion of antiquity. A few holes they drastically remodeled, consequently reducing the tournament length to 7,241 yards, par 71 (versus 7,488 yards).
The biggest change was turning the short, dogleg fourth into a straight, drivable par 4 of 298 yards, which proved in this year's tournament to be a hard birdie and easy bogey. The domed ninth green was transformed into a sunken, half-hidden punch-bowl green. At the par-3 16th, the green at the far end of a pond was abandoned, with a tiny new one, featuring high and low shelves, built atop a stone bulkhead along the right bank of the pond. Now just 161 yards (down from 212), it's a testy short-iron shot diagonally over water to an elusive target, a hybrid of the best features of both the 12th and 16th at Augusta National. At the dogleg-left 17th hole, a rocky ridge was created to bisect the hole at the turn, posing a gambling tee shot to the left, or a controlled, positioned tee shot down the right side. On the par-5 18th, 528 yards from the back tee, new center bunkers serve a similar purpose, making the right side the gamble this time, and the left side the longer route.
TPC Boston looked great on television this year: shaggy, gnarly and old-looking. In person, it was even better: beautiful to behold, delightful to play. This was a refinement and enhancement of a course whose basic structure was sound, not a total renovation or wholesale replacement.
BEST NEW PRIVATE REMODEL 1. TPC BOSTON • Norton, Mass. • Yards 7,0481 • Par 72 • Fee: undisclosed • Redesigners Gil Hanse, Jim Wagner and Brad Faxon • thetpcofboston.com 2. BELLERIVE C.C. • St. Louis • Yards 7,547 • Par 71 • Fee: $82,500 • Rees Jones • bellerivecc.org 3. ATLANTA ATHLETIC C. (HIGHLANDS CSE.) • Duluth, Ga. • Yards 7,613 • Par 72 • Fee: $80,000 • Rees Jones • atlantaathleticclub.org 4. CAPE FEAR C.C. • Wilmington, N.C. • Yards 6,856 • Par 72 • Fee: undisclosed • Kris Spence • capefearcountryclub.net 5. OHIO STATE UNIVERSITY G.C. (SCARLET CSE.) • Columbus, Ohio • Yards 7,455 • Par 71 • Fee: $1,000 alumni, $800 faculty • Jack Nicklaus • ohiostategolfclub.com