Courses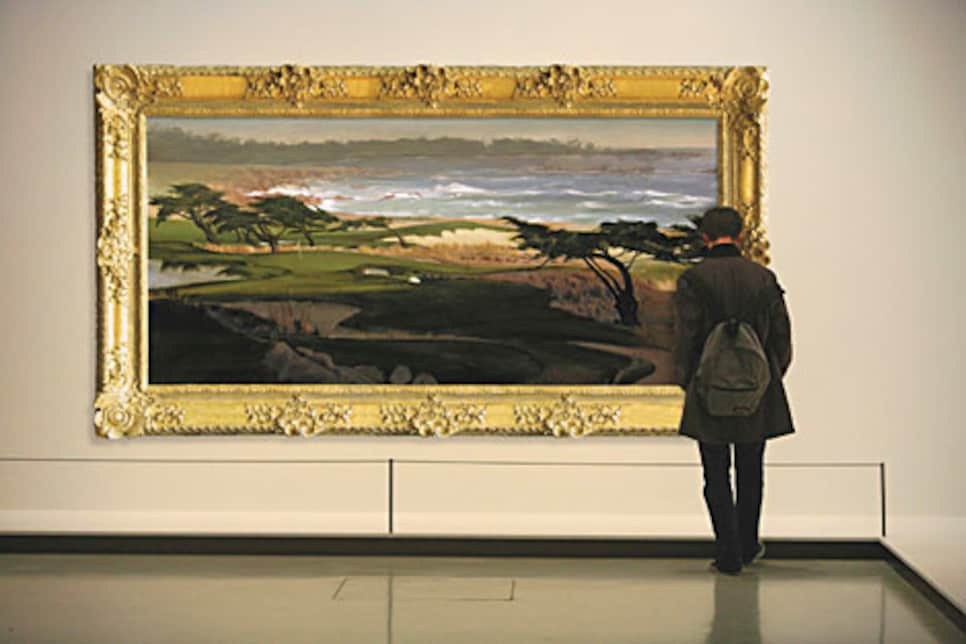 Timeless Setting-Monterey Pennisula (2005): Mike Strantz turned a remodel into an artistic composition.
To commemorate the 25th anniversary of Golf Digest's annual ranking of America's Best New Courses, we went back to our first Resort Course winner, Oyster Bay Golf Links in Sunset Beach, N.C.
If time hasn't stood still at Oyster Bay, it certainly has been in no hurry. The Dan Maples design still flows gracefully across the property with no excessive earthwork, the greens seem perfectly proportioned to the required shots, the bunkers have their crisp edges. Most of all, the place still has some gorgeous holes, like the fifth, a postcard of gussied-up turf and boutonniere bunkers arm in arm with undisturbed marsh.
For all its strengths, Oyster Bay also represents a direction golf architecture was headed back in 1983 -- an unwavering path that many architects have followed, some willingly, ever since. For starters, it's a residential-development course, so you cross countless streets between holes, even trot across somebody's driveway to reach one tee.
The course was constrained by environmental handcuffs in its formative years, so today there's an untouchable wetlands in front of the 18th green, turning a pleasant closing par 4 into a high-handicapper's final nightmare.
Worst of all, it was fashionable -- which is to say, approbative of that era's high priest of architecture, Pete Dye. So Oyster Bay has not one but two island greens, a response, in duplicate, to Dye's death-or-glory island 17th at TPC Sawgrass, now known as the Players Stadium Course. Another tribute to Dye's proclivity toward harsh edges and abrupt changes is Oyster Bay's 13th green, elevated high above a lake. Where Dye might have piled up railroad ties to achieve the 10-foot vertical wall surrounding the green, Maples did him one better, creating a pile of concrete and oyster shells, much like a tabby wall of similar materials used in making forts along the Atlantic a century before.
That was one direction golf architecture was headed in 1983, but hardly the only one. Golf design has never been a monorail. It's a labyrinth, a jumbled network with a couple of major tracks, a bunch of side rails branching in various directions, some looping back and crisscrossing, a few even working against the general flow.
Over the past quarter-century, Golf Digest has occasionally identified and promoted new architectural movements. We made minimalism mainstream, we reached the frontiers of Nebraska, New Mexico and North Dakota before the competition, and if we didn't exactly establish Tom Fazio's reputation, we certainly helped him upgrade his airplane.
But the truth is, it takes years for genuine movements to develop fully, and our survey is an annual event -- just a snapshot, not a time-lapse. On top of that, we've based Best New awards on single visits and first impressions by our panel of amateurs and club professionals (a group of fewer than 150 in the beginning, now more than 800). Though many panelists are quick studies and can readily identify architectural strategies and options (or their absence) during a single round, some of our choices, in retrospect, focused on the flash and glitz, the lipstick, not the bone structure.
Hence, the double-island-green glory of Oyster Bay as our first Resort winner, along with our first Best New Public, __SentryWorld__in Wisconsin, with its haughty (some might say hideous) par-3 16th, where five acres of flowers -- 75,000 geraniums, petunias, snapdragons and marigolds -- surrounded the green.
Thankfully, America's Best New has been more than just special effects and calendar art. Let's review the past quarter-century in terms of which architects and courses have had a lasting impact.
Our review begins, as do most things involving golf architecture, with a very rich guy. He is William Frederick Dreer, a Philadelphia seed merchant who died in 1918 but left an annual endowment to the Horticulture Department of Cornell University. In 1982, while Golf Digest was gearing up for its first Best New survey, a graduating senior at Cornell, Tom Doak, persuaded the Dreer trustees to award him the $5,000 grant. Using it, he spent a year -- from July 1982 to July 1983 -- walking, playing, photographing, sketching and studying courses in Great Britain and Ireland. Not just the big-name courses; 172 in all.
At the conclusion of his postgraduate study, Doak decided the bouncing, rolling nature of the modestly irrigated courses over there were a lot of fun and made a lot of economic sense. He returned to the U.S. with a vision for golf design that had nothing to do with hosting tournaments or selling homes. After a stint working for Pete Dye, at age 27, Doak set out on his own.
His approach was to use the lay of the land in his routings rather than forcing golf holes into the ground. He scattered bunkers that affected some golfers on some holes, other golfers on others, and used putting surfaces that weren't afraid to mimic the local topography, even tumbling landforms. Golf Digest tagged Doak as the first minimalist architect, but that's not always accurate, because Doak has, on occasion, moved massive quantities of earth to make his holes look absolutely natural. Regardless of the process, the result appears as if Doak just mowed out fairways and greens from the existing land and scratched out a few bunkers.
But Doak's early work barely registered on our Best New surveys. His first, __High Pointe__in northern Michigan, opened in 1989 with fescue greens and fairways that weren't lush or pretty, and they required a ground game few of our panelists played. His second, the Heathland Course at The Legends in Myrtle Beach, a distillation of Doak's odyssey across Britain, fared no better. His third, the Black Forest Course at Wilderness Valley, not far from High Pointe but with better land and bunkering, likewise failed to win its category.
For all his talent, imagination and determination, Tom Doak wouldn't achieve a high point, in our surveys at least, until 2001, when his Pacific Dunes, a glorious romp along the Oregon coast, won Best New Upscale Public, only because we didn't have an All-World category. If we did, his subsequent, equally stunning work at__Cape Kidnappers__ in New Zealand, and the Golf Club at St. Andrews Beach and Barnbougle Dunes in Australia, would be better known to our readers.
About the time Doak set out on his own, Bill Coore, another former Dye employee, partnered with Masters champion Ben Crenshaw to do what they called Early American design -- dry, firm, lay-of-the-land, bump-and-run architecture, like the kind that existed here in the 1920s. Coore and Crenshaw struggled for years to find clients willing to listen, but in the early 1990s they were given a thousand acres of central Nebraska, literally mowed out fairways and greens and scratched out a few bunkers. The result was the most natural design ever conceived in this nation, Sand Hills Golf Club, America's Best New Private Course of 1995.
Coore-and-Crenshaw is now a brand name, yet for all their subsequent masterworks --Cuscowilla in Georgia, Friar's Head in New York and Bandon Trails in Oregon -- they've yet to win again in our Best New competition. Such are the vagaries of having handfuls of panelists evaluate different courses in different locales at different times.
Another minimalist, Gil Hanse, patterned his career after Doak's. He also attended Cornell, also used the Dreer Award to study architecture in Great Britain for a year, then worked as Doak's primary associate from 1989-'92. His first Best New win was the aptly named Rustic Canyon, 2002's Best New Affordable Public, in the hills northwest of Los Angeles, Hanse sharing design credit with his associate Jim Wagner and golf writer Geoff Shackelford. Rustic Canyon is as austere as it gets, expansive holes with hunkered-down greens, strategic routes defined by shaggy bunkers, shallow ravines and clusters of sagebrush. Augusta National it definitely is not.
Illustration by Ester Pearl Watson
Which brings us to another really rich guy, casino owner Steve Wynn. In the late 1980s, Wynn wanted a luxurious golf course where he could entertain high rollers. He wasn't interested in just imitating Augusta National, with its cathedral corridors, postcard ponds and flawless turf. That had been done countless times before, most notably by Jack Nicklaus at Ohio's Muirfield Village in 1974. Wynn wanted the perfection of Augusta National in a place where it had little chance of succeeding: the barren desert north of Las Vegas.
Tom Fazio had the good fortune to be the architect hired by Wynn for the project. For 20 years, Fazio had done his share of low-budget layouts on lousy pieces of land, but when Wynn gave him a blank slate, Fazio told him he'd need a blank check to create a genuine environment for golf. Not a problem, said Wynn, who ended up spending $47 million building the course.
Earthmovers broke through the desert crust, carved out valleys 60 feet deep and pushed up hills 60 feet high, upon which were planted a forest of mature pines, each with individual drip irrigation. Fake creeks were fed an endless loop of water that tumbled over fiberglass boulders and garish waterfalls. It was opulent. It was exclusive. It was mysterious. It was Shadow Creek, our Best New Private winner in 1990.
During construction, Wynn, going blind, insisted on reviewing the position of every hole, the placement of every tree, the backdrop of every creek, bunker and green before anything was built, using models, tiny cameras and television monitors to aid his diminishing eyesight. That input led to what Fazio calls "the Shadow Creek look." Pines were planted right to the edge of ponds, so shadows would negate the glare of the sun off the water. Greens were encircled with bunkers and trees to create intimate atmospheres for each foursome of buddies. Cartpaths had to be entirely out of view, the restrooms buried. The practice range looked like side-by-side golf holes, not an open field.
Shadow Creek changed Fazio's approach to architecture forever. Now anything was possible, with enough cash. He no longer needed great topography to create a great course. He could create it himself, from a cornfield in Kansas (Flint Hills National) to swamps in South Carolina (Belfair and Berkeley Hall). Specimen trees at Sea Island Golf Club in Georgia need not be sacrificed.
Enormous tree spades could rearrange 150-year-old live oaks. At Old Overton in Vestavia Hills, Ala. (Best New Private 1994), Fazio could point to a mountainside and command that it yield to the fourth fairway. Six months later, the rock was gone, the fairway in place. The resulting road-cut might make minimalists like Doak and Hanse cringe, but it seems to fit the region's strip-mine topography.
It's a mind-set that's easy to debate, given the ever-escalating costs of the game, but hard to dispute. In 25 years, Fazio designs have won a dozen Best New titles, the most by any architect, by far.
Shadow Creek triggered myriad imitations. Gary Panks and David Graham tried it at the Raven at South Mountain in Phoenix, Johnny Miller at Thanksgiving Point in Lehi, Utah, Fazio's brother, Jim, at Trump International in West Palm Beach. But none of the pretenders could match Wynn's original pile of chips, and thus never quite stacked up.
Even Fazio did a couple of blunt imitations, at Primm Valley Golf Club on the California-Nevada state line south of Vegas, and, just a few years ago, right on the Vegas Strip. In 2000, Steve Wynn lost Shadow Creek in a hostile takeover of his casino empire. (How hostile? The revised Shadow Creek club history on sale at the golf course makes no mention of Wynn.) But he got a ton of cash for his stock, so he bought the old Desert Inn, replaced it with a gleaming monolith hotel and asked Fazio to repeat their magic on an adjacent golf course, this time with tee shots aligned at the Stratosphere and Mirage instead of distant mountain peaks. Alas, __Wynn Golf Club__is but a shadow of Shadow Creek, and there's talk that its Strip frontage is too valuable for it to remain a golf course much longer.
At the time Fazio and Wynn were building the original Shadow Creek, multimillionaire David Murdock was having Jack Nicklaus do much the same thing at Sherwood Country Club, in the Santa Monica mountains near Malibu, Calif., replacing dusty valleys with bent-grass fairways and empty canyons with rock-lined streams and waterfalls.
Nicklaus, the first superstar golfer to attain superstar status as a designer, had long insisted on perfect conditioning, ever since he built Muirfield Village in the early 1970s. Indeed, he's generally credited (or blamed) for the trends of wall-to-wall irrigation, expensive maintenance budgets and exotic landscaping on courses. He also loved to move earth to create unique looks, from the moonscape mounding of Grand Cypress (tied for Best New Resort 1984) and Loxahatchee (Best New Private 1985) to the fault-line depressions at PGA West's Nicklaus Private Course in Southern California.
Still, Sherwood was a leap forward for Jack in carte-blanche budgets. It allowed Nicklaus to use a giant tree spade to rearrange ancient trees (ones far bigger than those planted at Shadow Creek) to perfectly frame some holes and establish strategies on others. He spent some $6 million moving 500 trees. But all the transplanted oaks and sycamores could not disguise the fact that Sherwood was, like most Nicklaus layouts, primarily a residential-development course. It was opulent but not extraordinary. So Sherwood Country Club finished third behind Shadow Creek in Best New Private 1990.
Shadow Creek's real legacy was in raising the cash bar for all new courses, both the private ones and the public country-clubs-for-a-day. Million-dollar construction budgets became $5 million, then $10 million, within a decade.
[Ljava.lang.String;@423ac3cb
Illustration by Ann Bagayan
The Tao of these two Toms -- the austerity of Doak and the opulence of Fazio -- might appear incompatible. Yet that hasn't stopped other architects from trying to mesh old-country architecture with Augusta National manicuring. Rees Jones turned a potato field in Bridgehampton, N.Y., into Atlantic Golf Club (Best New Private 1992) and an abandoned farm field on a Massachusetts island into Nantucket Golf Club(Best New Private 1998). Both are near, but not adjacent, to the ocean and constantly exposed to ocean winds, so a ground game is a must. But Jones opted for bent-grass fairways and greens, rather than old-country fescue, reasoning that bent, if kept dry, can be as kettle-drum firm as fescue but will grow divots back much faster. It's good in theory -- but bent is simply not a proper links turf. It's too cushy.
Attempts at authenticity can be fleeting. The Links at Spanish Bay, a collaborative effort of Robert Trent Jones Jr. (Rees' brother), former U.S. Golf Association president Sandy Tatum and Hall of Famer Tom Watson, was a manmade links along the Pacific shoreline at Pebble Beach. It won Best New Resort Course in 1988, but sad to say, its fescue fairways have since been overrun with Poa annua, a grainy, cool-climate turf much more conducive to target golf. Similarly, the combination fescue/bent-grass fairways at The Gailes at Lakewood Shores (Best New Resort 1993), a lookalike links near the northeastern lakefront of Michigan, have become almost entirely bent grass.
But the fescue remains pure at Bandon Dunes, the predecessor to__Pacific Dunes__ at the Oregon resort, its turf today even tighter and firmer than when it won Best New Upscale in 1999. Likewise, the fescue fairways and stacked-sod pot bunkers installed by architects Michael Hurdzan and Dana Fry at Devil's Paintbrush north of Toronto (Best New Canadian 1992) have survived and thrived. Still, the same turf at their Golf Club of Dublin in Ohio didn't make a blip on the Best New radar back in 2002, Stephen Kay's rock-hard, rock-solid Links of North Dakota didn't win back in 1996, and the master of this motif, Tom Doak, produced a painstakingly authentic inland links at__ Ballyneal __in northeast Colorado, with parched, wind-swept fescue greens and fairways, yet managed only a sixth-place finish in Best New Private 2006.
The lesson? Not all panelists appreciate authentic links conditions.
Part of Fazio's success in our Best New surveys is a result of the visual impact his lavish designs have had on our panelists. So if you want to beat Fazio, perhaps you have to out-Fazio him. Fry is one of the few associates who left Fazio's firm convinced that, given a decent budget, he could do it. Fry's mantra has been to make features "steeper and deeper" than Fazio ever tried. Together with Hurdzan, he has created truly hazardous hazards: vertical-faced bunkers at __Hamilton Farms__in New Jersey, a mountainous escarpment at Calusa Pines in Naples, Fla., a parachute-jump par 3 at FarmLinks in Alabama.
Those are mere carnival rides compared to full-blown amusement parks conjured by Fry's old roommate, Mike Strantz. Strantz left both Fazio and the business in 1987, preferring to stay at home, practice commercial art and help raise his daughters. He jumped back into course design in the early 1990s, with a splash that triggered reverberations still felt today, two and half years after his death of cancer in 2005.
Strantz was the closest thing golf architecture has ever had to Frank Gehry, the building architect who does cartoonish structures like the Guggenheim Museum in Bilbao, Spain, and the Frederick R. Weisman Art Museum in Minneapolis. Strantz could be outlandish in his scale -- 80-yard-wide fairways that suddenly pinch to 15 yards, boomerang greens that are vast but not deep -- because he believed air space was every bit as critical in providing options as the ground. He was outrageous in his features -- fairways barely visible through a notch between hills, greens that tumbled down hillsides -- because he believed America already had enough conventional white-bread layouts.
Strantz triumphed with a pair of Virginia courses in the Upscale Public category in consecutive years, 1996 with Stonehouse, 1997 with__Royal New Kent__, but his true Everest of architecture,Tobacco Road near Pinehurst, finished tied for 10th in 1999, perhaps reflecting some of the media backlash that insisted his mammoth holes and dungeon-like bunkers were unmaintainable and unplayable. ("I don't care if people think my courses are too hard," Strantz said in 1998. "That's their opinion. But I know in my heart, they're not hard. People make them hard.")
His final work, the total redesign of the Shore Course at Monterey Peninsula Country Club in Pebble Beach, is lasting proof that Strantz was the game's consummate artist. Nothing outlandish or unplayable there, just sweeping grandeur, with every green, bunker and well-positioned rock outcropping seemingly backlit by a Pacific sunset. It came in second -- a stunning upset -- in our inaugural Best New Remodel competition in 2005.
Other architects have developed styles that have managed to challenge Fazio's dominance in our rankings. Jim Engh's work has earned four Best New wins since 1997, each displaying his unique Art Deco style of rhythmic shapes, repetitive lines and relaxing expansiveness. But he can be whimsical, too, with twin pines at Colorado's Sanctuary (Best New Private 1997) posing a field-goal approach shot, and mushroom-like rock outcroppings that turn a fairway into a pinball machine at Idaho's Black Rock(Best New Private 2003).
Just as compelling have been two Jeff Brauer winners in Minnesota, The Quarry at Giants Ridge (Best New Upscale Public 2004), with tilted fairways and punch-bowl greens that successfully merge a Doak-like bouncing ballgame into a lush, green Fazio-like setting, and The Wilderness at Fortune Bay(Best New Upscale 2005), far different, with alternate fairways, optional routes and heroic carries that favor golfers who prefer an aerial assault.
[Ljava.lang.String;@1478430b
Illustration by Mark Ulriksen
The most disturbing movement in the past 25 years has been the insistence by some owners on having the meanest, toughest, hardest golf course in all the land. The trend probably started with Jack Nicklaus in the early 1980s. Nearly every Nicklaus client in those days insisted that Jack, the greatest golfer of all time, build the greatest championship course he could, and for years, Nicklaus tried to oblige, at Bear Creek in California, The Bear in northern Michigan, Valhalla in Kentucky, Renegade and Geronimo at Desert Mountain in Arizona.
In 1984, Pete Dye was told to make the __Stadium Course at PGA West__even nastier than a Nicklaus design. Then Tom Fazio created the hardest course he has ever done, Hallbrook near Kansas City, with 16 lateral hazards along its 18 greens, and the second-hardest, The Farm in Rocky Face, Ga. Then Arnold Palmer's company produced Commonwealth National in Pennsylvania, which boasted it had a higher course rating than Pine Valley, the No. 1 course in the land.
None of them bullied its way onto America's Best New, mainly because our criteria for judging courses didn't consider difficulty until 1996. In the years before Resistance to Scoring became a category, only Pete Dye's brutally difficult Ocean Course at Kiawah in South Carolina won a Best New award, Best New Resort 1991, the year it also hosted the Ryder Cup.
That was the exception. Panelists have mostly shunned monster courses in our survey. Rugged Ko'olau in Hawaii, assigned the highest Slope Rating ever (162) was nowhere to be found among Best New 1993. The closest any notorious layout this side of Kiawah came to winning was Dye's Whistling Straits in 1999, but it finished second in Best New Upscale Public to the equally scenic but more playable Bandon Dunes.
In recent years, the measure of a nasty, snarly golf course -- still the goal of some owners -- has shifted from a ridiculous Slope Rating to a ridiculous yardage: 7,800 yards, 7,900 even 8,000 yards from the back tees. We've yet to have a Best New winner break that 8,000-yard barrier, but it's bound to happen.
Now on the horizon is Sevillano Links in Corning, Calif. It's 7,823 yards, par 72, from the back tees. But, at co-designer John Daly's urging, architect Mike Stark laid out additional landing areas and back tees so the course can be played (presumably by masochists) as 18 consecutive par 5s. That's right: From the very back, it measures 10,500 yards, par 90.
It will be a 2008 Best New candidate. We might have to create a whole new category.