Courses
Best in America (and don't forget football)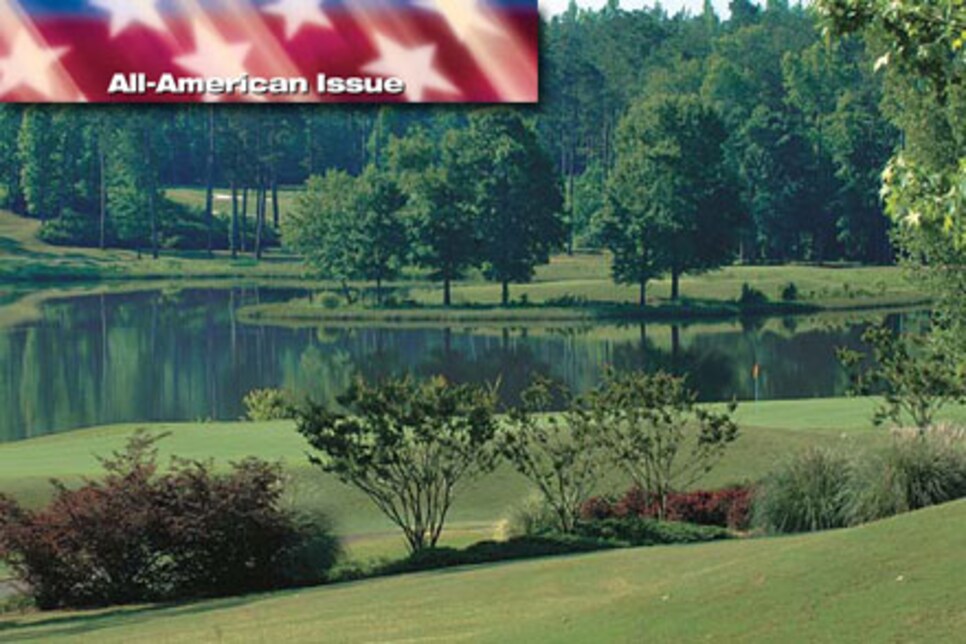 Fans in the twin university towns of Auburn and Opelika in Alabama love their Tigers. Golfers have three 4½-star courses at Grand National to be proud of, too.
Who'd have thought we'd find the best golf city in America right in the middle of a big football town in a big football state? But that's why you look.
For the third time since 1998, Golf Digest has ranked America's largest Metropolitan Statistical Areas. In cooperation with The Longitudes Group, utilizing the Golf Digest Companies' Database of Golf in America, the survey found that the best places to live and golf are increasingly shifting to small towns and suburbs in the South (11 of our top 20), while the Northeast remains a golfer's wasteland. Fifteen of the bottom 20 cities lie above the Mason-Dixon line, including regular bottom-feeders Bridgeport, Conn., New York City and golf-dry Jersey City, N.J.
But in the eastern Alabama twin cities of Auburn and Opelika, a place known for the city-block-size Auburn Tiger paw print in the main square and a college football stadium that seats more than 86,000 people, golf is becoming its second passion. You see it everywhere you look.
It's there first in the Robert Trent Jones Golf Trail's stunning 54 holes of 4½-star golf out at Grand National, a site that lives up to Jones' description as the best for golf he'd ever seen.
It's there in the two mayors, whose zeal for the game is no mere political affectation. Gary Fuller of Opelika and Bill Ham Jr. of Auburn not only use golf as a successful recruiting tool for economic development, they're both 12-handicappers with more than occasional flashes of their single-digit pasts.
It's there in the sturdy 3½-star daily-fee layout at Auburn Links, whose twists and turns make it a favorite of Auburn football coach Tommy Tuberville, who has his own reserved parking space up front.
It's there in Will Blackmon's 200-strong junior programs at Opelika's Saugahatchee Country Club, which no doubt has fueled the last two consecutive state golf championships for Auburn High School.
It's there in the sporty 3-star Indian Pines, the municipal course the two towns share that's more popular than the Brunswick Stew at Byron's Smokehouse in Auburn or the pork-barbecue sandwich at Chuck's Bar-B-Que in Opelika.
HOW WE DID IT There are 330 Metropolitan Statistical Areas (MSAs) in the U.S. with a population of greater than 50,000. We ranked all of them on four different criteria:
Access to golf(a blend of four factors: the number of golf holes in an MSA compared to its population; number of golf holes compared to the number of avid golfers; percentage of public versus private courses; and a measure of the number of rounds played compared to capacity). Weather(based on the number of golfable days per year). Value of golf (based on average green fee in each MSA). Quality of golf(based on average star ratings in Golf Digest's Places to Play guidebook).
We weighted these four factors as follows: Access, 45%; Weather, 25%; Value, 15%; Quality, 15%. Using these weightings, we determined the average overall ranking for all 330 cities. The research was conducted by The Longitudes Group (longitudesgroup.com), utlizing the Golf Digest Companies' Database of Golf in America.
This year's survey rated the top 330 MSAs in terms of access to golf (45 percent of the total score), weather (25 percent), quality of golf (15 percent), and value (15 percent). We put an increased emphasis on weather (temperature and precipitation) this year.
Auburn-Opelika shines in the weather category, of course. Average daily high temperatures dip below 60 degrees only in December and January, and only barely then. With a burgeoning metropolitan area already filling up with all the industry, shopping and social amenities that big-city Atlanta offers (100 miles away), an education system that ranks among the top in the nation, and home prices that are nearly 25 percent below the national median, Auburn-Opelika has become the fastest growing region in the state and the fastest growing golf metro area in the country. (It has quadrupled its golf supply in the last 10 years with two new semi-private courses, but wasn't on our list in 2002, the last time Golf Digest ranked the best cities for golf in America.)
As longtime golfer, lifelong Auburn resident, president and CEO of AuburnBank Bob Dumas puts it, "Would I say this is a golf town now? Most definitely. We're a little spoiled, and we want it to stay that way."
Still, for all its rapid growth, Auburn and Opelika remain true to their small-town birthright. It's still the kind of place where they'll make you the best-tasting fresh-squeezed lemonade on the planet one glass at a time, like they do at Toomer's Drugs. It's still the kind of place where a family says grace before digging into their biscuits and gravy at Chappy's Deli, and it's still the kind of place where when a stranger walks into the Winn-Dixie looking lost, four people will come up and ask him if he needs some help, and only three of them will be employees. Those intangibles don't exactly factor into our survey, but they ensure that we've selected a worthy winner.