News
Bernhard Langer rolls on, wins PowerShares QQQ Championship, his second victory in a row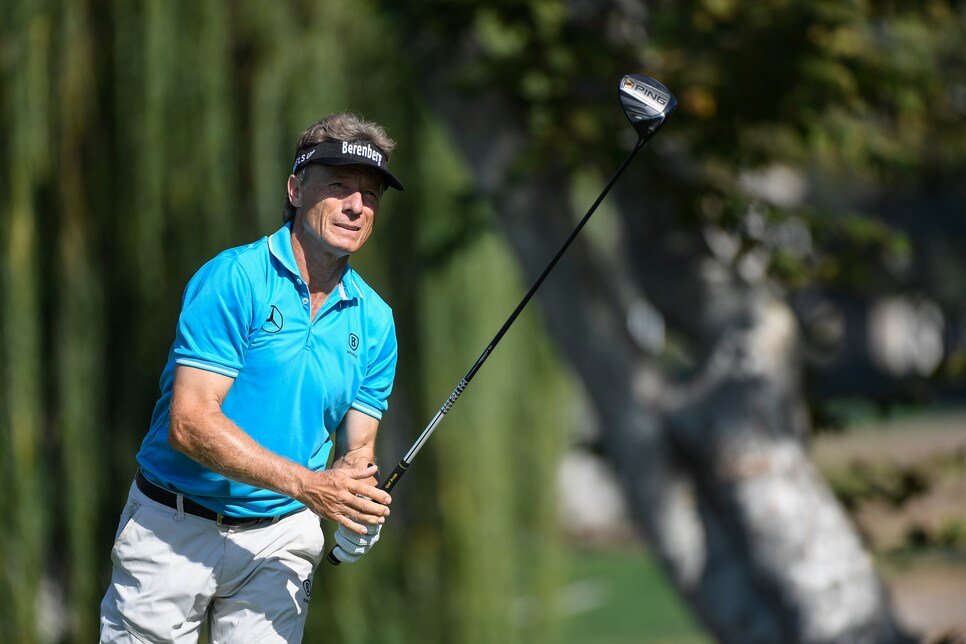 The indomitable Bernhard Langer was forced to work overtime on Sunday, but still delivered a victory in the PowerShares QQQ Championship, his second straight win and third in his last four starts.
Langer, 60, holed a 30-foot double-breaker from an upper tier on the 18th green on the second playoff hole at Sherwood Country Club in Thousand Oaks, Calif., to defeat Miguel Angel Jimenez.
He has now won the first two Charles Schwab Cup playoff events and will go for a sweep in the season-finale Charles Schwab Cup Championship in two weeks at Phoenix Country Club.
"It puts me at a great mind, at great ease," he said. "I'm swinging the club fairly well. There were a few irons shots that leaked to the right and I'll try to figure out why that is so. I think I know. And the rest of the game is pretty solid."
Indeed, the victory was his seventh of the season, extending his career-high, and the 36th of his PGA Tour Champions career.
Langer nearly won on the last hole of regulation, when his 15-foot birdie putt caught a piece of the hole and did a 360 without falling.
On the first playoff hole, Langer had a similar putt to the one with which he won, but missed it to the right. On his second attempt, it went in dead center.
"The first one almost went straight," Langer said. "The second one was a little different angle and We read it about a cup out and it broke nicely at the end."
Langer and Jimenez, who along with David Toms were co-leaders through 36 holes, closed with the best rounds of the day, five-under par 67s, while Toms, a senior rookie still in search of a maiden tour victory, shot a 69 and finished third.
Meanwhile, Langer has to be the favorite to win a fourth straight Charles Schwab Cup and its $1 million bonus and a fifth cup overall. However, a points reset after the PowerShares QQQ Championship allows any one of the top five in the standings to win the cup with a victory in two weeks.
Langer leads the standings and is followed by Scott McCarron, Kenny Perry, Jimenez and Kevin Sutherland.