Instruction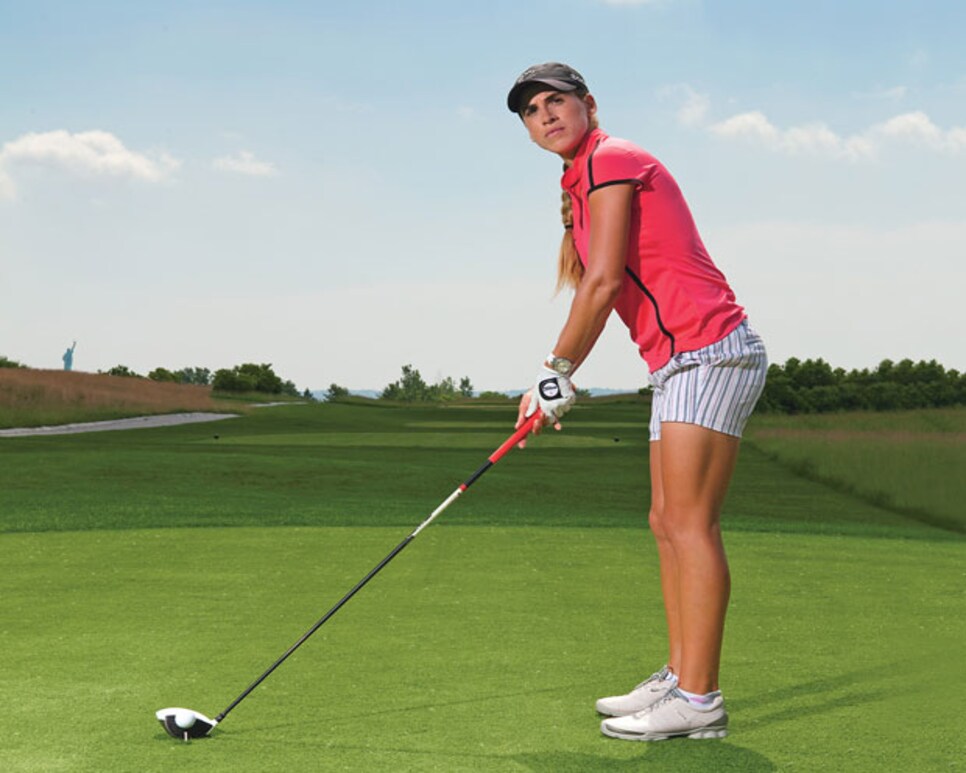 Belén Mozo laughs when recalling how much she hated golf as an 8-year-old newcomer to the sport. Growing up in a touristy beach town on the southernmost tip of Spain, Belén (pronounced Beh-Lehn) and her older brother, Jesús, learned the game at a nine-hole course near home in El Puerto de Santa Maria. Tiger Woods won the Masters that year, and golf's popularity was soaring. But Mozo was bored by it. "I hated golf with a passion," she says.
What Mozo did love was competing, and when she discovered that winning junior golf tournaments earned her vouchers for meals at Burger King, she was hooked.
"Both of my parents are very athletic, and they got me into golf," Mozo says. When she was 14, she moved six hours away to a sports academy in Madrid. It didn't take long before Mozo was Spain's No. 1 girls amateur golfer, and at 16 she became only the second person to win the British Ladies' Amateur and Girls' British Amateur—at Northern Ireland's Royal County Down and Portstewart—in the same year. Next came four years as an All-American at Southern Cal, which Mozo chose more for her fascination with the TV show "The O.C." than for the school's academic reputation or top golf program.
In 2014 she'll begin her fourth full season on the LPGA Tour, still working toward her first professional victory and hoping to represent Spain in women's golf at the 2016 Summer Olympics in Brazil. Recently she reunited with her longtime coach, Marcelo Prieto, and the two have been refining every facet of her game. She's earned more than $350,000 on the course in three seasons, and her appeal to sponsors has led to even more lucrative opportunities.
We caught up with Mozo at Liberty National Golf Club in New Jersey, where she was entertaining her playing partners and helping them improve their golf games in an outing for Swiss watchmaker Audemars Piguet. She wasn't the biggest name at an event that included Rory McIlroy, Graeme McDowell, Keegan Bradley and Lee Westwood, but she might have been the most charming of them all. Here are some tips she shared with us that day. We think they'll help you, too.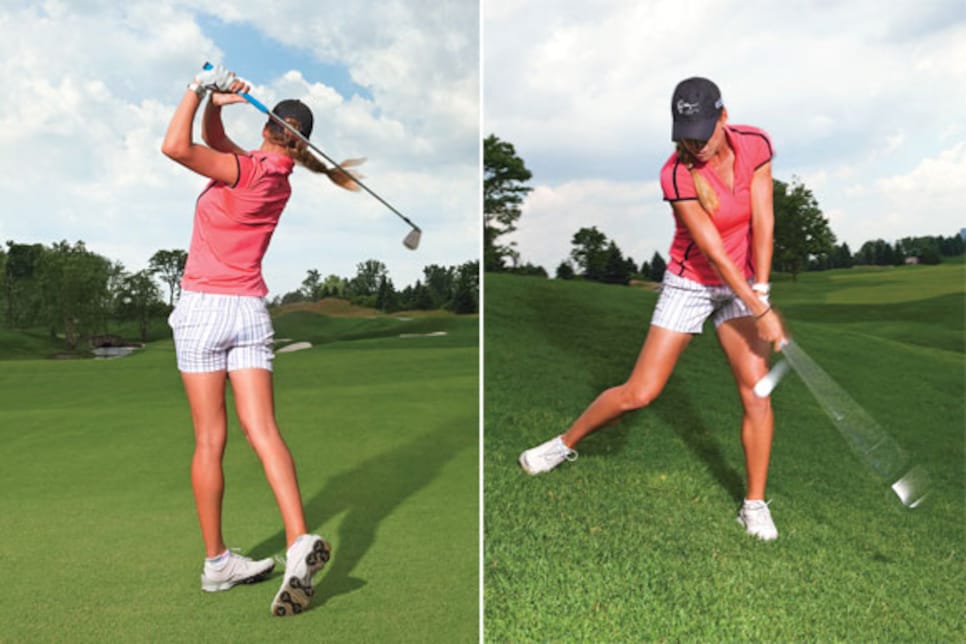 ABOVE, LEFT: Balance comes naturally to Mozo, but one of the things she fights with her iron shots is a tendency to shift her weight to her left side too quickly. When that happens, she says she gets too far forward with her shoulders and shots come out too low.
To combat that quick transition, Mozo thinks about "keeping my right foot on the ground a little longer during the downswing." When her timing is perfect, she doesn't get up on the toes of her right foot until the club is all the way to the finish.
ABOVE, RIGHT: Short, downhill pitch shots like this one from a severe slope aren't so difficult if you get a few fundamentals right. Mozo likes to align her body and weight to match the angle of the downslope, and she wants to keep her lower body still throughout the motion. "This shot requires only your arms and your core," she says.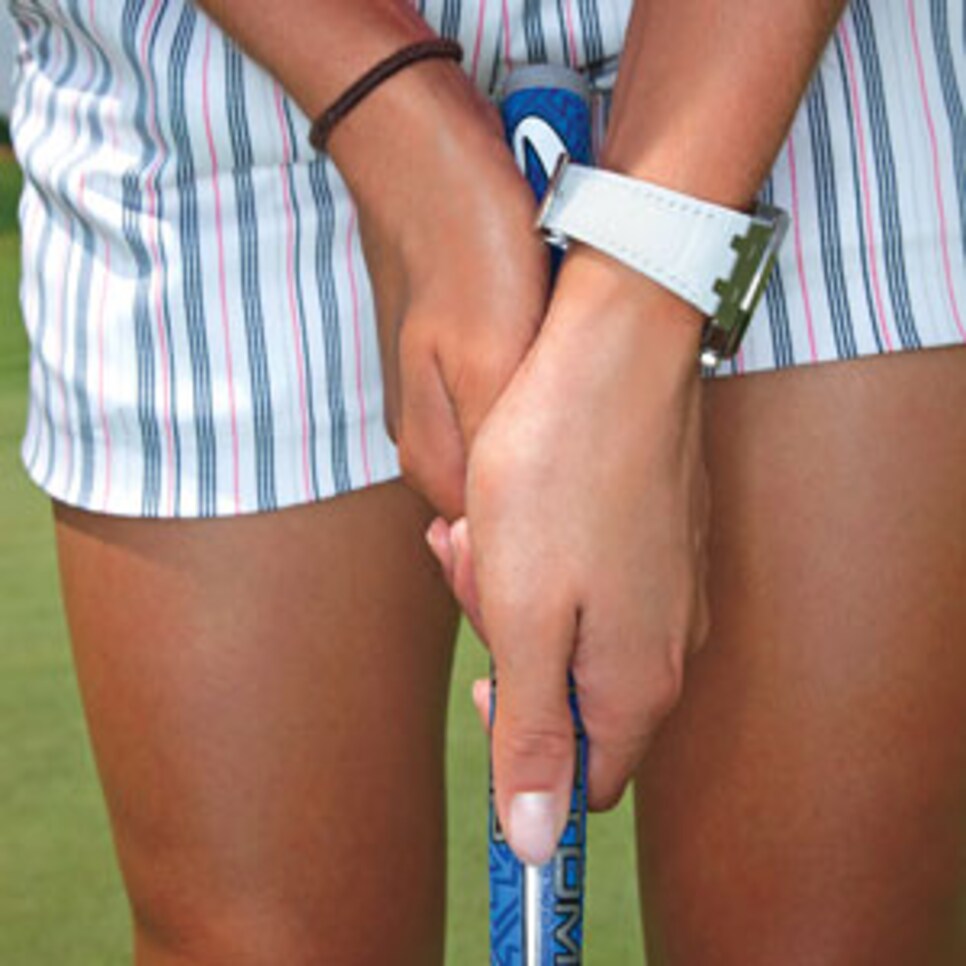 Mozo recommends taking a couple practice swings with only your right hand to get a feel for your wedge gliding through the grass. Set up with your nose directly in line with the ball, then swing your hands back to about waist high. Finally, she says, accelerate the club down and through to a high finish.
RIGHT: Mozo switched to a left-hand-low putting grip two years ago. She wasn't making putts with her conventional grip, she says, and seemed to be steering too much with her right hand.
"It felt very natural to me, even though it was the first time I'd ever changed my grip. Now I set the club right in the palm of each hand. Putting is all feel, and this feels right to me."