The Loop
Bandon Preserve: the scorecard and more
The embarrassment of riches gets richer. And so does the avid golfer who travels to Bandon Dunes.  That's what I thought after I finished a recent tour of Bandon Preserve, the new 13-hole par-3 course scheduled to open May 1, 2012.
Built by the design team of Bill Coore and Ben Crenshaw, Preserve will be a $100 green fee with a $50 replay rate, which also applies if you first play any one of the other four courses at the resort. (All profits will go to South Coast Conservation, which develops and implements conservation strategies for marine, freshwater and terrestrial conservation in the area.) From the desk of Bill Coore, here's an exclusive look at Preserve's scorecard: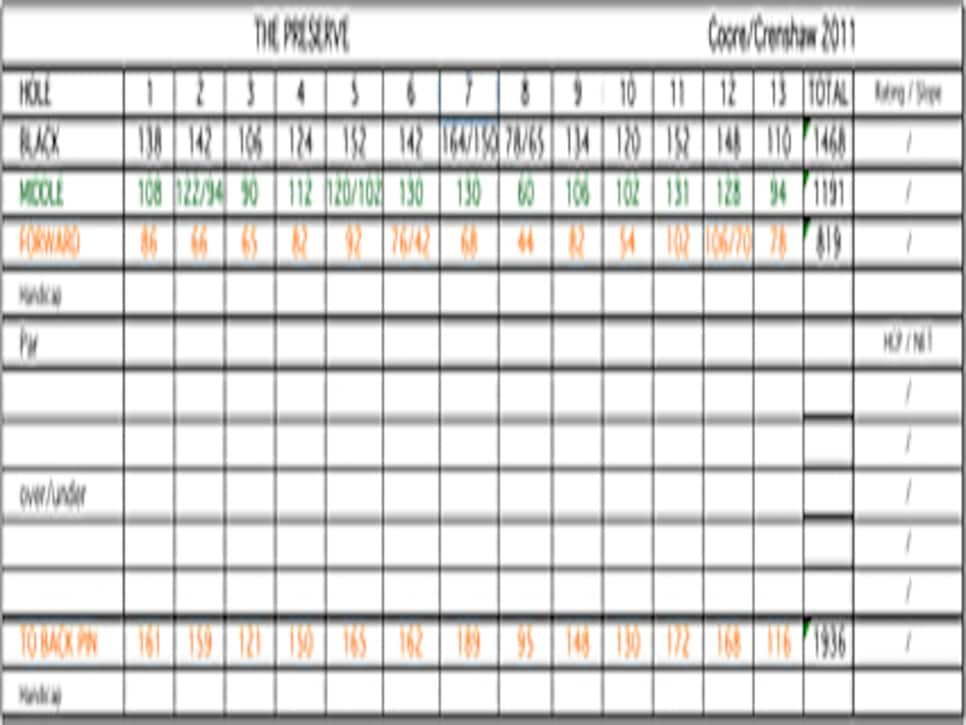 "My biggest worry is whether it will be popular," says Keiser. "My next-biggest worry is that it will be too popular." I'm thinking the Preserve will be a plug for a business model with very few leaks. If your group arrives late in the afternoon, play the Preserve. If your group can't play 36 a day, go 18 and then Preserve. If your group can't play 54 a day, go 36 and then Preserve. If your group is leaving early in the afternoon and you don't have time for 18? Preserve.  Keiser says he will stagger tee times in 15-minute intervals, which allows for 16 golfers per hour.  I couldn't help but do the math. Based on conservative numbers (11 months of play, with an average of 10 hours of tee times per day), Preserve could draw 50,000 rounds per year and more than $5,000,000 in green fees. Pacific Dunes, Bandon Dunes and Old Macdonald all get roughly 30,000 annual rounds, and Bandon Trails is closer to 25,000. The course that will sacrifice the most golf will be Bandon Dunes. Of the four 18-hole courses on property, it's the only one that has the ninth hole that finishes at the clubhouse, which is why, up until the opening of Preserve, it gets the most nine-hole rounds.