There are few clubs in the U.S. with as much as history as Baltusrol Golf Club. In 1919 as A.W. Tillinghast was hired to build two new courses (on an existing course that had already hosted five USGA events), Golf Illustrated called it "the most ambitious golf course development conceived in America." The club's Upper and Lower courses have hosted seven U.S. Opens, two U.S. Women's Opens and two PGA Championships. In fact, Baltusrol is the only club to have two of its courses host the men's and women's U.S. Opens.
The club completed a full-scale renovation to its Lower Course in 2021 to further solidify its stature as one of golf's great venues. Gil Hanse and his team reclaimed the shape and size of A.W. Tillinghast's glorious putting surfaces, in addition to recapturing lost bunkers and updating irrigation. The Lower Course will host next year's KPMG Women's PGA Championship and the 2029 PGA Championship. The Upper Course will undergo a similar restoration by Hanse's team in 2024.
In the below video, Golf Digest architecture editor emeritus Ron Whitten takes a closer look at the updated Lower course.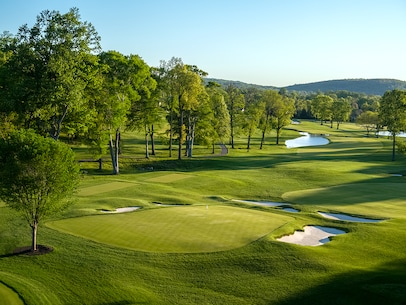 Jack Nicklaus won two U.S. Opens on Baltusrol's Lower Course, setting a tournament record each time. Phil Mickelson and Jimmy Walker won PGAs on it. But the Lower's most historic event was the ace by architect Robert Trent Jones in 1954 on the par-3 fourth, instantly squelching complaints of critical club members who felt Trent's redesign made it too hard. Trent's younger son, Rees, an avowed A.W. Tillinghast fan, lightly retouched the Lower's design for the 2016 PGA Championship. But there has been another changing of the guard at Baltusrol, as architect Gil Hanse and his team took over as the club's new consulting architects, and re-opened the restored Lower course—after carefully examining Tillie's old plans and reclaiming green size and rebuilding bunkers—in May 2021. The results, while praised, did not alter the course's standing in the 100 Greatest ranking--it remains at no. 45.
View Course