Courses
Swingin' Through San Antonio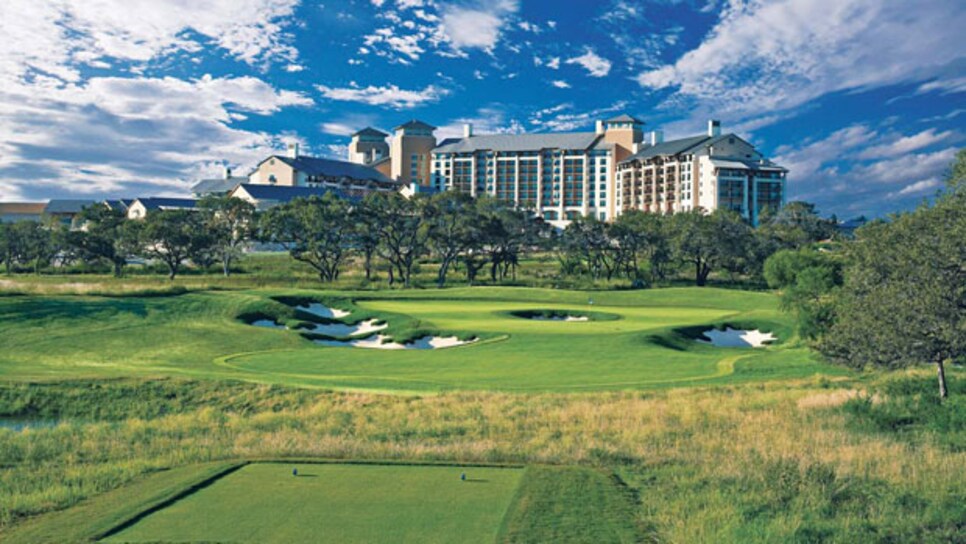 The 154-yard 16th at TPC San Antonio's Oaks features a bunker in the middle of the green and the resort as a backdrop.
When I was a teenager growing up in Santa Rosa, Calif., I found myself playing a round of golf with one half of the Smothers Brothers. Tommy, or Yo-Yo Man, barely spoke when he was on stage. But after he topped a drive that day, he said, "I'm going to write a golf book: The 99 Things To Remember at the Point of Impact." We've all been there. I certainly was at the end of this summer and considered reading a how-to book on yo-yos, but then I had a swing thought: Go to San Antonio instead. Home of the Texas Open since 1922, the seventh-largest city in the United States (1.4 million) has a big military population and a reputation for being conservative. It's also known for being left of liberal with birdies.
Two of the tour's three lowest 72-hole scoring marks have been set at the Texas Open (Mike Souchak shot 257 in 1955, and Tommy Armour III shot 254 in 2003).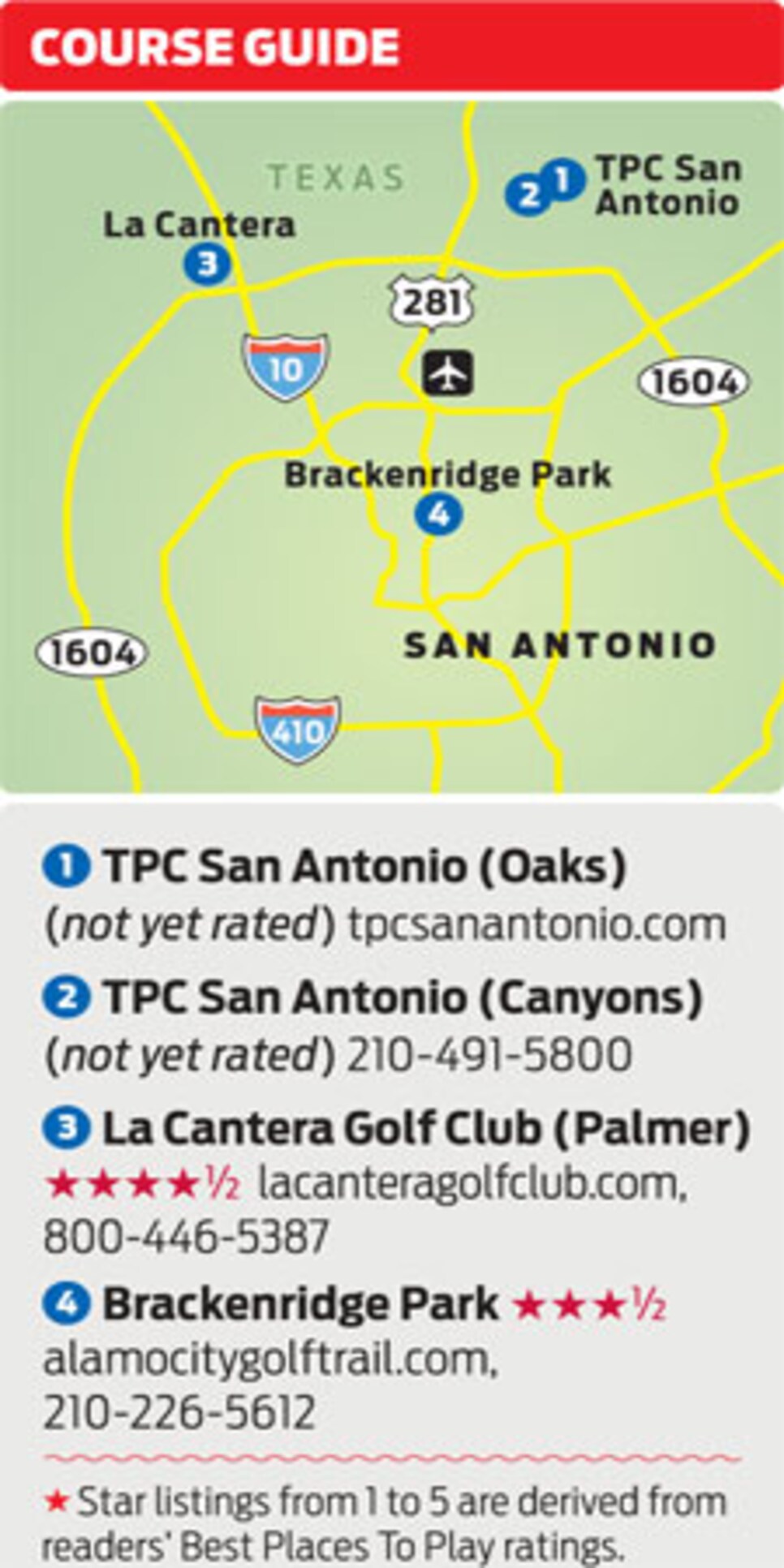 But all of that has changed. This year the Valero Texas Open moved from the Resort course at La Cantera
(where it had been played since 1995) to the Greg Norman
-designed Oaks course at the new TPC San Antonio. Adam Scott won with a 72-hole total of 274, 20 shots off Armour's record.
The Oaks is a spacious layout with receptive fairways, but it's a long way from easy if you play the 7,435-yard back tees. Even if you don't, you still have to contend with intimidating rough, scowling bunkers with jagged edges, undulating greens and a variety of hole locations. Then there's the bunker in the middle of the green on the 154-yard 16th. (Fortunately for me, I wasn't hitting it straight enough for the bunker to come into play.)
Which is why it was critical that Dye dulled his knife before cutting Canyons, the other course at TPC San Antonio. Neighboring a 700-acre nature preserve, this user-friendly resort course is the perfect complement to the tour-caliber Oaks. There are a few straightforward holes early in the round -- some might call them boring -- but it gets interesting for any level of golfer on the last four holes. It's not often that a struggling swing looks to a Dye design for relief, but you can at the Canyons.
TPC San Antonio is private, meaning that you have to stay at the resort to play the courses ($175 for each). Finding accommodations shouldn't be a problem. With 1,002 rooms ($300 a night), it's the biggest JW Marriott in the world, visible from almost every hole of both courses. Only 13 miles from the airport and 15 miles from downtown, it's like a city tucked into 2,800 acres of the Texas Hill Country.
Not only is there a Starbucks and a FedEx station in the lobby, there are a variety of boutique shops, a 26,000-square-foot spa, a six-acre water park with four slides and a 1,100-foot-long lazy river that is heated and open all year. There are seven dining options, including a sports bar with a 40-yard flatscreen TV. My best meal was at 18 Oaks, which serves a Texas-size steak and is conveniently next to the clubhouse. Apart from excursions to off-site courses, the only time I used my rental car was to visit downtown San Antonio for a foot tour of its famous River Walk shopping district (see Local Knowledge).
. Both were within 20 minutes of the TPC and worth the ride. Like the Oaks, the Palmer course is tough (142 Slope), and it has blind shots, severe elevation changes and potentially unfair downhill lies, especially on the 490-yard 18th that finishes with a green protected by sand and water. But I like the course and would play it again. (Rates from Nov. 8 through Dec. 31 are $89 during the week and $99 on weekends.)
Brackenridge Park, however, stole my heart. Vaulting onto my list of top-five munys in the country, Old Brack was designed by A.W. Tillinghast in 1915. Because it had fallen into disrepair in recent years, the course underwent a $4.5 million renovation in 2008. Now it's everything I love about a good muny: It's affordable (locals can play for $25 versus $50 for out-of-towners), it's accessible (the course's diverse clientele prefers walking to taking a cart), and it has history (Tillinghast also designed Baltusrol,
). I was taken aback by the big tree directly in front of the 16th tee, but I was told it would require an act of Congress to cut it down, so I consider it charming. That's also how I'd characterize the clubhouse, which was built in 1923 and is displaying the first of what will be four phases of the Texas Golf Hall of Fame.
Old Brack was the site of the inaugural Texas Open, and for all the recent chatter about tour players shooting 59, it was Harold (Jug) McSpaden who might have done it first. McSpaden shot a 59 in 1939 during a practice round at Old Brack, which has remained a par 71. McSpaden's playing partners that day were Paul Runyan, Ben Hogan and Byron Nelson.
One of my playing partners at Old Brack had a swing thought that helped me make three birdies and shoot 78: Keep the right leg bent throughout the backswing. So San Antonio served its purpose. I've scrapped the yo-yo idea, and I'm sticking to golf. I'm sure McSpaden would've agreed: Sometimes the golfers you're paired with can make a big difference.