News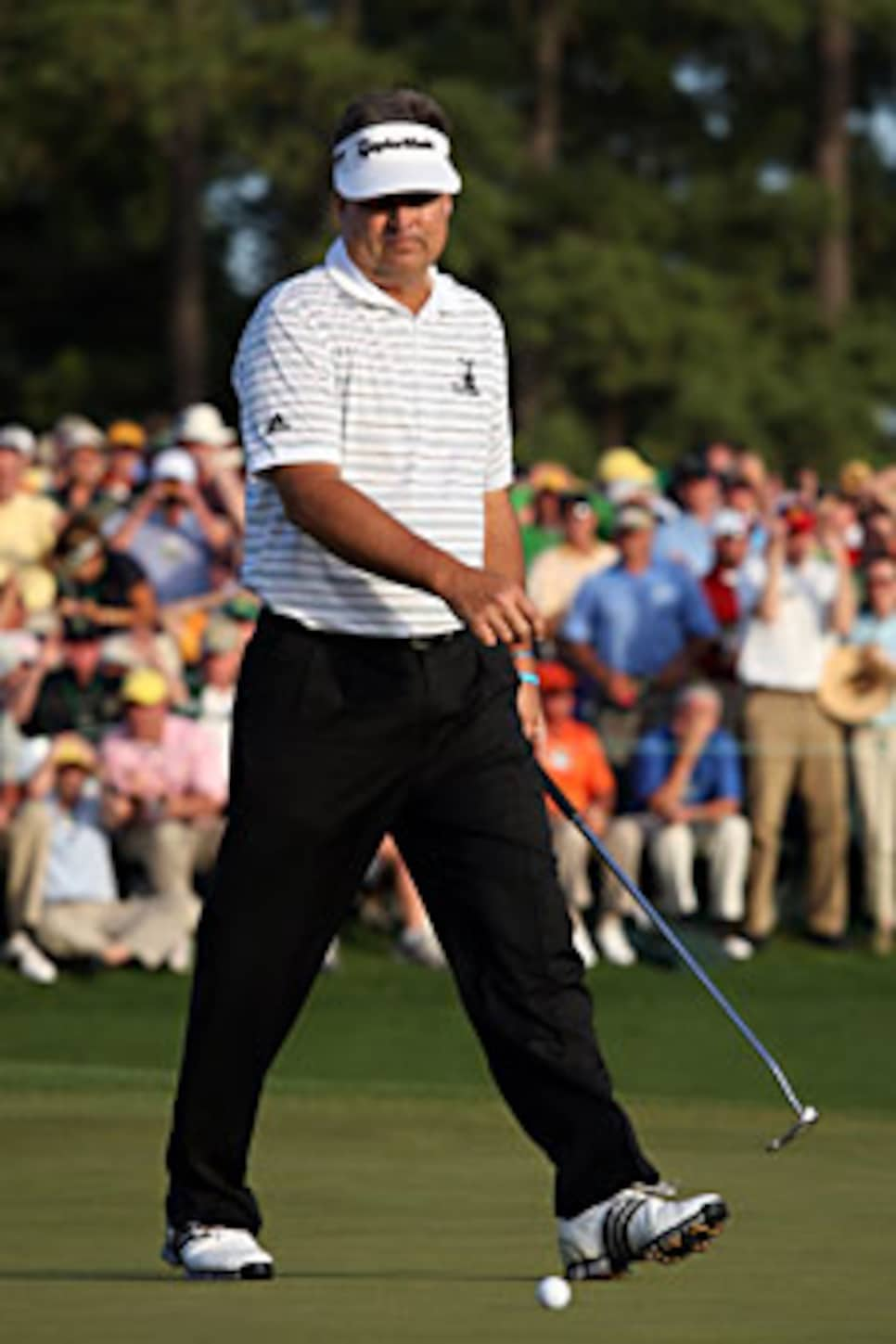 Even after Kenny Perry blew his chance to win the Masters on Sunday, he said life could be worse.
AUGUSTA, Ga. -- There are a lot of ways to lose the Masters, as Kenny Perry found out on a heartbreaking final Sunday at Augusta National Golf Club.
He led by two shots on the 17th tee, but bogeyed the last two holes to drop into a three-way playoff with Angel Cabrera and Chad Campbell.
On the 10th hole, the second playoff hole, after Campbell had dropped out, Perry drove left into a grove of trees. Actually, those trees are something else. They are the road to the airport. Cabrera closed out his second major championship with ease, and Perry was left shaking his head, and then shaking the winner's hand.
"It's amazing, I guess," he said.
Perry, 48, could have two major titles, but he's won none. He also lost in a playoff at the 1996 PGA Championship at Valhalla when Mark Brooks beat him.
But Perry said that's simply the way it goes.
"I'll have a lot of memories, when it gets down to these deals, that the great players get the job done and the average players don't. But if this is the worst thing that happens to me in my life, then I'm pretty good."
Perry said his mother has cancer. He said there is more to his life than losing a major, in a playoff, no matter how it happens. He refused to second-guess himself about not holding on to a lead.
"I'm not going there. I'm not going pity-person on me. All I know is all the big stars make it happen. They are where they are and we're down here.
"I just hope somewhere I can get back there again."
Perry blamed missing too many make-able putts early in his round, not the bogeys at the end. He made 11 straight pars before his first birdie of the day. And with a chance to get another birdie and some breathing room at the par five 13th, Perry three-putted for par.
"You know, I had a shot to win. I'm not going to hang my head from this deal. I am proud. I may not ever get this opportunity again, but it was a blast. I had the tournament to win, but I lost."
The first to shake Cabrera's hand was Perry.
"I don't root against anybody, because I know how hard it is," Perry said. "I know how momentum swings here and there."
Perry said he's had "a pretty good" career, with 13 victories, including one this year when he defeated Charley Hoffman at the FBR Open.
He just wishes he could have just one major . . . and thinks about the putt that he left 10 inches short on the 72nd hole, the putt that would have won the Masters.
"It was just a nervous putt, that was more disappointing than anything to not give that putt enough. Every great player has made that putt . . . Mark O'Meara made it, Tiger made it. I didn't.
"But there's no use thinking about it. I can't go there. I lost."