News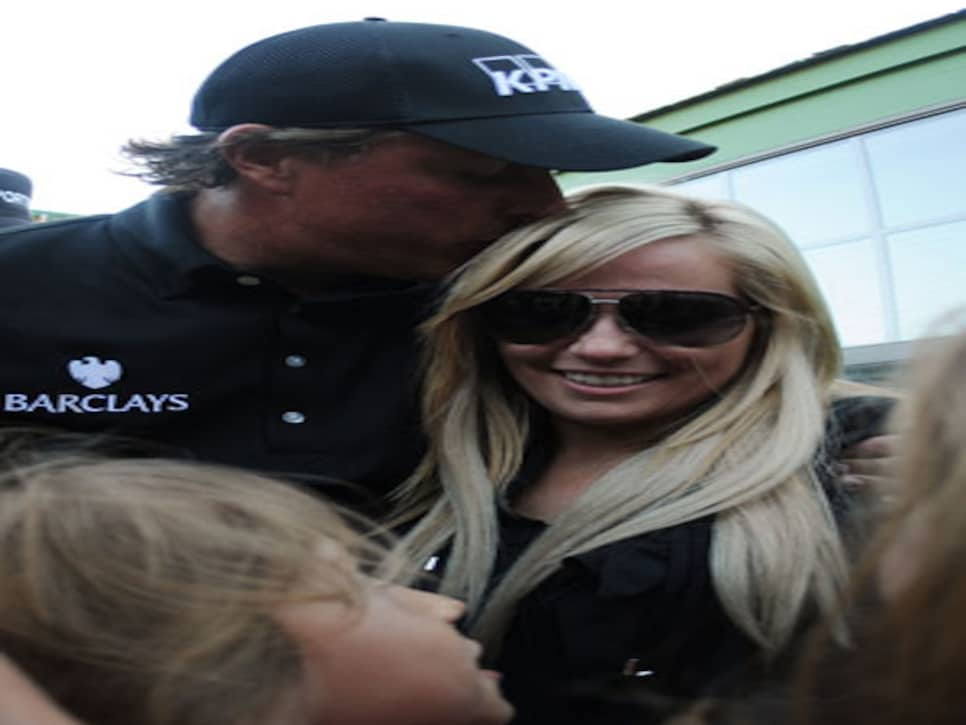 Phil Mickelson embraced his wife, Amy, after winning his third Masters.
AUGUSTA, Ga. -- He's got the trees in front of him, three feet away. He's got the ball sitting on pine needles. One twitch coming down, Phil Mickelson plays pinball off those trees and blows the Masters right there.
From behind those trees, he peeks through the gap to the green, 207 yards away.
Nothing but trouble up there, mostly that cursed ditch right in front that swallows the meek and the weak.
His two-shot lead doesn't mean diddly because about every other minute Tiger does something freakin' incredible and Anthony Kim is knocking in everything and Lee Westwood won't go away, all of them desperate to get a smell of immortality.
Wait. Here's what he doesn't do.
He doesn't go all wuss and whimper.
"Anybody else," Westwood said, "would've just chipped it out."
Mickelson's only question is, 6-iron or 5?
He asks that "because sometimes out of the pine needles," you say, "the ball will come out a little slow."
But the ball is sitting clean and Mickelson wants to do the hero thing.
But, Phil, that gap in the trees ...
"It wasn't huge," he said. Then he smiled the wicked clever smile of the ultimately triumphant. "But it was big enough, you know, for a ball to fit through."
So, through a gap wider than three inches -- "maybe four, five feet," he finally said -- Mickelson hit a golf shot that stamped this Masters as his. Only a player fully in control of his game would have dared plan that shot, let alone be man enough to take a wicked slash at it.
And he dropped it four feet from the flagstick.
Practically a kick-in eagle.
"It's one of the few shots, really, that only Phil could pull off," Westwood said. "But that's what great players do. They pull off great shots at the right time."
Yeah, I know. He missed the putt. Only made birdie.
But he already had told us it was over. On the previous hole, the par-3 12th, that much was clear. He ran in a 20-footer from nearly the same spot where he had made a game-turning putt on the way to his first Masters victory in 2004.
"I knew this putt, as soon as that ball went in, that's where I felt like this could be my week, that I could shoot the number on the backside to get it done," he said. "That putt was what I had been waiting for, a 20-footer to go in."
No, he wasn't going to give the tournament away.
Certainly not to Tiger, who finished five shots back after playing the most bizarre round of his life. He was so bad that he didn't know which way his bad shots would go. "A two-way miss" he called it. He left a ball in a bunker. He hit four drives into the woods. He three-putted from six feet. And yet he shot 69 on the strength of two eagles and four birdies.
Kim went "silly-low," as he put it, with a back-nine 31 for a 65 that left him four behind the winner, but he came too late. Only Westwood was in the hunt all day, but Mickelson took the lead at the turn and the Brit couldn't make a birdie run.
Mickelson's third round of 67 gave him the fourth-lowest total, 272, in Masters history. Westwood said, "It was a master class by Phil around the greens and on them."
It was more than that as well.
Not to go all sentimental here.
Mickelson wore on his cap the pink ribbon that is signal of the fight against the breast cancer that has invaded both his wife, Amy, and his mother.
Amy was at the 18th green Sunday. So was Phil's mom, Mary.
And what does the card say? How far is the walk from the 18th tee up that hill to the green?
Two shots in front at a Masters, as Mickelson was, it's a fabulous walk, a dreamer's walk. The day's-ending sun is a soft gold and multitudes gathered at the green stand to applaud. Hogan has limped up that hill and Arnold has moved with a king's swagger and Jack has come smiling.
With his wife and mother waiting.
The card says 465 yards, but we all know there's more to a golf story than the numbers on the scorecard. For the Mickelsons, that dreamer's walk is measured in moments of fear and pain and hope. For a year, the cancer has been their lives. The walk is measured in joy so real it is understood only in silence and only in tears shared.
So he came off the 18th green Sunday, and there she was, Amy, who before the breast cancer was a recurring presence in victory, the effervescent blonde with their small children bouncing at her side as she hurried onto the green to celebrate with her man. More than one of us thought she was too much the presence -- until, suddenly, she was gone and we knew why and we shared, in the tiny, tiny way of knowing it could be our own loved one, the Mickelsons' dread.
She waited behind the green this time, there with the children, there with her mother-in-law, who has also been diagnosed with breast cancer.
She touched a tissue to her eyes. Once, she would have put on a happy face for all to see, nothing phony about it but a face she wanted to share. Now, in this year, there was a different look about Amy Mickelson. The smile was hers, not everyone's. The smile was for him, not everyone. Life was no longer a party, life was . . . life.
The man and his wife embraced.
They said nothing. They wept.