News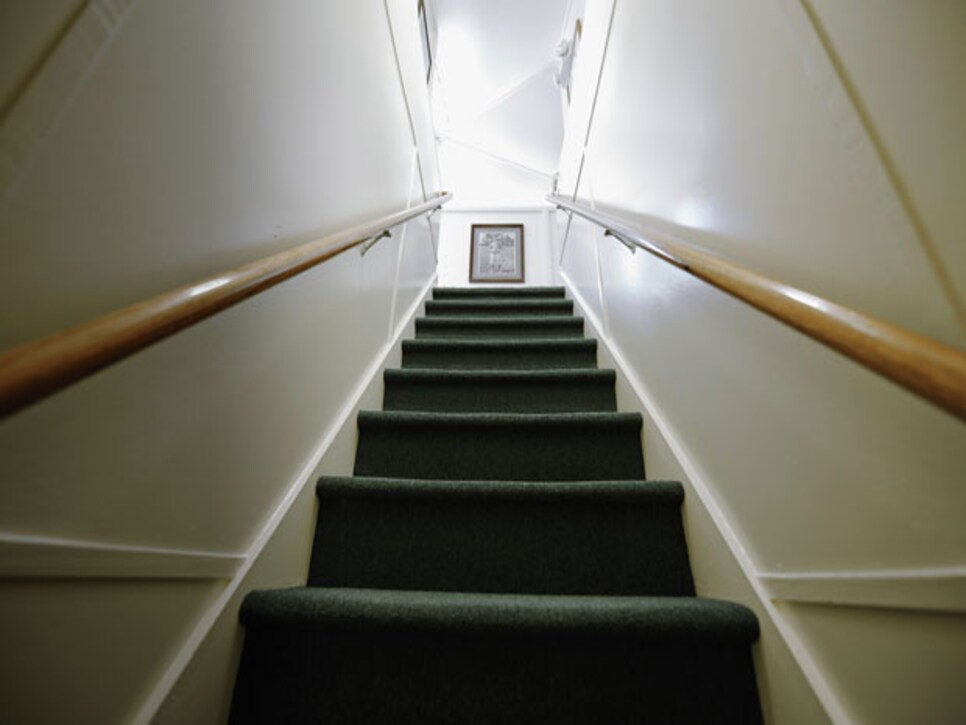 Let us now praise famous bedrooms. Lincoln's. Ferris Bueller's. Thoreau's cabin. Room 776 in D.C.'s Mayflower hotel, where FDR wrote, "The only thing we have to fear is fear itself." Carl Spackler's crib. Nice place. Cleaned by leaf blower. Got that going for it. But the best bedroom in the world? The Crow's Nest. It's at Augusta National Golf Club. It's at the top of the building somewhere under the clubhouse's famous cupola. Money doesn't get you in. If you're a good player and an amateur, Augusta might invite you to sleep over while playing the Masters. The people there will charge you for the room, but it's a bargain rate (undisclosed) in a quaint nod to days when young guys scraped up nickels and hitched rides to walk the same ground as Hogan, Snead and Nelson.
There's tons of history. Bobby Jones invented the place. We know eight kids who stayed there and grew up to win the tournament: Jack Nicklaus, Tommy Aaron, Tom Watson, Ben Crenshaw, Craig Stadler, Mark O'Meara, Phil Mickelson and Tiger Woods.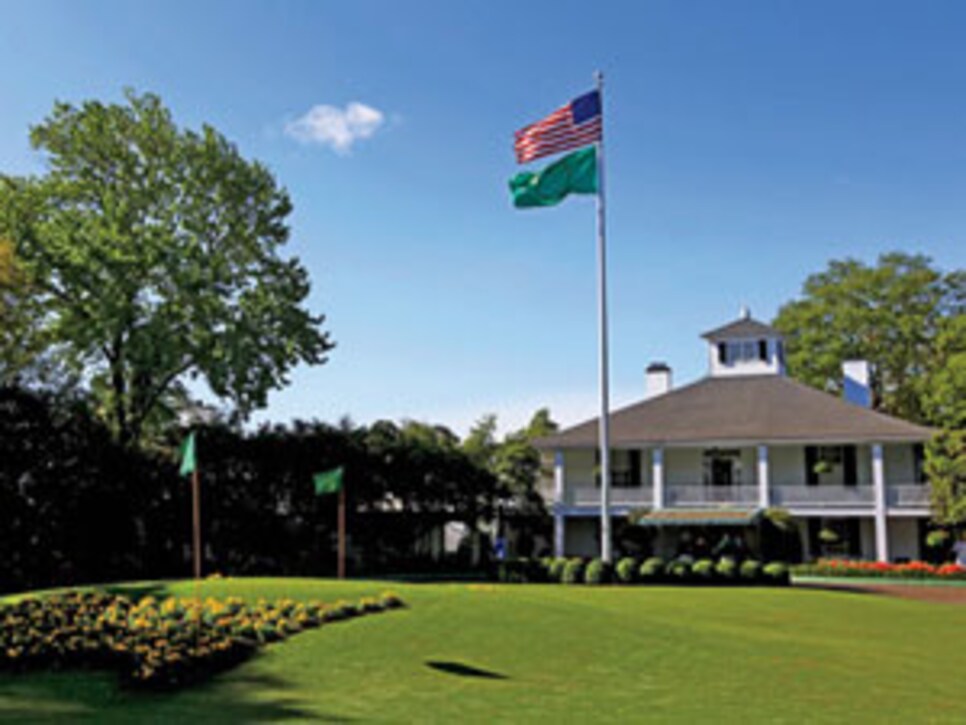 Photo: Jamie Squire/Getty Images
So Danny Lee was wired. He was 18 years old, the youngest U.S. Amateur champion ever. Born in South Korea, raised in New Zealand, the whippet with the whiplash swing had come to play in the tournament of his dreams. Almost as much fun, he would stay in the Crow's Nest. He said he would "sleep where Tiger slept."
If only he could find it ...
"I walked all through the clubhouse, and I walked more," he says, "and I walked upstairs, and it was like another clubhouse up there ..."
The Nest must be there somewhere.
"Going up there was, like, a mystery," Lee says of his wanderings four Aprils ago. "And then we got to the secret door."
Arthur Conan Doyle's stuff probably has a private room at the top of a famous building reached only by a hidden stairway behind a door no one can see. The real thing is at Augusta National. It's so rich with mystique that the society of Nesters has a proprietary pride. The young pro Brandt Snedeker, Class of 2004, says, "It's the one room, the one spot at Augusta National that is off-limits to everybody but the amateurs. It's our escape."
Watson had a nightmare there.
Crenshaw, in his skivvies, walked on the clubhouse roof. One midnight, Hubert Green climbed a wall to get back in. Bruce Fleisher called it a cathouse. Chip Drury screamed for his mommy. Bobby Clampett went into seclusion. Billy Andrade pilfered a doughnut from under an old champion's stern gaze. Rick Bendall decided he'd better be a doctor. Don Cherry landed on double-secret probation after stealing away from the Nest to sing at a strip club.
Watson, who lived there in 1970, knows the way up.
"A secret passage," he says.
David Chung made the walk up for the first time last April. He was 21.
"You come in the main door, into the lobby," he says, "and you see the Masters trophy, your first sight. You walk up these stairs to a room where members are sitting, chatting, playing cards. Across the room, you can hear talk from the Champions Locker Room, the champions hanging out."
Five or six steps past the club's front door, just in front of the silver trophy that is a replica of the Augusta clubhouse, Chung had ascended a curving stairway to a second-floor landing. To his right was the library, open to everyone. To his left, the champions' room, open only to immortals.
Nowhere is there a hint of the Crow's Nest--unless, maybe, there's something behind that corner door marked TELEPHONE.
No one would think to look there.
"It's like it's a closet," Chung says.
In fact, there's a door just like that in the first-floor grillroom. It opens to a phone in a small closet. But there's something about this second-floor TELEPHONE. There is no other interior door, no other possible entrance to an upper level where the Crow's Nest must be. Conan Doyle's man, Sherlock Holmes, taught us that once we eliminate the impossible, whatever remains, however improbable, must be the truth. Any decent sleuth, then, would open that TELEPHONE door.
He would find a phone, and more. The phone is not in a closet but on a wall shelf at the near end of a small hallway. But just past the phone, midway down the corridor, there is a second door. It's small, unseen from any place except directly in front of it. That door's hardware is a brass knob and an iron escutcheon. It is the stuff of another century. To see it is to think the door was hung by a plantation owner named Dennis Redmon, who built the house in 1854. The door opens to reveal a steep staircase. It's 15 steps. It's the long, narrow climb typically taken on rickety steps to reach the dark, dusty, cobwebby, forgotten storage space under a building's rafters.
This is different. These steps are carpeted. The staircase has shiny handrails. There's light up there. And that picture on the wall at the top of the stairs--it's the sainted Bobby Jones himself.
Watson's secret passage had led to the Crow's Nest.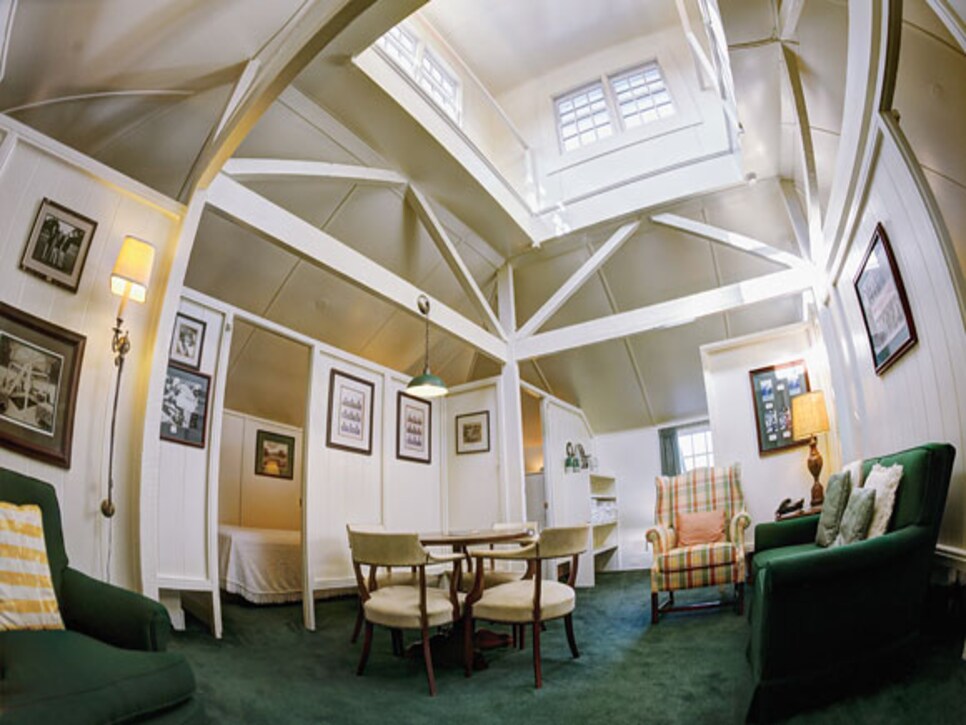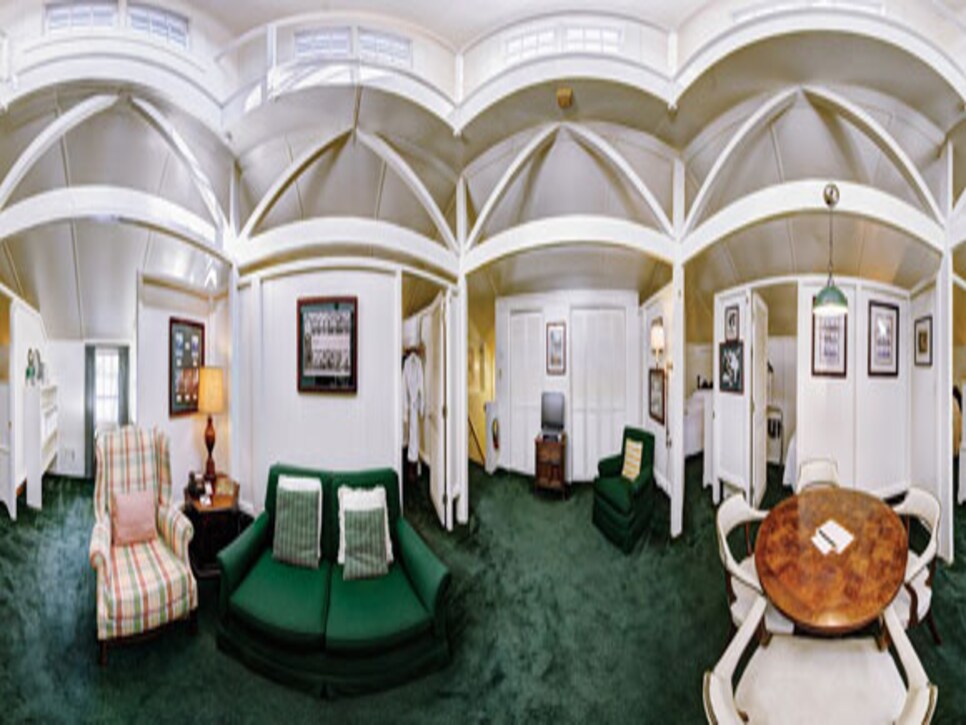 The Crow's Nest housing for amateurs sits atop the clubhouse at Augusta National; the color scheme is decidedly green and white.
No one is certain when that space was redone into quarters for amateurs. Nicklaus, in an autobiography, remembered his first time at Augusta, 1959, at 19. After four days, the grillroom cut off his two steaks at a sitting (while conceding the double shrimp cocktails). The Nest was a bare-bones room with beds separated by curtains hung from overhead pipes. "Each morning," he wrote, "we'd get up, climb the ladder in the center of the room that led to the cupola, and look out over the golf course. After checking the wind and the weather, we'd know whether we wanted to take a little more sack time or get out onto the course..."
The ladder and curtains are long gone, and now the attic could pass as a college dorm room, albeit at a pricey college. It's 30 by 40 feet, furnished so simply as to be elegant. "You feel like you've taken a step back in time," says Chez Reavie, there in 2002, "and yet everything is brand-new."
"Not the most luxurious of places," says Ryan Moore, twice a resident, '03 and '05, "but you can't beat it for convenience--and what could be better than waking up and looking out over Augusta National?"
Wooden partitions divide the room into four bedrooms and a common area. One bedroom has a pair of twin beds, the others are singles. Because there are slatted doors and the partitions don't reach the floor, a man's nighttime sounds move freely through the room, or, as Vinny Giles once put it, "All the snoring!" Each bedroom has a dresser or chest of drawers with a small mirror, a lamp on a bedside table, and a rod for hanging clothes. Players are provided white-velour bathrobes bearing the club's emblem in gold embroidery.
The common area has a small TV on a stand near a cushy sofa, two easy chairs and four armchairs at a game table with a notepad and pencil. However many players choose to stay in the Nest, they share a single bathroom. Len Mattiace, Class of '88, came to Augusta with the flu, leaving him on a diet of water and costing him 15 pounds. "One bathroom," he says, "and I was very thankful for it."
If not a dorm room--the place whispers rather than shouts--it might be your grandmother's place: quiet, cozy, immaculate. Its ancient timbers are painted a white as pure as that of the robes, fringed bedspreads and bathroom ceramics. Sunlight falls in from the high cupola's four sets of windows. The room is all shining whites and Masters greens. "So cool," Reavie says. "I get goose bumps just talking about it."
"My room had a window, and I could see down on all the crowds being so noisy," Danny Lee says. "Awesome."
Chip Drury, Class of '86, asks, "How could anybody not want to stay in the Crow's Nest?"
NIGHTMARES OF SEVE AND SARAZEN
For months after getting his first Masters invitation, Billy Andrade's scary dream was always the same. He was in the Crow's Nest, asleep, until he woke with a start and looked out a window. There, far below, on the first tee, he could see his first-round playing partner, the swashbuckling Spaniard, Seve Ballesteros. The great man was angry. He looked at his watch. He growled, "Where ees the keed?"
So, on Billy Andrade's first real day in the Nest, in 1987, he leaped from bed and landed in his golf shoes.
He wasn't sure where he was going, but he was in a hurry to get there. He went flying down the Nest's hazardous staircase--only to catch a spike in the carpet. Happily, before he tripped, tumbled and raised a klutzy ruckus in Bobby Jones' house, he righted himself and hustled through the staircase door into that tight, short hallway with doors at both ends. Then, which way to go, left or right?
He soon learned that was only his first mistake of the day.
Andrade went into a locker room he didn't recognize. There he stopped for a doughnut and orange juice. Then someone said, "Staying up in the Crow's Nest?"
"You don't go left out of there," an old man said. "You go right."
"You know what room this is, don't you?"
Andrade, 23 years old, sized up his new acquaintance as someone's stern grandfather.
"This is the Champions Locker Room," the old man said. "You should leave now."
Taking himself and his doughnut to safety, Andrade told a Pinkerton security guard at the door, "Wow, he was upset."
"Don't you know who that was?" the guard said.
In six Masters appearances, Andrade's best finish is a tie for 38th. In 18 rounds, he has broken par once. He laughs now about that left turn of 25 years ago. He says it began his Masters curse.
David Chung knew the Andrade story.Laughing: "I made sure never to turn left."
Luke List, running late for dinner in '05, threw open the door, and before he could turn either way, the door slammed into someone in the hallway.
"An old man, and I'm thinking I almost killed him," List says. "He was nice about it. He just said, 'Slow down, son.' It was Byron Nelson on his way to the Champions Dinner."
WHO'S THAT ON THE ROOF IN THEIR UNDERWEAR?
Once these guys have been in the Crow's Nest, they never really leave.
"I remember almost all of it," says Rick Bendall, Class of '72, "and it's been 40 years."
He was a college senior 20 years old when he drove down Magnolia Lane in his bucket-of-bolts 1967 Pontiac.
"I parked next to all the Cadillacs," he says, "and left it there."
Early on Thursday morning, still in his skivvies, Bendall went from the Nest onto the clubhouse roof. With his roommate of the moment, the also underdressed Ben Crenshaw, he watched Jock Hutchison and Fred McLeod hit ceremonial tee shots to start the tournament.
"The feeling all week was pure, pure happiness," Bendall says. "Everything was beautiful, the grass just so, so green. The feeling you get inside is ecstatic. I enjoyed every minute. How the club treated the amateurs. The Crow's Nest. Spartan. Bunk beds. One day I came flying around a corner and slammed into somebody. 'Sorry, guy,' I said, and, of course, it was Arnold Palmer. The place reeks of history, pure golf. We just had so much fun in the Crow's Nest. I still have a picture of Eddie Pearce, Jim McLean and Ben on a couch in their underwear."
The week also set a direction for Bendall's life. He'd played at the national level against Crenshaw, Giles, Deane Beman, Bobby Wadkins, Curtis Strange. "I couldn't beat any of 'em," he says. So, after missing the cut in his Masters by a shot, Bendall gave up golf for medicine. The last 32 years, he has been a family physician in Lynchburg, Va.
Bobby Clampett's week in 1980 also was a life-changer. He might hold the Crow's Nest record for most hours in the room. Because he dominated amateur golf, he had a full schedule of tournaments. At the same time, he was a French major with a business minor at Brigham Young University. The schedules collided when he prepared for BYU finals while preparing for the Masters.
"I locked myself in and spent eight, nine hours a day in the room studying and writing papers," Clampett says.
There, in the solitary confinement of the Crow's Nest, he decided he couldn't be all those Clampetts. "It was either be a student or be a golfer," he said. "I had a lot of professional opportunities available to me, so I decided to turn pro a year early."
AFTER A NIGHT OUT, BREAKING BACK IN
Not everyone came to study.
After a night out, Hubert Green climbed over a fence to get back on the grounds.
"We hadn't been doing anything in particular, just went from one place to another," says Green, 22 years old in the spring of 1969. "We were having a good time."
His traveling partner that night was the long-haired, cocksure, bell-bottomed phenom, Bruce Fleisher, 20 years old and winner of the '68 U.S. Amateur. By the time they headed back to the club, it was after midnight, and the Washington Road gate was closed.
"We were scared," Fleisher says. But boys gotta do what boys gotta do, so the boys "climbed up this vine-covered wall."
"Do that today," Green says, "they call out the National Guard."
Whether that came before or after a second Fleisher issue is unclear. But Fleisher remembers rising at the club's annual amateurs dinner to say a word about the Crow's Nest.
He says, "I began, 'I have one problem to talk about--that cathouse you have us sleeping in.' " He thought to voice a mild complaint about the look and sound of the place, pipes running across the ceiling and the relentless snore/roar of a roommate, Michael Bonallack, future head of the Royal and Ancient Golf Club of St. Andrews. "Mmm, well, not the right thing to say,"
Fleisher says. "You don't say 'cathouse' in Georgia."
Clifford Roberts, the club's authoritarian chairman, had already spoken to Fleisher about hitting more than one ball during a practice round. He also reminded the young man that striped and/or plaid bell-bottom trousers were not a good look for a competitor in the Masters.
Giles, a Crow's Nest roommate, figured Fleisher could change his wardrobe easily. "He came up from Miami," Giles says, "and that's where every golf company was at the time. He'd won the U.S. Amateur, so they all gave him equipment. He had so many clothes, clubs and balls that you couldn't move around in there. The place looked like a pro shop."
Green and Fleisher weren't the only Crow's Nest fledglings who came home late. During his 1959 stay, Tommy Aaron says, he once had to climb over the main gate at Washington Road. As he walked down Magnolia Lane, a man came from behind a tree to stop him.
"Where you going?" the man asked.
"To bed," said Aaron, then 21 years old, the '58 U.S. Amateur runner-up.
Conversation revealed the man to be a Secret Service agent on duty in advance of President Dwight Eisenhower's expected arrival at the club the next week.
"Don't be climbing the gate again," Secret Service man said.
A SERENADE AT A STRIP CLUB
Don Cherry is 88 years old. He likely is the all-time champ Nester with eight or nine stays. It's safer to say he is the only singer who ever sold more than a million records ("Band of Gold") and could have won the U.S. Open. Beyond argument is the Dan Jenkins judgment that Jimmy Demaret wasn't the best golfer who could sing, and Bing Crosby wasn't the best singer who could play golf. Jenkins wrote, "The all-time best golfer/singer, singer/golfer is Don Cherry."
In the 1960 Open, Cherry finished four shots behind the winner, Palmer. He was two back of the runner-up, Nicklaus, and shared ninth place with Ben Hogan. Cherry played the Masters nine times from 1953 through '62, always as an amateur because he could make more money singing. His best finish was a tie for 25th in 1959.
"Did I stay in the Crow's Nest?" he says. "Nine times!"
Wait. Here he took a mulligan.
"Maybe eight. If they didn't like you, they sent you to stay down in a cart-barn thing. I must've done something wrong once, because one year I wasn't in the Crow's Nest."
If Clifford Roberts disapproved of bell-bottom trousers, it's no reach to imagine his discomfort on hearing how a Masters invitee had spent a large portion of a Crow's Nest night.
"A strip joint in Augusta contacted my manager and offered us $3,000 for one night," Cherry says. The offer came in a year when only the top-two finishers in the Masters would win that much money.
"All the players came to hear me."
The next day, Roberts called the singer in.
"He said, 'Mr. Cherry, we've never had a player sing at a nightclub before,' " Cherry says. "I told him, 'Well, Mr. Roberts, I've looked down the list of players, and I don't see anybody else who could sing.' "
"He told me I shouldn't do that again. So, no, I never went back to that place."
Tom watson doesn't remember his Crow's Nest nightmare in 1970, nor does his roommate, Lanny Wadkins, know what brought it on. Wadkins knows only that when he heard Watson "screaming bloody murder," he hurried to wake him. They were then college competitors, Watson at Stanford, Wadkins at Wake Forest.
"When I got Tom awake," Wadkins says, "I told him, 'I don't know what stuff Stanford has, but it hasn't gotten to Wake yet.' "
Chip Drury's nightmare came with an explanation. An Augusta native who qualified for the Masters by reaching the U.S. Amateur semifinals in 1985, he came to the biggest week of his golf life having practiced to exhaustion. After the annual amateurs dinner--he sat between Billy Joe Patton and Alistair Cooke--Drury dropped onto his Crow's Nest bed.
Then he was paralyzed. His arms were lifeless. They flopped across his chest. He had come all that way only to lose his arms.
"I'd fallen asleep with my arms under me, and they went to sleep," he says now. His roommate, Garth McGimpsey, shook him awake. "As I woke up," Drury says, "I heard myself screaming, 'Mommy, Mommy!' "
He missed the cut by four shots.
David Chung showed off the place.
He invited up his father, Chris, mother, Elise, and sister, Jessica. "They were awestruck. Not many people have ever seen what it looks like. It's not plush, not like a luxury hotel. There are little creaks in the floor. You're up in the top, like an attic or storage room, and you can hear the rain coming down on the roof. It's got character."
Late some nights, 9 or 10 o'clock, Chung left the Crow's Nest.
"I'd walk around the clubhouse, everything dead, nobody there," he says. "I'd go outside, and it'd be quiet, nothing going on. You could hear footsteps of somebody a hundred yards away.
Then, at 8 o'clock in the morning, when they open the gates, you could hear, from where we were, the commotion of all those people rushing to get to the best available spots. In 10 hours, it went from complete silence to this amazing scene."
Chung liked two things unique to the Crow's Nest.
"Unlike my college dorm," he says, "we had maid service every morning."
"Oh, geez, there was this sweet-potato thing with, like, marshmallows on it"-- it's Sweet Potato Soufflé--"and it was the most unbelievable thing. I ate a ton of 'em. I probably gained five pounds that week."
Time has stopped in the Crow's Nest.
A fire extinguisher with the brand name "Autofyrstop" hangs near the top of the staircase. It is blown glass filled with liquid and imprinted with instructions: "Crash at edge of fire." It was made in 1933.
There are vintage black-and-white photographs on the room's walls. Lloyd Mangrum signs autographs for wounded soldiers. Gene Sarazen and Byron Nelson walk to the sixth green. Lean and hungry, his arms a blacksmith's, Arnold Palmer stands in a fairway, young, strong and alive. David Chung stared at that Palmer: "Arnie back in the day--wow! Gigantic. He looked like a linebacker."
The place invites illusion. Manny Zerman, '91, says, "You dream of being there, and when you're there, you go, 'Wow, is this really real?' " Gary Hallberg, '78, says, "We stayed up late talking every night, and I got up Wednesday feeling very groggy. I came down the stairs in the clubhouse still half asleep, holding onto the handrail and looking down, eyes half open. When I got to the bottom, I see three pairs of shoes with feet in them. I lift my head, and there was Sam Snead, Gene Sarazen and Byron Nelson.
It was like waking up after surgery. I wondered for a split second if they were real."
Brandt Snedeker says, "You're walking on air, like it's not really reality. Everything, the Masters, the place--it's inspiring. I've made no secret how much I love it. If I could win a Masters, I wouldn't care if I ever won another thing. I'd make that deal right now."
Phil Mickelson, 20 years old, came downstairs at night to stand on the 18th green, "there in the pitch black and dreaming about one day winning the Masters on that green."
Billy Andrade speaks for every kid who climbed those stairs: "No player, no amateur, no junior wouldn't want this. Your goal in life is to get to that peak where you can stay in the Crow's Nest. It's like Bobby Jones has this attic in a big house, and you're a little boy going up there. When you come down, you're grown up."
Climbing those narrow, steep, hidden stairs, a kid might look up and at the top of the staircase, on a far wall, see another black-and-white photograph, this one larger than the others. It is Bobby Jones. He is the boy king, impossibly handsome, fresh from winning everything, the archetypal amateur champion. It is 1930, and soon he will build Augusta National and create the Masters. He will make room in his tournament for amateurs, and his clubhouse will have a room for dreamers.
Ryan Moore was 20 years old the first time he climbed those stairs into that room and saw Jones above him. "That picture," he says, "is there for a reason."
David Chung calls it "kind of a sacred place."
Climbing toward Jones, a kid might think, and we should forgive him, *This isn't the Crow's Nest, this is heaven. *