The Loop
Attending that Snoop Dogg Masters party was even better than I anticipated
AUGUSTA, Ga. -- Exactly one mile down Washington Road from Augusta National Golf Club sits Augusta's The Country Club. One place boasts arguably the best golf course in the world, an immaculate creation in a beautiful setting. The other has been voted the area's best nightclub, offers free line dancing lessons, and is located in a strip mall.
Snoop Dogg's "Augusta Jam" took place at The Country Club (Dance Hall & Saloon) on the eve of the 2017 Masters. And it brought together golf fans in town for the tournament, Snoop fans, and locals who didn't seem to mind that there would be no line dancing this particular Wednesday.

Actually, it cost $150 to get into the joint. Fortunately, I managed to wind up on a VIP list (#Blessed) and in a lofted nook to the right of the stage. The view was great and the free drinks (Specialty gin and juice cocktails, of course) were flowing.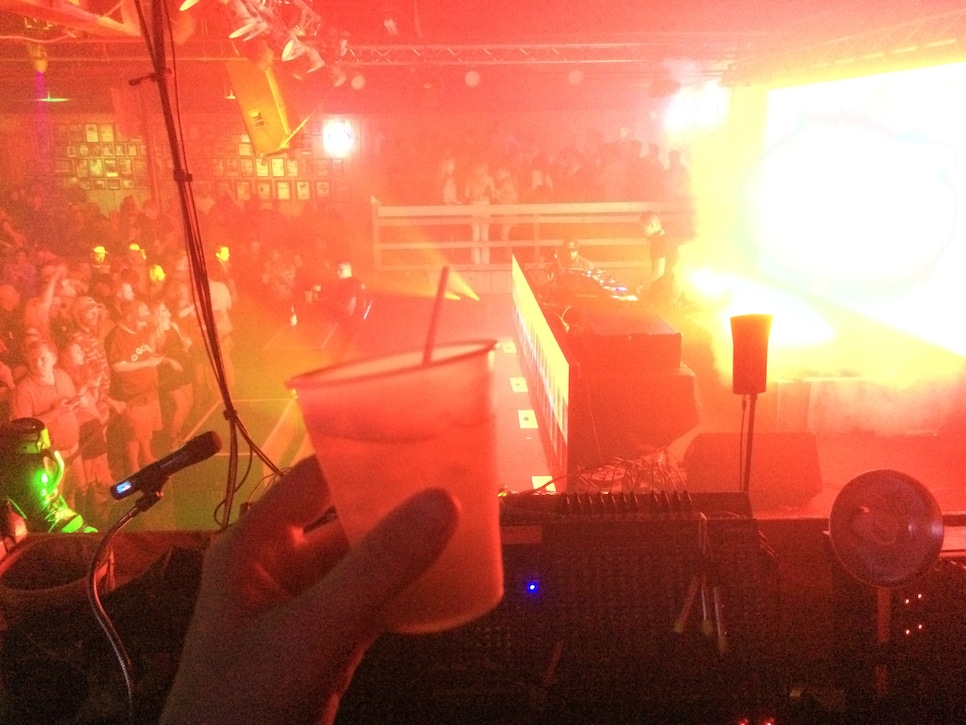 I rolled in around 10 p.m. and was promptly informed the featured performer wouldn't come on stage until 11:30. Not ideal considering the early wake up I had planned Thursday morning to see the tournament's opening tee shots, but I'm young(ish) enough to stay up, I thought. And a lot of people felt the same. Despite it being a school night, the place was packed with party animals and people wearing Masters logos. Not that the two are mutually exclusive.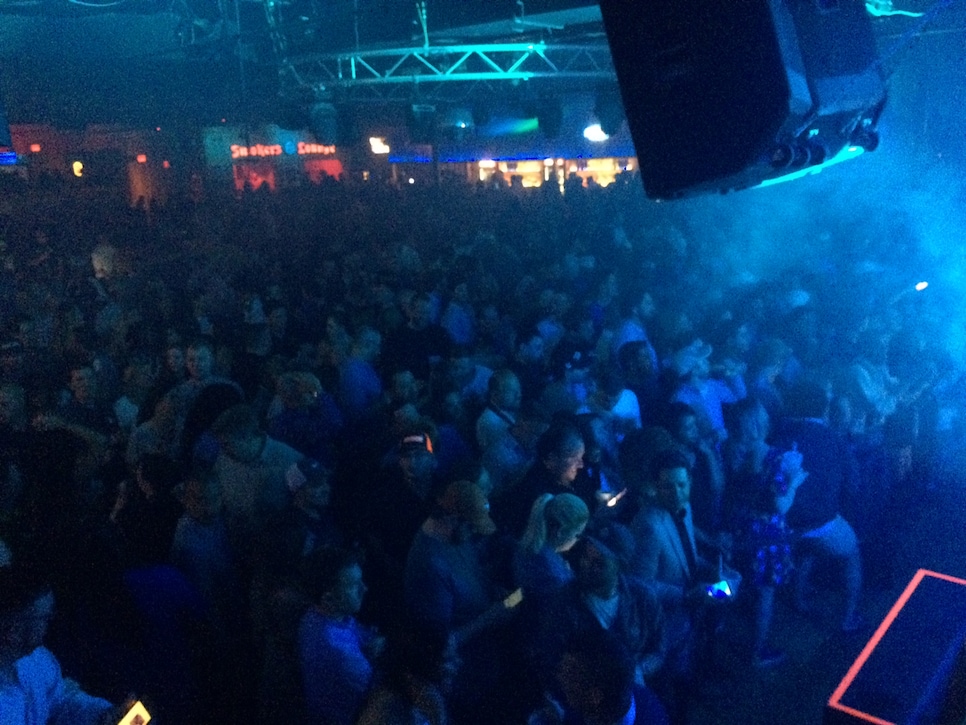 But 11:30 turned to 12 and still no sign of Snoop. Had he slipped on some stairs? Was he WDing?
But Snoop Dogg took the stage at 12:15, much to the delight of actual VIPs in attendance like Eric Dickerson, DeMarco Murray and Kirk Herbstreit. And wait, was Snoop wearing a green jacket?!
Nope. The rapper had decided to throw a one-man ugly Christmas sweater party in April. Respect.
No sooner had Snoop started rapping -- he began with "The Next Episode" -- he was also smoking. And not a regular cigarette if you catch my drift. You don't have to look too closely to see the cloud of smoke hovering about his head.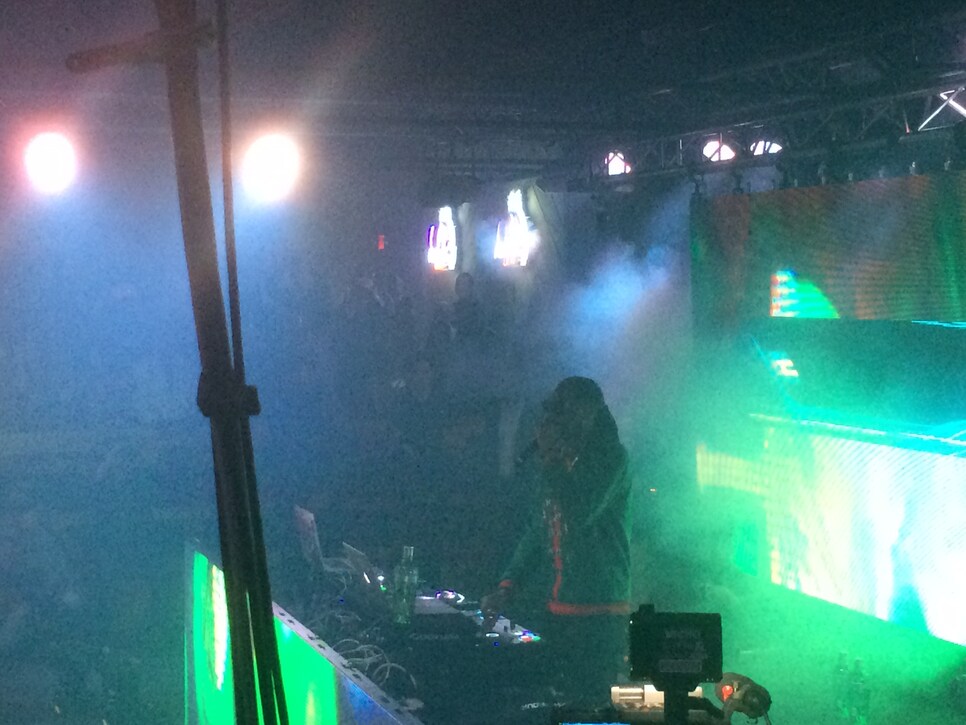 Actually, Snoop didn't do much rapping throughout the night, but he did a lot of dancing as he played other people's hits. And it turns out, musically, the gangster rapper has a softer side. At one point he led the crowd in a singing of Journey's "Don't Stop Believing." File that under things I never thought I'd see.
Not as surprising, Snoop invited a group of ladies ("Hey, white dress!") onto the stage to dance and come back to the VIP area. It's good to be The Dogg.
The night went on and two colleagues -- who shall remain nameless -- tried to get me to leave, but I stood my ground. Leave a Snoop Dogg show before seeing him perform "Gin & Juice"?! Do you go to the Vatican and not see the Sistine Chapel?!
So we waited. And waited. And sipped some more gin and juice, until finally, at a little past 2 a.m., it finally happened. And it was glorious. (Warning: NSFW language.)
When Snoop finished, he walked off stage and through our area. This was a chance to get a selfie with Snoop! But I choked. Badly. Or I had a little too much gin and juice myself. Regardless, that's me in the bottom corner, but the other guy is NOT Snoop Dogg: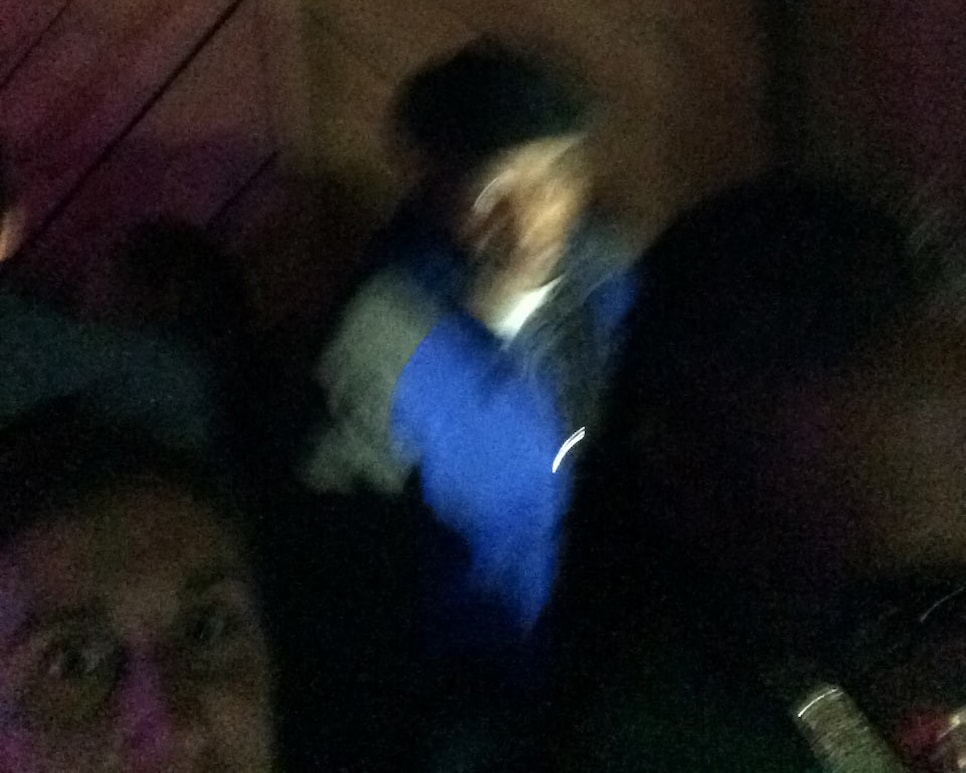 And they ain't leavin' til' 2 in the mornin'. . . Not what I had planned, but worth the wait.
The alcohol was still in my system when my alarm went off a few hours later. As I laid in bed, my calf cramped up so badly I had to jump to my feet. At least I was up.
Probably reeking of smoke (second-hand, of course), I got a ride to the course and made it to the first tee just in time to see the ceremonial tee shots. Seeing Snoop and Jack within a six-hour span? That's Masters history, folks.
The good news is that Tanqueray plans to make its Augusta Jam an annual affair, and I should be fully recuperated by the time the 2018 Masters rolls around. One suggestion, though: Can we move it to Tuesday?