Tribute
Course architect Arthur Hills dies at 91, designs impacted every segment of the golf-course market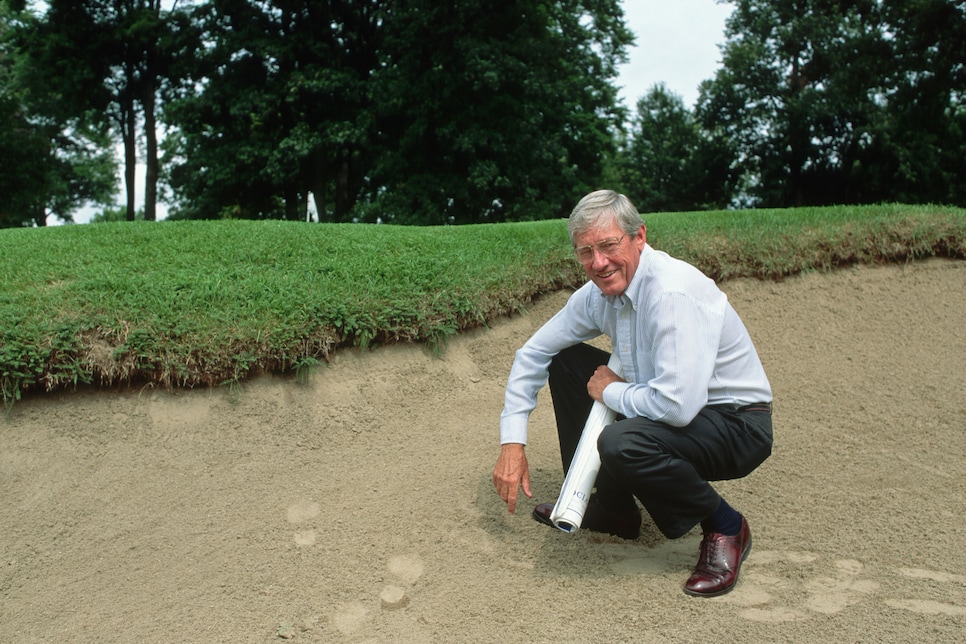 Golf course architect Arthur Hills poses in a bunker at Inverness Club, a course he helped design during his long career.
Tony Roberts
Arthur Hills, the noted golf course architect who built more than 200 courses touching nearly every segment of the golf market, died Tuesday in Florida at age 91.
A native of Toledo, Ohio, Hills first came into design through his landscape contracting business, Hills Landscape Company, in the mid-1960s. But like so many Americans of the era, he was bitten hard by the golf bug and believed he could parlay his knowledge of landscape architecture into a career building golf courses. So, as any entrepreneur might, he put an ad in the paper: simply his name, number, and "golf course architect." Three months later he had his first job, adding nine holes to Orchard Hills Country Club in nearby Bryan, for $1,500.
His timing was undoubtedly better than his design skills were at that nascent career moment. Golf course construction was picking up across the country—in many cases it was old, rural nine-holers expanding to 18, similar to Orchard Hills, but big budget productions were on the horizon—and Hills rode the wave, turning one job into another. He migrated to Florida during the winters to design golf courses and returned to operate his landscape architecture business in Ohio during the summer. But by 1978, with the phone ringing, he began working golf design full time. That same year he built his first nationally regarded course, Shaker Run, in Lebanon, Ohio.
In the 1980s, golf was fast merging with real estate ventures, especially in places like south Florida. Hills had a knack for making connections with developers and he capitalized as much as any architect of the era on the expansion golf markets into suburbs. His attractive, well-constructed courses, incorporated with the surrounding nature, helped draw customers and sell homes at popular resort developments such as Bonita Bay in Naples, Fla., The Landings near Savannah and Palmetto Dunes and Palmetto Hall on Hilton Head Island. He was also sought after for upscale private club designs like Bighorn G.C. in Palm Desert, Calif., the Golf Club of Georgia north of Atlanta, Collier's Reserve, also in Naples, and The Club at Olde Stone in Bowling Green, Kent.
Though his courses didn't receive the same critical acclaim as those of his peers Tom Fazio and Jack Nicklaus, Hills found success nearly everywhere he went and in all different areas of the industry: resort courses such as the Arthur Hills Course at Boyne Highlands in Michigan, Half Moon Bay Golf Links on the California coast and Wolfdancer G.C. in the Texas Hill Country; upscale daily-fee courses including Harbour Pointe overlooking Puget Sound north of Seattle, the G.C. at Stonewall Orchards through the rolling oaks of northern Illinois and Rhode Island's top public course, Newport National G.C.; and also affordable public venues like Walking Stick in Pueblo, Colo., built around sandstone arroyos, The Dunes at Seville (closed) in the sandy pine barrens north of Tampa and Chaska Town Course, an assertive, challenging design down the road from major championship venue Hazeltine National in Minnesota.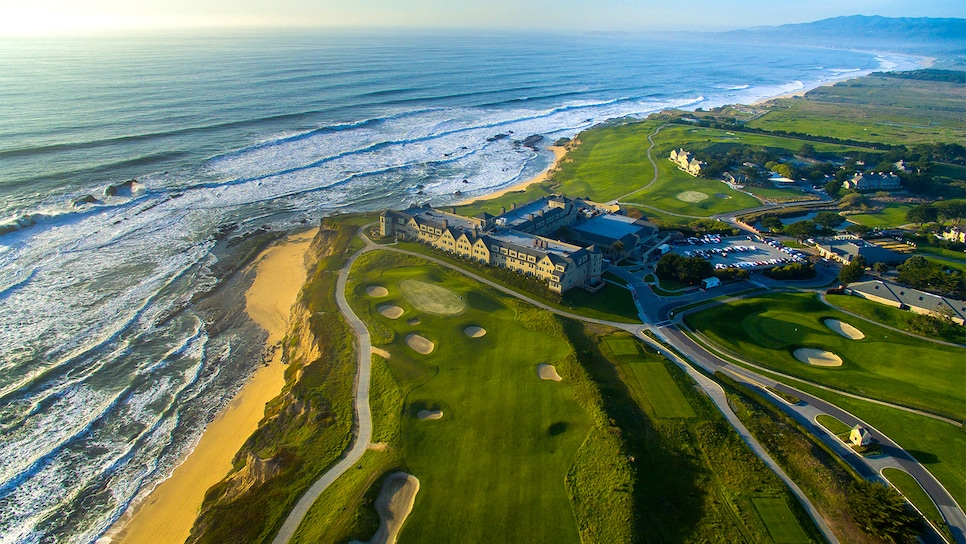 The 18th hole at Half Moon Bay's Ocean course, one of Arthur Hills' more than 200 course designs.
Hills also worked internationally, building course in Japan, Thailand, Portugal, Norway and Sweden. In 1991, he won two Golf Digest's Best New Course awards, for Harbour Pointe (public) and the Golf Club of Georgia (private). The Virtues G.C. in Ohio (formerly known as Longaberger G.C.) and the Links/Quarry course at Bay Harbor in Michigan, currently reside on the Golf Digest America's 100 Greatest Public Courses ranking.
Though his courses were generally quite approachable, he was not afraid to take chances. An example is at Chicago Highland's G.C. near Chicago, built with his son, Joe Hills. The course was constructed atop a rambling soil-capped landfill, and the par-4 ninth hole features a steeply elevated green that falls away in all directions, deflecting all but perfectly hit shots some 40 yards down its slopes. It's a controversial hole, but also a fascinating one, and Golf Digest selected it as one of America's Best 18 Holes Built Since 2000.
Hills' most lasting legacy may be the number of talented designers he brought into the business, including long-time partner Steve Forrest and Shawn Smith, current partner at Hills-Forrest-Smith. He also started the careers of former civil engineer Mike Dasher, so vital to Hills' early work in Florida, Brian Yoder, Quentin Lutz, as well as Keith Foster, Drew Rogers and Chris Wylczynski, several of the profession's most skilled and respected restoration specialists.
Hills' career coincided with the largest expansion of golf courses in the U.S. since the early 1920s. His work played a crucial role in popularizing the game, developing golf course communities and defining what those courses looked and played like. The company that Hills founded more than 55 years ago continues strong in his absence and has recently completed a number of notable renovations, including at original Hills-Forrest designs, TPC Treviso Bay and the Marsh Course at Bonita Bay in Naples.