News
Arnold Palmer's right-hand man, Doc Giffin, honored on the eve of his 90th birthday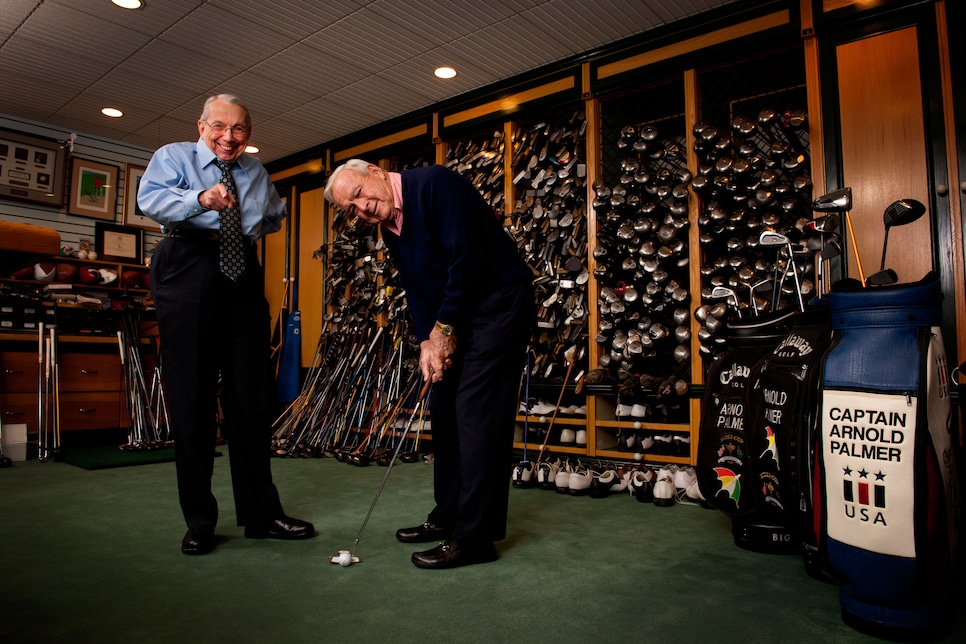 LATROBE, Pa. — Doc Giffin, who for 50 years served as assistant to the late Arnold Palmer, enjoys pointing out one of the great coincidences that tied together the two men long before they ever met.
"It was all probably meant to be," Giffin was saying Friday night at Latrobe Country Club, the place where Palmer learned the game and grew to love it and then, eventually, to rule it. "Arnold turned pro on November 18, 1954. How about that?"
Yes, how about that? It just so happens that Nov. 18 is Giffin's birthday. Next week, he'll turn 90.
Palmer, arguably the most popular champion in golf history, passed away two years ago at age 87, but Giffin, the man who kept Palmer running on time, keeps on ticking. It's in the genes. His mother lived to 99 while several other family members either approached 100 or lived beyond that.
On Friday night a tight group of about 50 family and friends toasted Giffin to help him celebrate his impending milestone.
Plenty of Arnie stories were told, but Giffin didn't mind. He once said he never could have dreamed of a happier life. Guests gorged themselves on the brown sugar bacon appetizer, Winnie Palmer's recipe, which she was proud to have seen published in Ladies Home Journal. (Trivia question: name the longest continuous sponsor deal Palmer ever had. Try Ladies Home Journal.)
When it was time for a speech, Giffin, standing in front of a picture of Palmer hanging on the wall, gave top billing to his wife of 41 years, Bunny. "She has been my rock," said the man who worked for the game's first rock star.
The office across the street from the club that he manned for 50 years is closed. Though retired, he still checks in on it, perhaps once a week, primarily to retrieve some bit of information. He is still the answer man for all things Arnie. But he's enjoying the slower pace, indulging in simple things like consuming the daily newspaper, a luxury the former sportswriter for the Pittsburgh Press couldn't afford while keeping up with The King's frenetic pace.
Not that he doesn't miss his friend and boss.
"I miss him yelling Doc! from his office to me in mine. Him wanting something or having a question," Giffin said with a grin. "It was 50 years being on my toes. And I loved it. I had the greatest run someone like me could ever have. But I'm not unhappy now. I'm doing just fine."