Stuart Appleby: The Golf Digest Interview
Australians are everywhere on the PGA Tour, each with a distinctive personality and background. Stuart Appleby is no exception, as you will see in this extensive interview, and never mind that he's frequently confused for Robert Allenby, a good friend from Down Under.
Appleby left his parents' dairy farm, and instead of playing in Europe or climbing golf's ladder through college, he went directly to the Nike Tour (now Nationwide) in 1995. He won his first tournament and became a fixture in the United States shortly thereafter.
Appleby possesses a droll sense of humor that he thinks Americans occasionally misinterpret. "When I say you folks travel like prawns on a hot day, it's not a criticism," he says. "But when I talk about your bread, that's a different story."
Appleby has lived in the same Orlando neighborhood as Tiger Woods for years and is a big fan of the world's No. 1 player. Appleby also thinks Phil Mickelson is supremely gifted, but if the left-hander can't use his plane to keep a pro-am date, what about jumping in a car, Phil?
Appleby voices a number of strong opinions about fellow players, the remarkable success of his countrymen and the Presidents Cup. Also, Appleby might have been one of the first people to have a clue about the O.J. Simpson verdict.
Appleby has built a fulfilling life and happy family after enduring tragedy when his first wife, Renay, was killed in a freak auto accident in 1998.
"I was sure I would never play golf again," he says. "People told me to move on,' but how do you do that? There's no list of instructions. You can't find out in a book."
Golf Digest: Let's start with a question a lot of international players are asked: Why aren't young Americans doing better on the PGA Tour?
Stuart Appleby: You would think, because of sheer numbers, that wouldn't be the case. Golf is still a country-club attitude over here. It's not as accessible to the masses as it is in other countries, like Australia. To play golf, to belong to a course, just isn't that expensive back home. The same can be said for quality coaching. First-rate instruction that costs $100 in Australia costs thousands over here. You won't get a lesson with Butch Harmon for $100. You won't even get lunch with him.
Maybe there's a hunger factor. Things are just more comfortable here. In America, if you want to make it as a golfer, you go to college on a scholarship. In Australia, you go to the airport with a plane ticket. The competition just isn't there. You have to leave the country. Some of us did both. Steve Elkington went to college here. Adam Scott, same thing, although for only a year in Las Vegas. Then there's Robert Allenby. He had family in Europe. He went there.
You took a path of your own.
I came directly to the States. I didn't know if I could compete. But there was only one way to find out.
And you found out quickly?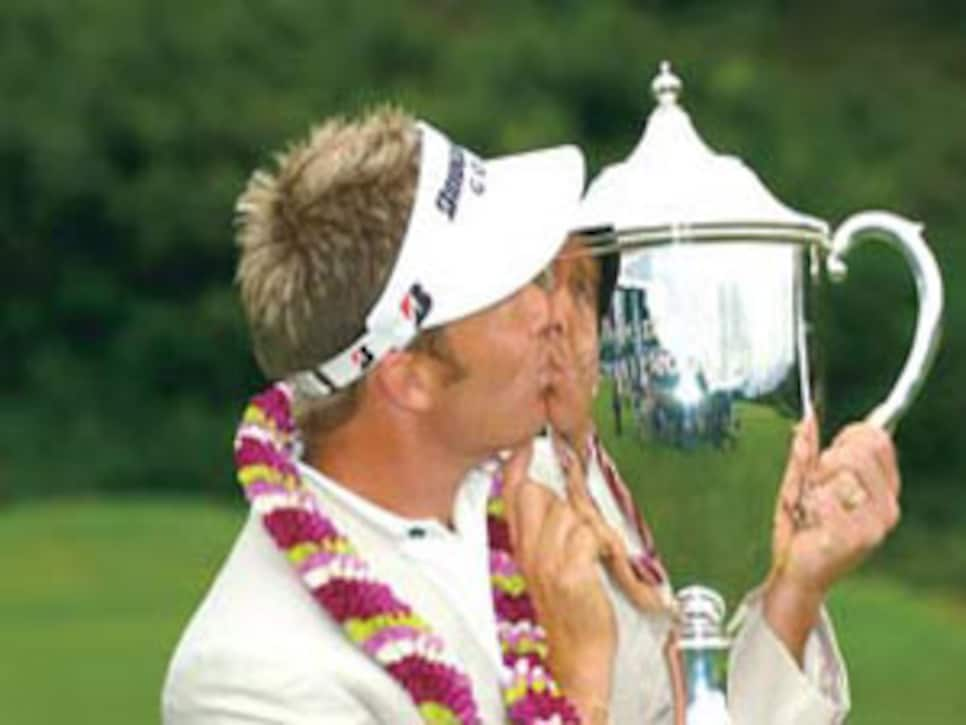 I won my first tournament, the 1995 Monterrey Open in Mexico. I came over straight from Australia, jet-lagged. Didn't get out of bed for three days. I had enough money saved to get me through the season. But the balls Bridgestone sent me didn't get across the border in time. So I started with six balls. Had to ration them. I knifed one in the first round. Now I'm down to five. Fortunately the package arrived in time, because I won a seven-hole playoff with Rafael Alarcon and made $40,500. Holy ----! Ridiculous! I'm rolling in money! Then I won again. My year's earnings [$144,419] were enough to finish fifth, which got me a PGA Tour card. Which I didn't keep. Back to Q school, made it and won early in 1997 at Honda.
About hunger: Are you saying Americans are softer?
Drive comes from within, wherever you're born. But I know this: In Australia, if you're a promising athlete, you never, ever hear, "We'll get you whatever you want." Or "Anything we can do for you?" Over here, young hot-shot athletes are promoted early and can get caught up in it.
It's a societal thing. You hold your people up; we chop them down. If a coach drives up to a lesson here in a nice BMW or Mercedes, you'll say, "Ooh, this guy must be good." In Australia, we'll say, "Ooh, this guy must be charging me too much."
You "majored" in golf, but not in college, correct?
A lot of us came out of the Victorian Institute of Sport. The objective was more long-term. In the States, you play college golf for a coach who wants to win this big match—now. In Australia, it's not a three- or four-year plan. And the first coach I had there when I was 18, Steve Bann, is still my coach. I'm 36. In the States, if you have a coach as a teenager, you'll have a new one in college and another one after you leave.
What other skills did you learn?
Life skills. You grow up independently, or else. I never went past grade 11. I don't want to say one system is better, but there are some things you can't learn in a book. I wasn't too good with those anyway.
Americans believe if you go to college, you have something to fall back on, which makes sense. I don't have any degrees. If I hadn't become a golfer, I have no idea what I would be doing with my life. I don't think you'd be interviewing me.
Are you aware that some players on tour don't think you're very fond of Americans?
Really? Couldn't be further from the truth. America has given me everything Australia couldn't. I grew up on a dairy farm. Now I live in Isleworth, a gated community in Orlando with Tiger Woods down the street. When I say, "Americans travel like prawns on a hot day," that's my attempt at humor, and I think some of you misinterpret it. What I mean is there's so much over here, so many opportunities, why would you go around the world to play golf? If Australia had offered me what America has, I wouldn't have left home, either.
So, there are days when you pinch yourself?
Absolutely. I've been incredibly fortunate. That said, the older I get, the more I feel connected with my home, my childhood. When I go back to Australia for Christmas and we have barbecues or fish on the river or drink a few beers with my family, I love it. If I can have 10 or 15 more years of good golf, I'd go back and stay. Fortunately my wife Ashley—my American wife—fell in love with Australia the first time she saw it. So, America is my physical home, and Australia is my spiritual home.
What's it like growing up on a dairy farm?
Coolest thing in the world. As a kid, I'd get up at 5 or 5:30 in the morning. I'd fish on the Murray River, my mecca, or hunt or trap rabbits. Maybe I could sell a skin for 20 cents. Then I'd come home and have to wash my hands in bleach so I wouldn't stink up the school bus. My dad, Malcolm, pretty much handled things himself. In the summer, the busy season, I'd do chores like baling hay. I started "playing golf" with palm fronds. I was lucky to take to it, but not lucky to work hard. I learned that from my parents. They never sat me down and told me, "If you work hard, you'll succeed." They didn't have to. I just watched them.
At Cohuna Golf Club. When I go back, people ask me to play, but I want that part of my life frozen. I don't even want to take a divot out of that place. If I had one round to play in my life, though, it would be there. And the fee for adults to join is $250. Like I said, affordable. What do you do at Isleworth when you want to play? Do you ring up Tiger and say, "Let's have a game"?
No, not really. I don't play that much at Isleworth. I don't go home to play golf. There are several guys who live there. I might see them on the range if I'm practicing, but socially, it's not like we all hang out when we're home. I want to hang out with my wife and children. The guys, we see a lot of each other on the road show.
You're big on Tiger, aren't you?
Absolutely. To have him at the helm, the best golfer in the world, maybe the most famous athlete in the world, is tremendous for our sport. He's a consummate professional. Can you imagine if Tiger, with all his credentials, was an a--hole? Representing golf? We're lucky he is who he is. And people don't see the other side of him. He's funny. Very funny.
Have you seen his trophy case?
You mean his trophy house? He's got them everywhere. Embedded in the walls, on tables, in cases. Last time I was there, he had only one spot open in the wall. I think he must give most of the trophies away, anyway. Probably turns them away like wine. "Ah, that's only a $100 bottle . . . we'll let that one go." And what about the crystal? Can you imagine how much crystal he's given away? He doesn't have to shop for Christmas. Now he's building his dream house, so he'll have more room for his trophies. And his television sets. He's got them everywhere. He's even got a 10-incher, a plasma, in the toilet.
Do you agree with Rory Sabbatini that Tiger is "more beatable than ever"?
First of all, they're different people in every way. Tiger is a man of action. Rory is a man of words. Rory has a great deal of belief in himself. I'm sure that confidence is one reason he's where he is. But he likes that First Amendment, even if what he said about Tiger is bull. Rory lets his mouth move before his golf club. He leads the FedEx Cup points race in that department—comfortably.
What's your take on Phil Mickelson?
Interesting character, maybe an enigma. He is what he is. He works the media very well. I think he thinks about what he wants to say more than any other player. Some of what he says seems rehearsed, contrived. Maybe most of it. That doesn't make him a phony; that means he's smart enough to think about his answers before he gives them. He's pretty bright. He makes sure he's ready.
Seems contrived or is contrived?
That sounds like he's cunning, conniving, programmed. So, yeah, that word "contrived" is probably too strong. Maybe "syrupy." He's the most syrupy interview you're ever going to get. But the people love him. He connects with the public more than any player on the tour. He gives them knuckles, he talks to galleries, he smiles, he thanks everybody. When he won the Players, he thanked the coach he'd just fired, Rick Smith. I wouldn't have done that, but Phil is Phil.
Does he connect with other players?
I don't think he's not well-liked, but he's not the kind of guy a lot of other players are attracted to. Tiger, for instance, might be the best golfer ever. And he hangs out with Michael Jordan and Roger Federer, who might be the best ever at what they did. Funny how those types become friends. Still, Tiger seems more normal than Phil, more one of the guys, from a player's standpoint. You can approach Phil on anything, but his answers are prim and proper. If you saw Phil's interview with Bob Costas after the Players, it just didn't feel that spontaneous. "You know, Bob, I looked at all the great players on the leader board out there today . . . " Just speak your mind; you're not making a movie. He's very polished. This sounds like I hate Phil, but I really don't.
But you did have an issue with him at this year's Byron Nelson tournament.
An issue with him and the tour. The way it works, as I understand it, is that if a player makes a reasonable effort to make it to a Wednesday pro-am but can't, he's allowed to play in the tournament starting Thursday. Fine. I have no problem with that. Phil was in Arkansas playing a corporate event Tuesday. There were bad storms. His plane couldn't fly into Dallas that night. Did he call his pilot and tell him to wake him at 4 on Wednesday morning to try to fly into Dallas in time for the pro-am? Did Phil consider driving from Arkansas to Dallas, which is only four or five hours? That didn't happen. He missed the pro-am but was allowed to play the tournament.
And the tour is partly to blame?
The tour, rightfully or wrongfully, has drawn up rules that are very, very flimsy. If he'd tried harder to get there, he should not have been disqualified. But he didn't, and he should have been DQ'd. Why didn't he drive? Was he afraid a cow would come across the highway?
Retief Goosen got DQ'd in Los Angeles because his alarm didn't go off. He could have lied, called a doctor and said he woke up vomiting. Think he was pissed after he heard about Phil? Even if Phil showed up late and played 16 holes with his group, no problem. If that had been me—and nobody cares about me—am I DQ'd? You bet. But Phil got special treatment, and it was the talk of the practice range that week. Vijay Singh called the commissioner and asked him, what the hell was going on here.
It's a double standard. Stuff like that is part of the system, and it doesn't endear Phil to the locker room.
Any other oddities you find on tour?
All countries are founded on some sort of religious belief, but in America and on the PGA Tour, it's a lot more out in the open. There's a Bible study many players attend, for instance, whereas in Australia, your religion is pretty much behind your own doors.
You certainly would qualify as Americanized, though, wouldn't you?
We all are to a point because there's so much of your TV in Australia. I grew up on "Hogan's Heroes," "Get Smart," "The Simpsons," "Family Guy." "Days of our Lives" used to depress me, and "The Young and the Restless." Every time I turned them on, somebody was having an argument.
One thing I notice is your automobile ads. Speed is a big problem in Australia, the biggest killer of young men. That's one reason we can't be shown any drag-racing commercials or burnouts to sell cars. Over here, there's small print about a closed course and a professional driver and don't try this at home, but nobody reads it. Which is strange, because even though you see that all day on TV here, there's no ad for Smith Wesson trying to sell you a gun to shoot somebody.
You think American TV is a vast wasteland?
No. On the contrary, it's helped Australians learn more about your country, more than you know about us. A lot of you think we wrestle crocodiles and surf all day. I grew up away from the water. I can't surf to save myself. But Aussies have gradually made an impact on your TV. I thought "Crocodile Dundee" was a little tacky. But what Steve Irwin ["Crocodile Hunter"] did for Australia was huge.
You folks remember where you were when JFK was assassinated. I was in my work shed when I heard Steve had been killed doing what he loved with animals. I was a blithering idiot. I couldn't watch his memorial on TV, I was bawling so bad. Peter Brock, our Dale Earnhardt, died the same week. Two superstars. Back to back. Our country was gutted.
Besides car ads, what else puzzles you about America?
Bread. You can get a nice bread in a restaurant or a specialty store, but if you walk into a supermarket here, you just don't find the quality of bread you find in Europe or Australia. The taste is just different. If you drove over a loaf of American bread, it would bounce right back. It will also have the same texture two weeks from when you buy it. Maybe it's the preservatives.
By the same token, I'll have a sandwich in Australia, and there's one little piece of ham in it. Why can't we make a sandwich like the Americans, who use more than one slice of meat? Maybe you go for more meat because your bread is what it is.
Why are none of the Aussie golfers fat?
It's not like we don't have an obesity problem at home, as do you. But we're outdoors types, from youth on. We play more than watch sports. We do like to drink beer, as you may have noticed. Aussie beer, preferably. When we get near Washington we might make a trip to the Australian embassy and latch onto a few cases of Crown Lager or Victoria Bitter or Coopers. Not Foster's. Foster's is a tourist thing.
Do some phrases get lost in translation from country to country?
You're starting to hear Americans say "no worries," which is very Aussie for "no sweat." Some terms don't translate, though. When someone over here says, "I'm rooting for you," I laugh because in Australia "rooting" means having sex. So when I hear that, I might yell back, "Good, hope you enjoy yourself."
Are you into American sports?
When Michael Jordan was playing, I watched. What a legend. And earlier this year, I saw him in the pro-am at Wachovia. Michael loves golf. I got to know Shaquille O'Neal when he played in Orlando. My neighbor, a pediatrician, had him over for a kids' birthday party. Shaq was throwing kids in the pool for three hours, just loving it. Last guy to leave. A grounded man, with a great sense of humor.
One paragraph. Explain Australian Rules Football.
It's a combination of sports. Goal posts like the NFL, 18 guys per side trying to move the ball upfield. You can pass it or run with it. No timeouts. It's a rough sport, not as rough as rugby. The New York Jets have an Aussie punter, Ben Graham. After he kicks the ball, he wants to hit somebody, like he did in Aussie Rules Football. The Jets told him, no, just kick the ball. Don't take anybody's head off. But he's 6-5, and he wants to tackle. That's more than a paragraph, isn't it?
What did Greg Norman mean to you?
I never thought to myself that I wanted to be the next Greg Norman, but because of who he was and what he did, he was in the psyche of every young Australian golfer. All the big guys used to come to Australia to play the few tournaments we have. Then when he became No. 1, it was huge for us. He was unbelievable, but he's gone now. And once you've seen the supermodel, everybody else looks ugly. We have the best group of Australian players ever, the deepest. But we don't have another Greg Norman.
Do you remember a breakthrough moment for you as a player?
In 1992, I played the Australian Masters in a group with Wayne Riley and John Daly, who had just won the 1991 PGA Championship. Talk about being nervous. Crowds were massive for John, the freak of nature. I was still an amateur, just trying to survive. John was hitting it all over the place. I think he was having a good time at night over there, with the casinos and all.
I remember him telling me he drank. And I remember thinking, I don't think he's talking about having a drink here and there. I think he's talking about really drinking. He told me about drinking and eating at McDonald's. So that's how it is in the big show?
A couple months later, it started coming out in the press: He's a drinker. Still is. What he does to his body, he's got to be the most amazing talent besides Tiger. He didn't sign his card after the second round, got DQ'd. I love the guy. He's been off the rails for a while, but he's a gentleman.
What about the young Aussies, like Geoff Ogilvy?
Wonderful guy. His temper used to be his biggest problem, and he figured out that he had to fix it. That's how smart he is. He still gets mad, but he gets over it.
I love to play near him, like I did at the Players in May. You ever see seagulls in the ocean? If you're a fisherman, that's where you go, because there are fish below. With Adam, you know where the young, single women are. At the Players, a couple fell back from his herd to watch us. I'm allowed to say that, being married, aren't I? He's got a girlfriend; I've got a wife. But some of the girls following him, it's like the Beatles, all the screaming.
You and your caddie, Joe Damiano, have been together since 1997—an eternity on tour.
Renay used to caddie for me. Joey started at Honda in '97, where I won, and we've been together since. He's really good. We had a problem in 2005 at Akron. I took a drop on a slope, and Joe grabbed the ball while it was still rolling. That's a penalty. He broke a rule. I found out soon after and was hot. I told the press I wasn't going to pay him for the week and caught a lot of flak: "You big bully, making all that money, and you won't pay your poor caddie." Well, it cost me thousands of dollars. He shouldn't feel the pain? I believe he was paid.
He gets voted as having the best job on tour. I don't know that I'm the easiest guy to work for. Maybe the most forgiving.
How often are you and Allenby confused for each other?
All the time. We get the wrong stuff in our lockers when we're playing the same tournament. When he plays well, I hear a lot of, "Way to go, Robert!" I never bother correcting people. If I come off as rude, then I'll ruin his reputation.
I've always had a love for wheels. Autos, bikes, even the little tractor my dad had on the farm. As a kid, I dreamed of owning a BMW. Eventually I could afford an M-5, which I still have. Fortunately I have the finances to support my habit. Now I have a 2004 Lamborghini, the yellow one. I've had a nice run at the Mercedes Championships, winning three in a row, and lucky for me I play well at a tournament where you pick up a premium car like that. I love speed, but I'm careful. I did get a ticket not far from home earlier this year. When you're driving a yellow Lamborghini with vanity plates, you're asking to be noticed. [The plate "22 Under" is for Appleby's winning total in the 2004 Mercedes Championships.]
What major would you most like to win?
Any. It's not like if I was fortunate enough to win the PGA I would say, "Oh, did it have to be this one?" But Australians have the biggest connection with the British. I've come closest to winning there, and I love that style of golf. Then again, no Aussie has won the Masters. Those would be the top two for me. I'd settle for a U.S. Open, though.
You were in a four-man British Open playoff at Muirfield in 2002, when Ernie Els won. What was that like?
Weird. Ernie, Thomas Levet, Steve Elkington and I went off in twosomes for the playoff. I don't think they had a bloody clue what they were doing. One of the dumbest decisions ever [instead of sending out all four players together], and I can't believe they'd ever do it again. Why didn't they just send us out as four singles? Play four holes. Then come in and show your scorecards. Surprise! You win! The way they did it, how do you know what to do? Don't you base your strategy in part on what the other guys are doing?
Do you need a major to feel fulfilled?
I need to win two. Not to validate the first, if it happens. The first is validation enough. Golf doesn't consume me the way it used to, before I lost Renay, but if I walked away from my career without a major, I'd be disappointed.
What about the Presidents Cup?
The Ryder Cup is as good as it's going to get. The Presidents Cup has so many more evolutionary cycles. A few more, and we'll see the growth. Then we'll have some history. Look at the '98 team. We had to go deep into the World Ranking to field 12 international players. Now if you're not in the top 25, you're not on the team. The Americans probably have an advantage because they field a team every year for competition.
Some Americans think that's a disadvantage.
Why would that be? I think playing every year helps, because you gain more experience in a team format. The Americans say they're more relaxed in the Presidents Cup, but they like it more because they win.
At the NEC, now the Bridgestone, in August of 2000. She was still in college. Mount Union in Alliance, Ohio. A friend introduced us. What a beautiful woman. I was blown away. She came back to watch me play the next day. She walked around with Steve, my coach. Afterward, I asked him what he thought. Steve said, "Kerri has 10 minutes to pack her bags." Kerri is his wife, and, of course, he was just kidding. But Steve's point was, this is an amazing woman.
I finally took her to dinner there, and it was very embarrassing. I must have had a lot of water that afternoon, because I kept having to go to the bathroom. Afterward, she told me how she called her mother whenever I left the table. "He's in the toilet again, Mom." But we connected. When I left town, I knew something happened, and it wasn't about golf. She came to Las Vegas a couple months later, when we were officially dating.
That's where you and Renay were married?
Yeah, we eloped at the Candlelight Chapel on Dec. 30, 1995. Very romantic. We had a proper wedding later in Australia.
How difficult was it for another woman to come into your life after Renay's death?
Very. I always told myself I would find happiness after Renay. Question was, how? I hoped after the tragedy of Renay that I would not spend the rest of my life not loving someone else. When Renay died, I thought I would never play competitive golf again. I was that gutted. I thought it, and I meant it. I was sure I wouldn't recover. Then I played the PGA Championship in Seattle two weeks later, which probably wasn't the smartest thing. Between losing Renay and meeting Ashley, those were confusing, depressing years that took the edge off my golf. I wasn't concerned about being the best player in the world anymore. I changed. I felt more vulnerable. I would have traded everything that came my way to have Renay and live with her in a cardboard box.
Can you describe what happened to Renay?
It was after the British Open in 1998. We were in London, at a train station, about to go to Paris for a little vacation. We were unloading baggage from our taxi. There was a car in front. Renay was in between, and all of a sudden, this car in front accelerated, backward. Not just backing up—accelerated. It crashed into her, and she was pinned between the two cars. The one in front and our taxi.
If she had been my height, maybe she would have had injuries to her legs or hips, whatever. But she was 5-2, so the car went right into her vital organs. I ran around the car, banging on the window, telling the driver to pull forward. He was absolutely dumbfounded, and it seemed like forever before he moved.
I was, but I was surprised at the time how focused I was on what had to be done. Some other guy came over to help, giving CPR. She was out. Her eyes dilated. No external bleeding, but I could feel broken ribs. The ambulance finally came. That seemed like forever, too. So much of it is a blur. We went to the hospital, and it was like all of those movies. The doctor comes in and tells me Renay has massive internal bleeding. He says he doesn't know if she's going to make it. He told me I should go in and see her. She was cold and pale as a ghost.
If you ask me how long it was between the time she was hit and when she was gone, I can't honestly tell you. Our train was in the early morning. I was told she had died in late morning. I remember walking out of that hospital wondering, What the hell just happened? I don't even remember who I called first. My dad and Steve flew to London from Australia to help me out. I don't know how I slept, ate or functioned from that moment until we took the body back home on the plane to the actual funeral. And beyond.
As you look back, how did you get through it?
Barely. And never mind me—her parents and my parents were also devastated. One set loses a daughter, another set sees their son going through hell. Robert Allenby, a mate for so long, and his wife, Sandy, were great. I look at the position he was in and wonder how he handled it. What do you say? What do you do? When do you give someone space? When do you never let them out of your sight? They were fantastic. But it was brutal. There were times I would try to write e-mails, and I couldn't even spell "the." Going to sleep was the worst. Without her next to me. Not brushing our teeth together. Not kissing good night. I even tried to trick myself by putting a pillow next to me.
You took no action against the driver?
None. I imagine he was charged with something, but I have no idea. If he walked by me on the street, I wouldn't know him. If you press me, I'd say he was in his 40s. But I really don't remember the face, and to go after him, what would it prove? It wouldn't bring Renay back. He's got to live with what he did for the rest of his life, wherever he is, whoever he is. Unless you put me under hypnosis, I can't describe him. Maybe it's my safety valve. I remember bawling my eyes out, alone in a little hospital room, when it was over. To make his life worse wouldn't make me feel better.
Did you undergo any grief counseling?
No. I never was suicidal or anything like that. Never took drugs to sleep. Sometimes I wanted to be alone. Others, my support cast like Robert and Sandy, were always there. Whatever I needed, and they meant it. Eventually I realized I could not let this tragedy define me. I could not go through my life so miserable. When I spoke at the funeral, I said something about what I faced. It would be like walking onto a beach, looking at the sand and having to count every grain within 100 yards of me. That's how daunting it was. But eventually I started counting, and I had this little pile of sand next to me.
After the funeral in Australia, did you return right away to Orlando?
That was another ordeal. The house Ashley and I are still in, that was the dream house for Renay and me. It was awful just coming back into it, empty. I couldn't even say the word "house" without breaking into tears. It took a long time for me to enter that house without thinking of Renay right away. And the first time I brought Ashley into it, that was another difficult time. You not only played the 1998 PGA Championship, you held a very emotional press conference before it.
I don't remember much about that, either, except looking and feeling awful. I answered a bunch of questions, cried my eyes out, and got through it somehow. Every day moved so slowly, and the press conference was a little bit of moving on, I suppose.
I got a lot of letters and answered a lot of letters after what happened. Was there anything I could do to help people in a similar situation? And what was I going to do with my life? What would Renay want me to do? I knew she would want me to be happy, and being happy meant having a family and children.
Do you stay in touch with Renay's parents?
Yes. The Whites. John and Colleen. Also with their son, Stuart, and daughter Duean. We call and e-mail when we can. Renay had a wicked sense of humor, and that no doubt helped the Whites get through what happened. As a parent now, I can imagine how terrible it would be to lose a child. When I first brought Ashley there, it was tough. Had to be tough for them to see me with another woman. But they've been great.
Did you date anybody between Renay and Ashley?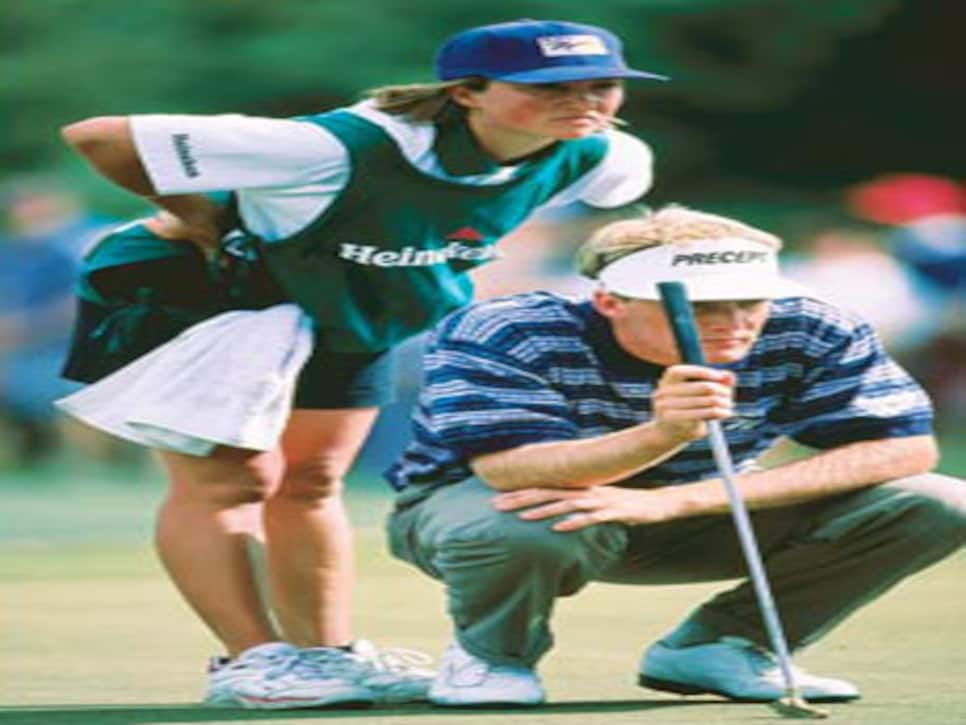 Not really. I don't know that I even looked at another woman. First Christmas, first Valentine's Day, family birthdays without her. Those were tough. But somebody always has it worse. There's no formula. People say "move on," but what does that mean? The answer doesn't come in a book. Ashley certainly was a huge part of my getting on with life. We got married in December of '02, about a year after her first trip to Australia. She was there for Christmas in '01. Her family and my family. Ashley was very patient. She knew what I'd been through. Renay was such a part of my evolutionary life. A dynamic period, and she was there all the time.
Absolutely. She was a golfer in Australia, and we didn't hit it off that well at first. But she came with me to the States as my caddie, my soulmate, and never left.
Here's a story for you. After I won my second Nike event, in Sonoma [Calif.], we went out with Jerry Kelly and his wife, and John Maginnes and his wife. We went up to the wine country after the tournament, in early October. Who do we see one morning up there but Johnnie Cochran. He's at the Opus One place. I remember seeing him on the telephone. He looked very chuffed. That's Australian for "pleased." You know—the cat that just ate the canary. Something very important, something very good, was happening to Johnnie Cochran. I'd love to have listened to that conversation, but I know, right after that, the verdict was announced. I won the tournament on Oct. 1. The next day we go to the wine country. And on Oct. 3, the jury came to a decision: O.J. Simpson, Cochran's client, not guilty.
As you assess your career, is it a blessing or curse to play in Tiger's era?
Without him around, we'd all have a chance to win more tournaments. He's cost all of us. All those trophies in his house would be in other houses. But we wouldn't be playing for $5 million and $6 million every week. So I'm very grateful. We should all be thankful.
What's with the new putting grip?
Looks like two lobsters making love, if I can say that in a respectable publication such as yours. To get my left hand out of it, I moved it to where my left thumb and index finger are around my right wrist. Haven't seen it anywhere else and haven't given it a name yet. But "Two Lobsters Mating" probably wouldn't be a good idea, would it? Don't imagine I'd get extra FedEx Cup points for that.
This is the 122nd Golf Digest Interview in a series that dates to 1991.